yesterday early morning i already fetch vic and angel from tarc. since is still early, i tod we are going Jaya Jusco for a drinks or breakfast first. But since they insist wanna go MV straight, so i just drive to there. I dunno d way to there but vic does, so she show me d road, which using d very very far road..from connaught -,-..LOL!!

Once we reach MV, time was still early..so they suggested to play bowling first but it ended up i playing alone..just for one game..LOL! well it was fun play bowling! my very first game for this year! LOL!!



* MV Bowling center *

After that we walk around MV and finally angel wan to have a drinks in starbucks..my expression that time was "WHAT!! NOT AGAIN!!! ARRRRHHH!!" but automatically i followed her plan without any resistance -,-..LOL!! So i order a chocolate chip cream..or d name was soemthing like that i forgot...it cost me RM16.5!! Walao!! more expensive than i got for last 2 weeks! T____T...money like drop to sea liao..sigh

* My Choco Chip drink *
* Camwhore XD *
* Me & Angel *

after drinks and chichating for one hours and more, ppl started to appear. first came was jeffro, next was zhao and Kai Chi. That time was already lunch time and I-FORGOT-WHO suggested to eat at Sushi king..but SK was full like hell mad...and suddenly Zhao said "This world there is alwiz a place call CHILIS!!"...my expression that time was "WTF!! CHILIS!!"..*sorry zhao..not blamming u...just i m way too kiam siap adi sometime XD *....but hey! to be honest..this was my first time eat at CHilis..lol! I kinda like d way and portion they served..and their food not bad eh except d pasta ordered by vic and angel..lol! but anyway...nice,big portion..n d price is a huge impact for me as well..sigh T__T..inside d Chilis we met Aaron and Su Ann. they wasn't joining us since they go their own plan..couple la tu! LOL!!

* We dare Jeffro go wish Happy Birthday to that Ang Moh *
* And Victoria following him too! *
* Ended up she took pic wif tat ang moh *

Our Candid Pictures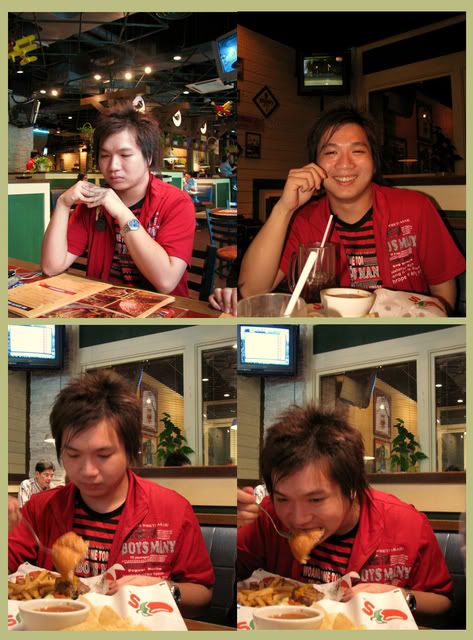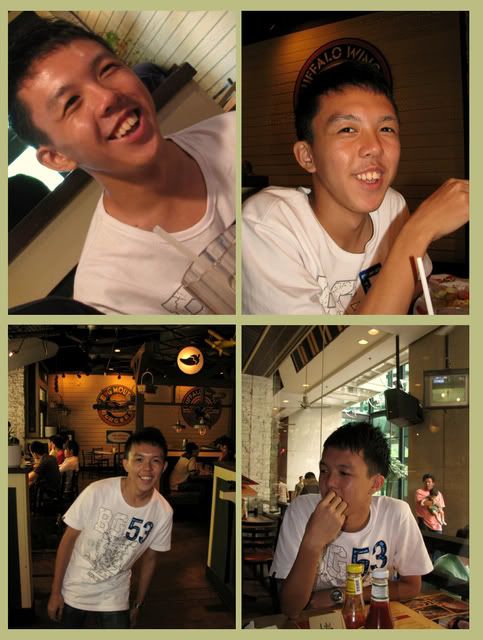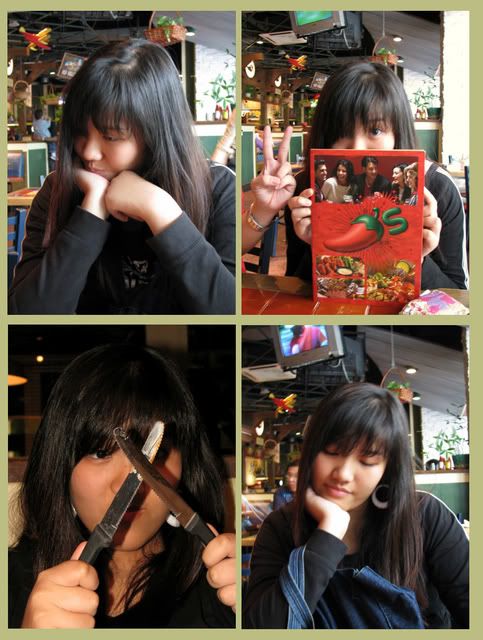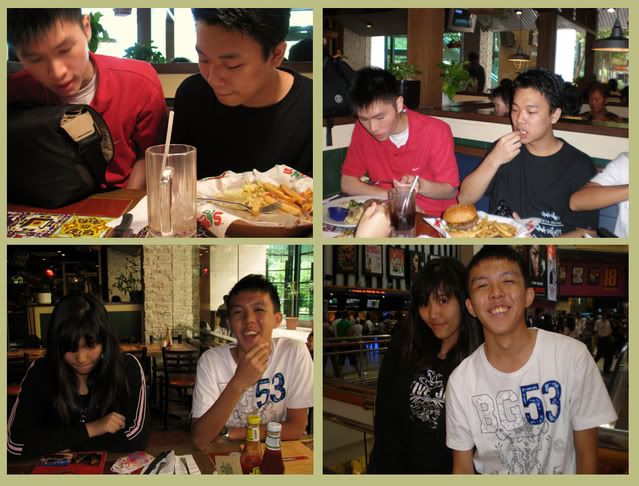 * The food *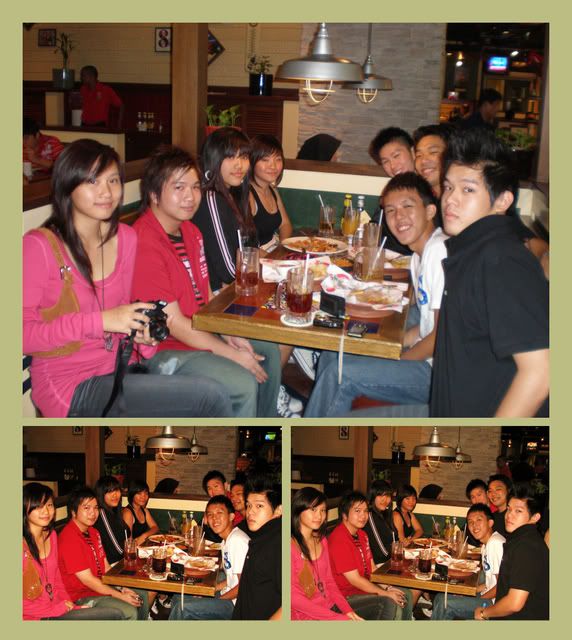 * Us *

after finish our lunch, we supposely go for bowling as suggested by Kai Chi. But it ended up the bowling was full and d environment that time was DISCO MODE..lol! it hurt my eyes so much -,-...after that i suggested to went for pool to play..but hey! Kai Chi is underage to enter and play!! but who care -,-..he juz enter and play wif me..this was my 2nd time playing pool and he seem like dun believe it when he c my skill XD..hahaha..jeffro and zhao was playing futtsal at there
* Balls *
* The two underage kids *
* Kai Chi showing off his skill *
* My turn *

oh well, i lost to kai chi in pool..damn! I'll revenge next year when he turn 18 years old..wakakka..after that v walk around MV and finally move our butt to Garden. Zhao was going back adi that time. We walk around garden and sit at those FREE-SEATING-SOFA and chitchatting at there for almost 1 hours+. At that moment, they was playing (i mean them!! Not me!! I innocent T__T) guess ppl boobs size and rate ppl look.omg!! Sound like a bunch of desperate guys and girls..and from tat time onward all of us know what d reason Kai Chi dun like big boobs (as response to angel blog post)..because..he was...GAY!! Muahahahhaha!! I pity his gf man! LOL!!

* Our last pics *

After that, Jeffro guide me out from MV area until reach back Cheras. From there, i know how to drive back to setapak coz joe taught me once. So i was just fetching angel back. i tod gonna fetch her till her home but her dad gonna pick her up at wangsa maju LRT station..so make my work easier..hahaha..i was totally worn out yesterday after reach home. i slept at freaking early..lol!

anyway, special thanks to Jeffro for most of d pics. It was from his camera. More pics was with Zhao. I'll upload it after i get from him =)