haha i guess i m addicted wif Journey Through the Decade song adi until d title also like that XD..
anyway
YingZi
(
idreamtobreakaway
) was coming to KL today! So few of us,
me
,
eve
,
vox
and
angel
plan to hang out and meet her. So the venue we set was klcc. This morning i went to TBR to find vic and yumcha together a while wif her coursemate (sorry fogot their name..LOL). after hangout for almost 1.5 hours in TBR, one of her friend fetched both of us to KLCC. We walked around there and finally to Kinokuniya to killed our time.
As usual, as soon as i reach Kinokuniya, i went to manga and japanese magazine area. I saw Decade Magazine! Walao so damn costly! Rm50+ above..sigh..i wanna get 1 but it was way too expensive...sigh sigh..sad..after tat both of us went to 2nd floor to have a sit while waiting every1 to reach.
However we waited almost 2pm. Because too hungry, both of us went to food court to get Mc D while waiting eve to reach. Around 2pm, Yingzi called me and told me she adi reached. I have to asked him waited for me in Plaza Rakyat station for a longer because i need wait eve reach on us. FInally eve reached around 2.15pm. As soon as she reached, i quickly run to Plaza Rakyat to meet yingzi and bring her to KLCC.
some funny moment happen when yingzi put her tics to exit at masjid jamek, she keep waiting there. she tod d tics will come out..hahaha so paiseh la she.

oh well after we reach is already 3.05pm. Mc D lunch promotion gone! SWT! SO sad!! So ended up i have to buy a expensive set lunch...sigh..angel reach few minutes later. so overall d member for today are 4 girls and a guy.LOL...
* Yingzi said dowan vegetable on her burger. So tats what she get as result *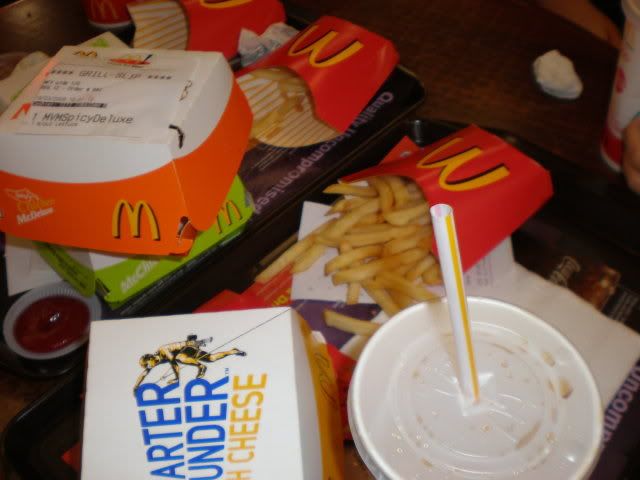 after get our lunch, we (or should i said them?) walked around KLCC for shopping. We walked there for almost 1 hours++ and eve & yingzi manage to shop abit stuff for themself.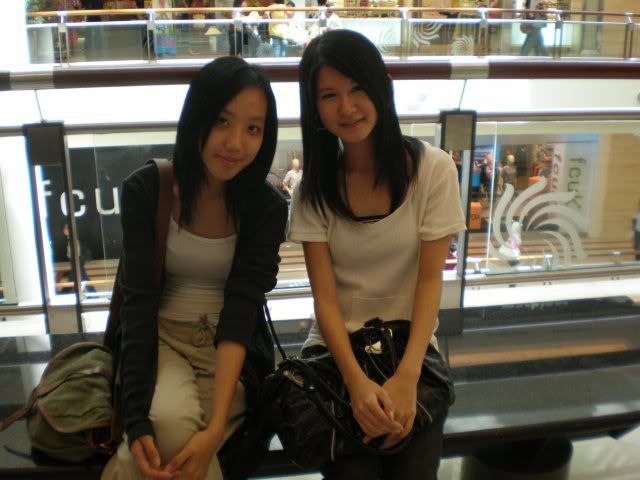 * Yingzi and Eve *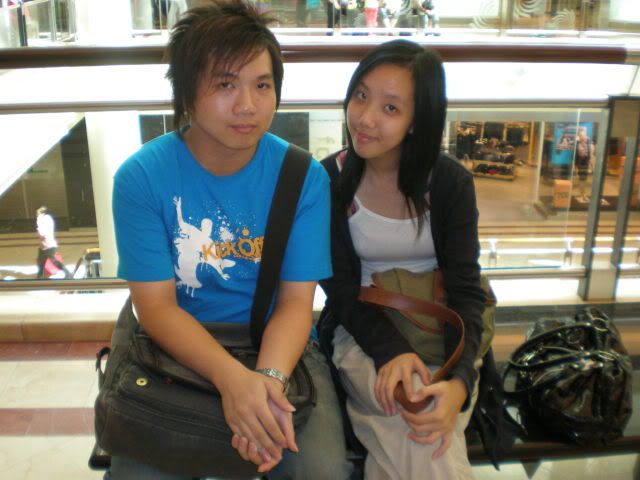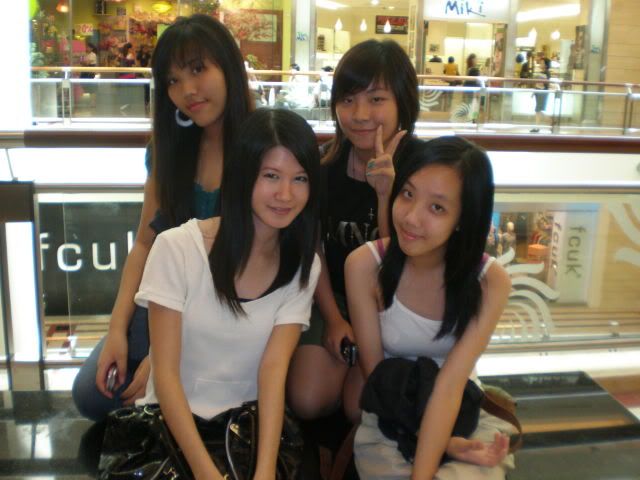 * Up (left) : Angel and Vic. Down (Left) : Eve and Yingzi *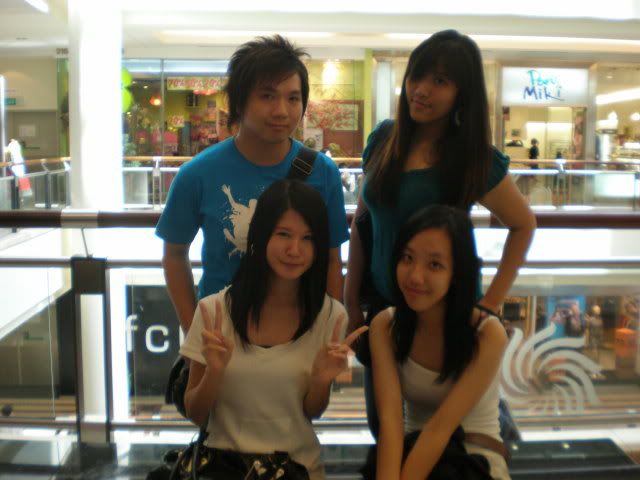 * Up (left) : Me and Angel. Down (Left) : Eve and Yingzi *
Around 6pm, all of us get ready to back. As everyone know, it was SUPER RUSH HOURS! KLCC damn super crowded. Inside d LRT, some bangle, OR-WHATEVER-RACE keep moving is body..like trying to molest ppl. being uncomfortable, i swap my standing place wif vic. and d freaking hell felor still movie around and...ewww! He molest me! SHIT! I feel like kick tat bastard adi!
Eve is heading to Asia Jaya, Vic to KL Central while d rest of us back Plaza Rakyat coz me and Angel wanna accompany Yingzi back to her lounge (if she get kidnap by some1 on half way i'll get kill by every1. so i have to send her back..LOL). When we almost reached her lounge, suddenly her mum appear (it kinda freaking me actually coz some1 suddenly pop up)..after that her mum keep talking wif me while smartass angel go see other things wif yingzi..leaving me alone..LOL..
after that we went back to wangsa maju from Pasar Seni. Well it was a cool outing, meeting a friend from SG. I wish i someday got chance go SG for holiday while meeting others blogger from there =D...
Singapore! Wait for me!!!