Recently i made a Kamen Rider Decade card template, hehehe..reli addict to d card beauty. So i decided to edit today presentation pic in decade card form.
Finally today is d day for my Malaysian Studies group presentation. Not to forget to mention today was april fool as well. Did i get fooled? i guess yes by d lecturer,hahaha..anyway since it was 1st day of a months, i din buy LRT pass nor reload my TNC card. Hehehe, i request my dad to lemme drive earlier whereby i suppose to start driving my own to uni on next sem. Luckily my dad agree.
So this early morning i went out on 6.30am. 1st time drove to Uni, so i not sure how d traffic condition and approximate time taken to reach. But i guess d traffic kinda good. It was alot car at MMR2 road but no jam at all. I reach uni on 7am. I parked outside those shoplot area because i dowan pay for parking in UCSI, hehehe..
Since i reached early, i went to Recitall Hall 1st and waited all my member gathers. Some unexpected event happy *THIS IS NOT APRIL FOOL!* but i dun wish to mention about it. Anyway i would like to thx all my groupie! They all was doing their best in this presentation =D. Oh before i forgot, my group named was WADEVA (literally WHATEVER).
Jackie
(Me) : Team Leader - Just doing short introduction on presentation.
Joseph
: Presentor - Eventhough he jokes & craps alot but still in correct path. Good job Joe =D
Nicol
: Presentor - She is blur today. Reason? PNC (Private & Confidential). Anyway she still doing good in presentation..eventhough she not satisfied wif herself due to her blurness.
SookWah
: Presentor - A girl who having a coolest hairstyle (cooler than me..LOL). She alwiz said scare to present and asked to changed ppl. However she can present very well man! Good job =D
SanSan
: Navigator - A girl who kenot do last min work. However what she did today juz navigated the slide..hahaha
JingXuan
: Backstage - She help us to print the report for FREEeeEEeeEeeee! thanks =D
ShinMei
: Backstage - She did the slide with joe. Thanks =D
Oh what d others card on right side? It was ATTACK RIDE card we used today XD..nah it was a lappie belong to Suetyee. Since all of us dun have laptop *dun stare at me..my laptop can throw to dustbin adi*, we are looking ppl around for laptop. Luckily Suetyee agreed to lend me. In the early morning, Joe have to went suetyee house all d way to get d laptop from her. Hehe, thanks alot joe =D
After presentation over, my groupie run away so fast..LOL..cant even take pics wif them..anyway since i m wearing formal today, i forgot to takes out d studio key in my jeans. I have to go find Mr Teh at office and luckily they have extra key for d room, wee..i guess today was my lucky day *not to mention april fool again..*.
I went to studio and start doing my Life Drawing things. I compiled all my drawings into one and i din realise i have drew so much throughout the whole sem. It was liek overflow! LOL..imagine 1 weeks i drew for 15 hours in tat class..haha..anyway after done compiling the folio, i went to Visual Comm class. Today just anotehr progression class..it kinda waste time attend class..well, i join d class for d sake of full attendance. Next week mon & Wed was presentation day for visual comm..LOL! i need to fully present this time..GOD BLESS ME! I hope i got time to prepare -,-..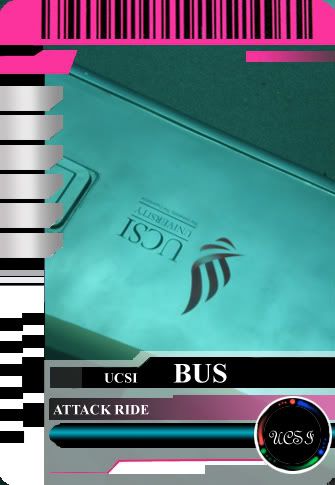 * UCSI Shuttle. I just realise got uni logo on d top there @_@ *
After class, Eng Kiat waited for me at Mc D. HE wanted me to show him d way to Steven Corner that located at my area. Well, i use Highway to back Genting Klang area not MRR2. No traffic jam at all, hahaha...and this is my 2nd time use d highway and i can still manage to reach home sound and safe! hehe, have to reli praise myself got good memories..LOL
anyway i m official driver now! yay! Say GOOD BYE TO LRT & UCSI Shuttle!!