Date: 26th May (Tue)
Time: 9.30pm
Venue: Cathay Cineplex Damansara
Movie : Terminator : Salvation
BOO! This is my second time join Nuffnang movie screening. The first time was
Dragonball Evolution screening
. Meet up and gather with alot my buddies in innit for dinner before the screening. My buddies who join the screening are
Jacq
,
Jeffro
,
Eve
,
Jess
,
Bern
,
WenPink
,
Isaac
,
Serge
, Alex,
Suresh
and as well as
Max
with his uncle. Unfortunately
Ken
is the last person who join us before we went to collect out tics.
The movie was screened on Cineleisure, another place that located at damansara area and this is my very first time been there. Thus what else? i grab this opportunity to capture d building image XD..Too bad i din brought my tripod along..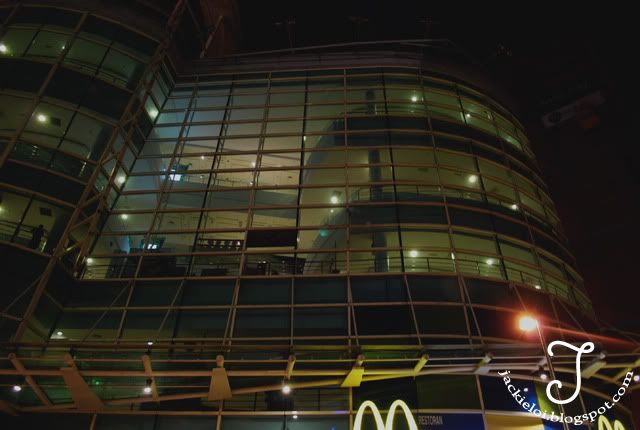 * Cineleisure! *



Once me & jacq reached, we waited for jess to came. As soon as she came, she suggested to get dinner at Mahatten Fish Market (MFM)..my another first time.


* Us before entered *
- pic credit to Jess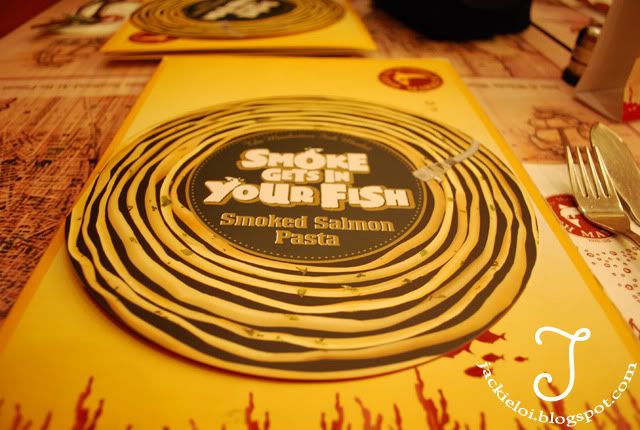 * MFM menu *


They have too many variety of choices in d menu and cause me reli surrender..dunno what to eat XD..so at last i ordered the cheapest (i guess) food which is fish and chips with Dory fish..LOL!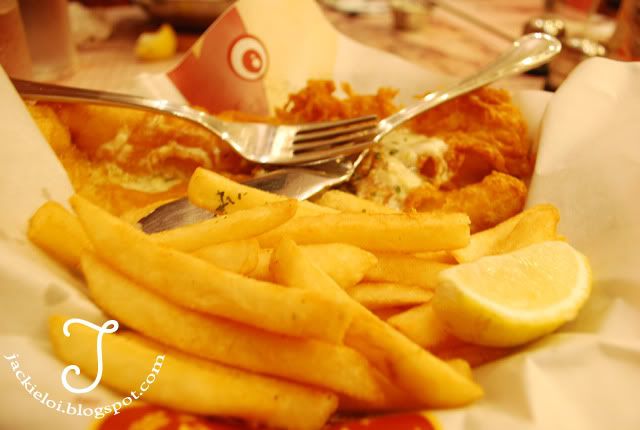 * Fish and Chips *
* Group pic *

- pic credit to Jess


Basically the food was nice but the fish was so damn oily! Once Ken reach at MFM to meet us up, he show us the Terminator pass that he already collected. Once everyone saw the tics, the lost their mind and immediately went to pay for d bill and run to the Cathay Cineplex to collect d pass.


* Cathay Cineplex Damansara *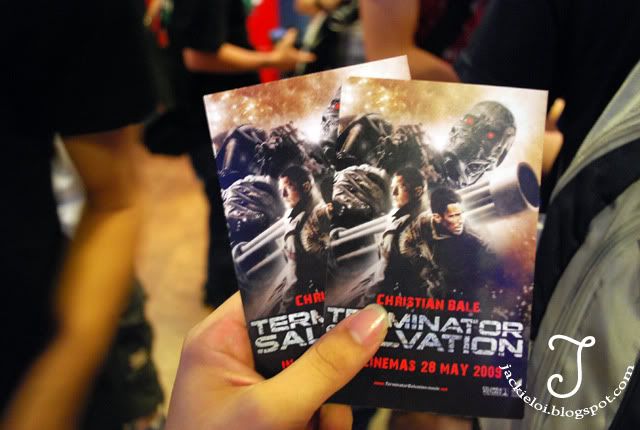 * my Terminator pass *



Obviously we saw alot new faces of nuffnangers. However the old faces are still available! hahaha..while waiting for d movie started, we start our camwhore and photography session.


* Camwhore & Group pic *



The movie was superb nice! Though i dun understand much d plot (because i have forgotten all the previous terminator movie story), but the the action and visual effect was cool! Base on Bern explanation, the purposes of this story was to introduce two new character which is Marcus Wright and Karls Reese (i think he spelled like that).



Synopsis :





The year is 2018.





Judgment Day has come and gone, leveling modern civilization. An army of Terminators roams the post-apocalyptic landscape, killing or collecting humans where they hide in the desolate cities and deserts. But small groups of survivors have organized into a Resistance, hiding in underground bunkers and striking when they can against an enemy force that vastly outnumbers them.




Controlling the Terminators is the artificial intelligence network Skynet, which became self-aware 14 years earlier and, in the blink of an eye, turned on its creators, unleashing nuclear annihilation on an unsuspecting world.





Only one man saw Judgment Day coming. One man, whose destiny has always been intertwined with the fate of human existence: John Connor (Christian Bale).





Now the world is on the brink of the future that Connor has been warned about all his life. But something totally new has shaken his belief that humanity stands a chance of winning this war: the appearance of Marcus Wright (Sam Worthington), a stranger from the past whose last memory is of being on death row before awakening in this strange, new world.





Connor must decide whether Marcus can be trusted. But as Skynet adapts new strategies to end the Resistance forever, Connor and Marcus must find common ground to take a stand against the onslaught—to infiltrate Skynet and meet the enemy head-on.



Well for further review of the movie, lets wait GreenTeaMovie review update it =P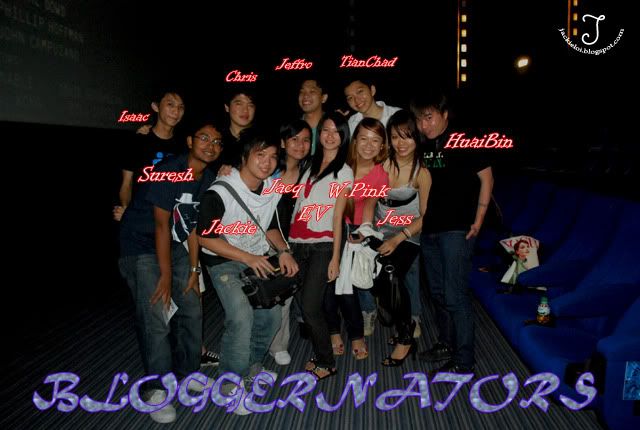 * Bloggernators! *



After d movie, i fetched jacq & bern back. While on d way back, i suddenly suggested to yumcha at Steven Corner because i was damn thirsty (i din drink anything after d dinner).


* From left : Bern, Jacq & Me (still showing off d Terminator pass XD) *



After yumcha, i sent them back home and i reach home around 0130 hours. Wow! Almost 0200 hours..oh well, expected adi since went to night screening. Anyway i would like to thx jacq to spare me her extra tics for Terminator.