Finally Jackie reporting here for Standout Party! First of all i would like to thx Nuffnang for giving me chance to join the party. The party was been schedule held at TTDI Plaza on 6th June 2009. As a member of nuffnang, i was given a pair of invitation and i invited
Nicol
as my guest.


I pick up Greg, Joshua, Jacq and Hitomi. In the same time, i waited Jack and Nicol at tarc since they dunno the direction to there. I wasn't sure d place either but thx to my dearie map and Hitomi guide, we finally made it!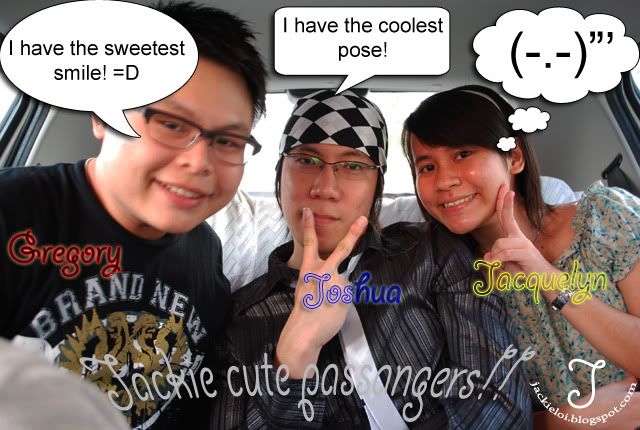 * My cute passengers *



as soon as we reach there, we went to registered ourself. Besides, we went to take pics and camwhore around. Oh finally i met Kristine in person since i miss out her during d terminator nite! I totally forgot to search for her that nite XD..sorry Kristine.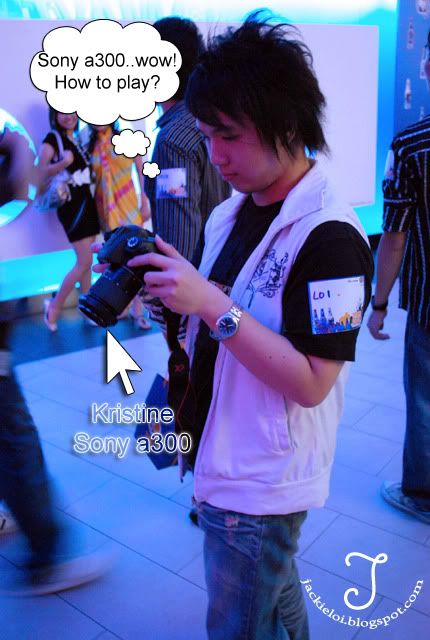 * Me playing with Kristine A300 *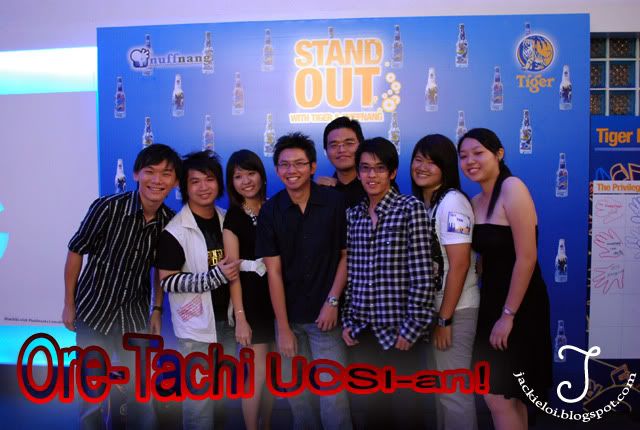 * UCSI-an! *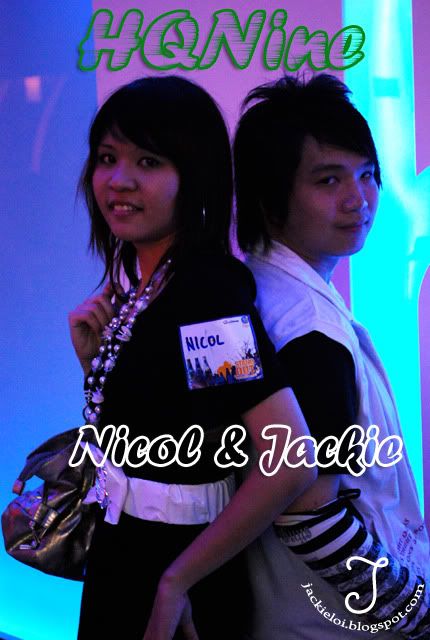 * Nicol and Me *


They are a bunch of bloggers who actually reli Dressout and Standout! It gimme feeling like cosplay event adi. Hmmm, if this 1 is free cosplay event for sure, i'll cosplay as Kamen Rider! HENSHIN!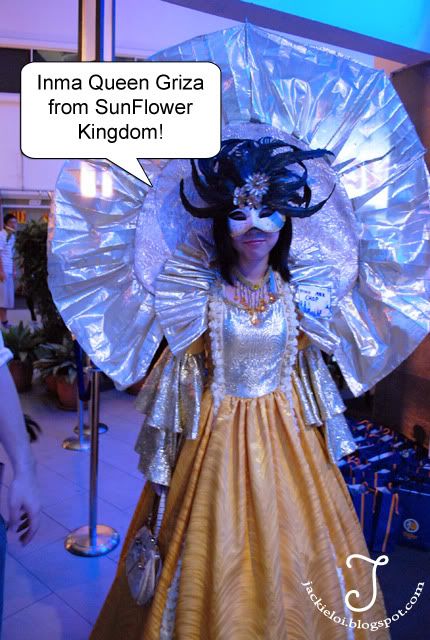 * Griza, The Queen of SunFlower Kingdom (?) *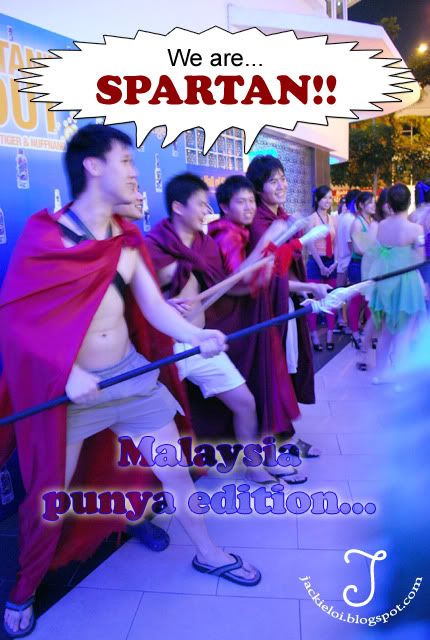 * Malaysia Edition Spartan who muscleless *


The party started around 7.30pm, accompanied by two great emcee of the nite, Liang & Jojo. In the same time famous blogger such as Kenny who dressed out as Susan Boyle and Ringo was there as well. Not to forget our beloved Nuffnang boss, Timothy Tiah was there as well. Psspp...Today is Timothy Tiah birthday!


* Liang & Jojo *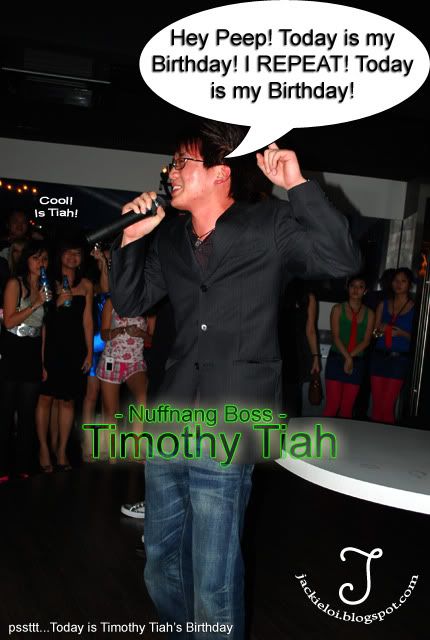 * Our boss ;) *


So the main purposes of this event is to celebrate the new bottle designed of tiger. If i not mistaken, there are 3 new design which look pretty hot and cold! Not to mention that night itself it free flow beer ;P..unfortunately i din get to drink much coz i m driving.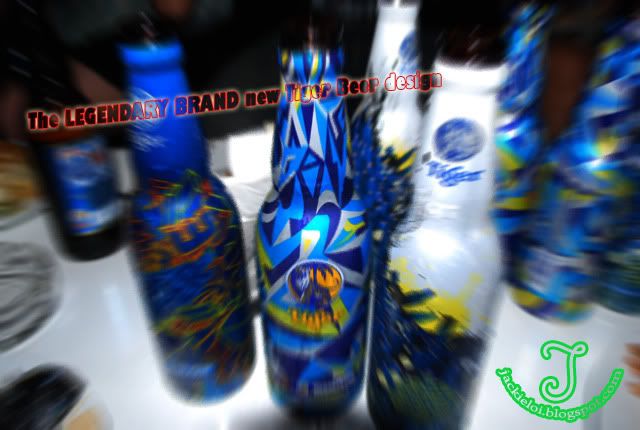 * Three Tiger Beer new design *
* Self introducing - pic credit to Ken*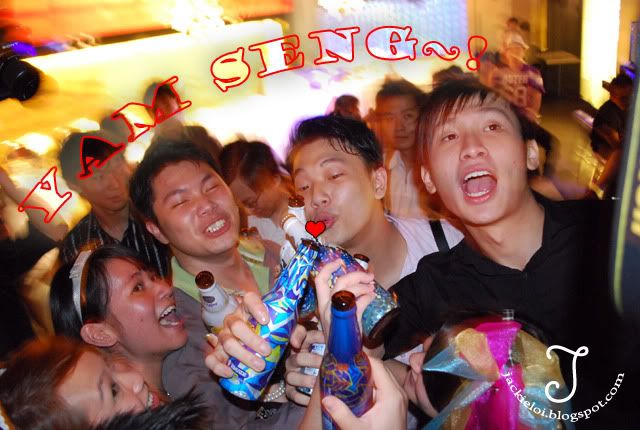 * YAMmMmMMMmMMm...SengGGGGGGGG! *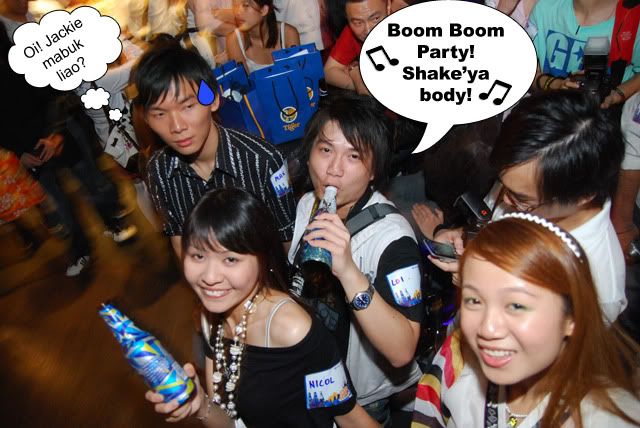 * And i got drunk on the first bottle? XD - pic credit to Ken*
WARNING : THE PIC BELOW IS TOTALLY GROSS! PLS PROCEED OR CLICK ALT + F4 if u are under 18 year's old.
* OMG! Jess gonna kill Nigel! *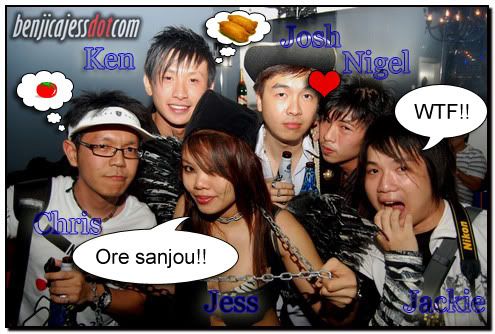 * And here Jess Sanjou! - pic credit to Jess*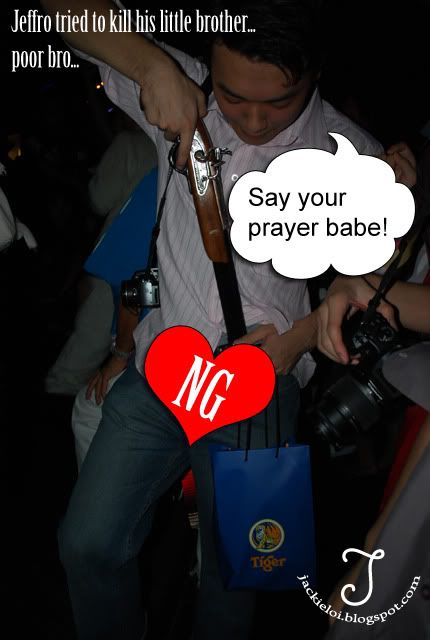 * I guess Jeffro drunk too... *


And later they having a game session which is Tug-O-War! LOL...TianChad VS KennySia in 1st round and obviously Kenny won! 2nd Round was Spartan VS Mexican and what a shame, Spartan who muscleless lose the game. And final round! Guess what? Mexican VS Kenny! Kenny won!!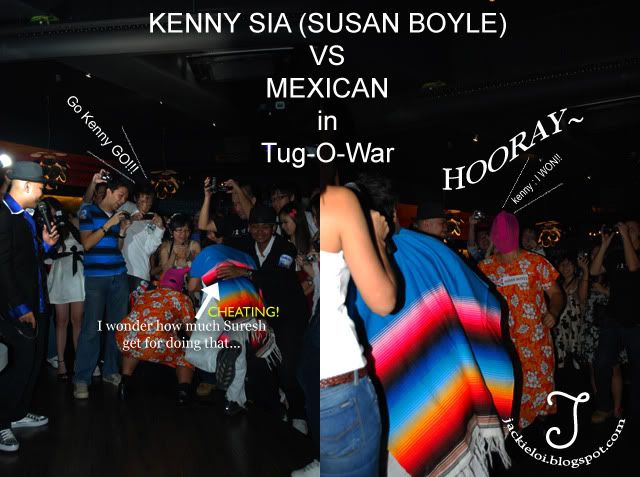 * Pull! Push! Pull! Push! *


Lets see what's Kenny secret of winning ;P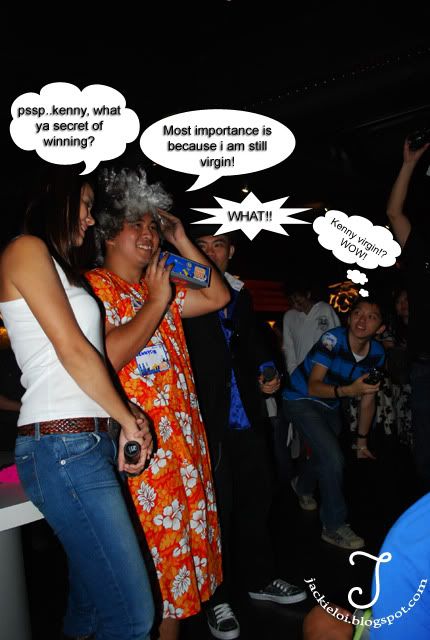 * Kenny selfadmit VIRGIN! XD *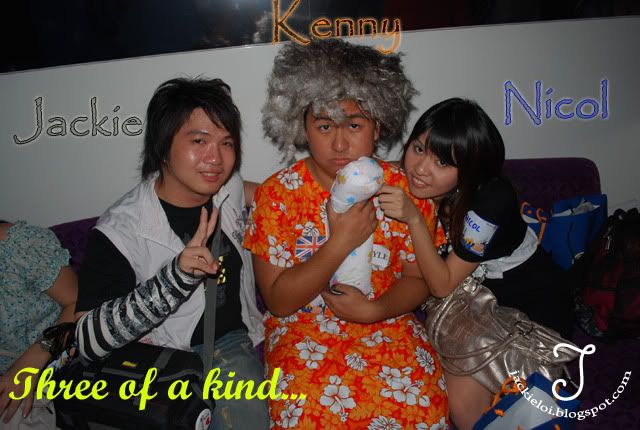 * And because he still virgin, me and Nicol quickly go take pic with him =D *


And later is costume presentation for bloggers who dress outstanding that night. I dun remember much who is d contestant but d confirm 1 who joined was Coco the parsi girl (or whatever it is), Griza the gung ho (or known as queen of sunflower XD), Kenny the susan boyle, Joseph the Edward Scissorhand and Benard the cow. Each of them have to dance or show some talent if i not mistaken. And the most hilarious was kenny who....actually...presented us...some...

WTF MOMENT!!!




* He swing! He dance! He play! With his bush! XD - pic credit to Jess *


Anyway the most Standout dress for female goes to Griza and male goes to Joseph. Both of them get Coach handbag & Xbox. Congratulation!


* Joseph the Edward Scissorhand - pic credits to Ken *


Oh besides that!! Something happened when Bernard the GreenTea met Benard the Cow! Guess they need form a new formula eh, Milk + GreenTea.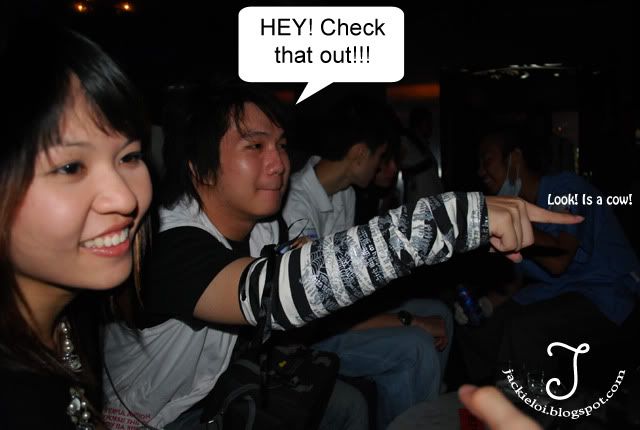 * We witnessed it! *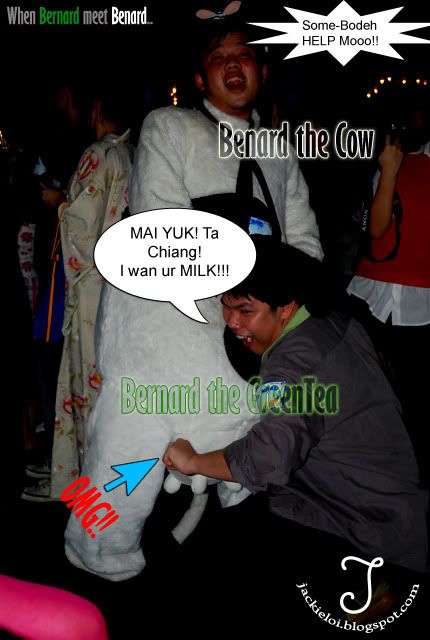 * Teknik Memerah Susu! *


And after Bernard done his business, he went to Evelyn there and....OMG!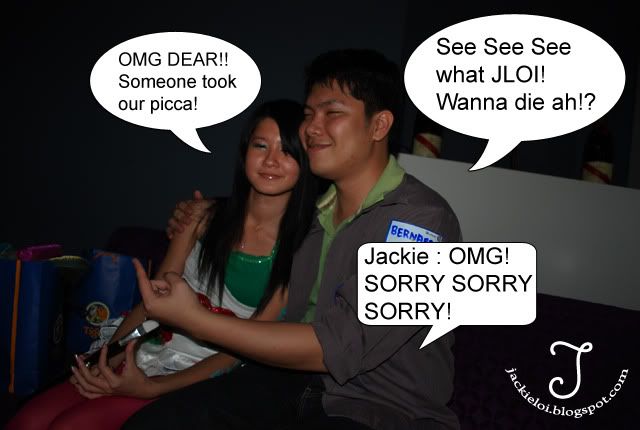 * They having secret affair 0_0? God know XD *


Before i forget, they was giving alot prizes but i dun remember (or dun even know) what it is. But i am damn JEALOUS on Kristine for getting the Attention Seeker prize! She got NDS!! AHHH!! JEALOUS SIAL!!


* Kristine and Lih Ren *


Oh still remember it was Timothy birthday? Everyone was celebrating and singing birthday song to him that nite. How sweet all of us rite? =P..we even pasted all the birthday wishes on his body...hahha!!


* He is so happy having us celeb birthday with him. No? *


So the event was at conclusion after celebrating Timothy birthday.

I manages to captures differences couple category (self category XD) pics of that night ;P


* Top 4 couple pics! *


Not to forget a great group pic of bloggers! =D


* Bloggers! U guys rocks! *


After that, we went to yumcha at SS2, Murni. At first i tod it gonna be around 10++ peoples but my expectation was WRONG! We, 52 bloggers raid the Murni! Wooo!!!!


* Ore-Tachi! 52 Bloggers! -pic credit to Ewin *


Cool isn't? We rocks! Muahahaha!