Went to had KFC as dinner last nite wif Joe, Max, Nicol & Yeng at Taman Connought because they never attend the
first time fiesta
. Oh btw, they not only bloggers, but also uni-mate of mine.
At 1st we supposely to get dinner at SS2 since Joe wanted to try new food at there or a western restaurant suggested by Yeng that located at Bukit Jalil. However plan changed and we went to get KFC.
Since i havent spend finish my voucher tat day, i grab this opportunity to treated them dinner. 5 of us went to KFC around 9pm. The service there kinda slow..i dunno is customer prob or reli their service prob since i m not d 1 do d ordering job. Well, as usual, i cant resist to get myself KFC Spicy Chicken everytime i m here.
* Spicy Chicken, yummy! *

While we were chatting half way, suddenly a finger issue been pointed out by me when i knew max finger can tilt abnormally...later on all of them playing their fingers and show off their ability...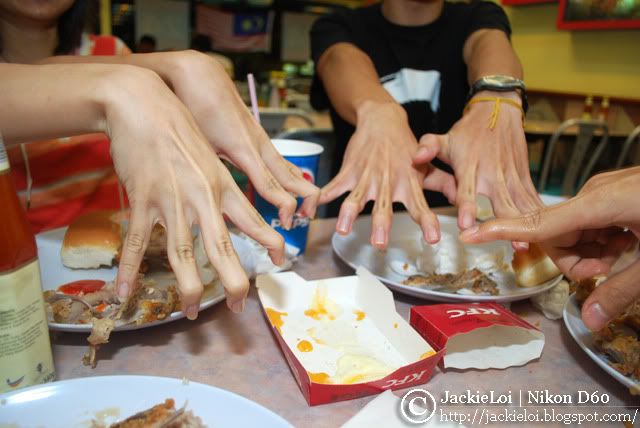 * Salty Pig Hand (Ham Chu Sau) & Duck leg...i m glad my finger normal XD *


Anyway, is a great dinner last nite. Get to chat alot about our childhood stuff. Unfortunately our dear max been summoned by police before he went back...pity u pal..haha