This is a continuous from my previous post. After the
DigiMusic Revolution
event, all of us rushed to The Curve, Sony Style shop to meet Boys Like Girls. Ok, i admit i dunno who are them =P. i juz went there for fun and shoot their pic since they are idol..rite? =P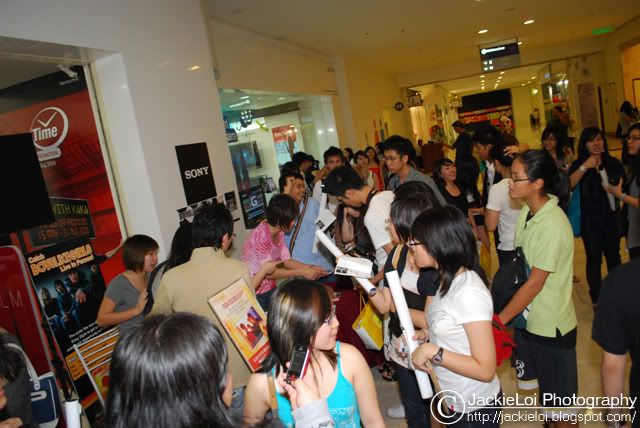 * Alot crazy ppl..opss! i mean alot ppl crazy for them *

I kinda angry since i been kicked out by the person in charge in d shop though i told them i am bloggers. Thus, Nigel went in wif my cam and snap those pic for me. Thanks dude!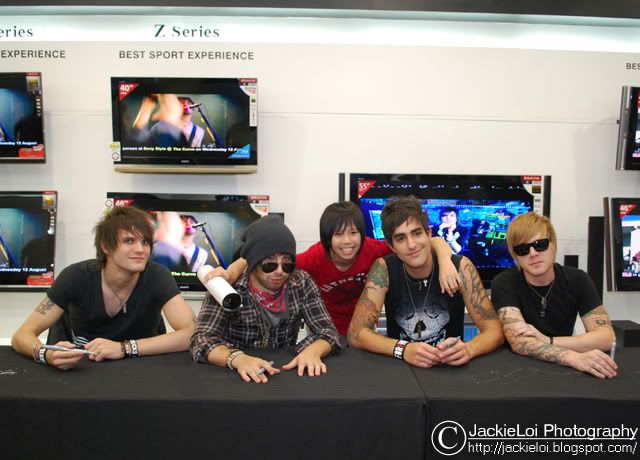 * Boys Like Girls & their fans *


In order to photograph with them and get their signature, Kristine willing to joined d gang to queue out to bought their album. I guess that night she is d most happiest person la coz she won a watch from DigiMusic, got Boys Like Girls signature, pic with Boys Like Girls as well as camwhore with them..LOL WTF


* Jeng Jeng Jeng, Kristine & her poster + Signature *


after that, all of us rush to the Cinema at Cathay for District 9 movie. I express my gratefulness to Nuffnang to allowed me joined d screening though i din won d tics from d contest =X.


* On d way to Cathay *


Before the movie started, few of them trying to compare themself with the alien from District 9...


Ok enuf..i know u guys got frighten by them XD...No fear because, here we go for District 9 summary! Thanks for Nuffnang sending me blog kit again for me to blog about this movie =)



Summary :


Thirty years ago, aliens made first contact with Earth. Humans waited for the hostile attack, or the giant advances in technology. Neither came. Instead, the aliens were refugees, the last survivors of their home world. The creatures were set up in a makeshift home in South Africa's District 9 as the world's nations argued over what to do with them.

Now, patience over the alien situation has run out. Control over the aliens has been contracted out to Multi-National United (MNU), a private company uninterested in the aliens' welfare – they will receive tremendous profits if they can make the aliens' awesome weaponry work. So far, they have failed; activation of the weaponry requires alien DNA.

The tension between the aliens and the humans comes to a head when an MNU field operative, Wikus van der Merwe (Sharlto Copley), contracts a mysterious virus that begins changing his DNA. Wikus quickly becomes the most hunted man in the world, as well as the most valuable – he is the key to unlocking the secrets of alien technology. Ostracized and friendless, there is only one place left for him to hide: District 9.


My opinion on this movie, GREAT! Is better than my expectation! I was expecting the whole movie is handheld (

a film and video technique in which a camera is literally held in the camera-operator's hands--as opposed to being placed on a tripod. The result is an image that is perceptibly shakier than that of a tripod-mounted camera

) technique but it prove me wrong till d mid of d story though d whole story was meant to be documentary type. In addition, this is not ordinary Alien VS Human story. At the mid of the story, it shown that Wikus developed friendship with Christopher (the alien) and they help each other which is Wikus helped Chris to back to his mothership and in exchange Chris will recover Wikus back to human, in 3 years later.


* The District 9 statue *
* Wikus : "Excuse me sir..could you sign ur name here? *
* Christopher, the main alien character in d show *


Overall, i love the movie since it was out of my expectation. The visual effect are good and story are well arranged. Thumb up to Peter Jackson!