Wow been 2 days din update my blog. First of all i din update coz my new sem already started wif packed (not reli packed la, haha) schedule around. Secondly is because i din join much event and nth much interesting happen on me. In addition, petrol price increase =(..cause me dun dare run here and there.
Anyway, i attended D'Ultimate Birthday Bash Bloggers Gathering on last 2 days, which is friday organized by Digi. The gathering was held at Cloth & Clef, Jalan Changkat. Total 25 bloggers turn out to the event throughout the whole night.
* Cloth & Clef...what a nice shop name... *
* at inside *


We were served with some snack and free flow drinks on that night. After the snack, speech was given by Auntie Wong. LOL! Ok la her name actually is Xaviera Wong by she asked us to called her Auntie Wong..haha


* Snacks of the day *
* Auntie Wong AKA Xaviera *
* All bloggers are excited for d upcoming game *


They are some game been prepared to us to win prizes at there. It was most likely draw a num in 2 boxes and SURPRICE! U'll get d present according d num u get to draw. After that we are required to blog about how are we gonna use d prize we won to the event on 3rd oct. Well, i guess i m d only 1 who did not take part on this thingy...haha..


* Wherever Nigel are, there is scandal for him... *
* Jenny & Jason *
* Victor & Howard *


After tat, Auntie Wong offered them to play 1-2 Som to won d vodka. Kate, Bryan & Kristine was out at 1st round and left with Howard and another 2 girls. After that they are required to came out a 4 letter words and spell it using their butt. Whoever among us get to guess correctly they are the winner of the game. It is funny to c how they move their butt =P..opsss


* One Two SOM! *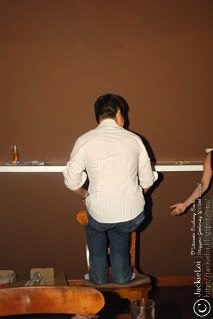 * Butt signal...hahahaha *


Well after the game session, Auntie Wong gave out the complimentary tics to the event to those who already did the Birthday Post for digi. Well i am one of them of coz =P. And thanks to that, she and Caryn up my birthday to everyone..OMG...hopefully my life wun stake in danger tat day...hahaha..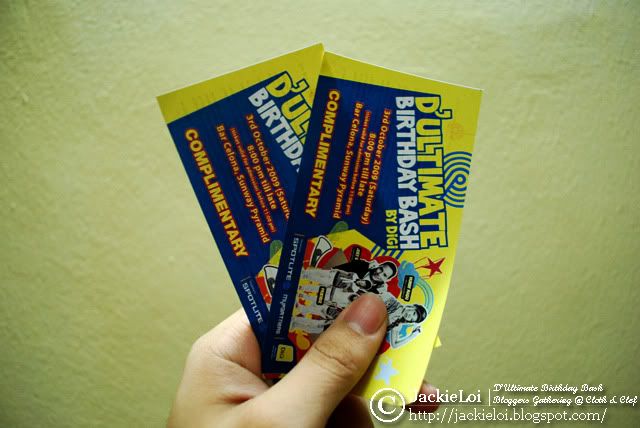 * My two complimentary passes =) *


After that is photograph session. As usual, bloggers do camwhore and took group pics! =D


* Another scandal by him...*
* Zues, Jane, Nigel, Me & Jason *
* Me & Auntie Wong *
* Group pic *


After the event, few of us went to had our late dinner at Jalan Alor. Oh well, i forgot what d shop name i visited but d Penang Fried Kuey Teow sucks! It taste like kacang =(..According to Hikaru & Kate, their Hokkien Mee no taste at all..omg..Mayb here is a guide can help any1 who wanna eat at Jalan Alor..dun visit stall that not crowded..LOL


* Penang or Peanut Chow Kuey Teow? *