Date : 1st Sep 2009 (Tue)
Time : 9pm
Venue : TGV, One Utama


Courtesy of Nuffnang, i got to watch Final Destination : Rest In Pieces Premier Screening. So this is my very 1st post and 1st movie on september. Before went to 1U, 4 of us, me,Joshua, Nigel & Jen went to dinner at BRJ Setapak.


As everyone know, this shop was famous with their Maggie Goreng & Nasi Lemak Ayam. 3 of us guy ordered Nasi Lemak Ayam while Jen got herself a Roti Telur.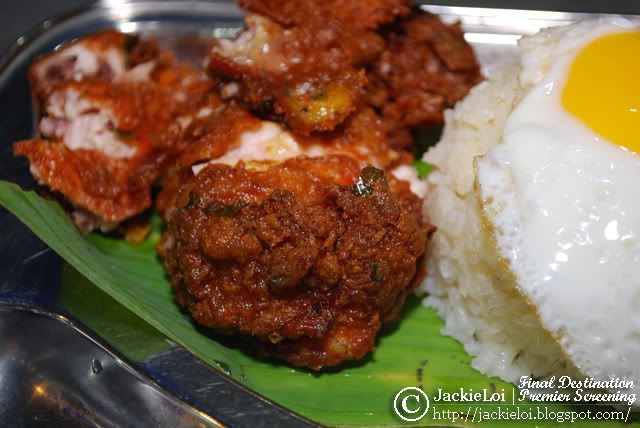 * Nasi Lemak Ayam *


I found out Jen bought new phone, NOK N97. Being curious, i play her phone and tats my first time hands on for tat model.


* N97 Hands On! *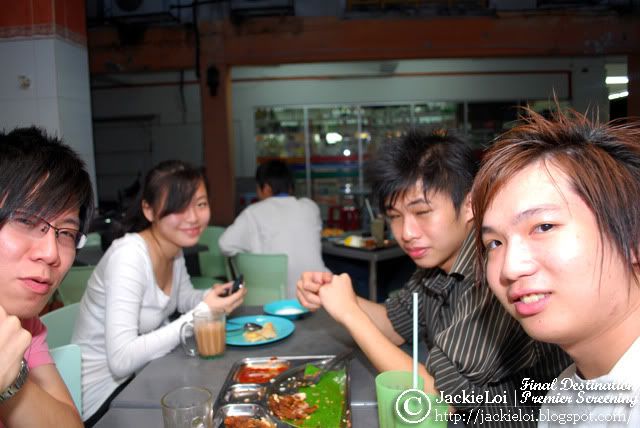 * 4 of us *


After the dinner, we went to 1U and redeem out tics at Nuffnang booth.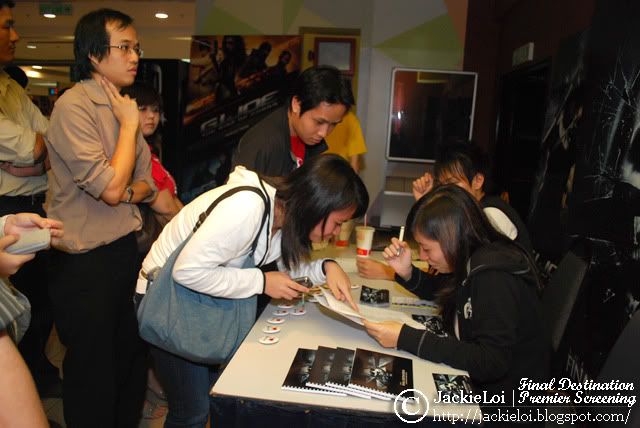 * Nuffnang booth *
* Tics & Postcards *


Since we still have time after got our tics, we went to Mc D to meet up with other friends who currently having their dinner.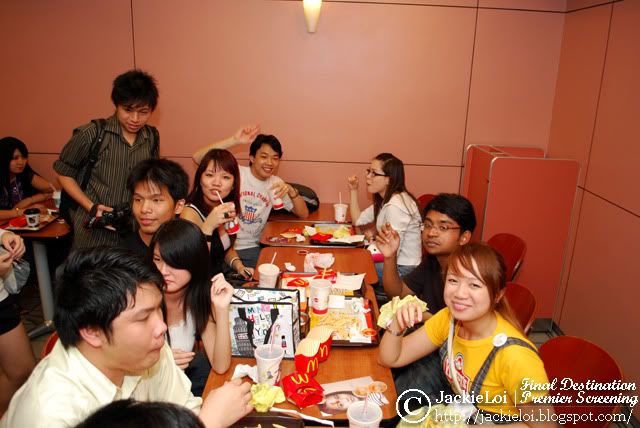 * Every1 u know i know who is it at Mc D *


After the dinner, we went back to Nuffnang booth and collect tics for those who havent collect yet. I camwhore alot last nite. Tried to practise my skill camwhore in a mass with DSLR. Is not ez though because i dun have high height, long hand & huge hand..LOL..Oh well, hope u guys din get bored of my pic..pls bare wif me XD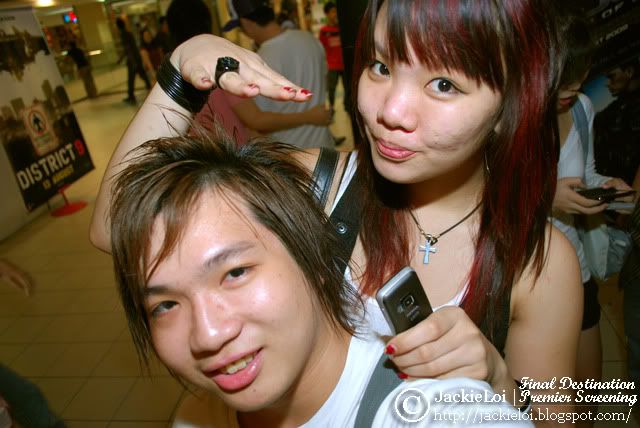 * Me & Jess *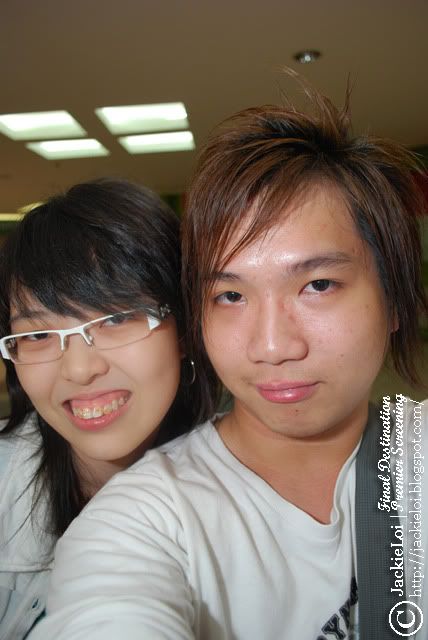 * Stephy jie & me *
* Me & Zoe *
* Me & Wen Pink *
* My face out of focus..saddd *
* Again out of focus.. *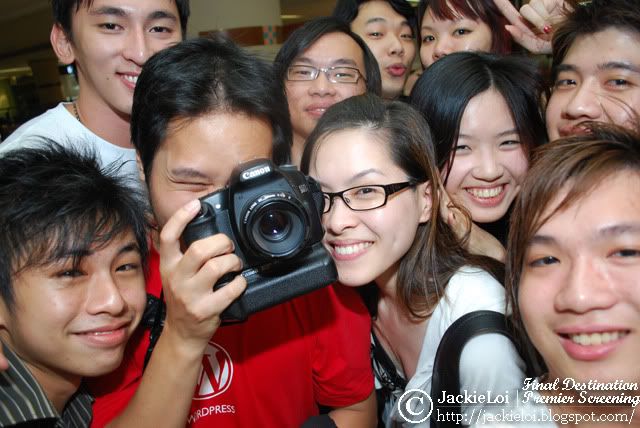 * Finally a better 1 *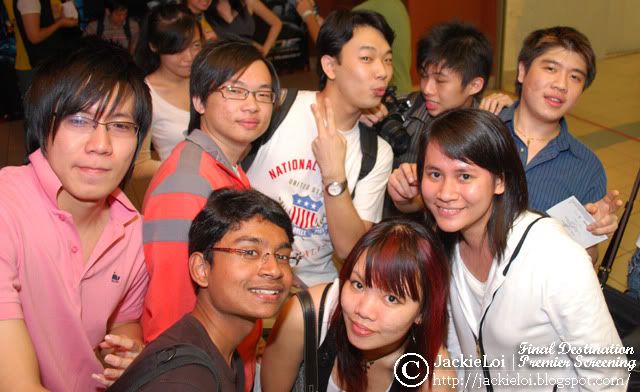 * A pic wif Chris inside *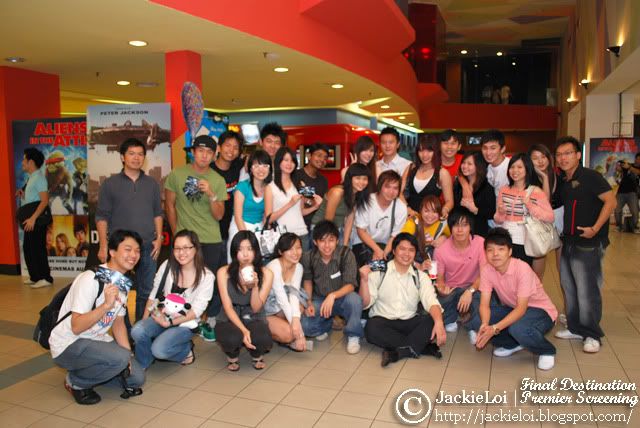 * Group pic *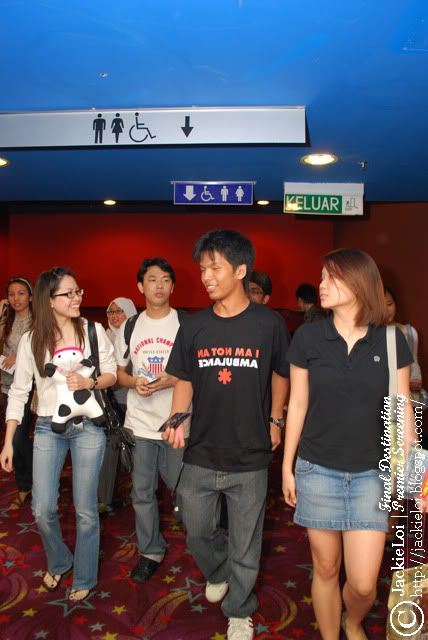 * Entering cinema. can see Pamsong with her moo moo? *


As usual, before i express my comment on movie, here d short brief summary of d show about :


On what should have been a fun-filled day at the races, Nick O'Bannon (Bobby Campo) has a horrific premonition in which a bizarre sequence of events causes multiple race cars to crash, sending flaming debris into the stands, brutally killing his friends and causing the upper deck of the stands to collapse on him. When he comes out of this grisly nightmare, Nick panics, persuading his girlfriend, Lori (Shantel VanSanten), and their friends, Janet (Haley Webb) and Hunt (Nick Zano), to leave…escaping seconds before Nick's frightening vision becomes a terrible reality. Thinking they've cheated death, the group has a new lease on life, but unfortunately for Nick and Lori, it is only the beginning. As his premonitions continue and the crash survivors begin to die one-by-one—in increasingly gruesome ways—Nick must figure out how to cheat death once and for all before he, too, reaches his final destination.


So what to say. I almost forgot all d past series of FD. However i felt this version FD was not as good as expected. Firstly d effect they use is very CGI kind and look very fake for me (body been tear apart, flying head, head crash into pices). Secondly the ending was seem very rush for me. Is d director rushing every1 in d movie die faster and easily?eg, George die by car accident. Not much suspense toward d end of d show. Thirdly, the length of the movie just 80 min which i think it should deserve longer time and add more scene.


* In the race lap *
* Janet & Hunt die in Nick vision *
* Janet who in d car wash centre *
* The way how d racist die... *


However there are few scene i kinda like and still stuck in my head now. Firstly the flying stone that hit by the grass cutter machine. The stone directly hit on the woman and thrust through her eyes & head which left a hole. Secondly Hunt butt who been sucked by the hole in d pool. The pressure and force was too strong until his muscle shrink (i think XD) and explode..fuhhh! mamamiya scene for me..hahaha...Lastly the scene where Lori die in d escalator which only happen to b Nick vision only.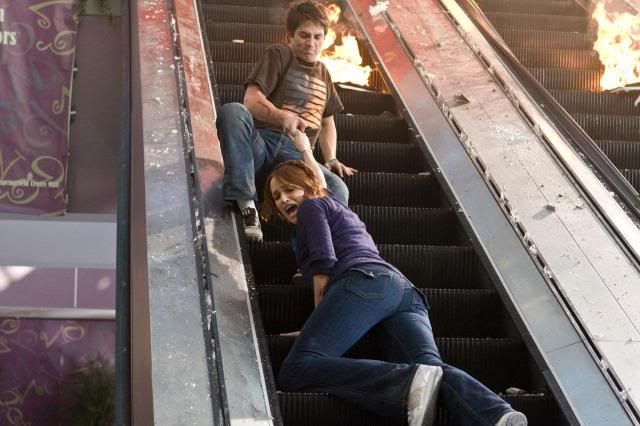 * Lori leg gonna stuck on escalator soon.. *
* And tats what will happen next.. *


Overall, i think d movie is still ok but dun put too high expectation on it.

After the movie, we went to yumcha at central point, Banana Leaf mamak stall (forgot d exact name of d shop..sigh). At there, i met Shaz & Joanna.


* Shaz camwhore *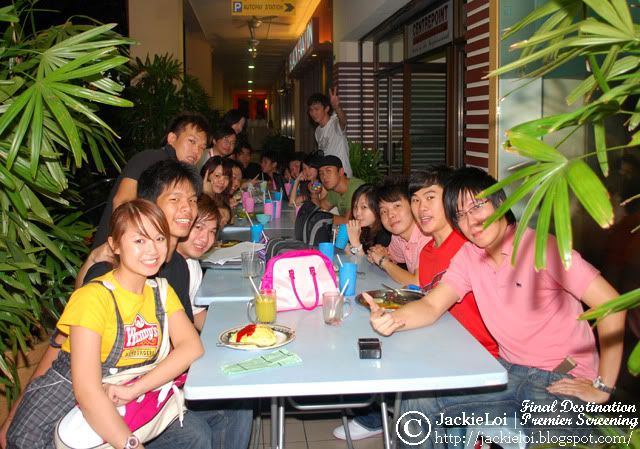 * Group photo at d mamak stall *


Sigh, Shaz got a better camwhore skill than me..i gotta practise more!!!!