The "T Music Festival" is a 5-hour long marathon concert which features some of the most promising singers in the region of Asia. From Hong Kong, there are Joey Yung, Justin, Kay Tse, Khalil Fong, Soler and Kenny Kwan; Taiwanese singers include David Tao, Power Station and Sam Lee; Jade Liu and Ocean are representatives from China. On top of that, fans shall also expect James and Chin from Thailand; Kelvin Tan from Singapore. Last but not least, there are local singers such as Z-Chen, Eric Lim, Kay, Manhand, Andrew Tan and Rickman.

Courtesy of Nuffnang, i got invitation to this concert!! OMG! I AM SO EXCITED! It was my first TIME! FIRST TIME in my life attend concert for real! Not to mention this concert was performed by various artistes from others state!


* Stadium Bukit Jalil *


Before the concert started, few of us gathered at a kafeteria (and i read it as kalefehteria) to had dinner.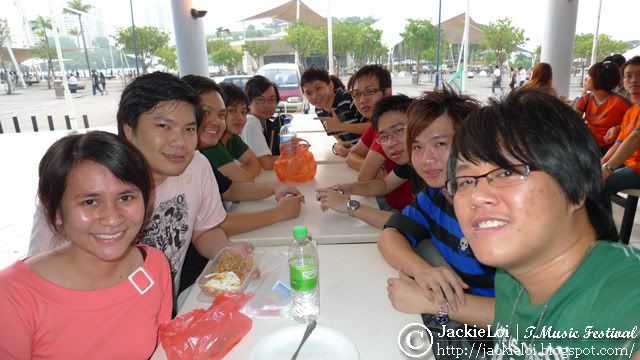 * all of us *


Sharp 7pm, all of us went in the stadium. My first time being in Stadium Bukit Jalil..LOL, i know i fail kao kao..hahaha..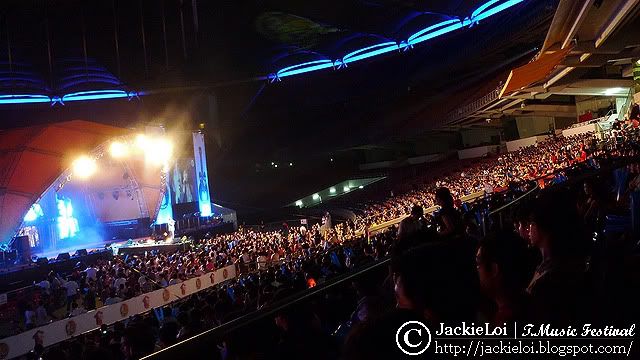 * Total population in the stadium *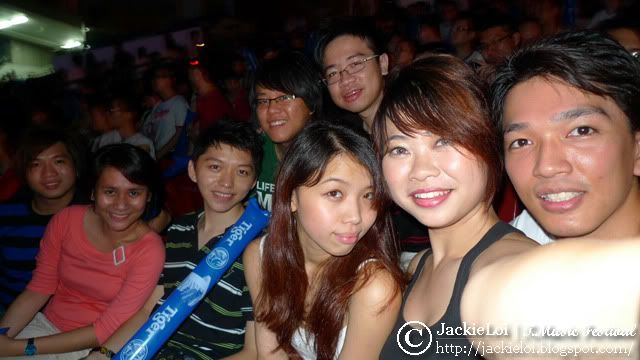 * Us in the stadium *


There are definitely alot singers i love on that night! They all reli rocks on the stage.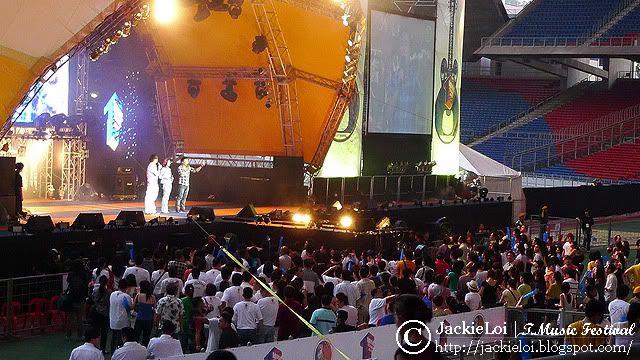 * Emcee of the night, Nicholas, Ngan Mei Yan & Cheung King Fung *


I listen Manhand song few times in radio but reli dun have chance to go deep to their lyrics. However i enjoy their performance. But in my point of view the female vocalist voice seem kinda weak that nite.


*Manhand *


Not to mention, SOLER! 2 hot dude who manage to attract so many teenager including Kristine & Melody..LOL. Both of them rocks on the stage with their new and old song.


* Soler *


And i think the Power Station is d most popular band with their music rocks with 5~6 songs. It was reli EPIC and they are legendary for me!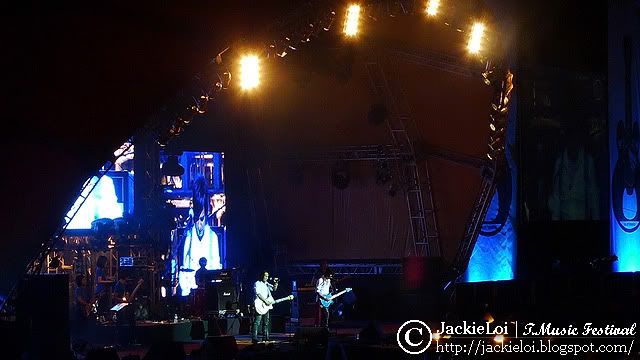 * Power Station *


Unfortunately during Chin (from Thailand) came out and perform, some unexpected thing happen. The cable just right all d way below my seat suddenly caught fire. Every1 on my seat was excited and cheers for it (sorry i mean scream for it..WTF) and ignore the singer who currently performing.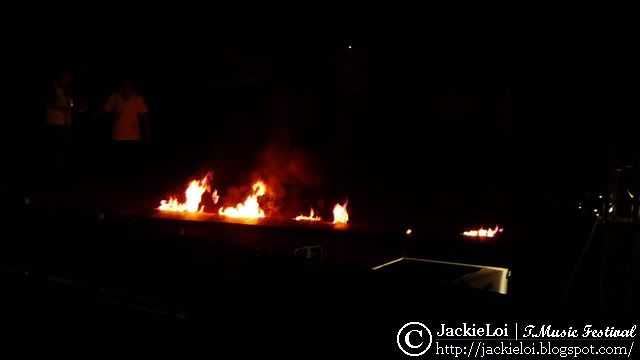 * Fire!! *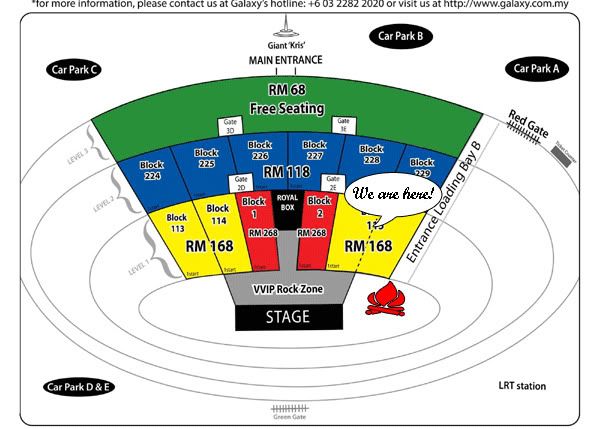 * And there is where d fire happen *


We not sure whether the cable is main power supply onot, but as soon as the fire been put down, the whole stadium black out. All ppl started to complain and make noise and cause the situation uncontrollable. However they are still loyal fans who supporting their idol under the darkness. It took around 40~50 mins to recover back the electricity.


* Blackout.. *
* Joey Yung loyal fans *
* And we emo due to the delayed... *



As soon as the electricity resumed, Chin continue his performance. Seriously he surprise all of us wif his good looking, well speaking mandarin though he from Thailand and he can dance so well. Thumb up for him!

Next, my fav singer, ERIC LIM! He did pretty well in all previous singing competition and get acknowledge from one of the taiwan singing competition, "xin guang pang". Of coz, i love his song, "Wo Ting Jian You Ren Jiao Ni Bao Bei"..finally a song from a singer that i knew sing for d full! woops! =D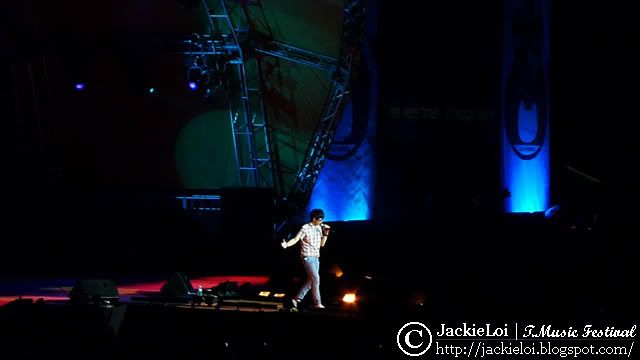 * Eric Lim *


In addition, Khalil Fong who was talented in composing was performing very well with his new and old song such as Love Song, Ai Ai Ai and Nothing's gonna change my love for you.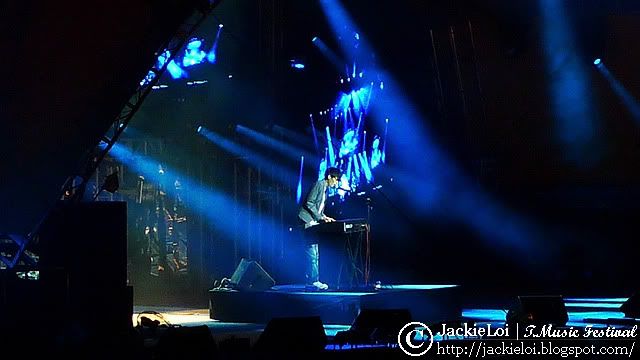 * Khalil Fong *


And guess who is next? My favourite singer from Malaysia, Z-Chen!! Serious i love all his song from the first day he sing! He starting song wif Kuai Le then change to Ai Lai De Tai Kuai. Unfortunately i guess due to the after effect of the cable burnt, that song stop half way when he sing. And he still manage to joke wif us by saying "So you guys reli wan me be emcee? ok i become"..hahaha..and next his song was none other than the famous, Ling Sen San Tian Jung and lastly his new song, Mi Wei Jen (i guess).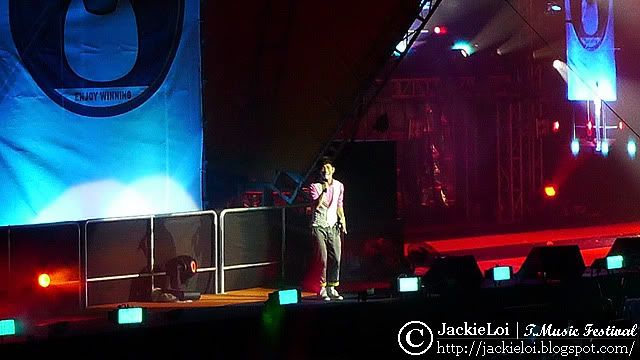 * Z-Chen *


Next is Sam Lee who knew as good in singing love song. I love all d song he sang that nite except d So Fun. He should sing Zui Jing instead of that So Fun song..LOL.Anyway, he is great singer! and he is d only singer that received flower from fans that nite.


* Sam Lee *


And here we go, left 3 more singers of d nite. Justin appeared on the stage wif his old song, Vola. Next he sing Kuet Jin Yi Sai Jou, Meng Ngan and the most famous song that i believe u and me will dedicate in K-room, Nam Yan KTV! Overall, Justin sang all d song i knew how to sing and my fav! Justin u rocksss!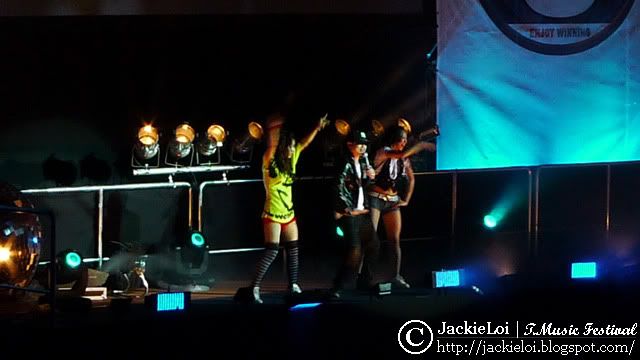 * Justin *


I am quite surprise to know that David Tao appeared 1st before Joey Yung. He sang two his new song which i dun remember and dunno what song is that and other 2 old song which 1 of them was Ai Hen Jian Tan where every1 in d stadium sing along wif him.


* David Tao *


And finally, the last singer that appeared was none other than Joey Yung. Her opening song was Yuet Cheong Yuet Keong which under my expectation and ended up with Ngo Dik Kiu Ngou. However, alot ppl was leaving the stadium as soon as Joey appeared, which mean after David finished his performances..sigh..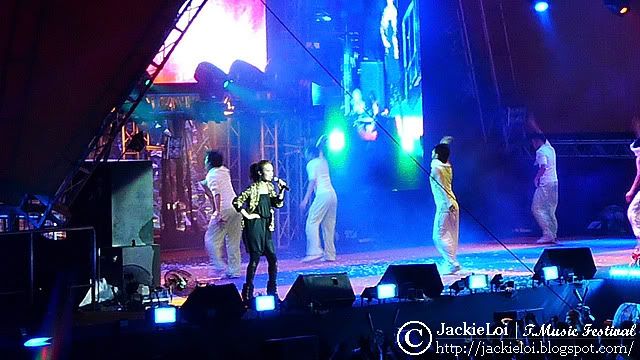 * Joey Yung *


Overall the night was a blast with FIRE and singers! It was my very 1st experience in concert and i'll forever remember it! Thanks to Nuffnang again for giving me the chance rocks the stage! =D

and lastly, all pics credits to Joshua. I failed to smuggle my DSLR into d concert =(