Continued from
Singapore Trips Day 2 - Indulge in the Uniquely Singapore experience : Singapore Royal Selangor Pewter Museum (Clarke Quay) & Singapore Flyer
.
After enjoy the Singapore Flyer, we went to Esplanade by bus again to our next destination, Esplanade. Esplanade is a theatres on the Bay sits on prime waterfront land by Marina Bay, and offers a complete lifestyle experience - dining, shopping, and the performing arts. Not to mention, it was a great spot for photoshooting as well =P
* First experience shooting sunset *
* Kim *
* Yat *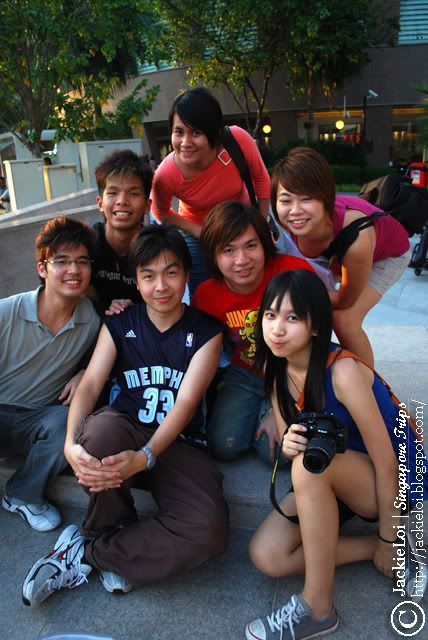 * Group pic *


I-DUNNO-WHY-WE-ARE-JUMPING-ALL-AROUND-AGAIN. Skip this part if you dun like..haha..but hey, jumping under sunset is cool! =P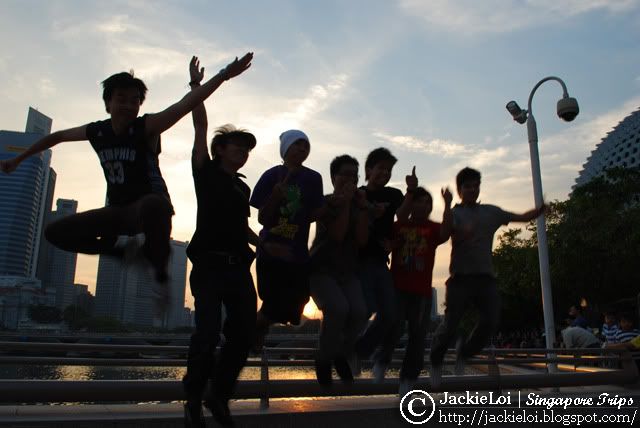 * Guys jump *
* Girls jump *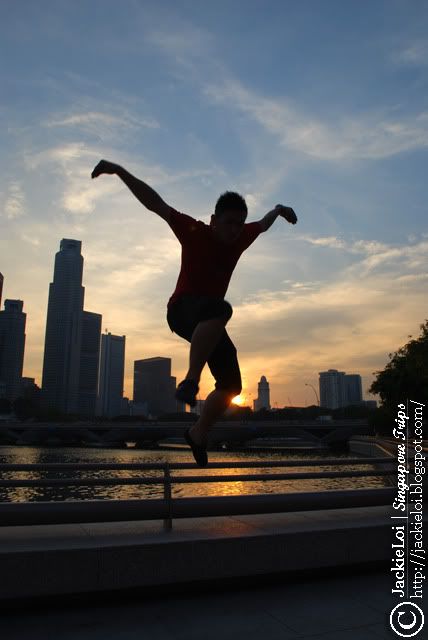 * Guess who is d behind silhouette? Flying Eagle? *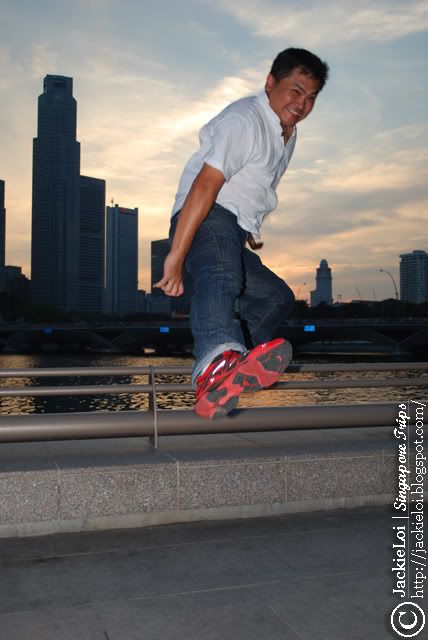 * Mike *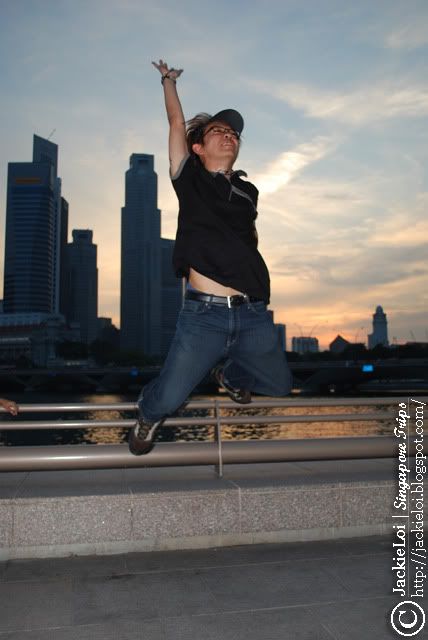 * Chris..if u notice, u can c his underwear XD *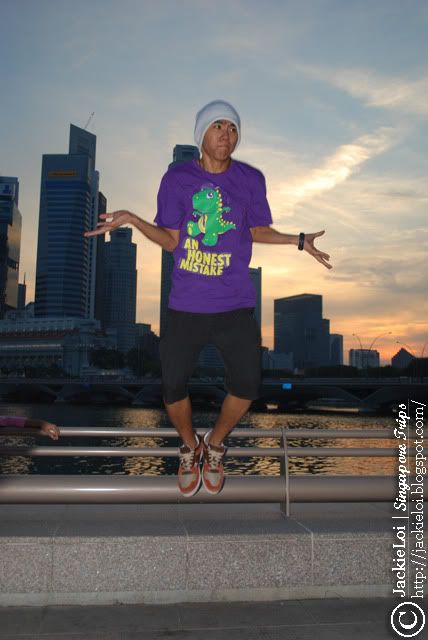 * Jeremy *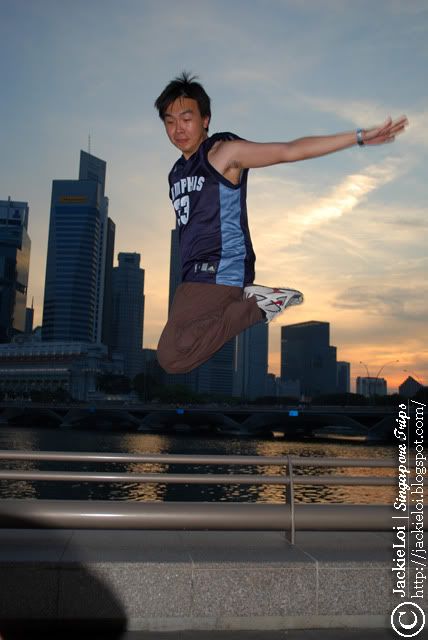 * Josh with the most stylish jump *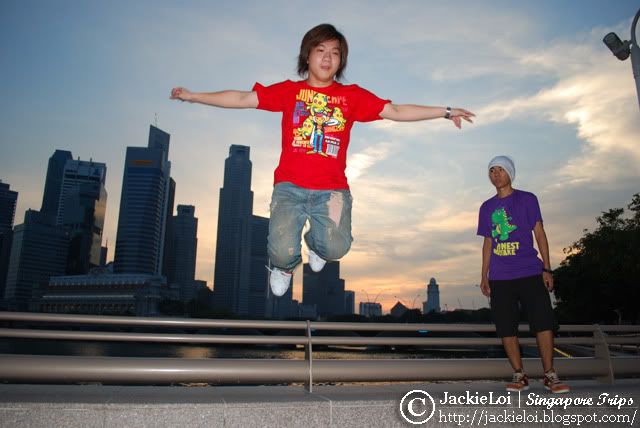 * Ok i know i phail *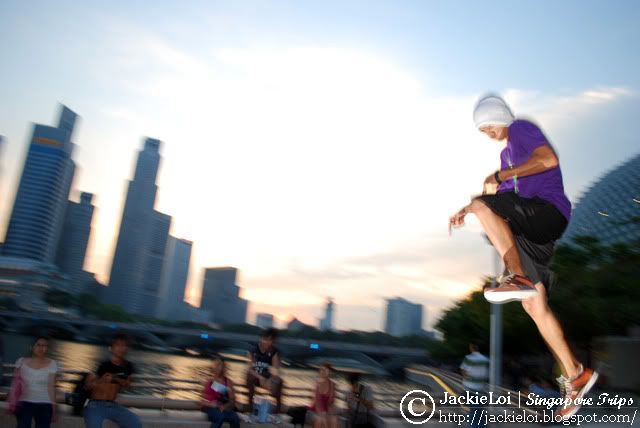 * I know it looks like photoshoped... *


After that, we walked to Merlion Park from Esplanade. The scenery was great around there and we saw someone actually took wedding pics at there...wow..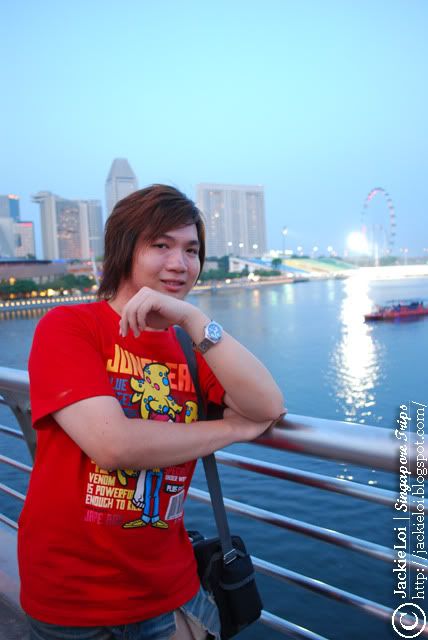 * Can see SG Flyer from here *


We reached Merlion Park after 10~15 min walking distance. The unique of this park was the statue. If i not mistaken it was Lion + Mermaid status..no? correct me if i m wrong.


* Merlion Statue *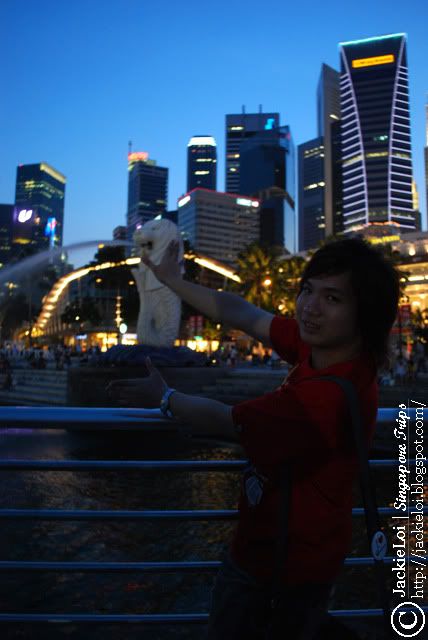 * Opss...fail to catch the statue wif my hand *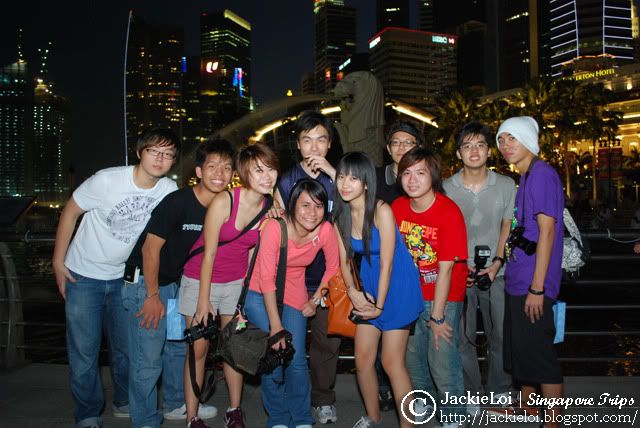 * Group pic with the statue as BG *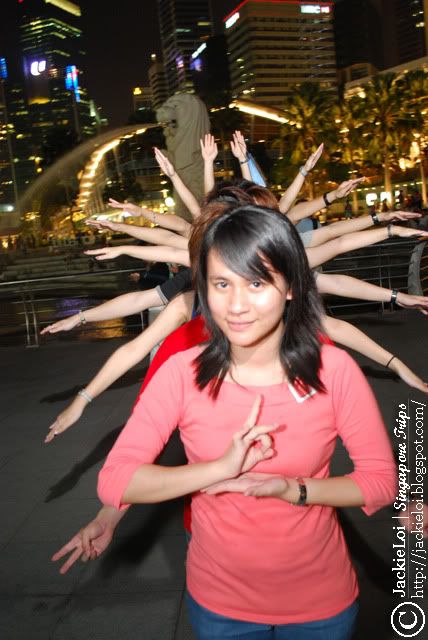 * Merlion Statue VS Thousand Hand Buddha.. LOL *


And i heart night photography! too bad i din bring my tripod along the journey...


* Esplanade *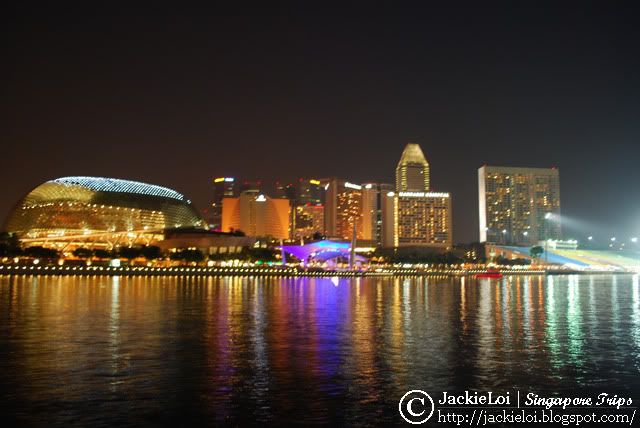 * Esplanade again..i think my hand abit shaky..sigh.. *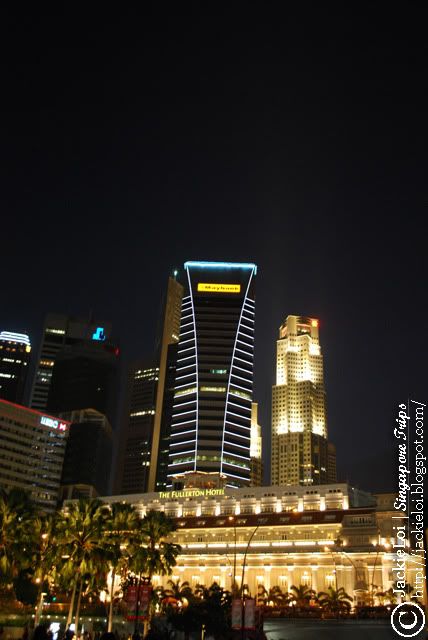 * The Fulleton Hotel & Maybank *


After 30~40 mins chilling around and for the refreshing air, we moved to our final destination by bus, Bugis Street! Yay! I know this is girl lover street, but not for me..i m too poor to shop anyway..haha..but to be honest i saw alot t-shirt with cool looking design. too bad, i need hold my money tight tight...XD


* Bugis Street *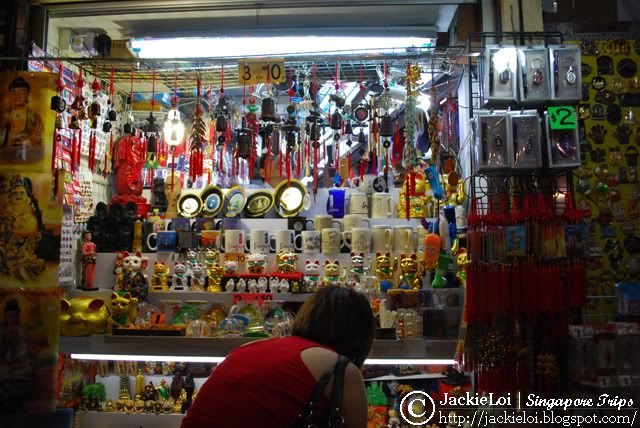 * One of the Souvenir Stall *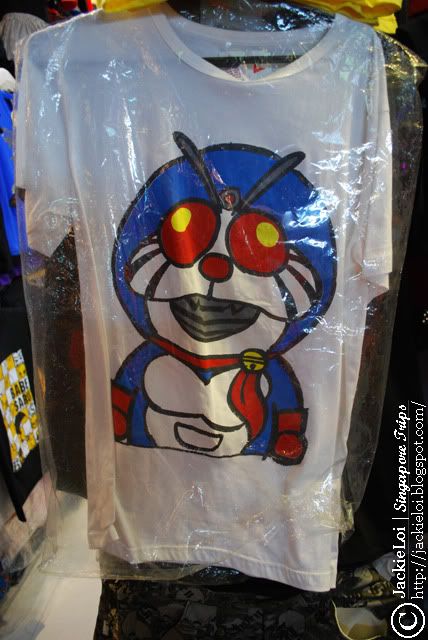 * Kamen Rider Doraemon! I wonder is this consider rare and how much d value be if put in Mint Museum of Toys? hahaha *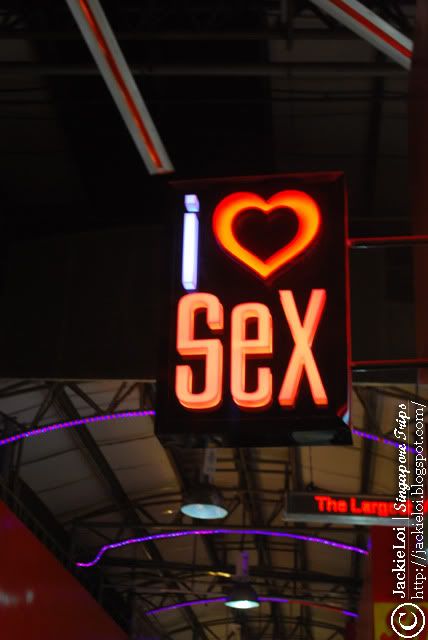 * Yea i love sex. Seriously, this is sex toys shop..LOL *


This is our final destination under Nuffnang sponsor. After that few of us went to Orchad alone by MRT. YAY! Finally got chance to use MRT! Their MRT service is fast and way better than Malaysia..opss...plus, their escalator was installed high speed program? it accelerate damn fast and cause me almost fall down for few times =X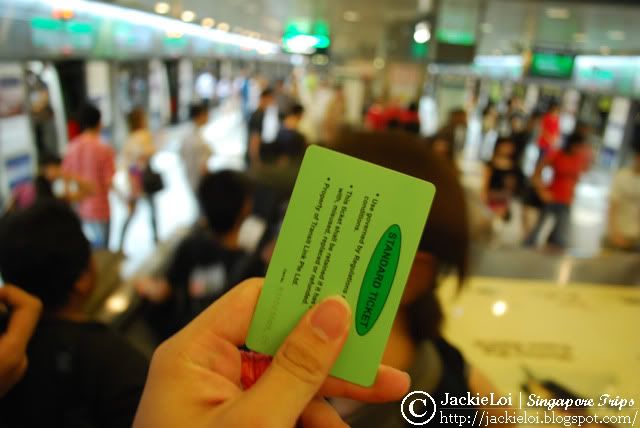 * The tic *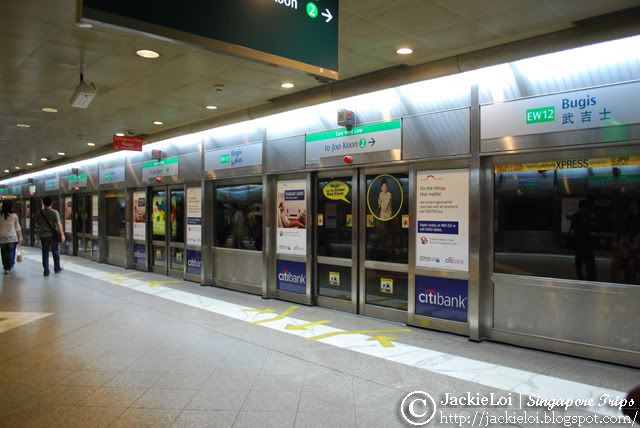 * MRT door with Phua Chu Kang Ads anywhere *


And we got our dinner at MOS Burger. I have to admit the burger was really something special though d portion is..so damn small...i forgot whats d burger name i ordered but it was made from 2 rice and a meat in between it. If convert d set value to RM, it cost the same price as Carl's Jr...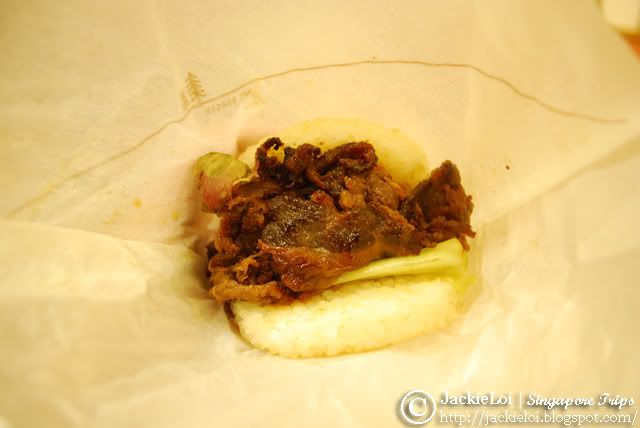 * My MOS Burger.. *


Overall, thats the end of the journey of Singapore on day 2. Time is passing so fast..i wish i could have more time to spend with all my great friends...

Anyway thx to Nuffnang again for the great whole day plan! =D