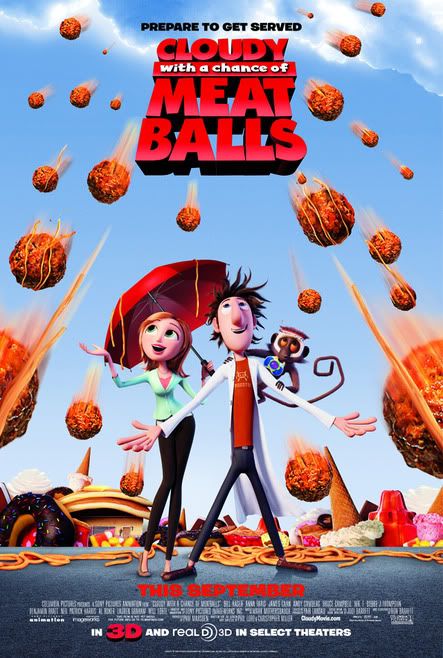 YAY!!! IT IS CLOUDY!!! A MOVIE I HAVE BEEN WAITED SINCE JUNE!! Courtesy to Kate & Columbia Tristar. The screening was on yesterday (12/10), 1030am at Mid Valley. So early huh? Yes i agree it is early but luckily it near my Uni coz i got class on 2pm.

Anyway, here the short summary of the movie before i express my opinion.


Inspired by Ron and Judi Barrett's beloved children's book of the same name, Cloudy with a Chance of Meatballs follows inventor Flint Lockwood (voice of Bill Hader) and a brainy weathergirl Sam Sparks (voice of Anna Faris) as they attempt to discover why the rain in their small town has stopped, and food is falling in its place. Meanwhile, lifelong bully Brent (voice of Adam Samberg) relishes in tormenting Flint like he did when they were kids, and Mayor Shelbourne (voice of Bruce Campbell) schemes to use Flint's latest invention -- a device designed to improve everyone's lives -- for his own personal gain. Mr. T. voices by-the-books cop Earl Devereaux, and James Caan voices Flint's technophobe father Tim. ~ Jason Buchanan, All Movie Guide


First of all, this was the very first production 3D Animtion by Sony Animation Studios. From my observation, their animation was as good as PIXAR! Banzai for them! This movie is pretty good. It's unlike any other film – live-action or CGI – that you've seen before. The story is simple, but it has enough unique elements to make it pop such as Food Weather? Food Disaster that gonna destroy the world? and of coz, there's humor for both the kids and adults in the audience. However i felt the Sam Sparks appearance looks like the girl from Alien VS Monster (forgot her name)..Anyway, thumb up to this movie! It doesn't disappointed me!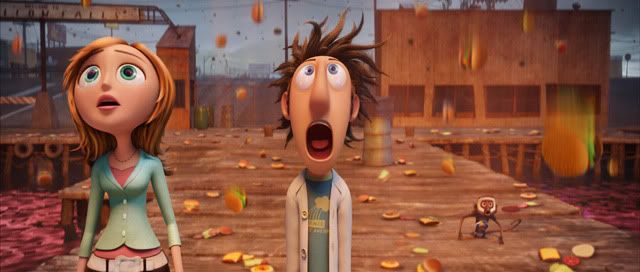 * If this is real human that expression seriously priceless... *
* Free Burgerrrr! *
* I love the ice cream town concept *


After the movie, me, Kristine, Flora, Hikaru & Kate went to had lunch at Sushi King. It is RM2 Bonanza Promotion again! From 12~15 Oct.



Jun borrowed her members card to me. Weee! I got to enjoy all colored plate with just RM2 each. And i guess i ate d most among them, 9 plates..LOL..


* Jun Sushi King Member Card *
* And thats me with my plates..LOL *


After the lunch i went to uni. It was a great outing wif friends though just for a short session on the morning.