As everyone know, recently Mid Autumn Celebration was on 3rd oct. See! 3rd october this year so damn happening in my life..hahaha..Anyway, in conjunction of that,
Nicol
suggested to had a BBQ party at her house, 5th oct together with others uni mate who are
Joe
,
Charity
,
Cherish
& etc (too much to list down =P ).
After class, i went to
Nicol
house with the rest to help up in setup the BBQ stuffs. Oh well, basically i hang out at her house to do assign while all d girls help up in kitchen..for some of them, it was their first experience using knife and washes dishes...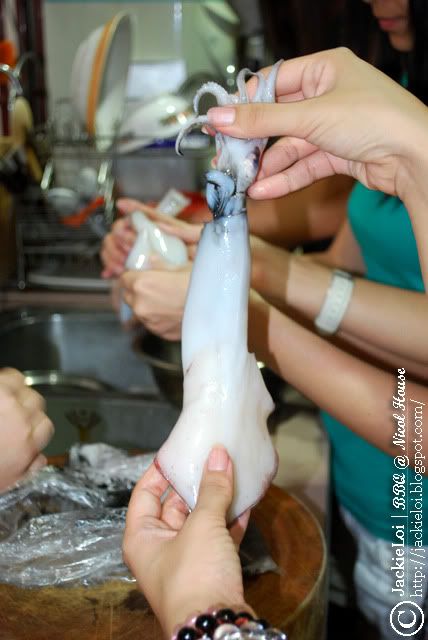 * The squids! *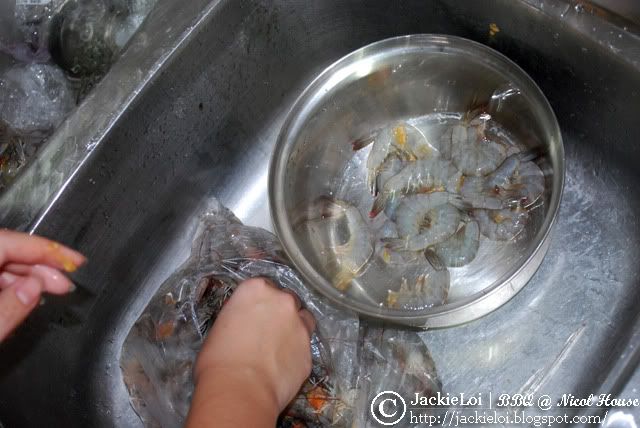 * The Prawns *
* Preparing tomyam sauce... *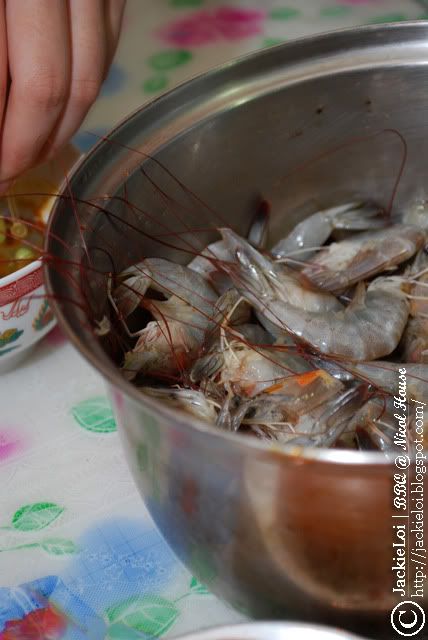 * There it goes, the prawn without head. Credits to Yen for peeling it *
* Slices squids. Credits to Cherish who sliced it *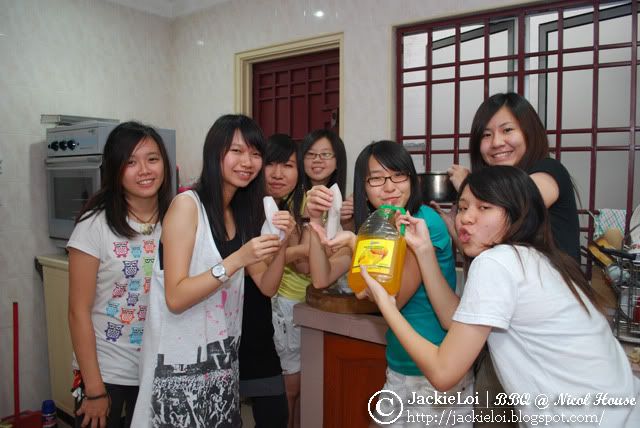 * The girls power *


Around 6.30pm, we started to setup the fire. Credits to Joe, Yen & Kengsing for this. What m i doing? just wait to eat..XD..and taking pics of coz..LOL


* Starting up the fire.. *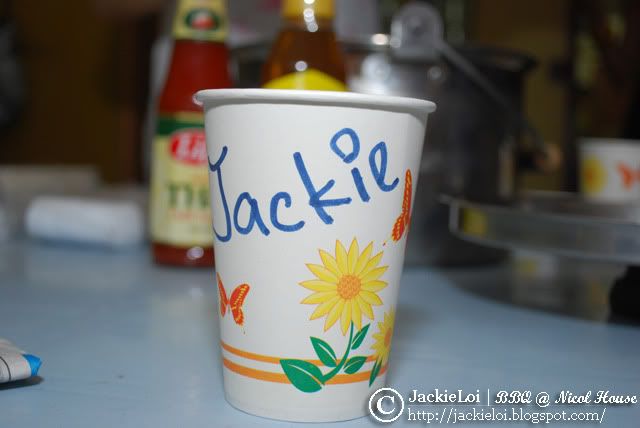 * i forgot who wrote d name on each of cups. Thanks =D *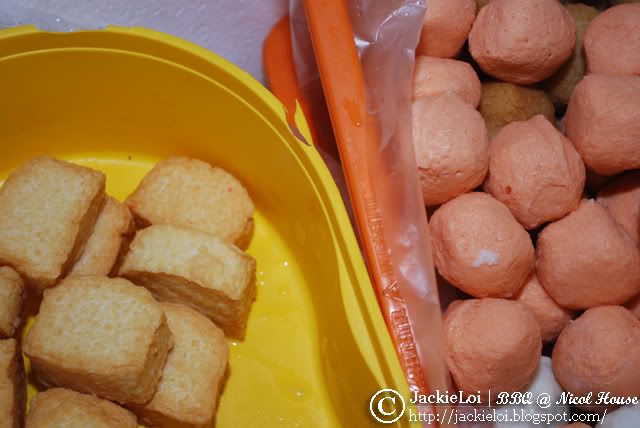 * Our food tonite..hehehehe *


After the fire establishes, everyone start conquered each other places to BBQ those food. It was my fire time to BBQ my own food (most of the time ppl do it for me and i wait to eat only..haha) and it cost me almost 30 mins to BBQ 2 chicken wings...sigh..such a great pain and sweat to eat 2 pieces chicken wing only.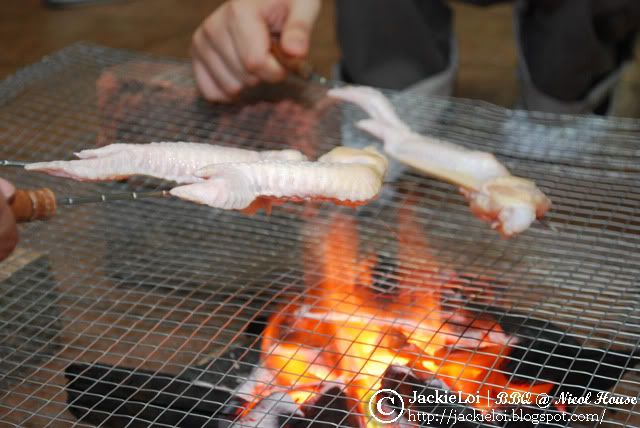 * BBQ-ing... *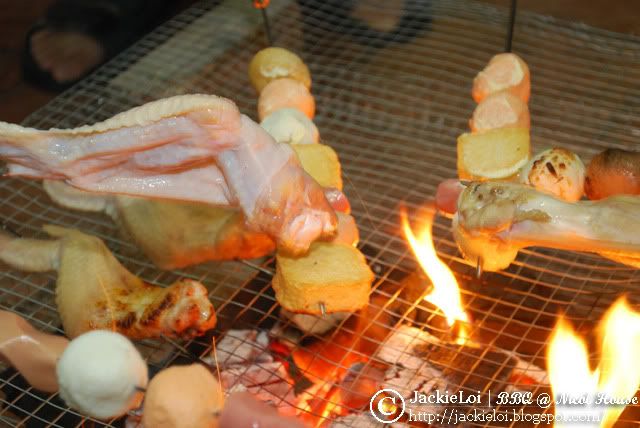 * and there goes every1 *
* it shown that only this group of ppl doing their bbq-ing job..hahaha *
* My chicken wing..ok la though up abit scorched
... *
* Her balls mostly burnt...her expression super priceless..hahaha *


After finished my chicken wing, is time for me to continue bbq-ing fishball & hotdogs.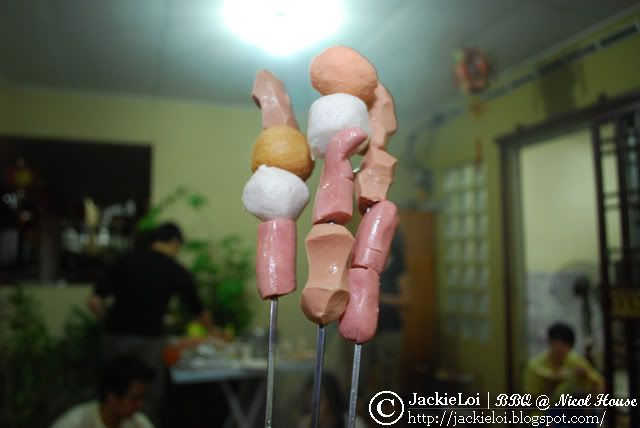 * My 3 Musketeer *


Unfortunately some accident happen. The ground was overheated (i guess) and cause the tiles expand and crack. We immediately put down the fire and figure out the tiles cant be saved anymore...sorry nicol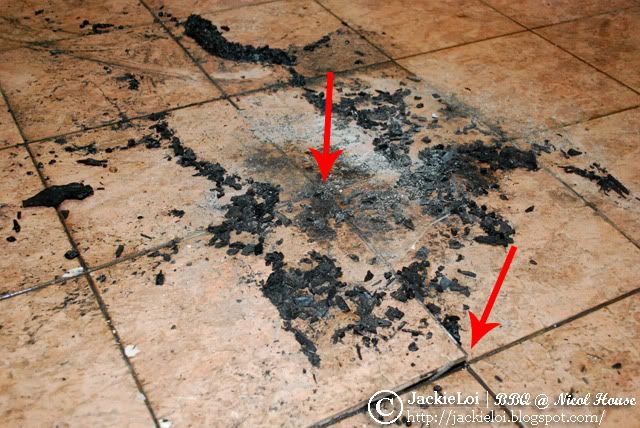 * The crack & expanded part *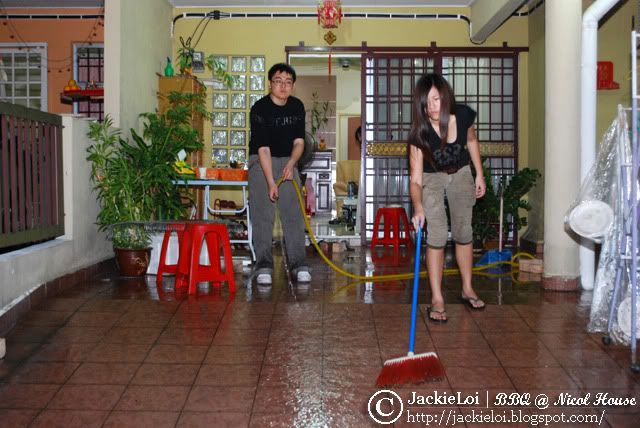 * Helping Nicol to clean up *


Later Nicol suggested to continue BBQ outside her house which mean beside the road..LOL..while waiting the rest come back with a charcoal, she brought out lanterns and we start hang it around her house gate.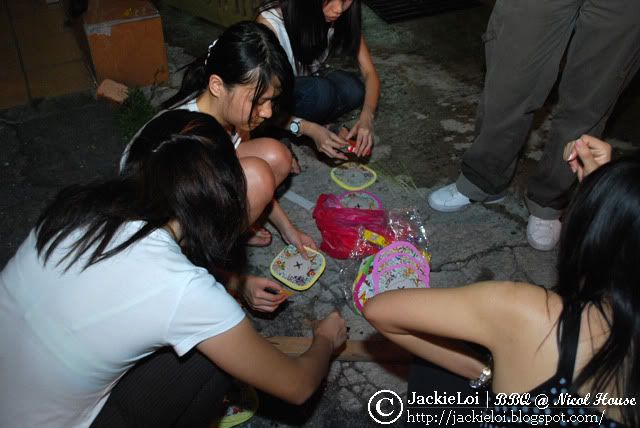 * Preparing the lanterns *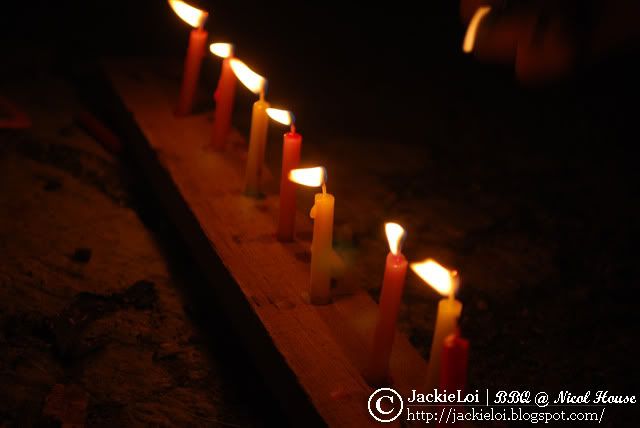 * Candles in a row *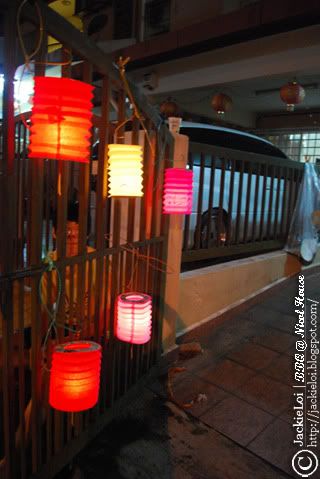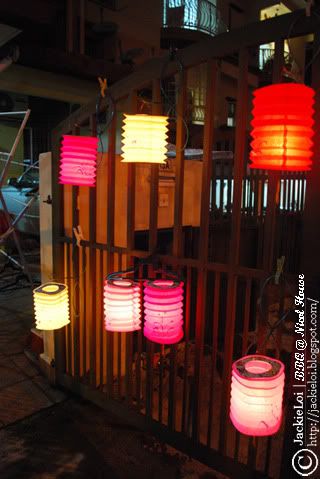 * Lanterns *


And we enjoyed playing long exposures with fire...LOL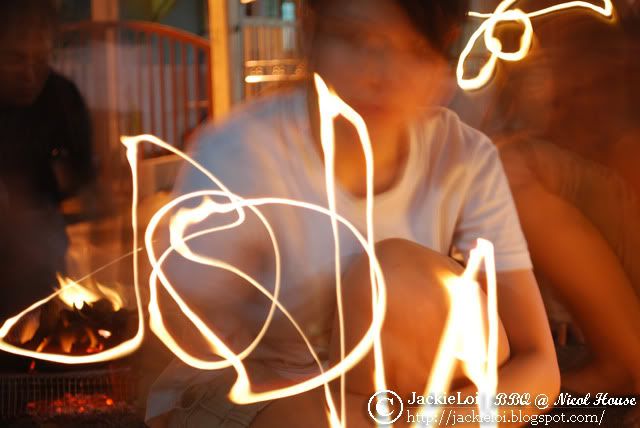 * Nicol *
* Yen *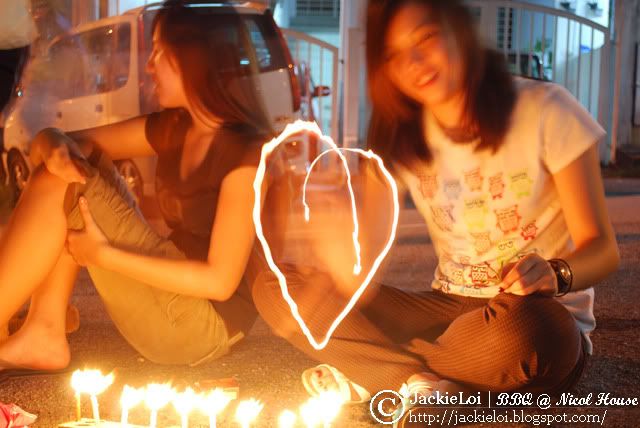 * Charity *


After the rest bought new charcoal, we continue enjoying our BBQ party..and some unexpected stuffs happen when Nicol suddenly brought out a cake from my back...LOL!! thanks for that Nicol.."I'll remember forever what u did for me until i could return it back to u.."...hehehehe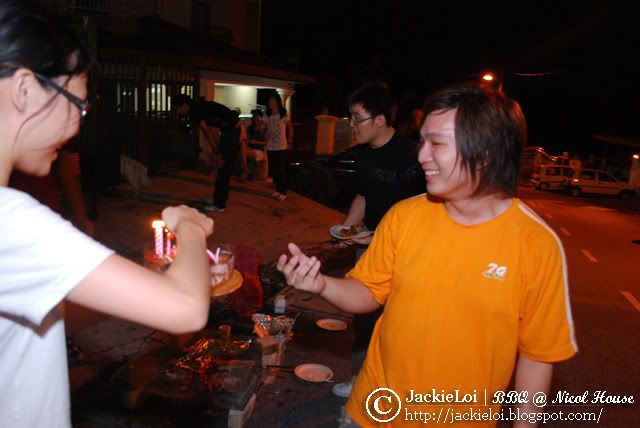 * Obviously i am surprise... *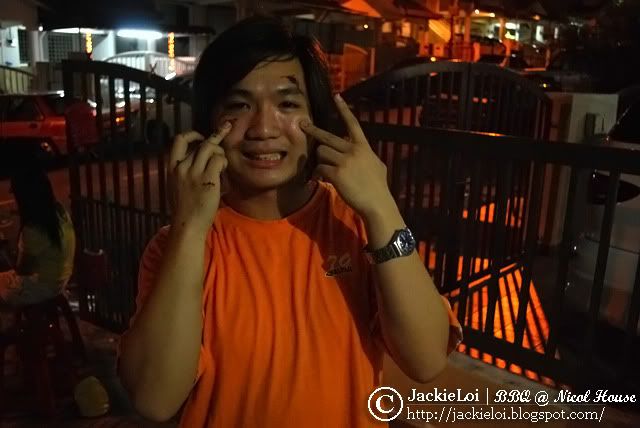 * My face and hand got chocolate.... *


Oh well, the BBQ session continue until around 11.30pm. Everyone stomach was full and round. It was a great experience hang out with uni friends especially some of them actually my first time talk to them though alwiz met in uni.

Well, last but not least...


* Group pic..and i m not in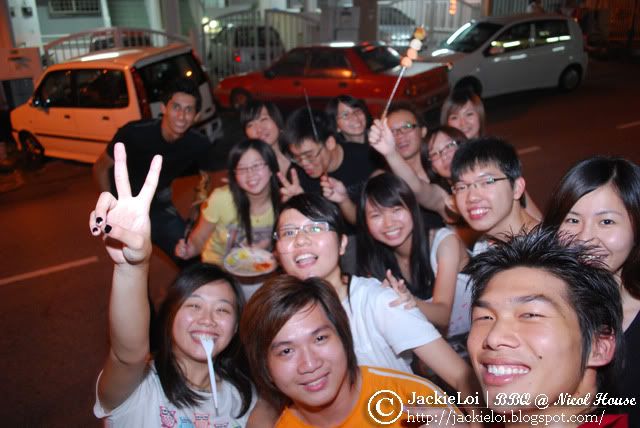 * and there is goes camwhore style! thx to Joe long & big hand *