Continued from 400th post SPECIAL EDITION :
Singapore Trips Day 2 - Indulge in the Uniquely Singapore experience : Mint Museum of Toys & Raffles Hotel.
Around 3.30pm after visited Raffles Hotel, we gathered again and moved to our next destination by bus, Clarke Quay. Before we able to walk around Clarke Quay, we visited Singapore Royal Selangor Pewter Museum. I nv knew Singapore do have Royal Selangor Pewter as well -__-..oh well, i seriously enjoyed it because i never been there b4, not even in KL 1..hahaha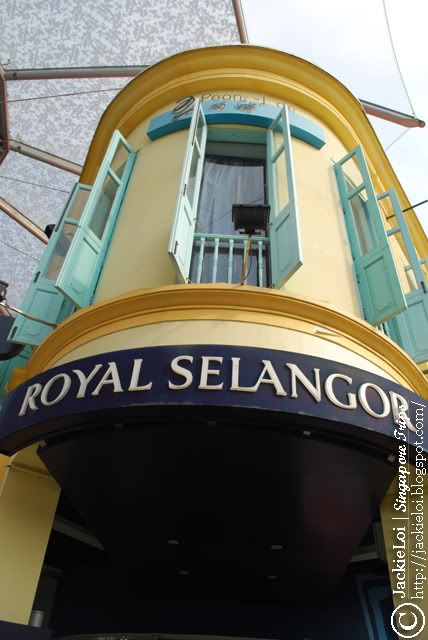 * Royal Selangor *

Well, we are given chance to look at all their great art and as well the working environment.


* Worker 1 *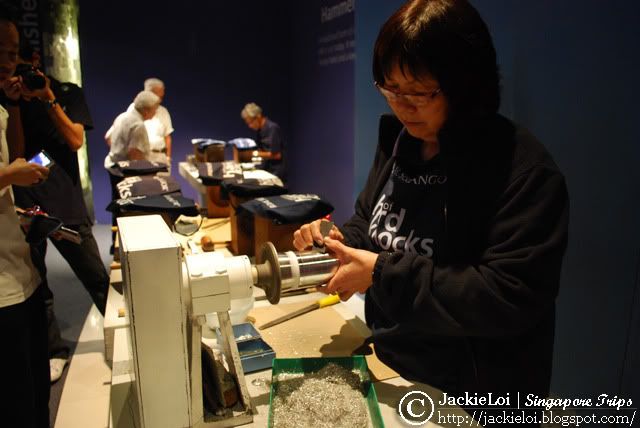 * Worker 2 *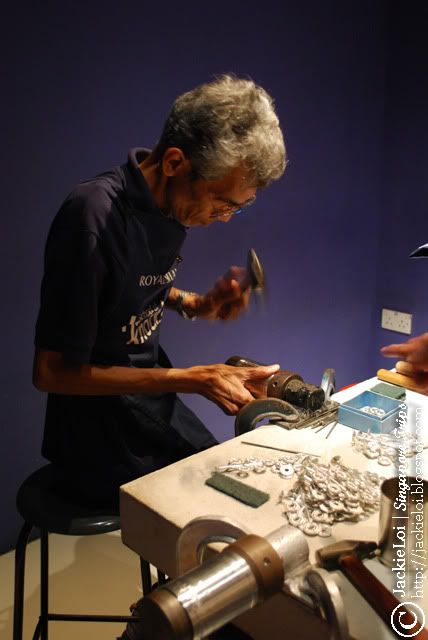 * Worker 3 *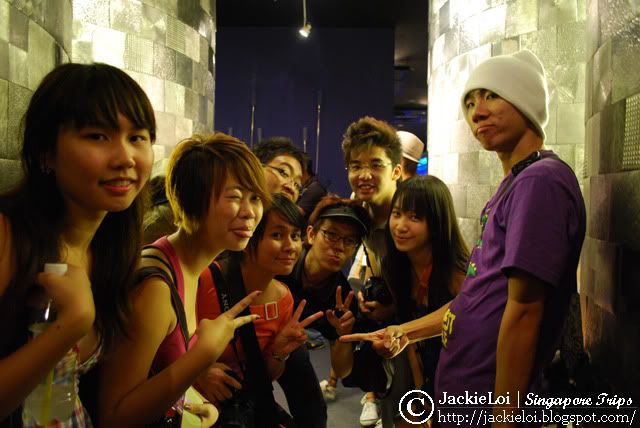 * My Friends who alwiz fun to hang out around =) *


The most surprise was, under Royal Selangor sponsor we are given special class doing our very own hand making pewter bowl with our name or whatever words on it. We are given a basic tool such as hammer, nail (with alphabet on each), a round pewter and a wood that got curve shape on it (allowed us to make d curve shape on d pewter).


* Me & Jeremy, on apron *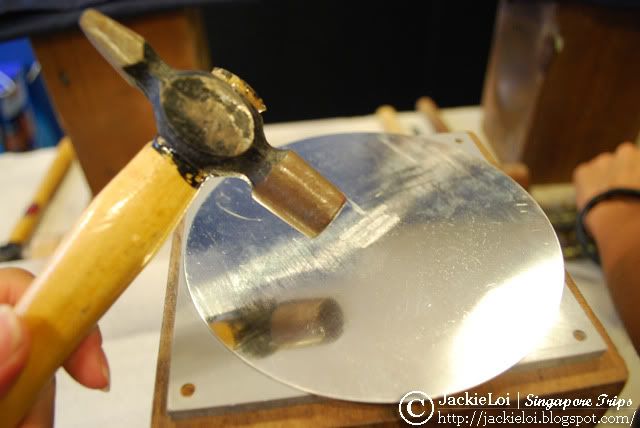 * Hammer & Pewter..LOL *
* Knock Knock Knock.. *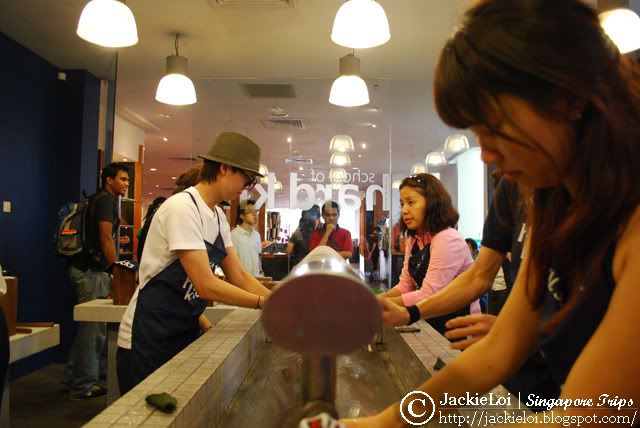 * Wash it after finished *



After around 30 min lesson, all of us GRADUATED! YAY!! All of us done with our bowl and received a cert from there. Cool rite? hahaha...so whoever wan bowl can consider to hire me =P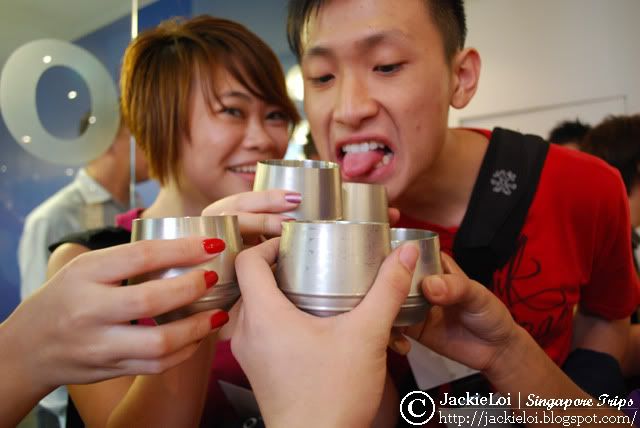 * Graduation ceremony... *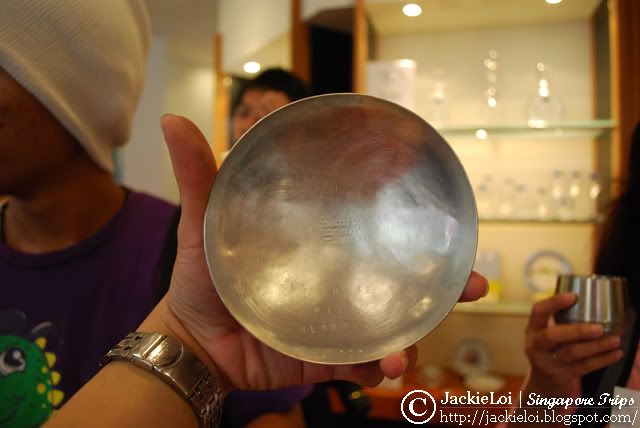 * FML..kenot c my name on d bowl T___T *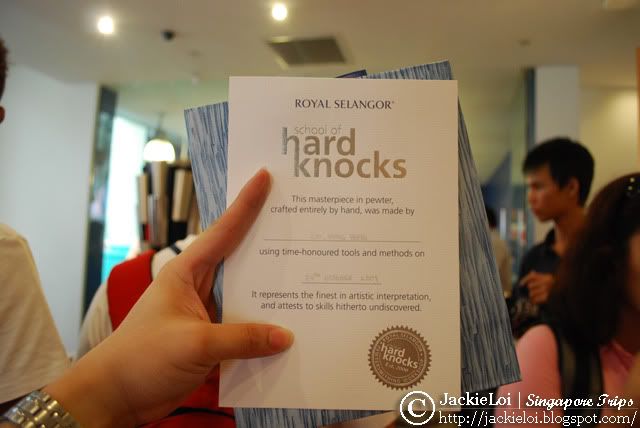 * Graduation from School of Hard Knocks..LOL *
* Group pic..wif d bowl..like begging for money? WTF *


While waiting others batch attending the lesson, me & friends went to explore around Clarke Quay. It was beautiful scene. Unfortunately i dun have chance to photoshoot the night scene of here..And again, we are playing jumping shoot again at here...LOL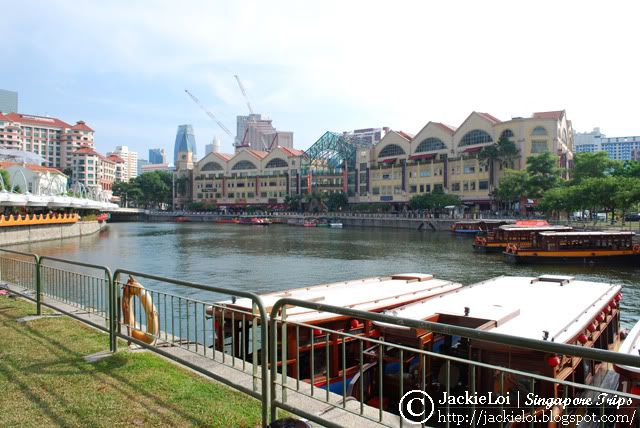 * 1 of the Clarke Quay scenery *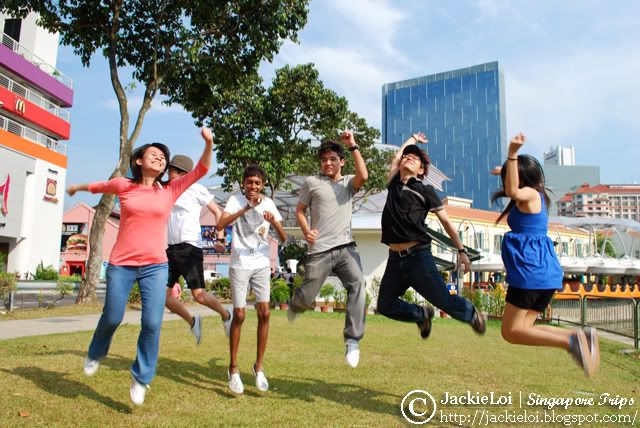 * Jump 1 *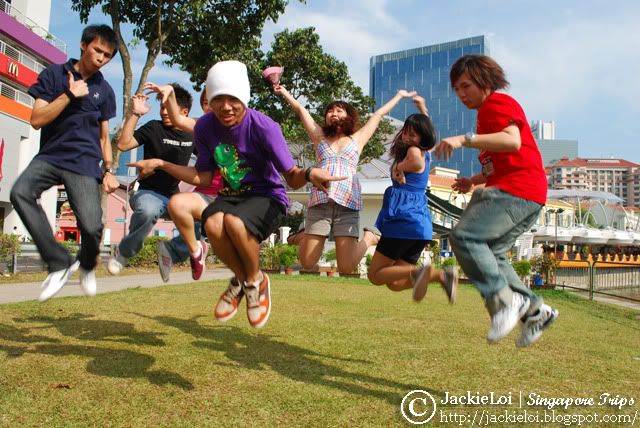 * Jump 2 *
* And we are playing flying Kick *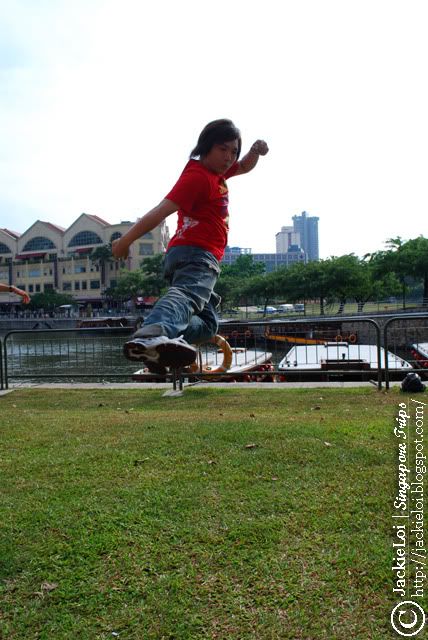 * Now, this is what i call Rider Kick *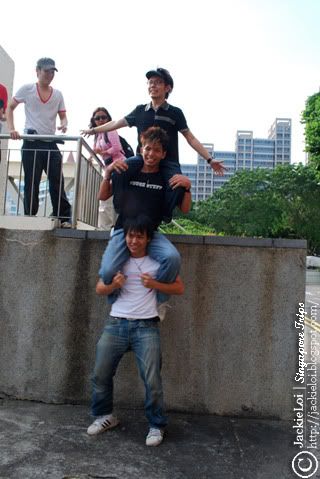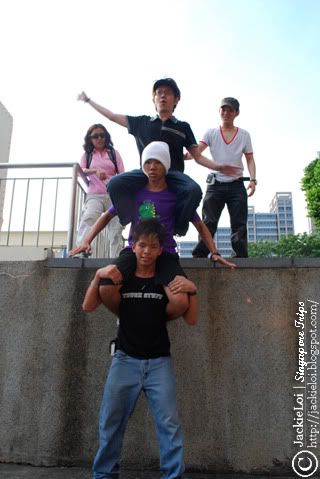 * Pls do not try this unless u r trained... *


After everyone done, Josh arrived (he attended the 2nd batch lesson on Selangor Pewter) and joined up wif us. We took bus to the next destination, *jeng jeng jeng*, SINGAPORE FLYER!! YAY! I reli excited and wanted to sit on it! A very random question, Singapore Flyer and Eyes of Malaysia, which bigger @_@?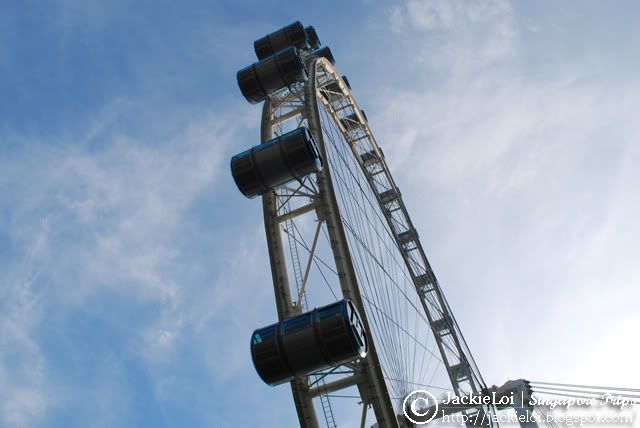 * Singapore Flyer *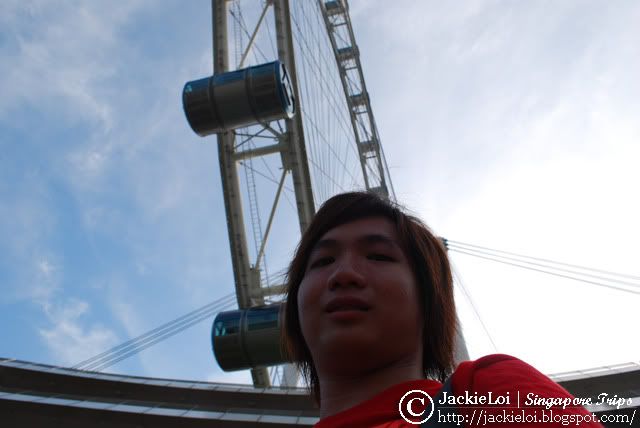 * Camwhore wif it =P *


Thanks to Nuffnang sponsor, we get to ride Singapore Flyer for free! One "basket" of the flyer can occupied roughly 30 ppl. WOW! So damn cool rite? Plus, we get to enjoy the view of Singapore Marina Bay. I bet the scene will look nice if we are going on right time, which is sunset.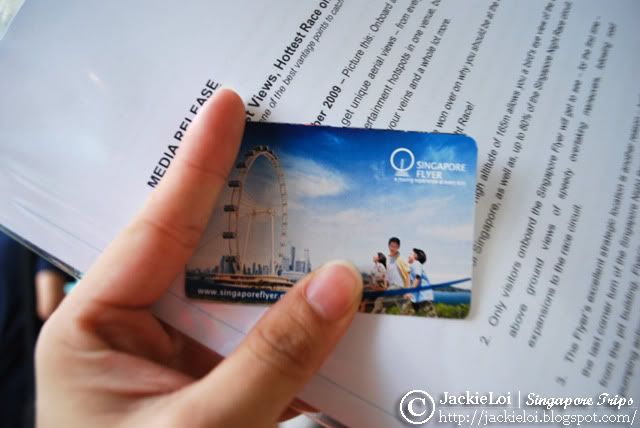 * Flyer Tic *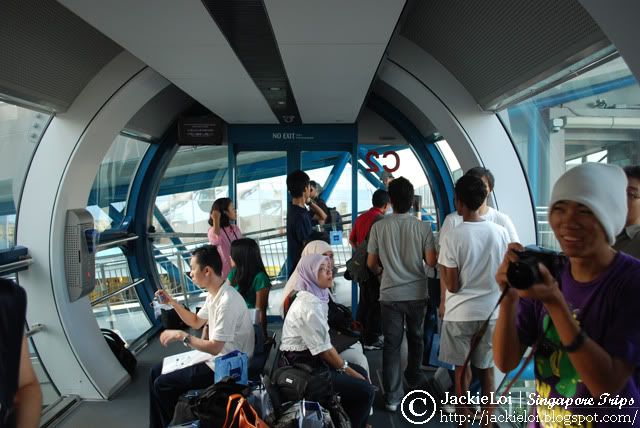 * Inside there..big rite? *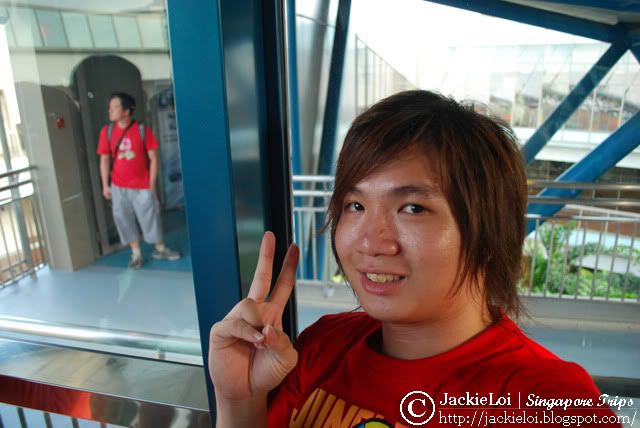 * Camwhore inside the flyer *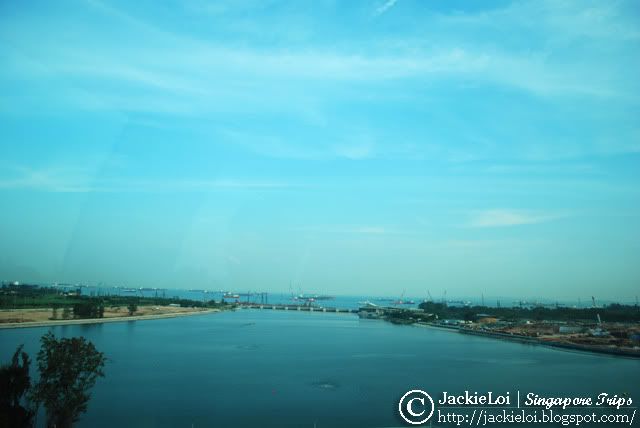 * Marina Bay (i suppose..) *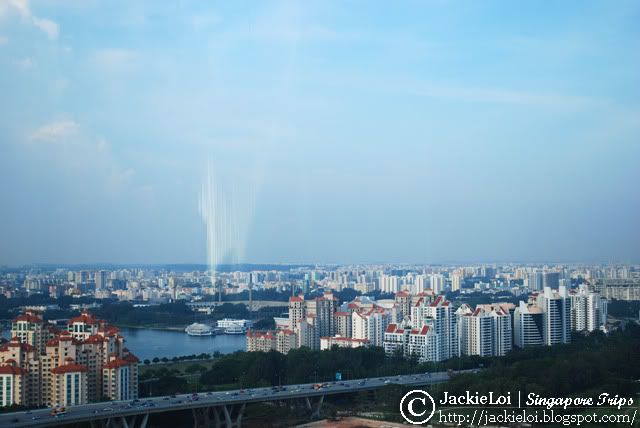 * Buildings *
* Gonna b sunset soon *
* Finally got chance to met the owner of Akiraceo.com, Jian. He is one of the blogger i admired his creativity =)*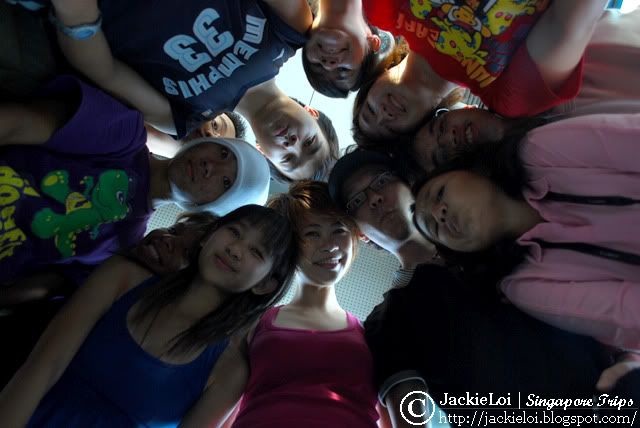 * And finally, group pic from my favourite WTF angle, LOW =P *


It took 30 minute to complete 1 cycle. Great experience and nice scenery viewing for 30 mins at there. If i am given chance to go Singapore again, i definitely will go for Flyer again for sunset shooting =D

Well, more to come next =)

To be Continued...