YES! Sherlock Holmes gonna hit the christmas this year! YAY!! I am a big fans of detective series. So why not Sherlock Holmes for me? Here some brief history of Sherlock Holmes from wikipedia.


Sherlock Holmes is a fictional character of the late nineteenth and early twentieth centuries who first appeared in publication in 1887. He is the creation of Scottish author and physician Sir Arthur Conan Doyle. While John H. Watson is the British doctor who becomes the friend, sometime roommate, and sidekick of Sherlock Holmes.


Woops! A thumb up for Sir Arthur Conan Doyle. Conan (Shinichi Kudo) from Detective Conan name was adapated frpm Conan Doyle as well! =D



Courtesy of Nuffnang, bloggers are given 60 pairs of invitation to catch Sherlock Holmes 2 days before its release date in Malaysia! To win a pair of invites to watch the brilliant detective on the big screen, We'll first have to prove our wit.

They have scattered a mystery Sherlock Holmes image in :

a) The Land of Cheeser Dot Com (mix it a little to find the answer)

b) KYCakap Dot Com (a little translation might help)

at their sidebar.



So what we need to do is track them down and print screen from their blogs (just from one particular blog is good enough) and post the picture in your blog with the title "

I'm a Sherlock Holmes in the Making

". Then send an email to sherlockholmes@nuffnang.com with your full name and blog URL.

Guess what? I FOUND IT! HAHAHA! I am AWESOME isn't me? =P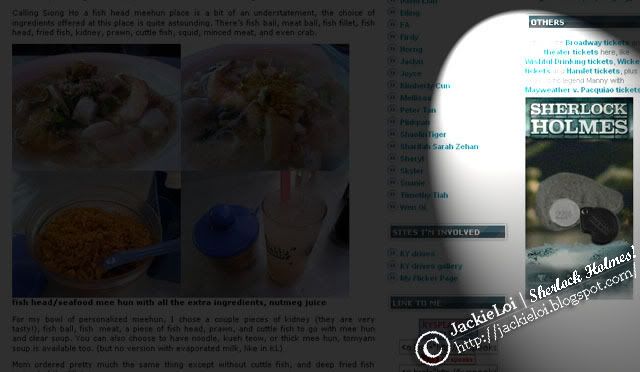 In addition, as the fastest correct entries that comes in to them will win one of the following prizes:

– SHERLOCK HOLMES umbrella with Compass worth RM193
– SHERLOCK HOLMES Unisex Long Sleeve T-shirt worth RM173
– SHERLOCK HOLMES Leather Magnifying Piece worth RM118
– SHERLOCK HOLMES Post-it Notes worth RM95

Cant wait to catch up this show! Thanks for Nuffnang =D!