Remember the "
My Top 5 Treat List
" i did previously for
Dell Inspiron 13 contest
? Remember in my
twitter
i said i am one of the
winner
? =D..so here we go! *jeng jeng jeng!*..Yesterday the laptop was delivered to me! The moment i saw the uncle dell reached in front my house (he is driving normal proton car..) i am so happy! =D
* In the box that doesnt look so big *

So i would love to introduce, my Alpine White Dell Inspiron 13! Eventhough in the "My Top 5 Treat List" i said i prefer obsidian black, but in d end i choose alpine white when Nuffnang called me and allowed me to choose my preferred color XP.


* Alpine White! sooooo pretyyyyyyyyyy *


Ok i am abit too free yesterday in home. Thus i tried to set up my own home studio or whatever it call to photograph my dell. U can see one of the reflection on the screen can c my tripod..FML!!


* 13.3 inch monitor screen *
* Nice & friendly use keyboard design *
* From tension view *


The only things i did was i use long exposure, or known as long shutter speed (30s). Thats y i set up a tripod. After that i use torch light to fill in the object. Yes! I got this idea from the photography magazine i bought last 2 days. It will be pretty cool if my torch light is white color =(


* All the USB port on the right side *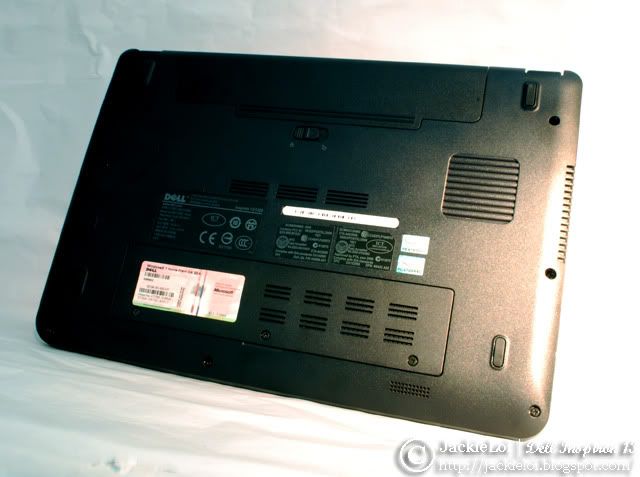 * The back design *


Well, i guess is time to say bye bye to my Acer Travelmate 2410. This 2 weeks i hardly use it anymore as in i keep using this new pc & soon gonna spend more time on the dell during in uni.

Thanks you Nuffnang & Dell for my this year christmas present!!

p/s anywan wanna buy my Acer lappie? though is old but still usable XP