Date : 9th Dec 09 (Wed)
Time : 8.30pm
Venue : GSC Midvalley


I won myself an invitation to Storm Warrior premier screening from this post, courtesy of Nuffnang. I brought my gf to there to watch together. In addition, My FM radio Station was covering the EBB Premiere Night with CELEBRITIES gracing the event.


* The backdrop *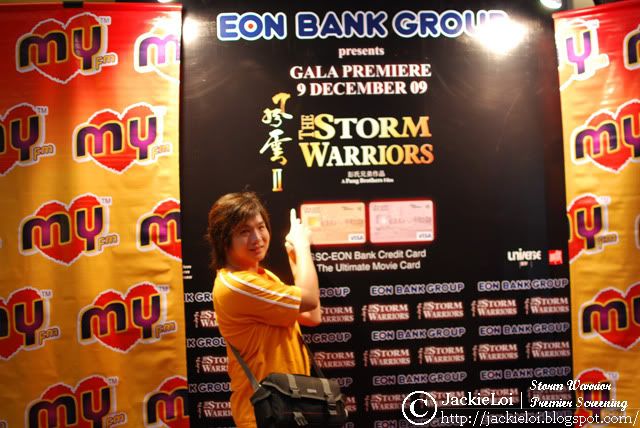 * Thats me *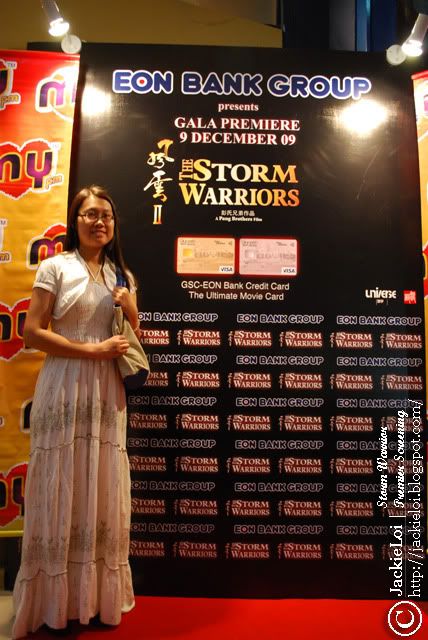 * and gf *
* Holding the "chuet sai hou kim" *
* And thats our tic! so nice and well designed *


And here are the guests/celebrities that attended that night premier screening :


* The crowd when the EBB Night started *
* The emcee of the night, Nicholas & Ngan Mei Yan *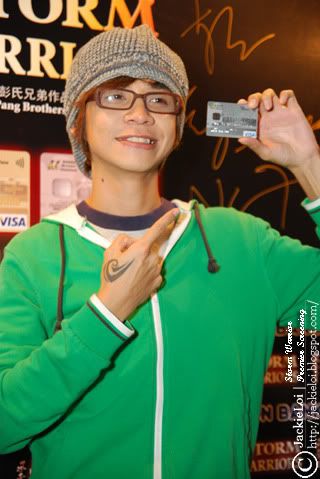 * Danny One Lik Ming who actually almost my height only..hahaha*
* Belle Theng ( Ms Astro International 2009 ) *
* With her EON card *
* EON bank manager i guess? i dun remember *
* Phoebe & Royce *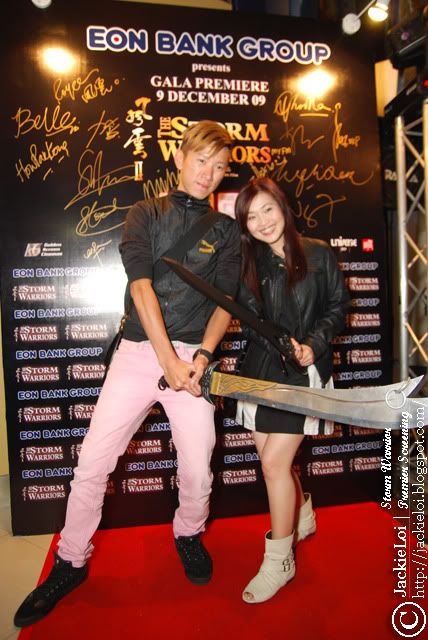 * Posing with the sword *
* Forgot who is him but his pose very funny *
* Rudy! *
* Chen Keat Yoke ( Winner for Chinese International Singer Competition) *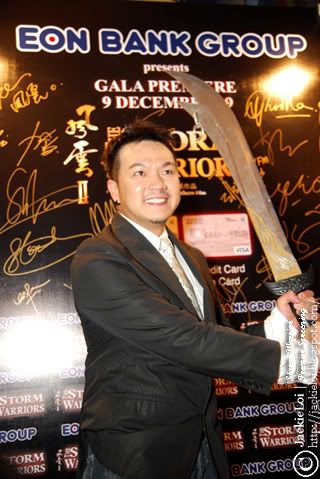 * Lam Tak Weng..another funny freak *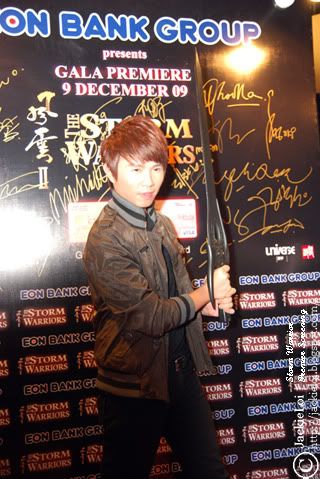 * Gary Yap..he is cool *


Well, lets move on to the movie short summary :


Japanese evil warlord Lord Godless desired to conquer China. He imprisoned a large number of martial artists and tried to make them subjugate. Among the prisoners were Cloud and the martial arts elder statesman Nameless. Wind came to the rescue. The trio was badly wounded by Lord Godless's evil martial arts attack. Chu Chu was also knocked out when she blocked Cloud from Lord Godless's strike. The remaining martial artists sacrificed their lives to save the trio, in the hope that the trio would beat Lord Godless one day and save the country.

Chu Chu was badly wounded and stayed unconscious. Cloud was filled with remorse and vowed to take revenge. Wind chose to take the evil way to quickly boost up his martial arts skills, so that he could protect the people. During his training, he met the girl who changed his life, Dream. Meanwhile, the troop of Lord Godless came to attack. Wind's training was interrupted when he tried to save Dream from Lord Godless's assault. After some killings, Wind ran away and disappeared...

Lord Godless took The Emperor in captivity and stationed his troops in Heaven Cave. Cloud arrived alone and started a combat with Lord Godless. Lord Godless had the upper hand. In the meantime, the half-evil Wind appeared and joined the battle. During the fight, they inadvertently discovered the secret of the sovereign. The real intention of Lord Godless's invasion was related to an ancient tomb, a forbidden ground buried with the Royal family's secret. The truth was finally revealed. At last, how would the battle end? Who would eventually rule over the country?


In my opinion, the story line was very direct to the point, no twict and turn, turn and bend elements. Or mayb no storyline at all? However i got to agree the CGI effect is damn awesome compare to the Storm Rider (風雲). Well to say, some scene cause me laugh none stop. Is either i think it too bullshit or too funny to look at it. One of it was towards the ending when Aaron Kwok (Cloud) sword, Pou Keng Wan unleashed fire attack on Ekin Cheng (Wind), his pose was extremely funny, same goes to Ekin Cheng pose. Not to mention some matrix effect on the movie. Throughout the whole movie, i think the only humor part was when Aaron asked his master to create a name for his new sword style. Trust me, tats reli hilarious where all of us laugh like mad! Finally, i would love to say, I LOVE AARON KWOK ARMOR in STORM WARRIOR! SO DARN COOL!!!! and i m sad he died in d end (mayb) T____T


* Aaron Kwok *
* Ekin Cheng *
* Thats how he looks like after he Chow Fo Yap Mo *
* Tiffany T *
* Charlene Choi
*
* Simon Yam *
* Nicholas Tse *
* I love this technique! Million Sword Stab or whatever it called *
* Jeng Jeng Jeng.... *



just kick ur ass to catch it at cinema now if u r 風雲 fans!