Went to watch this movie today at Leisure Mall with unimate after class. Gosh..it seem like once a week i watch movie with them now. But they are generous enuf to treated me this movie for today since i have no money left after some...*secret-to-be-reveal-soon*..hehe

As usual, a short summary about this movie :


In the supernatural action thriller Legion, an out-of-the-way diner becomes the unlikely battleground for the survival of the human race. When God loses faith in Mankind, he sends his legion of angels to bring on the Apocalypse. Humanity's only hope lies in a group of strangers trapped in a desert diner and the Archangel Michael (Paul Bettany). Legion also stars Dennis Quaid, Lucas Black, Tyrese Gibson, Kate Walsh, Adrianne Palicki, Charles S. Dutton and Willa Holland and is directed by Scott Stewart.


To be honest this movie abit bored for me. Not reli impressed me. Effect wasn't as cool as i though. Action wasn't as good as i though. I do believe some christian wun like this movie..LOL..anyway love Archangel Gabriel weapon! Multifunction wei! Can drill, can expand and can grow large (if i not mistaken). Same goes to his wing! Can chop ppl! like steel..LOL!! However, those angels send by God look dumb!! They look more like zombie rather than angels..and they die with gun shoot..wtf -__-...i rather watch Resident Evil than this movie..LOL!~~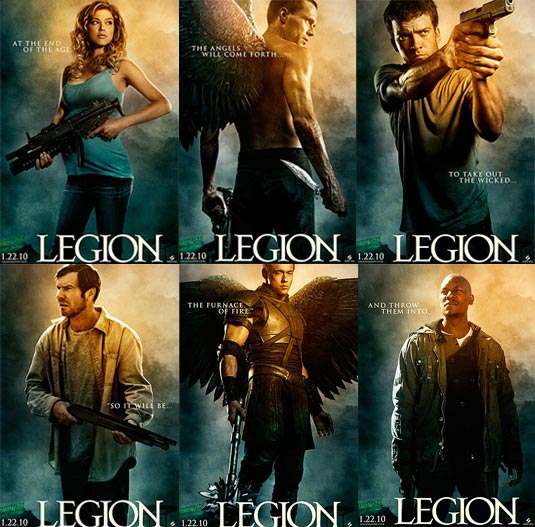 * Most of the main character *
* Cool opening..however..it turn out not as cool as i expected *
* The nanny that can said FUCK YOU like nobody business. Believe me she will be ur favourite character in this movie because... *
* She can crawl on the wall like SPIDERMAN!! Opss..more like cockroach for me actually XD *


Somehow, i felt a similarity in terms of armor and wings in between Tooth Fairy and Legion angel. Except black and white...could it be they sharing the same armor? XD