On wednesday,
Jeremy
organized an outing at MadMonkeyz Climbing Gym for some exercise. MadMonkeyz located at Wangsa Maju, just right beside Cola Club if u know where is it. Initially i dun plan to join them for d gym. The main purposes i been there is just to join the fun but not playing. Reason not playing? No money, hand too short, leg too short, body too long vertically and i am too fat to play..LOL
* Only he can do tat... coz he is born wif monkey talent *
* Even Amelia can do better than me..shame on me T_T *


Anyway, at last i ended up playing as well thanks to some of them treated me..LOL..been long time din do something extreme and cause a sudden shock to my body system. Now my muscle on arm pain like hell..LOL~

Though the main motive for us is to exercise, but it seem most of us take the opportunity to enjoy the air-cond there and as well sleep there. OF coz, some pics session goes on.


* The relaxing gang.. *
* And they sell their butt as well..wtf *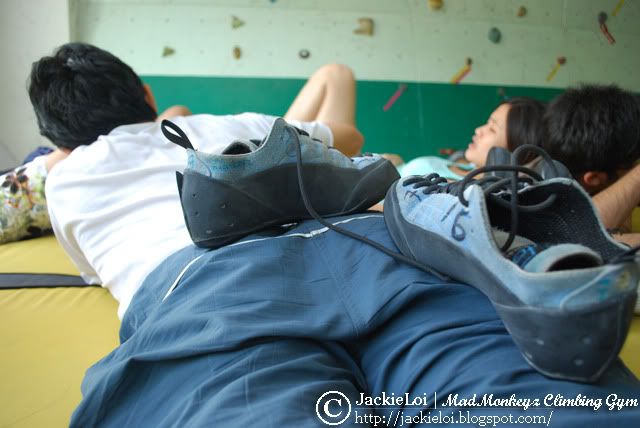 * guess who? *


We play since 2.30pm until 7pm. I not sure how d rate count but as i heard it only cost RM13 and you can play as long as you like. Kinda cheap rite? mayb i should bring my other friends to join the party anytime soon hehe..


* Group pic *