Finally, been using my babe for almost a week. Overall it was a great phone for me! Well, i would like to express some of my quick & simple personal review about this phone.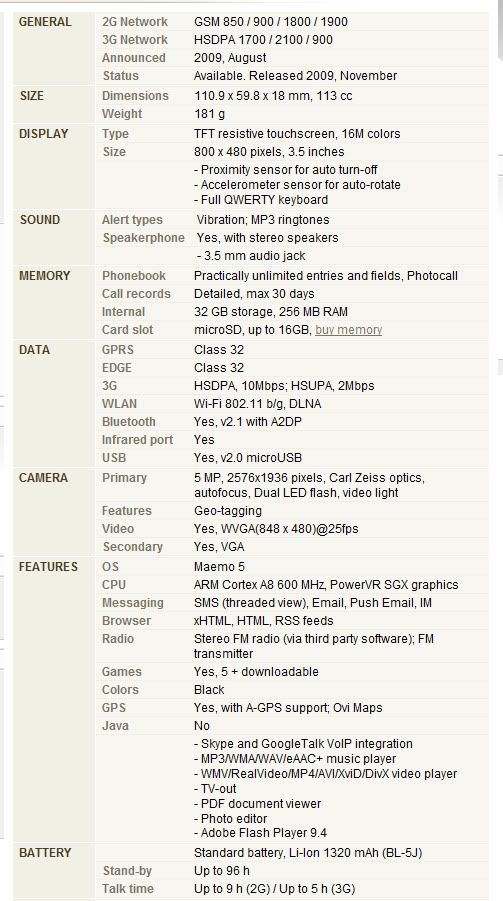 Well, eventhough is a great phone, there are still some disadvantage of it. First it was kinda large and bulky. Not to mention it quite heavy actually (181g). Secondly, the phone was in landscape mode all d time (except when calling or surfing net by pressing some hidden button). Third, no voice recorder, no MMS, no handwriting recognition and no FM radio application. Well, i guess being focusing more as internet tablet doesnt need those. But who know there are application for that to solve those problem?



Physical Design



To be honest i love d design. It was neat, clean & not fancy. For they qwerty (physical) keyboard, it was awesome! i heart the arrangement and size of button. It was perfect for my thumb. On landscape mode, there is a speaker on left and right. I guess in term of sound quality, this wasn't d best. Just ok. the usb charge was on left side, lock key, 3.5mm audio jack & stylus on right side while the power, camera and volume adjustment button was on top of the phone. Behind the phone is 5mp camera with dual LED flash and a lens cover with stand. The WVGA (800x480) touch display is superb and it is accurate. You can use ur thumb or nail to press it since it using resistive technology.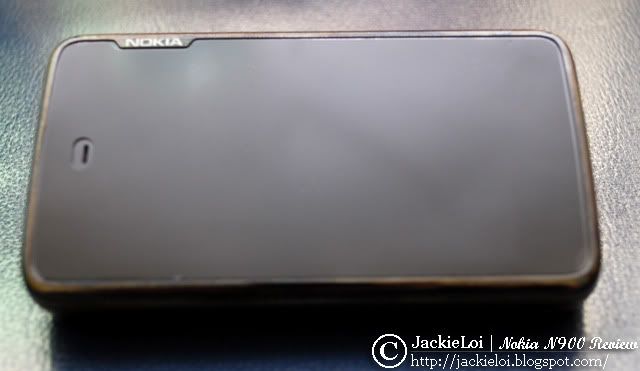 * Front view *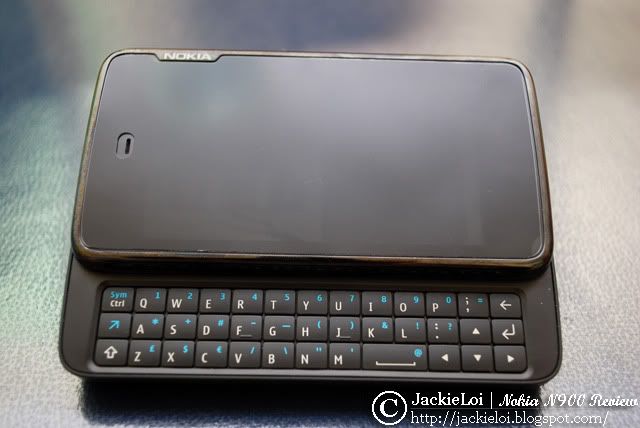 * Front view + QWERTY *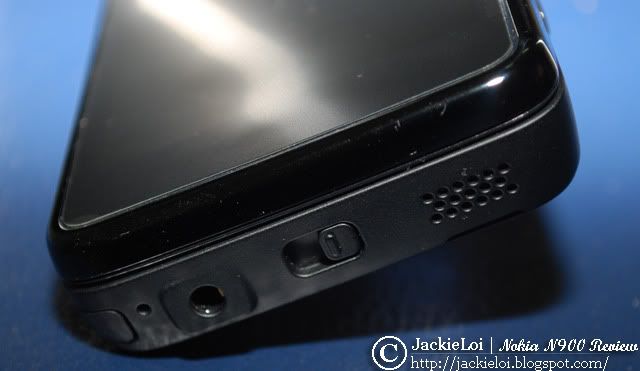 * Right view *
* Left view *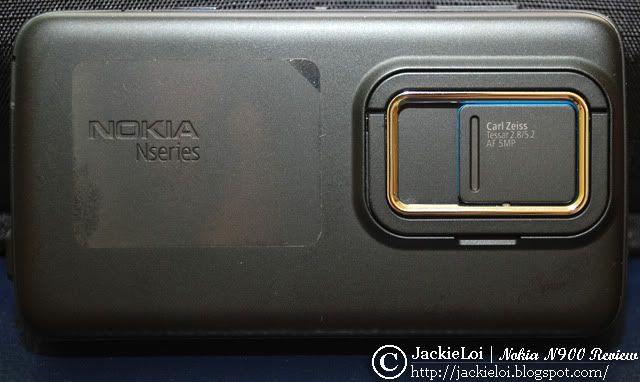 * Back view *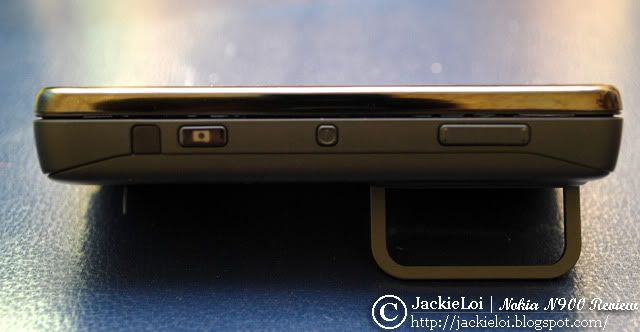 * Top view *




Interface



As i introduce b4, the desktop was came with 4 interface which required u to slide left and right to change it. It was awesome as in u able to customized nor personalized ur widget or shortkey more. On default interface, top left button is to open menu. in addition, Maemo allowed multitask. i tried 6 application at once (game, web browsing, camera, sms & etc) and it still perform perfectly.0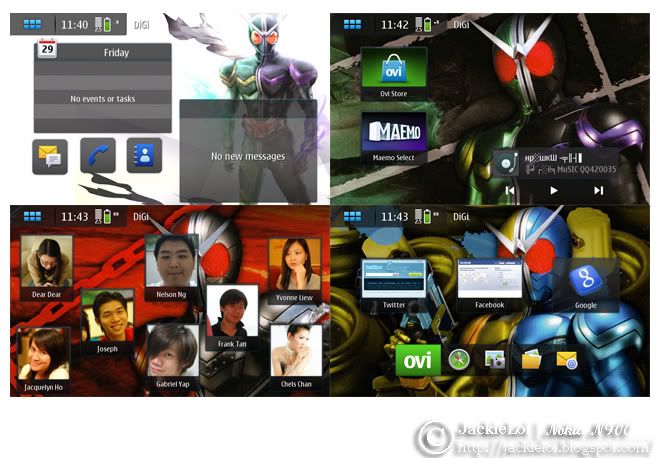 * My 4 difference desktop interface + widgets *
Web Browsing
The Nokia N900 uses the Maemo web browser, which is built with technology from Mozilla, the foundation behind Firefox. Guess what? this is the first mobile phone i have even heard that support Flash 9.4. YES! You can youtube, play flash game in facebook or even visit any web that contain flash. One thing i like when in web browsing is the zooming concept. Basically you can zoom ur web by pressing the volume adjustment button. However there is one function known as "spinning" motion to zoom. You can zoom in zoom out the web by spinning ur finger on the web. Ot double tap it for instant zoom in zoom out.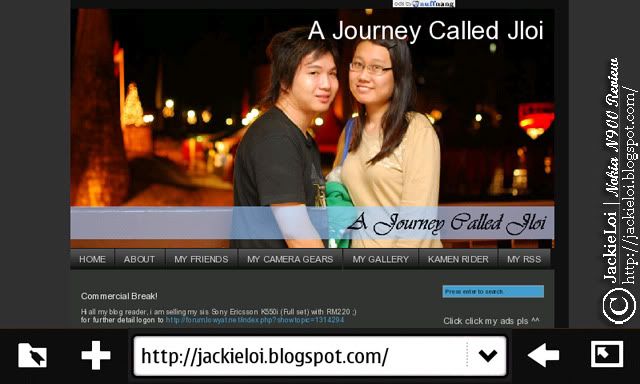 * Able to display my blog flash header :) *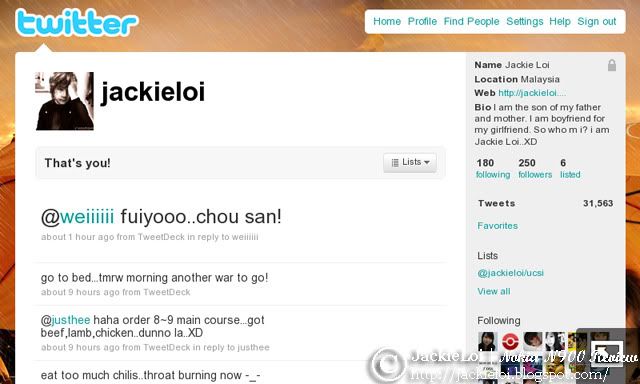 * Twitter as well *
SMS
The SMS or IM was known as conversation in this phone. Yupz! It work like a combersation box in between you and ur friend (like iphone). Currently, the N900 supports the Ovi, Skype, Google Talk, Jabber and SIP. I wanted to try out skype but i m too lz to create new account..anyone offer to skype wif me everynite? XP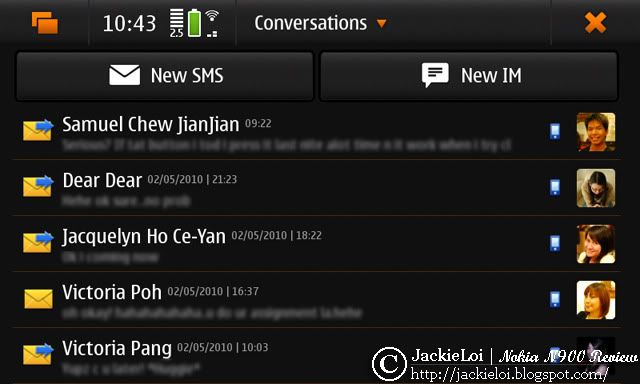 * the conversations *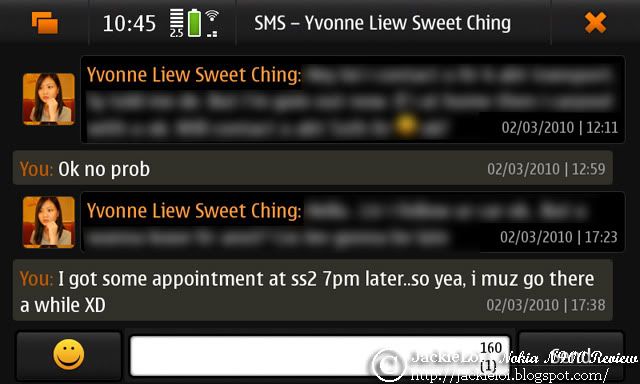 * The conversation box *
Camera
The camera setting enable u to set up white balance, exposure, ISO and resolution. It was not bad camera i would said but, since i got Dee Ass L Are, so i dun reli bother much on camera quality..i mostly use it for twitpic :)..however under lowlight condition, the pic are very noisy (alot noise).
Video capture is done in 848x480 pixels (3.4Mbps, 22.3fps, AAC mono 48kHz). In good lighting conditions, the videos are really nice and detailed. In dim lighting, you will be able to see compression artifacts, but overall, the video recording is very good
* f 2.8, Shutter speed 1/15s & ISO 400 *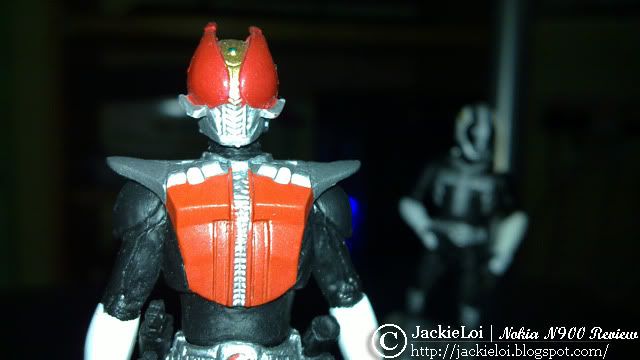 * Macro shoot with flash, f 2.8, Shutter speec 1/62s and ISO 100 *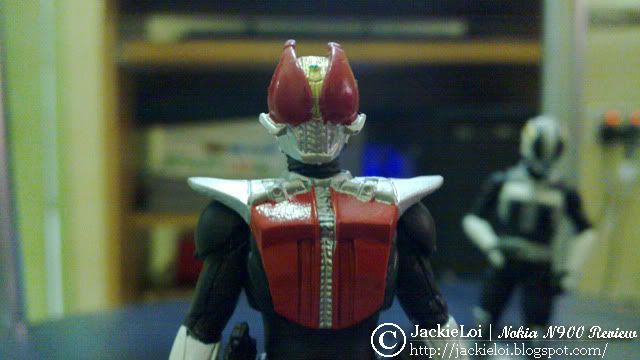 * Macro shoot, f 2.8, shutter speed 1/15s and ISO 800 *
Media Player
it's easy and simple interface. Browse by Artist, Songs, Genres or Playlists by scrolling or by typing the first letters. There's no search function that's based in keywords. For example, you won't find the song "Magic Words" by typing "words". It should be OK if you don't have thousands of songs. The playback interface itself is pretty classic will all the options that you would expect.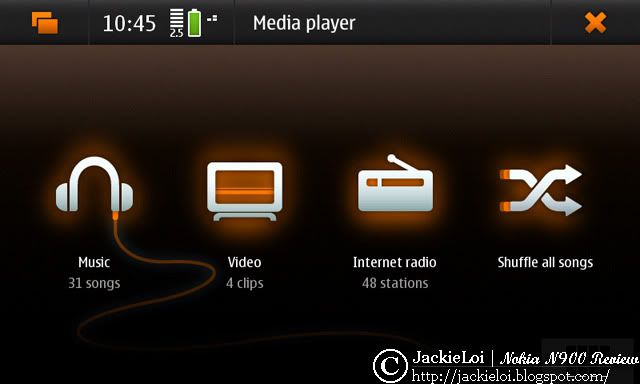 * The media player interface *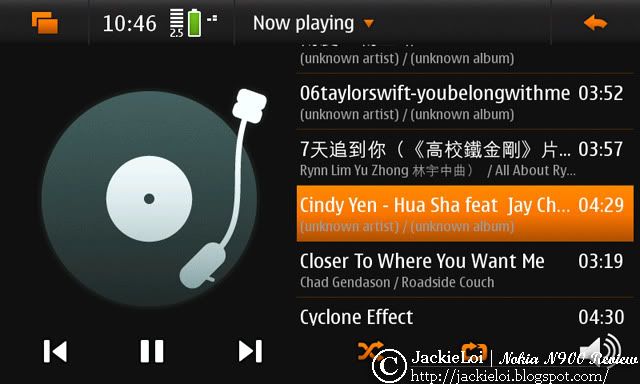 * Music player *
Ovi Map
i tried it but failed..i guess i dunno use this application yet T_T
Battery Life
Personally i think the battery life is quite short. In a day consistence of surf web and not so frequent smsing, my battery could last not long than a day. However, if i din surf web and sms that much, it could long at least 2 days.
Conclusion
Overall i am satisfy with my phone since this phone i got it because i wanted to utilized more on multimedia function (especially web). Thus i dun reli pay much attention on camera and audio. However, who dowan everything in d best condition? =P