Finally a trips wif my friends and gf! though not much of us but is good enuf. Too many ppl will cause some problem sometime =P..As i said in my previous post, we went to Melacca after
visiting Pn Chew house
. We reached Melacca around 7pm and check in at our guesthouse 1st. After that we went to walk and look for dinner at Jonker Street, Night Market.
* Huge and alot ppl *

The last time i at Melacca was 1.5 years ago and i have no chance to visit the night market. This time i am given this opportunity to enjoy the night market for 3days2nights..LOL...Due to over population, we hardly get a shop to sit down and had dinner. Thus we randomly bang in any shop tat doesnt have much ppl. Ended up we are at this shop...


* The shop we bang in *
* Inside got karaeok where oldie sing oldie song..reli eardrum killer... *


As d pic show, it was a mee shop. I order Dry Kuey Teow and add additional stuffs in it.


* My Kuey Teow *


Nothing special on this mee. Just an ordinary one. In addition, i am not feeling well that day. I guess diarrhea LOL..due to that problem, i retired my self from d gang and went back d guesthouse alone to rest. Thus all d pics below is taken by my gf XP.

They continue walked the Night Market after d dinner. As usual, the most things we had in night market is none other than FOODS! FOODS! FOOOOOOOOOOOOOOODDDDDDDDDSSSSSSSSSSSS!


* Little Dumpling *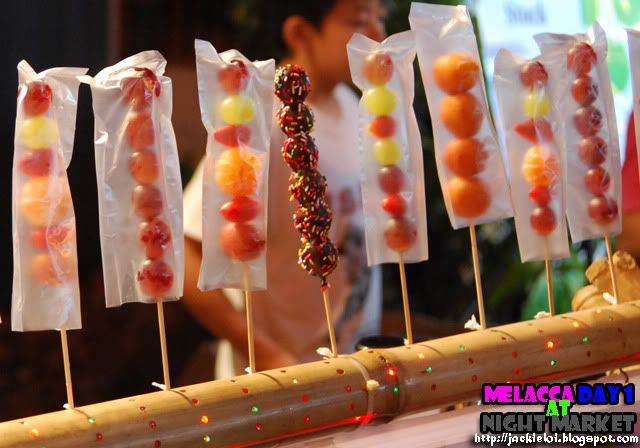 * Bang Bang Tang i guess *
* The famous Taiwan Sausage that can kill u in a single bite..spicy-lah! *
* Thou who dare challenge will ended up like Bala XD *
* Another singer at d end of the Pasar Malam *


Well, thats all for me on day 1 in Melacca. The main purposes of this trip is eat and foods only. Unfortunately i failed to accomplish d mission T__T

To be continued...