Well, recently alot friend of mine wanted to get BlackBerry as in now BB had became a very influential device especially among businessman and facebook/twitter freak like me. To be honest i kinda like this device since it is small, pocketable and convenience to bring to everywhere.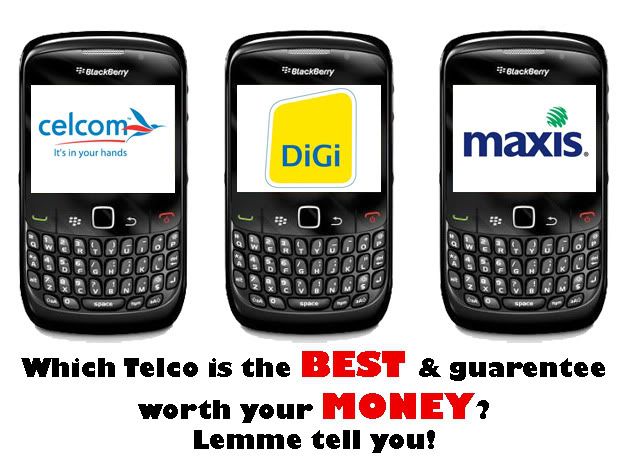 Alright, i gonna focus mainly on Blackberry Curve 8520 price(RRP) offer by Telco, Data Plan and speed of each Telco. Lets start with the price and data plan offer by each Telco :)



Basically, if you buy BB 8520 from Telco, u r required to involve in 12 or 24 months commitment on their data plan and call plan.

For Celcom, u can get BB 8520 with RM788 + RM50 call plan for 12 months or RM588 + RM250 call plan for 12 months. For your information, Celcom offer 3 types of data plan which are Basic Plan (RM38), Blackberry® Advance (2.5G) (RM68) and Blackberry® Advance (3G) (RM98). All are monthly basis obviously XP. So the Basic Plan is the cheapest but the data usage up to 5 MB (additional data charged PPU at RM0.10/10kb). Well, is perfect for those who dun surf net often. But then what's d point u get BB if u dun use d internet often? rite? :P..so cut the craps and assuming u r internet freak and need internet 24 hours or u'll bang ur head to d wall. Since BB 8520 running on EDGE connection, so no point getting Blackberry® Advance (3G) plan. U pray pray until die also wun get 3G connection on BB 8520 XP..so the best plan for unlimited internet usage are Blackberry® Advance (2.5G) *FYI, 2.5G = EDGE*. Well assuming u r student, d best combination package u'll get from Celcom is RM50 (call plan) + RM68 (Data plan) = RM118/months or if u r businessman and call more than u eat rice, then go ahead get RM250 call plan (data plan are free!).

Next is Digi. My word might be abit unfair for other Telco but Digi has really done a great job for consumer. Their plan is affordable even for a poor student like me :). Digi has designed a special plan for BB user only which known as DG Smart Plan for BlackBerry. You can get BB 8520 with RM899 for 12 months plan commitment or RM549 for 24 months. Eh? What about the call plan? If you refer to my past post, i mentioned before that there will b zero commitment! I repeat! ZERO COMMITMENT for call and SMS. In other words, what you call and sms is what u gonna pay for. The rate is very cheap and reasonable :). Pls refer to this post to figure out. The best part is, Digi offered the one and only data plan for BB user which is RM58 Unlimited! Only RM58 u can surf web wherever you like for 24 hours! So the monthly payment gonna be fair and square to all category regardless u r business, student, Prime Minister or whoever u r which is RM58 + (Pay for what you use to call and sms). It is perfect if u dun call and sms much. But dun worry! If you are businessman and call/sms alot, Digi got special promotion for that! When end of d month ur bill come and ur total are RM200 and above, no worry and be happy! You no need to pay ur Data Plan for that month! So you just need to pay ur call/sms fees only :)..cool? Well, if ur total bill are in between RM100 - RM199.99, u'll have 25% off for your data plan. Which is 75/100 X Rm58 = RM43.50..Make it into simple math, it gonna be RM43.50 + ur call/sms usage. Cool rite? :D

Finally, Maxis Blackberry plan! There are 4 category for Maxis BlackBerry plan which u can get BB 8520 with RM799 + RM80 (call plan) for 24 months or RM899 + RM80 (call plan) for 12 months and for those who wan higher call plan, RM488 + RM150 (call plan) for 24 months or RM799 + RM150 (call plan) for 12 months. Maxis offer 3 types of data plan which are Entry (RM40), Standard (RM55) and Unlimited (RM120). Fuahh! I gotta say their data plan for unlimited is very expensive. I rather spend my time in home for streamyx >,<...Obviously my chart above already shown how much u gonna pay monthly if u use Unlimited Data plan. RM80 + RM120 = RM200 and RM150 + RM120 = RM270. I gotta say is more expensive than Celcom..or Mayb Digi if u r not call/sms freak XD..

After comparing the price, i believe some of you might think "

aiya, Digi sucks la! the line sure slow like the duck 1

", "

Woohoo Maxis internet speed is reliable eventhough is expensive

" or "

Celcom is main seller for BB wor, sure good 1 la d internet speed

". Well, lets compare the internet speed between this 3 telco.


* Adapted from Digi. If too small click

here

to view *


Digi RM58 Unlimited average speed is 700kb/s with 3GB quota only. Well no worry, is UNLIMITED PEEP! U wun have extra charge eventhough u hit and over the quota. Just that the average speed will drop (to 128kb/s i think..correct me if i m wrong). Meanwhile, Celcom RM68 Unlimited average speed is 384kb/s with 5GB quota (speed will drop also after hit d quota). For Maxis the RM120 Unlimited is 3.8mb/s speed (Not shown in chart..).

Lets summarize all the package offer by this 3 Telco. You have to pay for Celcom monthly RM118 or RM250, RM58 + RM(usage for call/SMS) for Digi and RM200 or RM270 for Maxis. So the cheapest most likely going to be Digi. Or mayb Celcom if you r heavy user for call/sms especially businessman. But still, with Digi Zero Commitment call, you only need to pay 15/min. To reach RM250 usage of call (assuming ur bill is RM308 and u got RM58 discount for ur data plan, thus ur bill only RM250), u need make approximately 28 hours call to reach RM250 call usage. So, calculate urself did ya make that much call? For maxis, forget about it if u r student, get Digi plan for yaself :P..

However in term of internet speed, RM120 Maxis plan overpowered with 3.8mb/s. WOW! But hey pls remember, BB 8520 only support EDGE (2.5G). In addition, it only support HTML 2.0 (correct me if i m wrong) where the web browser kenot support full web version like our computer. Not to mention it doesnt support flash. Thus the web most likely is mobile web which only size not more than 1mb. So why bother get high speed by paying more? I rather get RM58 from Digi comparing with Celcom RM68. Digi is cheaper than Celcom RM10 and the speed is faster than Celcom. Cool? :D

As conclusion, i would said Digi got the best and cheap plan for every profession while Celcom is more toward to businessman profession. Maxis? uhhh...for rich kid only i assume..XD

I hope my comparison could help u decide what plan and telco u gonna get for BlackBerry. Currently i am using Digi BlackBerry Unlimited Plan and i very satisfy with it. I gotta use it everywhere i am. Not to mention i can lean on my bed while watching youtube..ahh Heaven! hahahaha



DIGI always the smartest choice!