Have you ever wish all pro kung fu warrior gathered in one movie and act together? Yes ur dream come true in this movie! In this movie u have Kungfu Panda, Kungfu Hustle, all characters from San Guo, The one, Journey To The West, Titanic and etc.


Once upon a time, in a heavenly world of magic and wonder... Rose, like many young fairies, is obsessed with the exploits of the legendary Purple Cloud. She steals the Heavenly Sword and travels to the modern day world of mortals in search of her one true love. Here, she meets Qing Yise, a young thief who sees a tidy profit in Rose's enchanted weapon. Mistaking Yise's interest for a sign that he is "the one", Rose becomes infatuated with the charismatic swindler. Horrified by the depths of Rose's affections, Yise attempts to flee... only to be apprehended by the local police.

As Rose and Yise band together to resist their captors, Yise uncovers a magical artifact: the Pandora's Box. Opening the box he is instantly transported a thousand years into the past and begins an incredible journey that is filled with fantasies, traveling through a Chinese Odyssey, Red Cliff, Kung Fu Hustle, Painted Skin, Kung Fu Panda, Crouching Tiger Hidden Dragon, and even The Matrix.


Wow so many cast for this movie! Though most of them just appeared a while and half of it are from china. The comedy was nice but in the same time lame and shit. It probably suitable for those who never bring d brain together to watch the movie.The parts when they keep singing kinda annoyed me..blame me, i dun like musical movie..haha

Below are some of my favorite characters in the movie


* Ronald Cheng, the main cast who act as robber, General Zhao and Main Actress in King Kong movie *
* Eric Tsang as Zhuge Liang who only know everything by abit and abit *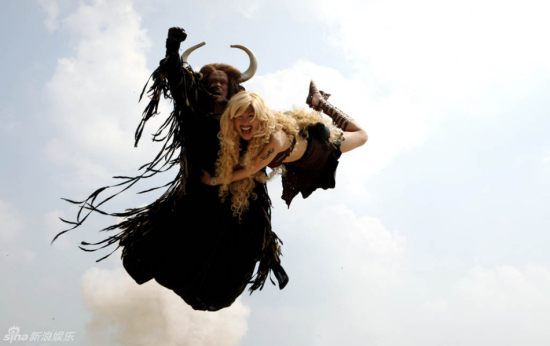 * Ngao Moh Wong (not sure who is the actor). His Yi lai is Ronald Cheng XD *
* Gillian Chung is back!! *
* Dunno who act this Cao Cao role. Bear with him until the end of the show, fucking funny! *
* And the kid from CJ7 who claim his dad adi went to USA! Hahah *


Well if u need a day to relax ur mind and urself and need entertainment, watch this movie! Sure worth ur money :D