Guess who graduate? You got it right! Is
Jacquelyn
!
* The happy girl *

Woahh finally she grown up, big girl liao, graduate liao..sob sob so touched! ok i sound like a parent lol wtf. The convocation day was held on Wisma MCA. She invited few of us to attend. So guess which familiar faces u will see? :P


* bully & bullied *
* With samantha *


to be honest this is my first time attended convocation. dun count my own convo during Kindergarten LOL..yes i never graduate from primary and high school, only kindergarten..my primary and high school too kiam siap..-_-


* With her friends *
* scene that alwiz happen..i gonna throw mine higher next time! *


I dunno whats d feeling of being graduate. Would it feel like a burden been lighten up or just a beginning of nightmare to working world? well, i still got 2 more years to go to figure it out. But nevertheless, looking so many ppl graduate, definitely is a happy things. Or mayb not since high competitor was born haha..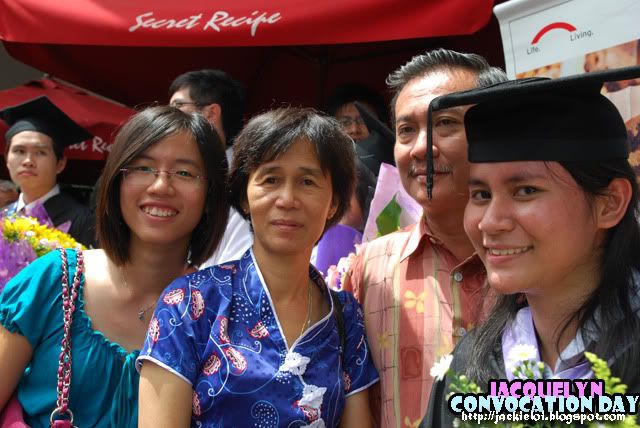 * with her family *


Anyway, still happy to c her graduate. Been knowing her for more than a year but all of us get mix up very fast. I hope this friendship never end, and just like Grown Ups movie, we'll gathered again in 20~30 years later..who know? ;)


* Last pic *




p/s would like to congrate Cathy and Greg who graduate on same day too ;)