Nom nom nom nom!
Nom nom nom nom!!
nom nom nom nom!!
OM Nom Nom Nace!



opss my bad! i am nom-ing while talking to u guys juz now. As u all know i am nom nom fans! :D..and i never dream tat Nuffnang & Maxis will organize such event for us!! It is The Maxis Om Nom Nom Race!!!

here are the details :

Date: 15 January 2011 (Saturday)
Venue: Modesto's, Ground Floor, Capital Square, 7 Persiaran CapSquare 50100, Kuala Lumpur
Time: 8am-7pm (all participants must register before 9am)
(i need M size for my awesome customized "The Maxis Om Nom Nom Race" T-shirts)


To get invite, what u need to do is just write a blog post titled "One Step Closer to the Maxis Om Nom Nom Race", and tell why you would love to be a part of this Maxis Om Nom Nom Race.

So why i love to be apart of this Maxis Om Nom Nom Race? simple! Because i love food! I eat food, i shoot (photograph) food & i blog about food! If u dun believe, i actually blog total

132 post

about foods that i tried! Wan evidence? :P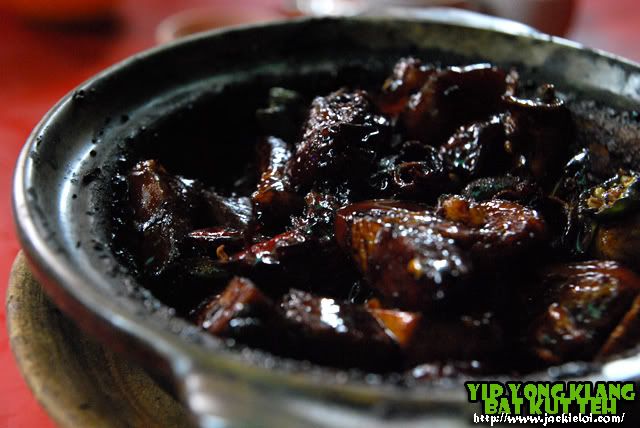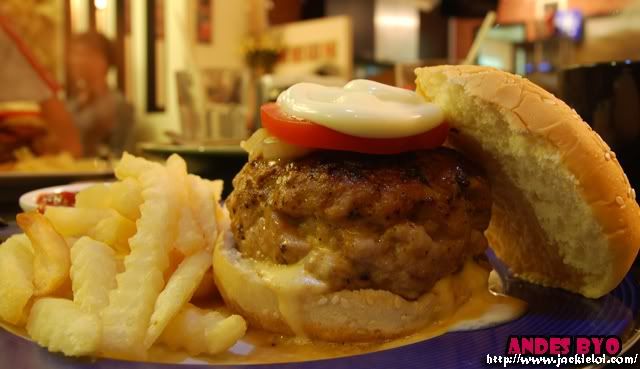 ok enough of food pics before i make u guys drool over ur computer keyboard :P..if u need more of my food blog post just head to my blog side bar and search under FOOD category ;)

Besides, i even join Nuffnang Gplus Food Gathering before! We tackle 4 places for food in one afternoon! Isn't it awesome? :D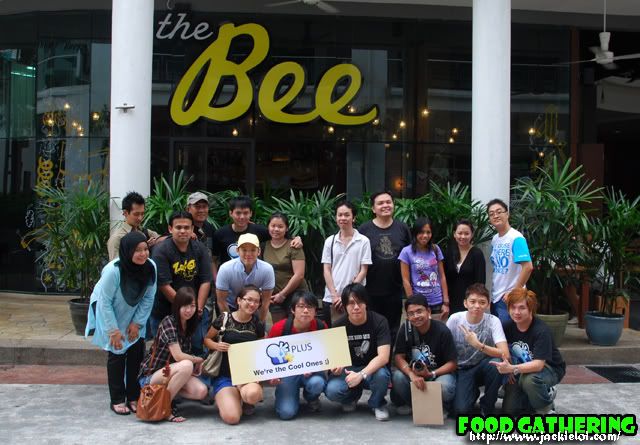 So yes! Food!! How could i resist food!? Good man dun say NO to food!! Food is human basic need! Food is an art for photography! Food is our energy source! Food is satisfactory! That's the reason why i wanna be apart of Maxis Om Nom Nom Race!! Is time for NOM NOM NOM!!

Oh i forgot to mention, 60 bloggers who are invited be teamed up in 15 teams of 4. Worry not! I got my own teammate already! Four of us fungry nom nom monster come with a name of "Naan of Mai Business"!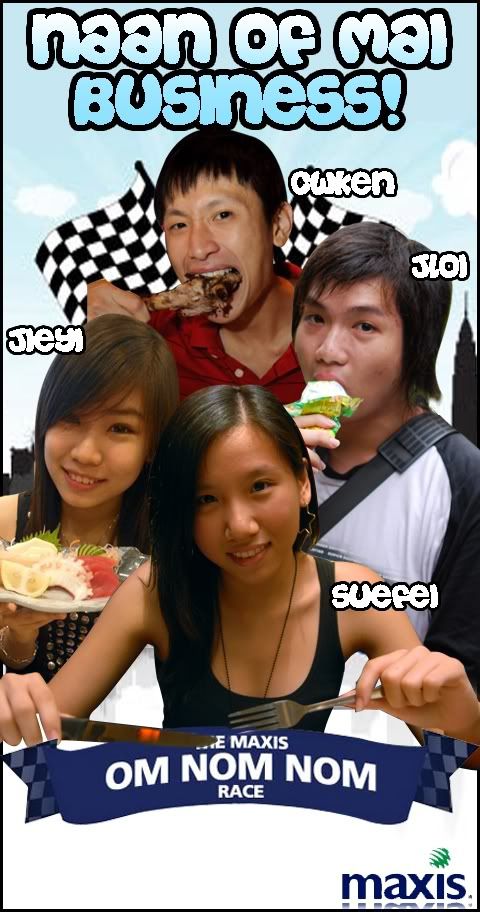 Cool? I, Fucuk Yimai Jackie will be teaming up with Siu Yuk Wantan Ken from http://cwken.blogspot.com, Sai Sai Lup Nomster Jieyi from http://jieyipinkabell.blogspot.com and Waisek Kuai Suefei from http://www.prettyfeelings.com. Arent we make an awesome team?

So here we gonna challenge and win grand prize!

1st Prize: A trip to Hong Kong 3 days 2 nights with 5-star accommodation (for the winning team members of 4 pax) worth RM10,000- (And also 1 free smartphone each)
2nd Prize: 4 x free smartphone – 1 per winning member.
All 60 participants will be rewarded with Maxis goodie bags.

During the race we will be provided with an iPhone 4 (with finder301 and GPS applications installed), a laptop and Maxis wireless broadband modem to assist in our tasks.

For more info regarding Maxis wireless broadband, logon to http://www.maxis.com.my/personal/broadband/wireless_allplans.asp and Maxis Finder301 Application http://itunes.apple.com/my/app/maxis-finder301/id375530216?mt=8#

Hurry faster come and join us! :D for more detail click here





Naan of Mai Business gonna Nom Nom all the way! Rawrrrr we rockssss!!