How's everyone chinese new year? for me i am having fun visiting few friends house around and just had a movie marathon with my love at One Utama. Yeap, like
last year
, v challenge ourself with 3 movies again this chinese new year. In fact there are too many chinese new year movie i wanna watch heh ;P
First movie we tackle Mr & Mrs Incredible <神奇俠侶>. Been looking on their teaser and trailer for very long and 1 of the movie i looking forward to it!
From the producer of Bodyguards and Assassins and the director who brought you CJ7, comes an action comedy of superhero proportion. This larger-than-life action comedy tells about a retired superhero couple Huan aka the Gazer Warrior (Louis Koo) and Red aka the Aroma Woman (Sandra Ng). One day, a martial arts tournament is being held at their village and a murder case happened. To their surprise, Huan & Red was framed entangled in the murder conspiracy. When they gradually find out the true identity of the mastermind, Huan and Red decide to don their costumes in the name of justice once and for all.


Abit disappointed coz all the teaser and trailer showing me as if hinting me their life as superhero. But it ended up actually showing their life after they retired as superheroes. Neverthless, the story was pretty good and very entertaining! Alot funny joke of coz ;) and woops! Love the Gazer Warrior outfit though abit batman look-a-alike ;P oh BTW, Chapman To made a special appearance as kelefeh XD



Next movie, All's Well Ends Well 2011 <最强囍事>


In the latest instalment of "All's Well Ends Well", Cecilia Cheung acts as a worker in a cosmetic company, who is loved by her boss, played by Louis Koo. And at the same time, a rich man played by Chapman To also falls in love with her. Many hilarious situations happen between the three of them. Meanwhile, Donnie Yen takes up the role of a cosmetics sales clerk who is romantically linked with model Carina Lau Ka Ling's character. Donnie is reported not to have any fight scenes in this movie.


Very disappointed with this movie. It seem All's Well Ends Well series getting worst from each year to each year. Gotta say no solid storyline involve since it focus mainly on 4 main chars, Louis Koo, Donnie Yen, Chapman To and Raymond Wong but it went up kinda messy. No solid relationship built between them. It can like sudden happen they love each other.



However, the only part i love it most was the appearance of Ronald Cheng in this movie! Yes he was not the main cast this time (i believe he can perform better when it comes to comedy movie) but he never failed to entertain me ;)



The movie in d end, of coz All's Well Ends Well! :P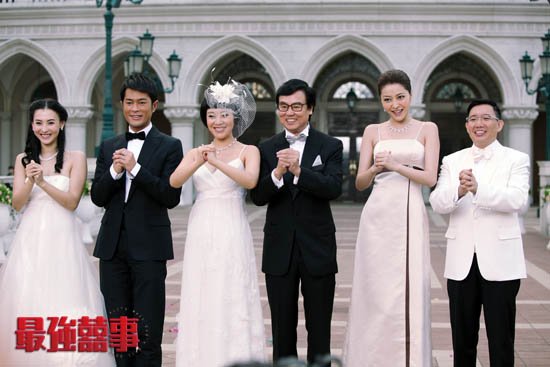 Finally the last movie, I Love Hong Kong <我愛HK開心萬歲>.


A swindler, Long (Eric Tsang), who conned money from all the neighbors of the housing estate 30 years ago, has now become a property tycoon and he promises to pay each of the 30 odd families HK$100 million as compensation. The condition is that all the 30 odd families must each send a representative to return to the housing estate on the eve of Chinese New Year. A mad rush ensues as the old neighbors led by Ng Shun (Tony Leung) and his wife Shun-Soh (Sandra Ng) return to the housing estate on the eve of CNY to ensure they will not miss out on the bonanza!


Probably this is one of the best Chinese New Year movie i watched! Another big production by TVB like last year 72 Tenants of Prosperity, alot big shot TVB artist in the movie. Kinda love the storyline that able to display how harmony and the spirit of helping each other among neighbor. A warm hearted movie :) the dialog i still remember would be "

Lei Lou Mei

" and "

Oh Si

" hahaha :P



Tats all CNY movie from me. Pretty tired but worth to be able spend some quality time with my love :)

again, i wish you all HAPPY CHINESE NEW YEAR!! :D