Last saturday iw as invited by Mobifest to attended the Sony Ericsson Xperia Arc Preview. The preview session was held at The Bee, Jaya One. Seriously, it is my first time attending mobile community meeting. Everyone there is either iphone,BB or Android owner. So, as a DroidBerry owner it is pretty ez for me to blend in with them and sharing our mobile knowledge to each other ;)

The presentation of Sony Ericsson Xperia Arc was by Eric, from Sony Ericsson Marketing team. During the presentation, Eric was pressing hard on the HDMI output, Bravia Engine and the Exmor R sensor that packed into this tiny phone ;) This would are the strong points to owning this awesome phone!


* Eric from SE Marketing team *
* Demo-ing the HDMI output *
* U can even play game with it! *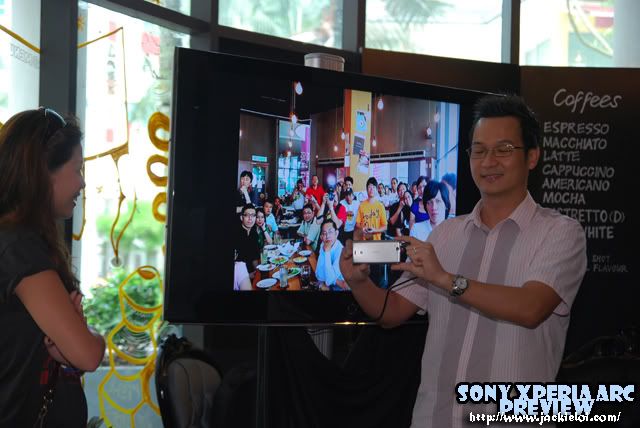 * Not to mention taking pics with live view from big TV LOL *

Well, each of us get the chance to play around with the phone. Honestly if u ask me, the camera was awesome thanks to Exmor R sensor. However i unable to check on the noise quantity since it hardly notice from the phone. In addition, i am not reli impressed with the Bravia Engine that claim to be brighter, more contrast and vivid. I put it side by side with my Samsung Galaxy SL and found out that it almost same with SLCD.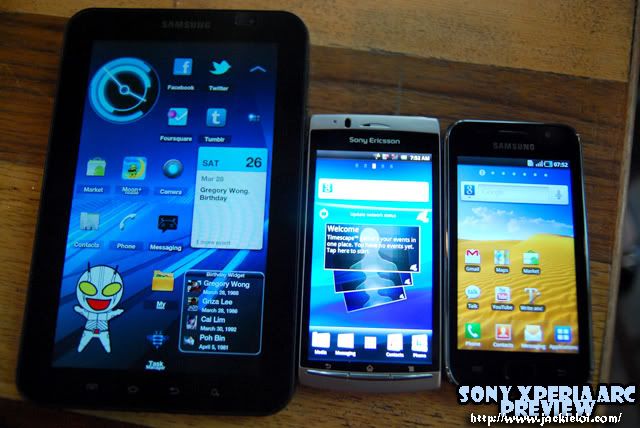 * Comparison between my Tabbie, Arc and Galaxy SL *
* More to join in! Dell Streak 5 and HTC Incredible S *

Must admit the design kinda sleek and nice especially the ARC design at the back ;) feel lighter than my Samsung Galaxy SL though and FYI the whole phone was plastic built.


* Nothing much difference if compare with SE Xperia X10 *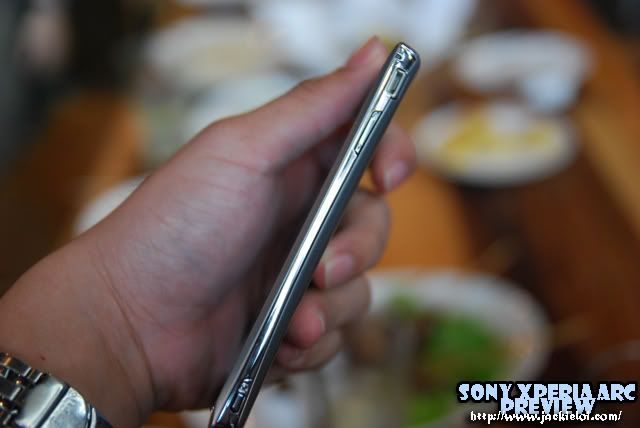 * Slim curvy Arc design *
* Thickness war! SE Arc easily pawned my both devices *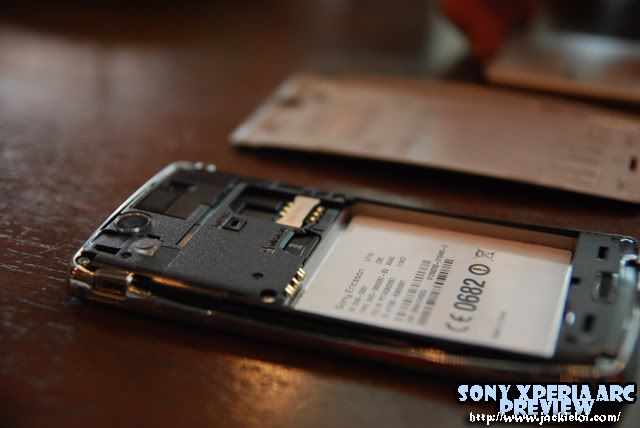 * Sim & micro SD slot was on the back *


Now here is a quiz, can u spot which are my phone in d pic below? :P



As a phone that running 2nd generation of 1GHz Snapdragon Qualcomm MSM8255, packed with 8mp Exmor R sensor camera and Bravia Engine display, does that attract u to get it? For me yes but depending the price.

Sony Ericsson team had not decided yet the RRP for this phone however, they promised will offer a very satisfying price to everyone. For me, satisfying price would b around RM1.7~1.6k ;) How bout u? Lets wait and see what d price offer by Sony Ericsson team.