Just few hours ago, top 6 of Microsoft Imagine Cup 2011 are selected. Lets take a look on the group members and their project overview.
Filius Educata
team from UCTI is consisted Mohamed Mahmoud Talaat El Bedwihi, Ong Yi Ling, Desiree Chow and Derek Oii.

Their project titled : Utopyeah! is regarding preventation of the domestic abuse against women in urban areas. One of the main features is the "Panic Response" where a notification will be sent out to her trusted people or NGO is a woman is in abusive situation.

Excalibur is from UTM with Jovian Joris Tan, Hendra, Nur Anis and Tamimi in the team.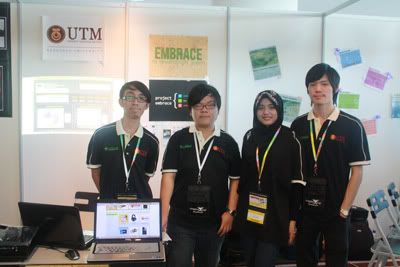 Their project known as Embrace where it use to aim to sustain the environment by promoting "Recycling Culture" in the same time imbue the habit propers waste disposal among the locals.



Asia Science

members are Named Mortaji, Perinba Selva, Krishnashree and Ali Arabzaseh. They are from UCTI too.



They come out with their project name : Power Transmission Automation where it enterprise system that manages transmission of power substations. 3 major part are divided in this project which are : Desktop Application, Azure Application and Thin Client Application.



KCast

is from KDU University College. Members are only 2 which is Khor Ruin Yen and Chua Yin Fu.



Their project title is Network Broadcast Projector. It is a broadcasting engine. The main objective is to digitized education especially in areas where costs rob the students of such an experience.

Next is Cyber Knightz from UCTI too. Their members are Tan Jit Ren, Chan Wai Lun, Ker Jia Chiun and Wong Mun Choong.



Health3 is thier project title where targets to improve the health of a cancer patient by using human basic need : food intake, exercise and emotional needs. Cancer patient can customize, deploy and start monitoring to improved their health and increasing their survival chance.

RGBY, not red green blue and yellow, is from UKM with Gooi Chun Aun, Heng Sua Yee, Ling Chee Yang and Yeap Chun Leong as members.



Their project knowns as Project Hive (not for Green Hornet :P) whereby users can use it to get into a queue for a particular service.

3 groups will be selected among this 6 later on!! Stay tune on jackieloi.com for the result and remember to follow #imaginecup for live tweet! :D
___________________________________________________________________________

Oh yes still remember the weird phenomenon of the mysterious symbol?? Finally i know what is it! KOLONY yo! It is highly recommended for Social Networking site, logon to www.kolony.com.my to check it out ;)

Kolony is an SMS-based social network that connects you to your friends!

To get started, just send KOLONY to 25333. (You just need to have an Xpax, U.O.X., S.O.X. or Celcom mobile number to join!)

After you get your nickname, check out some of the ways you can socialize on Kolony:
• DING – Ding your buddies and leave them a message to cheer them up.
Send KDING to 25333
• BOMM – Have an update to share? BOMM it away to all your FRENs!
Send KBOMM to 25333
• FREN - FREN for life? Make as many as you can in Kolony!
Send KFREN to 25333
• POPP – Get to comment on what your buddies say!
Send KPOPP to 25333

You will need KOINZ to perform the activities mentioned above in Kolony. And how do you get KOINZ? SIMPLE! You just need to make calls on the all NEW XPAX PLAN! Every single call you make on the NEW XPAX PLAN will earn you FREE KOINZ that you can use to stay infected in Kolony.

• 1st – 5th calls made in a day = FREE 10 KOINZ per call
• 6th & more calls made in a day = FREE 20 KOINZ per call
• The FREE KOINZ will be granted the next day.
• Alternatively, you can also purchase KOINZ to enjoy KOLONY services: RM0.30 for 10Koinz, RM1.50 for 50Koinz, RM3 for 100Koinz

Besides, there is New Xpax Plan!




Just head on down to any Blue Cube outlet or Celcom branch to pick up a New Xpax Plan today and start enjoying these low rates & join Kolony!
Or check out http://www.xpax.com.my/new_plan.html for more details.