Courtesy of
Nuffnang
, Gplus and Sakae Sushi, I was served with a blast dinner last friday at 1 Utama. Yupz, if u dunno, the current Sakae Sushi was located at LG in 1U with bigger space and newer technology on their computer.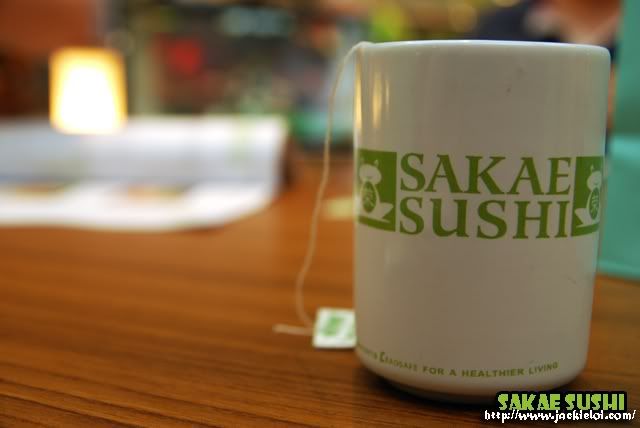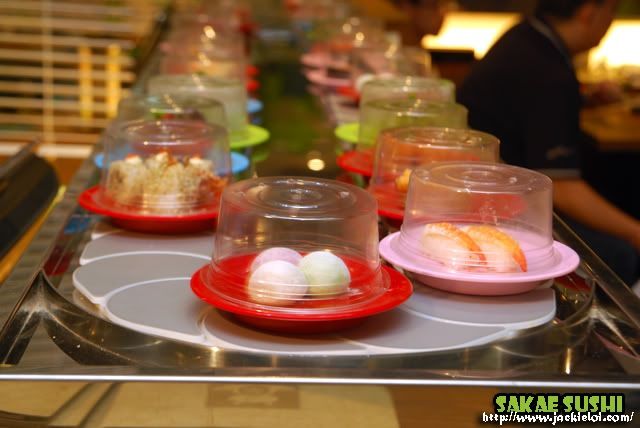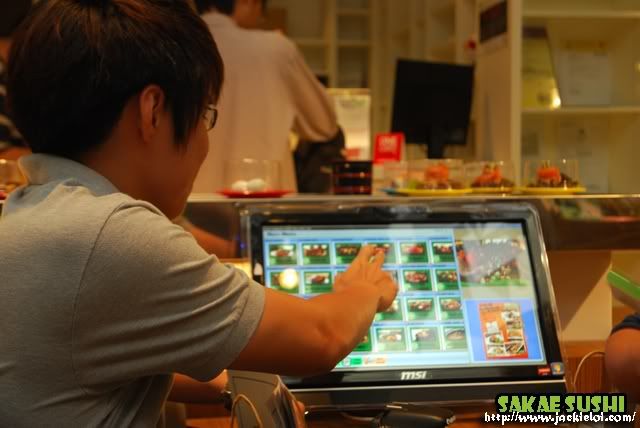 * Touch screen yo! *


Being a japanese food lover, obviously the dishes was heaven for me. We were served with 7 main course and 1 dessert. Obviously all dishes and marvelous ;) Thumb up to Sakae Sushi!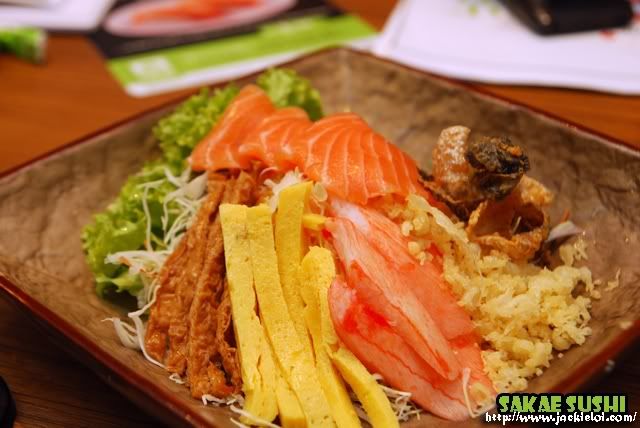 * Sakae Salad *


Sakae Salad (RM13.90) is a house specialty salad comprising salmon, crisp garden-fresh greens served with plum dressing. I love this dishes! Is good as a started. In addition, they had tamago and inari skin as well. Plus the Plum sauce, it was perfect combination ;)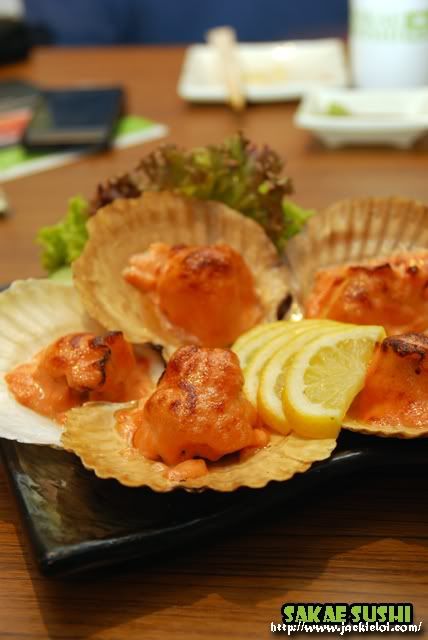 * Hotate Mentaiyaki *


Hotate Mentaiyaki (RM20.90) gonna be everyone favourite! It is a juicy scallops grilled with codfish roe and mayonnaise! It so nais that every wish to had it again and want more! 1 of the best scallop i ever had after Tao! The codfish toe is nice to the max!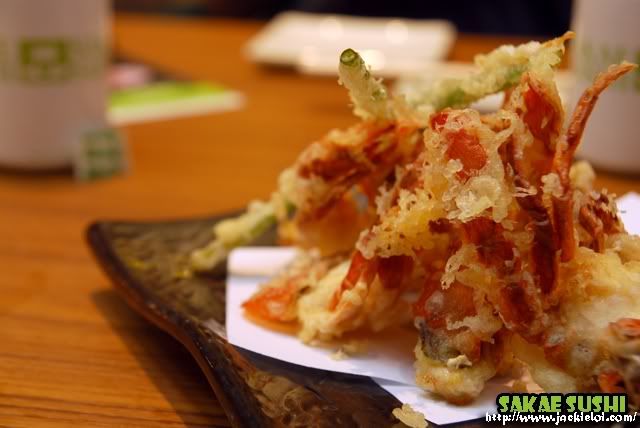 * Soft Shell Crab Tempura *


Next we are served with Soft Shell Crab Tempura (RM13.90). I am not really a fans for crab but hey, the shell is so soft and fried to perfect level. I din try the sauce since it was my habit not to eat with any sauce if not needed. Natural taste FTW!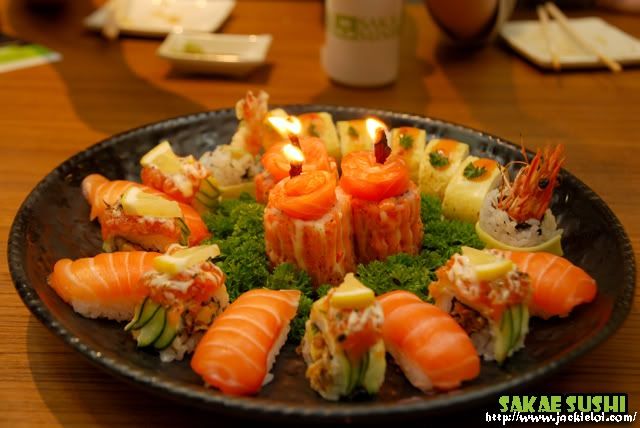 * Birthday cake!? *


Finally, we are served with 4 in 1 dishes which are Salmon Sushi, Sakae Candle, Snowflake Salmon Delight and Evi Tempura Cheese Maki. Looks like birthday cake rite? LOL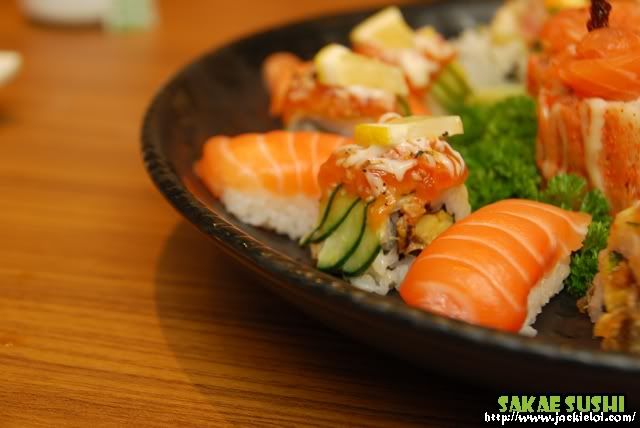 * Salmon Sushi and Snowflake Salmon Delight *


I bet everyone know what is Salmon Sushi (RM3.99). No need to explain rite? But the reason why the price tag slighly expensive compare to normal Salmon is because they had a thicker salmon skin. Awesome yo! Meanwhile, the Snowflake Salmon Delight (RM9.80) is a rolls of fresh salmon, omelette, japanese cucumber, salmon skin, okaka flakes, mango, plum sauce and mayonnaise in one! It taste nice and i like ;)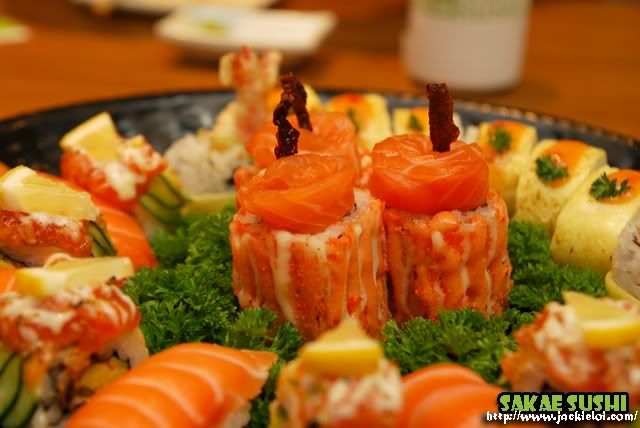 * Sakae Candle *


Sakae Candle (RM10.90) is not really a candle la! It is one of the Sakae signature dishes. It contain crabmeat, avocado, Japanese Cucumber, shrimp roe, codfish roe and mayonnaise in one! Nice presentation isn't it?


* Ebi Tempura Cheese Maki *


Last but not least, the Ebi Tempura Cheese Maki (RM12.90) was presented with prawn head and tail. The crispy tempura prawn rolls with a luscious finishing of cheese and spicy mayonnaise is mix perfect to the max ;)


* Pineapple Sorbet *


The dessert that served is known as Sorbet. It is a low fat fruity yo! It came with 3 flavour which are Pineapple (RM10.90), Orange and lemon (RM8.90). I took the pineapple since i dun reli like lemon and orange and it turn out nice! Nicer than eating ice cream LOL. It is one of the best dessert i ever had to complete my meal :)

Well, not to forget, if u guys ever been in sushi shop with me, Inari is not a miss sushi i'll have no matter what! Nothing beat Inari! rawrrr!!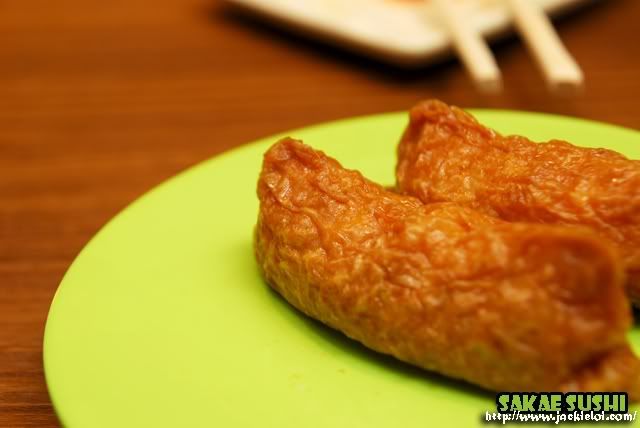 It was an awesome meal i ever had! Would like to thanks to Nuffnang, Gplus and Sakae Sushi again for the wonderful meal ;) i'll be back again to Sakae Sushi!