Went to food review together with GF on the 1st of September! Yes is 2 weeks ago and now only i got mood to blog about this. Well, the main reason of this review is to determine which food to stay in the menu and which gonna get elimination. Few bloggers are invited with some familiar faces of coz :)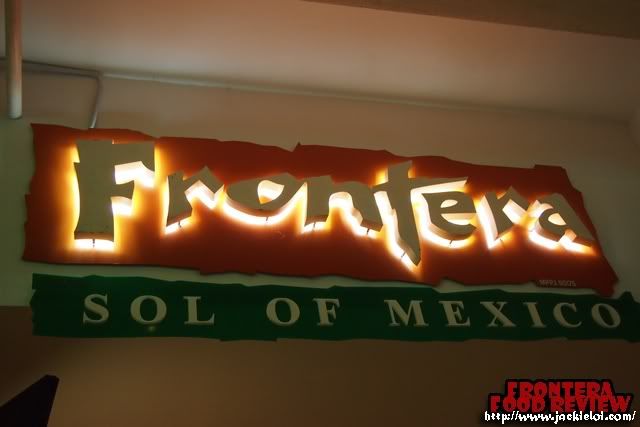 First all of us get served with Tortilla Chicken Soup and Chipotle & Mushroom Soup. Together with the chips (i forgot the name..no is not nachos) that come with Chili Con Queso (Tejas-styled cheese dip made from American cheese, cheddar cheese & tomatoes) and Red Salsa (Homemade salsa using tomatoes, garlic, cilantro & Ancho chili).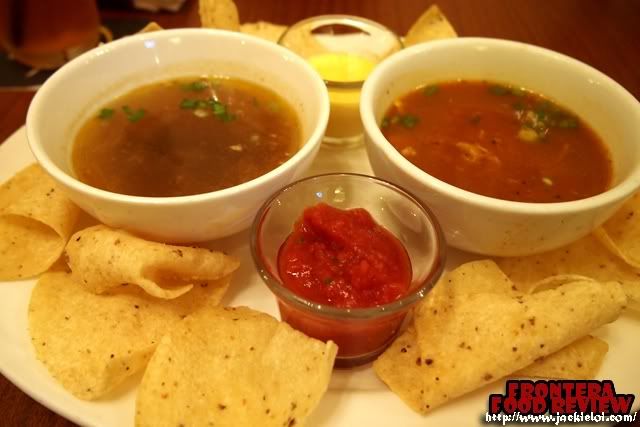 * The left is Tortilla Chicken Soup and right is Chipotle & Mushroom Soup *

As for my preference, the best is Chipotle & Mushroom Soup! It contain mildly spicy chipotle chili and button mushroom clear soup. It taste abit mild spicy but enuf to make u cough if u drink too fast ;/ Meanwhile, the Totilla Chicken Soup taste like MSG soup eventhough it actually contained Traditional lightly spiced chicken soup with tomatoes & onions, garnished with tortilla strips, cheese & cilantro. In addition, the Chili Con Queso is the best for the chips! :D

Next main course for each of us are determine by draw lot. Well i guess i am lucky one since i get Love Star Burritos. It was beeeeefffffffffffff! :D


* Love Star Burritos *


One thing i heard everyone complaining about their main course is the mexican rice is not consistence in term of taste (some spicy some not) and some hot some cold eventhough the manager claim the rice are cooked together.

Nevertheless, the Love Star Burritos is made from marinated beef brisket, chili con carne, refried beans, cheddar cheese & hot sauce wrapped in flour tortilla, topped with chili con queso & chili con carne. The portion is awesome! Imagine whole meat wrap together! It was very big portion and feeling even for me! But i guess too much meat made u abit jelak ;/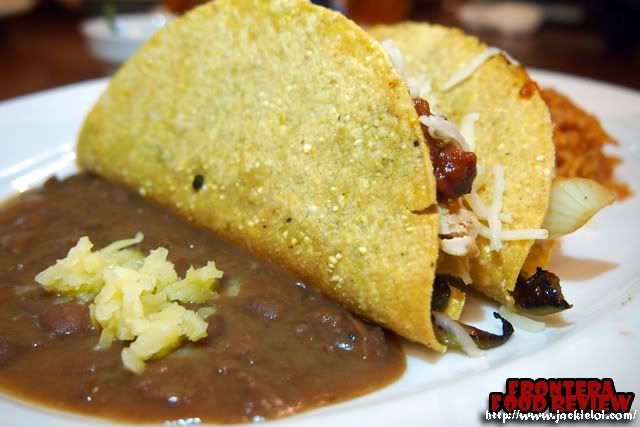 * Ranchera Chicken Tacos *


The Ranchera Chicken Tacos belong to gf is made by Crispy corn tortillas with grilled chicken, topped with lettuce, cheese, tomatoes & ranchera sauce. Served with Mexican rice & refried beans.

Next we are given a choice again to have our dessert. Since i wanted to eat cheese i choose Cheesecake Chimichanga. GF take the Chocolate Chipotle Brownies. I am quite curious with the Black Label Sundae ordered by Marilyn. U know I know what we all expecting when we heard the Black Label ;P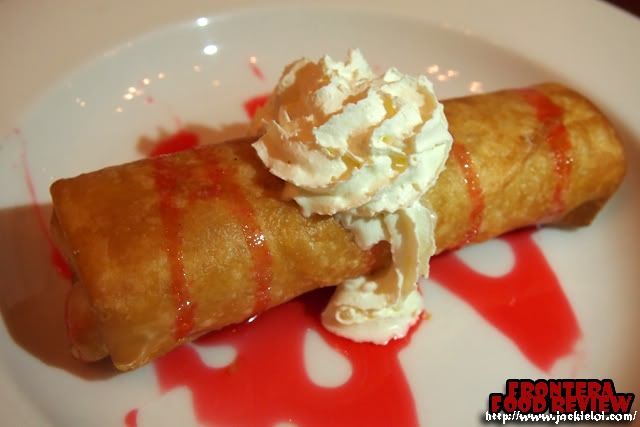 * Cheesecake Chimichanga *


I am quite surprise when my Cheesecake Chimichanga served in front of me..i tod the waiter did the wrong one and ended up, it is real 1..in Mexican style! LOL...well, it was made by crispy flour tortilla filled with homemade cheesecake, topped with strawberry syrup. Inside contained alot of milk, yea real alot! Seriously it can make me feel jelak ;/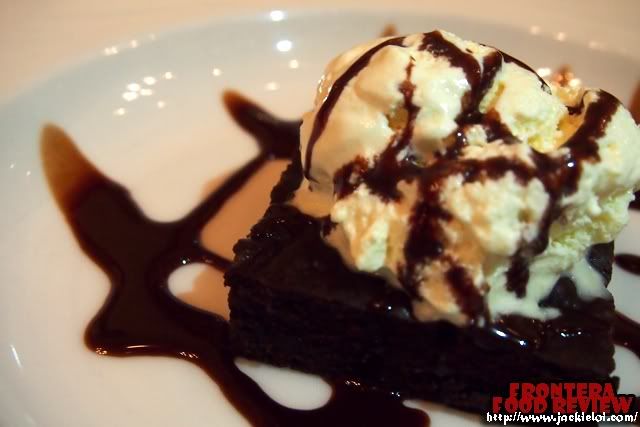 * Chocolate Chipotle Brownies *


The Chocolate Chipotle Brownies is sweet & spicy, a Frontera original, topped with Vanilla ice cream & chocolate sauce. The brownies was abit hard and dry, not my favourite but some of them like it.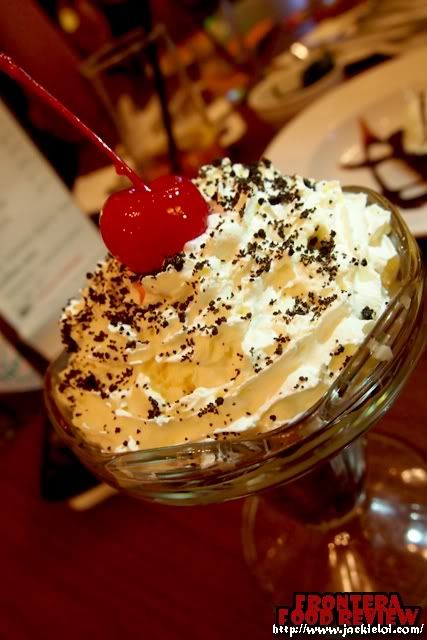 * Black Label Sundae *


Finally for the Black Label Sundae, it was a disappointment because it wasn't reli had Black Label inside literally...It is chocolate chipotle brownies topped with Mexican caramel, Vanilla ice cream, hot fudge, whipped cream & cherry. Not my type of sundae ;/

Overall, it was very well served food and services by Frontera. I was stuffed with the food and almost die and kenot move, haha

Anyway, do vote for me if u wan the Love Star Burritos stay on their menu! ;) Click here yo!