This post is sponsored by Tune Talk.
Date: 8th October 2011 (Sat)
Time: 9:00pm
Venue: Hall 9
Location: GSC Pavilion KL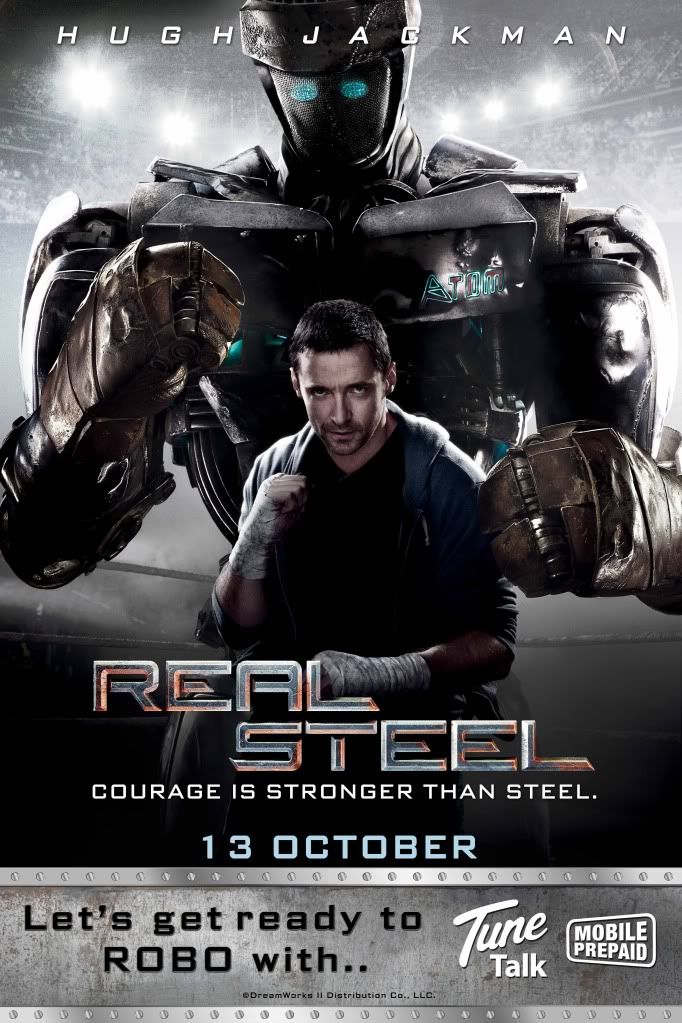 Courtesy of Tune Talk and Churpchurp, i get to catch Real Steel exclusive premier screening last night! Some stuff to highlight regarding to Tune Talk, they are the newest mobile operator in the country, officially launched its commercial service on 19 August 2009. Tune Talk provided a lot services such as cheap blackberry services, Tune Talk Tunes, AirTime Credit Transfer, Tune Talk Points for AirAsia Flights and a lot more! More info feel free to visit http://www.tunetalk.com/


A gritty, white-knuckle, action ride set in the near-future where the sport of boxing has gone high-tech, "Real Steel" stars Hugh Jackman as Charlie Kenton, a washed-up fighter who lost his chance at a title when 2000-pound, 8-foot-tall steel robots took over the ring. Now nothing but a small-time promoter, Charlie earns just enough money piecing together low-end bots from scrap metal to get from one underground boxing venue to the next.When Charlie hits rock bottom, he reluctantly teams up with his estranged son Max (Dakota Goyo)to build and train a championship contender. As the stakes in the brutal, no-holds-barred arena are raised, Charlie and Max, against all odds, get one last shot at a comeback.

My experience of this movie can be describe by one word, AWESOME! I love this movie very much! Much better than Transformer! Everything CG from modeling, texturing, detailing and animation is nice! The storyline consist well written plot. Beside showing the boxing tournament between robot, it also shown the relationship between father and son. If u expected an army of robots to appear in this movie, sorry to disappointed u, it just have fews but i can ensure u, every robots worth to remembered, unlike Transformer ;)



Thumb up to Hugh Jackman for great acting. Same goes to Dakota Goyo (Max) who can act very well, doesnt look like typical dumb kid who cant act. It is nice and touched to see father and son helping each other to achieve something.



A must watch movie! It wun disappoint you with nice packing action and father and son bond. Here the trailer to hype u up!