Date : Wednesday, November 2 2011
Venue: GSC, Mid Valley
Time: 9.30 PM

Courtesy of Nuffnang and Churpchurp, i get to watch The Adventure of Tintin Premier Screening a week before it official release in cinema.


Tintin and Captain Haddock set off on a treasure hunt for a sunken ship commanded by Haddock's ancestor. But someone else is in search of the ship.

Love this animation very much! Especially when Tintin is from my childhood cartoon! The realistic stylization and animation is one of the selling point that attracted me in this movie. At least Tintin eye doesnt look small like in cartoon LOLL...




A very adventurous story but somehow, the storyline lack of something make me feel WOW or nervous when catching it. However I do enjoy all the heroes on board ships, rowing boats, fly airplanes, riding camels, having car\bike chases and crane fights. I enjoy the pirate fight as well..kinda remind me of One Piece.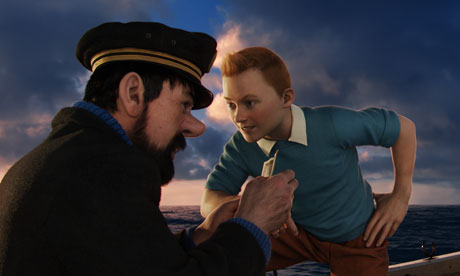 Catch Tintin in cinema on next week if you are fans of it! oh btw 3D doesnt show as much as it shud.