Disclaimer : This post is sponsor by Celcom.
Updated : Looks like Celcom couldn't resist to tell you a secret! Here is what gonna happen!

1. On Saturday 31/3/12, Celcom will have HOURLY LUCKY DRAW at Tablet Fair
2. Every hour (from 12:30pm – 9:30pm), 1 winner will be drawn to enjoy SAMSUNG GALAXY TAB 7 PLUS @ ONLY RM397 + FREE 1 MONTH Celcom Broadband Advance worth RM98
3. To qualify, customers just need to sign up for any Celcom plans on the day at Tablet Fair!
4. T&C apply (*Purchase of device without plan subscription not qualified)
Hey there! Are you a gadget freak like me? Do you feel like owning every single cool gadget in the world? Guess what? You won't want to miss these UNBELIEVABLE DEALS at the I LOVE TABLET FAIR 2012 by Celcom!! This fair is come with unbeatable discounts, exciting freebies and more!

Celcom always has the best deals and rewards, along with the best and latest phones in town. That's not all, they also have the best Tablets too! So come check them out at the I LOVE TABLET FAIR 2012.

Get ready for unbeatable offers on the latest tablets, special rebates and a lucky draw!

Join the excitement at the fair:


Venue: Concourse, Low Yat Plaza, KL

Date : 26 March - 1 April 2012

What would you expect to see at this fair? Those crazy sales and offer of course!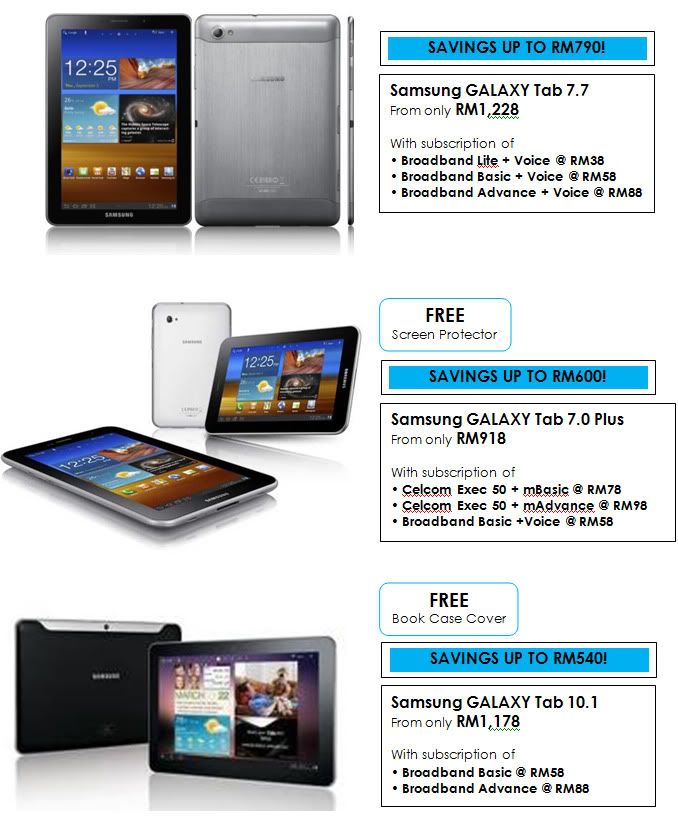 Celcom not only prepare deal for tablet, look out for these exciting smartphone deals at the I LOVE TABLET FAIR 2012.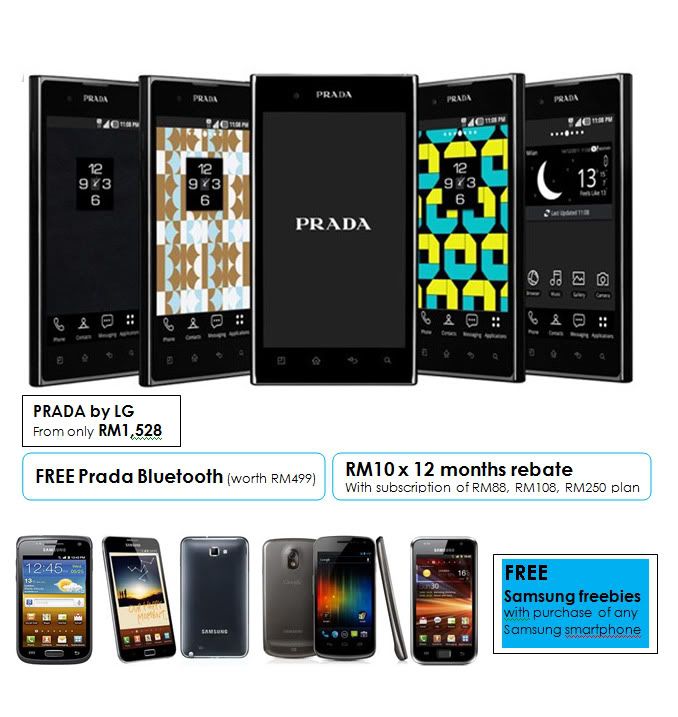 That's not all! Celcom will also be introducing their HD Voice service for the 1st time at the fair! How?


Just sign up to purchase the Sony Xperia S from as low as RM1,218

And you'll be able to get a 2nd HD Voice-enabled smartphone (choose from the Nokia N9, Sony Xperia PLAY, or Blackberry Torch 9810), at 50% OFF the RRP!
With 2 HD Voice smartphones, you'll experience the best voice quality you've ever had, on the best network ever!


*Pssst* But there's more…here's a hint…at the I LOVE TABLET FAIR 2012, at random/surprise hours in a day, Celcom will be announcing super-special-surprise deals on some of the most wanted tablet & smartphones!


We won't tell you what it is here…
Just be there anytime during the day from Mon-Sun, and listen up for the surprise announcements! Make sure you don't miss out!
What surprise deals are in store? What do you think? Why not make a guess?


What are the surprise would be? Could it be buy 1 free 1? Or cheapest data plan package? I don't know but just be there to check it out!

The best part of all, you can get this on Malaysia's best network.


Celcom is the most reputable telco provider having won various awards such as the prestigious Frost & Sullivan's Mobile Broadband Provider for 2 years in a row.
Celcom Broadband has the widest network coverage anywhere in Malaysia, indoors, outdoors and on-the-move.
Celcom Broadband offers the best network quality, the richest web and video streaming experience with its stable connection.


For more info, visit www.celcom.com.my/smartphones

Now! Remember mark down your calender on 26 March - 1 April 2012, 10am to 10pm!! Don't miss the deal!