Disclaimer : This post is sponsor by Celcom.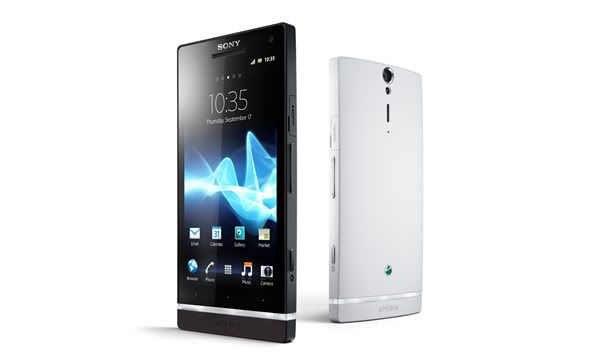 Sony Xperia S is finally announced in Malaysia!! I been looking forward of it since the announcement on CES2012. Sony Xperia is packed with :


4.3" display of HD resolution (720x1280 pixels), Bravia Engine.

SM8260 chipset with a 1.5GHz dual-core processor.
1GB RAM.
16GB/32GB of internal storage.
12-megapixel camera with Sony's Exmor R backlit sensor, 1.3MP front camera.
xLOUD™ and 3D surround sound.
NFC enable function

One of they keay features of Sony Xperia S is the

0.9s capture time

of the 12mp camera! With this, you will never miss any nice, funny and beautiful moment in your life that can flush away anytime. Not to mention, Sony Xperia S is the FASTEST camera on a smartphone right now.

Together with its full HD recording, HD chat camera and HD display, plus the best network coverage from Celcom, every experience on the Sony Xperia S is more life-like than ever before!

Celcom new plan of Data + Voice offer a rebate of RM120 without Contract.
Get it from as low as *RM38/monthly or sign-up to Celcom Exec plan and enjoy discount up to RM681.
Get accessories worth RM534 *while stock last(Xperia NFC tags , screen protector, in-car charger, HDMI cable, LiveSound Hi-Fi Headset)*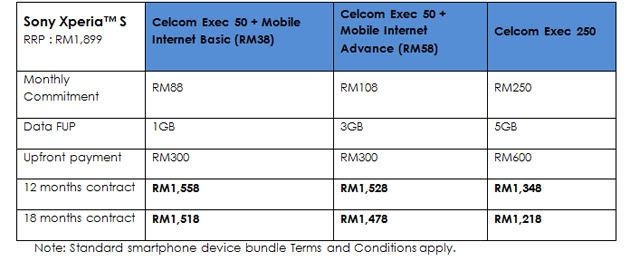 Enjoy the Sony Xperia™ S from as low as RM1,218 with the best network.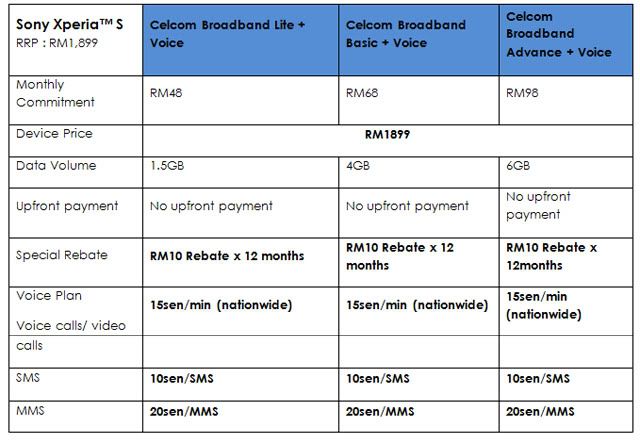 You can choose to sign up for the Celcom Data & voice plan.


So if you wondering why sign up for Celcom Exec, here are the reason!

The more you talk, the more you save. Automatic discount up to 30% every month.
Call rates as low as 10.5sen/min (after 30% discount).
FREE mobile Internet and calls within network on weekends.
Low monthly commitment

The best part of all, you can get this on Malaysia's best network.

Celcom has the widest network coverage anywhere in Malaysia, indoors, outdoors and on-the-move.
Celcom offers the best network quality, be it messaging, voice calls, video calling, surfing, email, etc.
Celcom gives you the richest web and video streaming experience with its stable connection.

For more info for Sony Xperia S, feel free to catch up at http://www.celcom.com.my/smartphones or here

Pssss....i been loving the transparent bar that can have light illuminate! This make Xperia S is very stylish ;)