Just had a very sinful dinner with Betina. Yes, we went to had Kaw Kaw Burger, my second attempt. Since the
first time
i went i tried the Crispy Chicken Burger, this time around i gave a try on Beef Burger ala carte, triple of course ;P while Betina ordered Double Crispy Chicken Burger Set.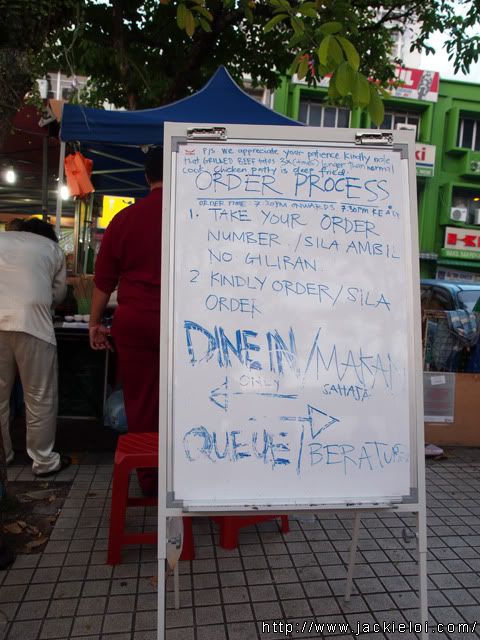 * New notice board *

Apparently they change the system. We need to queue to get number and wait the waiter to come and order from us. I feel it kinda neat but in the same time is creating queue as well. In addition, i have no idea what time the stall opened since me and Betina actually reach there on 7pm, hoping not much people around and we don't need to wait so long. But apparently it proved us wrong, the queue is much longer than the first time I came here actually...Mother of God...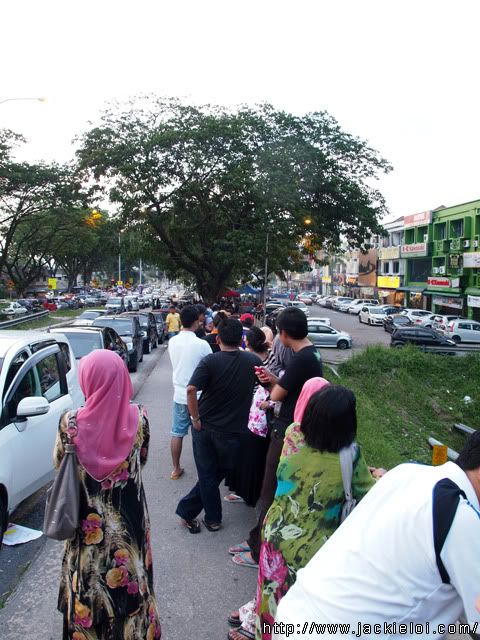 * 7pm and this is the queue you get *


Waited for almost one hour to get our ordered. The waiter distributed the number first but not taking order. My guess is he only started to take order in a batch. Not to mention, the waiter is actually kinda friendly and polite.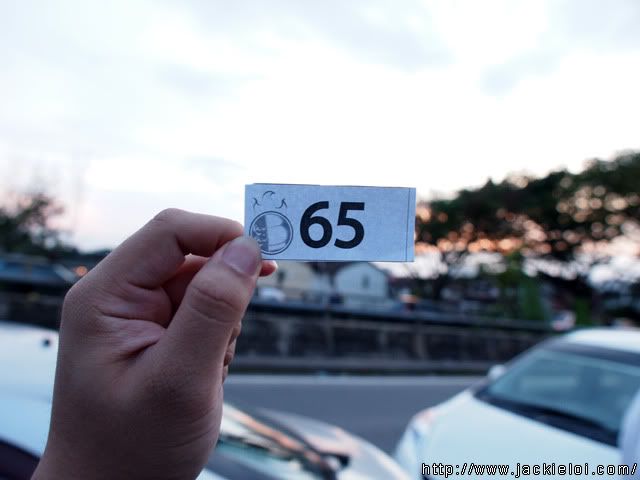 * Got number 65 LOL *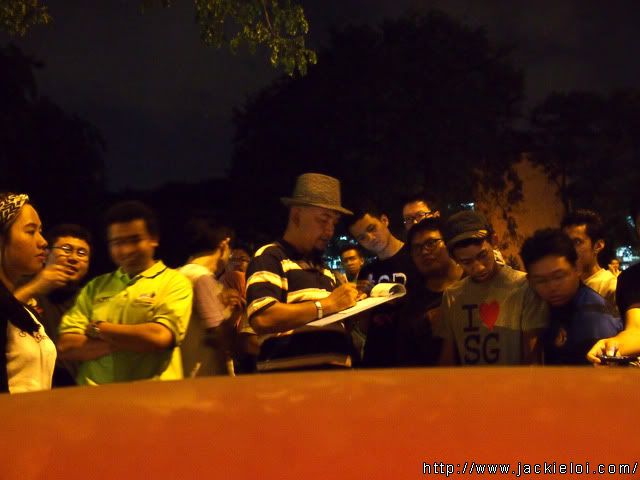 * Everyone surrounding him just to get order *


While waiting our food to be done and ready in an hour times, I actually discussing with Betina how much would they earn per night doing such business. Her guess was at least RM20k/night. Same question goes to my colleague when we having lunch on last week and they said at least RM10k/night. Well, i believe yes around 10-20k range. They really do deserved it if they maintain the qualities from time to time.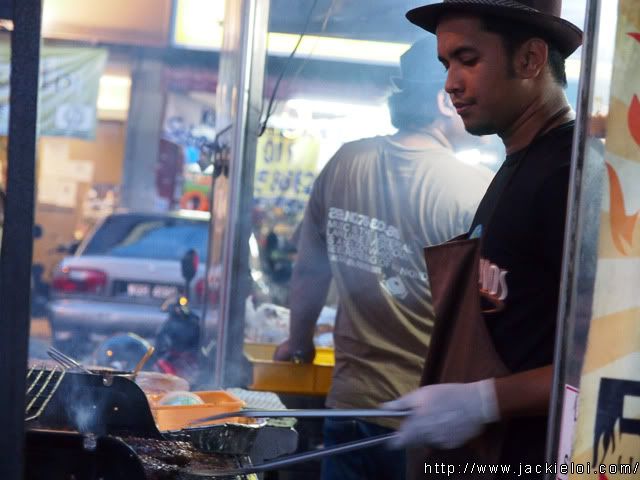 The guy who cooking the burger is quite friendly as well. He saw me shooting from far and he invite me to come closer for a better shot. He also asked am I a blogger. Well, guess world do realize people with camera nowdays must be blogger. Or as Betina said, if you are not blogger but once you have camera, you wanna be blogger too. I don't know whether i should agree with her statement or not.


* Be ready to drool over all the beef patty *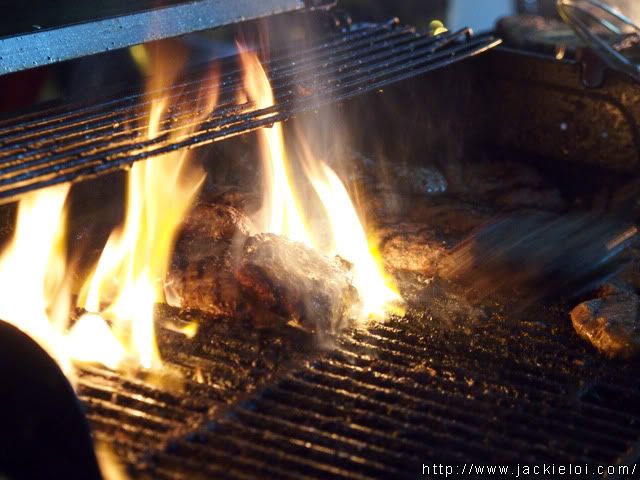 * and then it burn.... *


This time around beside tried the beef burger, we didn't take away. We ate at there. The presentation for both burger look better than d first time when I take away back home. Yummeh! Now for the Set, it came with burger, sausage and a drink of your choices.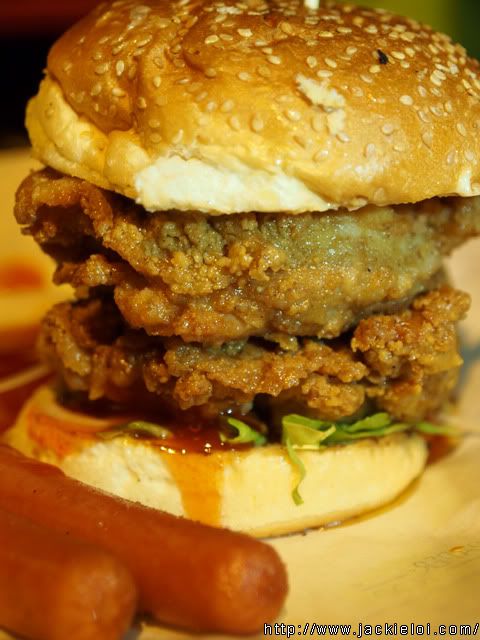 * Kaw Kaw Double Crispy Chicken Burger Set RM15.50*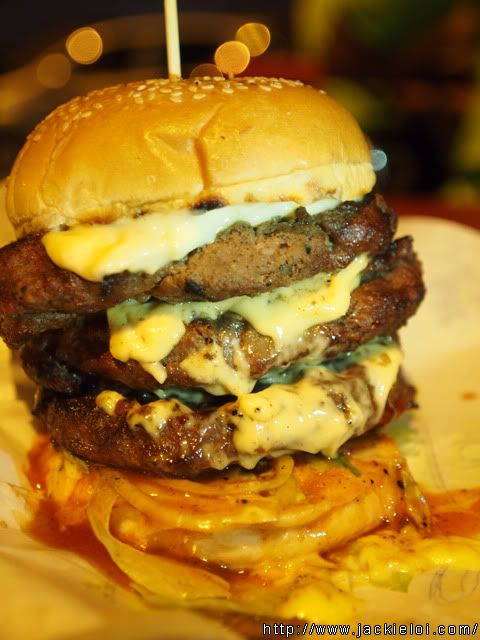 * Kaw Kaw Triple H Beef Burger RM18.50 *


The beef patty is very thick. At least thicker than Burger King & Mc Donald if you wanna compare. Each of the beef patty was showered with cheese and mayonnaise. Honestly, don;t feel the strong cheese taste, which i actually prefer and appreciated it if they can improve on this. Like the previous burger i had, the lowest layer, bread is oversauce with chilli. Some might don't like it or take it.

Asked Betina opinion, she said yes she love the Crispy Chicken very much. But she wouldn't wanna queue for the second time. I guess it is about curiosity. Maybe you wouldn't wanna try again after u have tested both beef and chicken unless, you really too free and willing to queue for it.

Ok i got a sinful night. Guess if I smash badminton for one whole week also not enough to burn it our..damn!