I am invited for the Twisted Love (撞鬼) Gala Screening last night at Cathay Cinema. Beside Mark Lee appearance, one my my most anticipating stars is none other than Chu Mimi. She is so funny in real person, joking around with audiences. Oh well, I will include those artist photo tonight (I forgot to bring out LOL).

So, lets talk about the movie.


The story revolves around a drug dealer who banged up a young girl, a pair of con men who wants to turn over a new leaf, and 4 cabin crews whose lives were turned upside down over a fateful night of drugs and booze. This is a story of individuals with fates intertwined and how their paths clash. A series of twisted events that is both a study on cause and effect, and how our actions affect the people around us.

Another movie delayed in Malaysia, it was released in Singapore way too back. Plus, i felt the promo wasn't strong, cant even find trailer for this movie in youtube (mind you I cant read/write chinese, thus i dun bother search in youtube with chinese title). But it doesnt really matter, this movie pretty sucks on its own.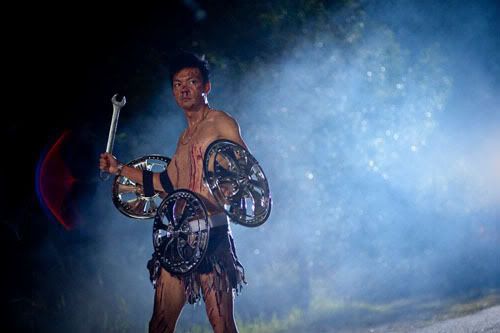 Claim to be horror/comedy. Yea, horror and comedy...Cant expect much for the horror at least i was expecting some good laugh, but not really as well. Mark Lee and Chu Mimi acting was awesome. It just the story pretty sucks. so Warning, i gonna put alot spoiler in this movie. Read on ur own risk.


I see the pointless story arrangement from the director. He arrange the Climax/Ending scene first.
Human can hit ghost? Not to mention the super wheel so sharp until can cut the ghost head? Nice try.
Where d fuck is everyone in the hotel? So empty? Is it haunted hotel? Where d fuck is d CCTV as well?
A girl who has been cut on the throat and wrist still can breath and has energy to hold someone leg after so long.
Alot question appear in Chu Mimi story as well. She kill her husband? how? does she take her husband meat and make the Bat Kut Teh?
If Chu Mimi daughter always cramp because of the ghost (her belated husband) entered her body, then why d hell d story started off with she cramp then vomit white bubble? tats more like Penyakit Babi Sawan (which i tod because she ate too much Bat Kut Teh LOL) instead of ghost entered her body.
Chu Mimi husband entered their daughter body to revenge. But how d fuck d ghost kenot kill a fucking fat lady? In fact Chu Mimi manage to counter just hitting the head and tie him (her daughter) up.
Chu Mimi was hitting the joker guy in the movie then suddenly disappear, with no where.
The story end with Mark Lee been sentence to death because selling drug. He was killed in hospital by give some injection. Wtf?


So overall, stupid movie. I dunno dafuq did i just watch last night LOL..the only thing i can sit down and enjoy was the acting from Mark Lee and Chu Mimi.