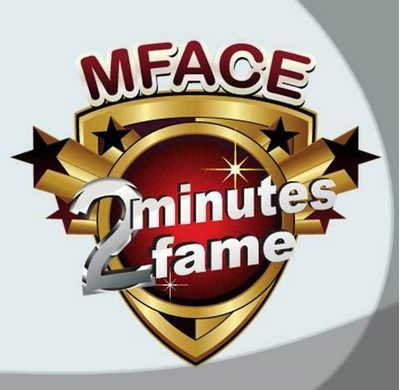 mFace is scouring the country in search of the next BIG THING.
Tens of thousands of Malaysian hopefuls from across the nation are dreaming of stardom. You can sing, dance, juggle, or joke, it doesn't matter! All it takes is #2mins2fame, thanks to mFace.

The mFace #2mins2fame talent show is giving you the opportunity to aspiring superstars an easy way to audition online. Just get on to bit.ly/2m2fame and record the best 2 minutes of your life and take a shot at fame.

Check out these champions and their moment in the sun:



















Don't you just ache to be there?

mFace is also looking for talent who may not think of auditioning. Recommend the mFace #2mins2fame Talent Show to family and friends or anyone who thinks they could be the next BIG THING.

While the mFace #2mins2fame talent show is opening up an avenue of possibility for Malaysian talent, it would be the Malaysian public that eventually determines who will advance to the next round of competition and who will go home.

mface 2minutes 2fame @ Viva Mall ~ 28 Jul 2012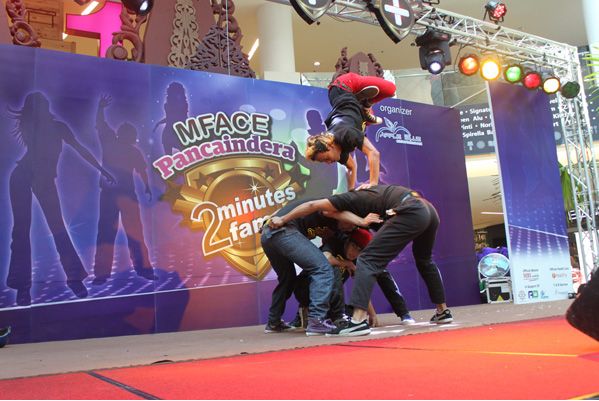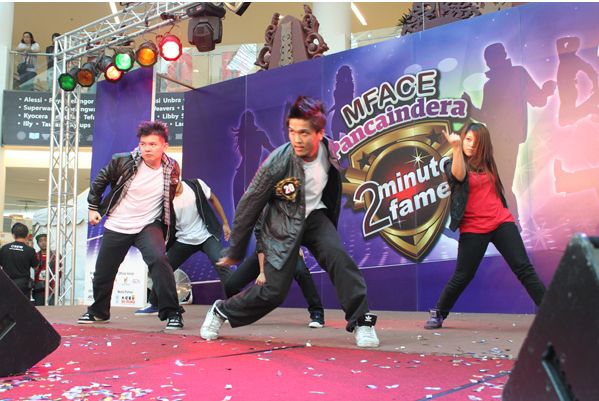 mface 2minutes 2fame @ Penang Time Square~ 16 Jun 2012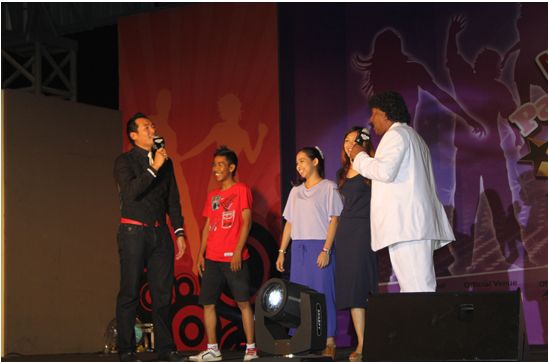 THE PRIZES

The auditioners would be narrowed down to a select group of 18 most talented finalists which will be chosen by votes cast through smses, newspaper entries and online submissions.

In addition to being the next BIG THING in show business, the 18 finalists will compete for major prizes:

• 1st Prize – Luxury Car + RM30,000 cash + Aver products worth RM1500
• 2nd Prize – 4D3N Australia Gold Coast holiday + RM15,000 cash + Aver products worth RM1500
• 3rd Prize – 3D2N Lang Tengah island holiday + RM5000 cash + Aver products worth RM1500
• BEST SMS – RM2000 cash + MBI Water Purifier + Pappa Rich RM100 voucher + Aver products worth RM500
• BEST STAGE PERFORMANCE – RM2000 cash + MBI Air Purifier + Pappa Rich RM100 voucher + Aver products worth RM500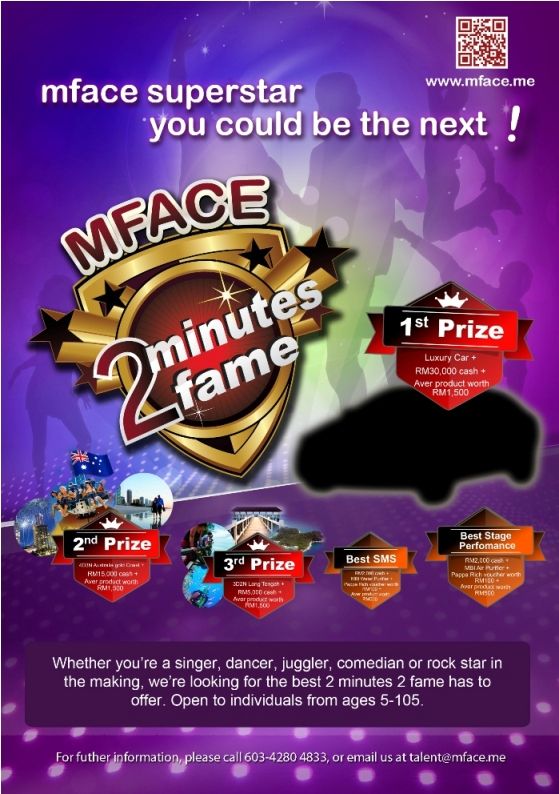 THE METHOD

Online auditions will be open from May 5th to December 28th, 2012. Hopefuls will have the opportunity to audition by demonstrating their unique ability by performing it on camera. Videos are up to SIX (6) submissions per person or group.

Newspaper, text message and online voting begins selected Saturdays immediately after each talent submission is made online, and 5 top-voted contestants would be picked each week. The TOP 20 contestants will appear on a live stage Final Round performance each month.


SMS :
Send 10 votes by smsing "mface <

To vote in bulk, sms "mface10 <

Sms voting is unlimited


Online :
To vote online go to bit.ly/2m2fame and follow the instructions for how to vote online. Online voting is limited to one vote per day (1Click = 1Vote)

Newspaper :
Buy Pancaindera (of Utusan Malaysia) and follow the instructions for how to vote via post. Newspaper voting is unlimited and 1 post = 20 points

WHAT ARE YOU WAITING FOR?

Make your mark in the industry and become a household name. Video auditions for mFace #2mins2fame talent show are now open! If you have talent, it's time to show it. Log on to bit.ly/2m2fame to record your audition.




Auditions are open 24 hours, 7 days a week. Please check www.mFace.me for dates, rules, terms & conditions. Contest ends on December 28th, 2012.

You can follow the action on Facebook.com/mfacedotme and Twitter.com/mfacedotme today.