Last week during iPhone 5 announcement, alot people are excited while some are disappointed with it. Then there start a conversation between me and my friends who most of them wasn't smart phone geek. Some of them don't even know other brand beside Samsung and Apple. No doubt both this brand are the most popular in Malaysia now and I went Lowyat plaza last week I see this two brand everywhere. Some don't even know Motorola still manufacturing phone and boughy by Google..duh!

So the reason why I am doing this post is to tell let you all know, this smart phone world is not only SAMSUNG and APPLE. SAMSUNG is not the ONLY ONE have highest spec in Android! Don't trust me? Why don't spend abit your time to read my bullshit then give a little bit though of it?

NOTE : I am comparing with all company flagship phone. Every words below are based on my personal opinion. Some of you might gonna hate me for this :P

Let's start with iOS aka Apple aka iPhone 5.


Display
Apple finally decided to upgrade the screen size to 4.0 inch when other manufacture already done it back to 2 years. Steve Job used to said "3.5 inch is the most comfortable size on human palm". Well guess not anymore, our palm is growing bigger and bigger, except mine. The new iPhone 5 has 640 X 1136 resolution and 326 pixel density. Well, those resolution and pixel density is mean nothing to you if you're not pixel peeper. I bet normal consumer could care less on it. Lastly, I love the retina display. Seriously it is one of the most natural looking display in terms of color. Super AMOLED suck btw.


Processor
Hardware is one of the important thing to support the software. Apple doesn't reveal more details on A6 chip but on rumors, it could rival and even beat Samsung EXYNOS quad core and NVIDIA Tegra 3. It could par with dual core Qualcomm Snapdragon S4.


Memory
It has 1GB RAM. Well more than enough for iOS since it doesn't handle multitasking like Android system. How muchd o you really multitasking until you feel 1GB wasn't enough?? As usual, iPhone 5 come with 3 difference storage size, 16/32/64 GB and no expandable memory. Not a big deal if you're not a movie or games junkie.


Camera
Saw some sample photo taken by iPhone 5 and I will say it was impressive like iPhone 4S. Photographer should know Megapixels was nothing. It doesnt help in doing magic to make your picture look nicer. I would prefer iPhone camera anytime compare with other Androids device. Click here if you wanna see how iPhone 4S camera VS Sony EXMOR R sensor VS Samsung BSI sensor on Galaxy S III. Of course it can't match with Nokia Pureview 808 and Nokia Lumia 920. Video recording? 1080p with 30fps is good enough. You need 60 fps? Go get Sony or Canon camera.


Weight and thickness
Alot people seem concern on weight and thickness of their phone. Personally I love my phone to have certain weight and thickness. It is all about how comfortable and firm it will be when it was on my hand. Yes iPhone 5 is the most thin and light smartphone among other manufacture flagship phone. But I do not agree on Tim Cook saying iPhone 5 is the thinnest smartphone. Apparently he forgot about Huawei P1s (6.7mm) and also Motorola Razr (7.1mm).


Operating System (OS) and User Interface (UI)
It running the latest iOS 6. Seriously, since 1st iOS until now, the icon and interface totally same. Well, I don't really bother since I believe in "Don't fix what is not destroy". The icon is really nice. But, The only thing I hate in iOS is unable to customize and no home screen like Android. The OS is no brainer. Give it to my dad or mum, they should know how to use it. I am the kind who love to customize the phone since I owned Nokia N900 and I enjoy it. I love my phone look difference from others. No chance to do that in iOS unless you jailbreak it and change theme which still look the same shit for me. This are the main reason why I stay away from iOS/iPhone. It bored me seriously since UI is very important to me.

Next, is Android war. Too many manufacture, too many model, too headache to choose, thus I pick the only famous brand around and I also included Xiaomi. I bet alot of you dunno what is Xiaomi. Go google it yourself. Sadly HTC did not announce any new Android phone last night, Thus One X still the flagship phone at the moment.



Display
As I said I hate Super AMOLED screen. In Android, I love IPS and Sony Bravia Mobile display. Both has the most natural and very nice when used to view movie. Whenever my friends said "OMG Super AMOLED so nice! Color so nice" to me, I will tell them "Yea look nice on the phone but when you put the pics on pc it will turn out not what u expected" and that's enough to keep them silent. Samsung Galaxy Note II has the biggest screen (and Galaxy S III has 4.8 inch) among others. Seriously, why so big? Comfortable when put in pocket or when on your palm? Unless you have twice a size of my palm or else I still love 3.7-4.3 inch size. Unless, it is a wide screen like what iphone 5 did, maintain the width. LG Optimus G has the highest resolution and Xiaomi Mi-One S has the most pixel density thanks to smaller screen size. Again, normal consumer wouldn't give a damn on resolution and pixel density.


Processor
Last 2 year, slap a 1Ghz single core processor, you're the champion. Last year, slap a 1.5Ghz dual core processor, you're the champion. This year, slap a 1.5Ghz quad core you're the champion. Seriously hardware is getting better and better. Samsung EXYNOS Quad processor easily take down NVIDIA Tegra 3 in benchmark. However, a Dual Core Qualcomm Snapdragon S4 processor clocked on 1.5Ghz easily overtake both Samsung EXYNOS Quad and NVIDIA Tegra 3. What's more when LG Optimus G and Xiaomi Mi-One S already packed with Quad Core S4 processor? The processing power is like double of a Samsung Galaxy S III and Note II. Sony and Motorola might be slow in term of hardware but hey, their latest phone most are packed with dual core S4 processor. It is more than enough for daily usage.

Though Quad Core S4 processor already on the game, I still feel it is overated. No phone need quad core yet. Or I should say no software/application that required to run on quad core. Unless Adobe decided to release Photoshop that runing exactly like in PC version. Or full version dotA is available for phone. Or else nop, dual core S4 processor is more than enough for me (That's the reason why I am having ASUS Padfone).


Memory
Boom! Samsung Galaxy Note II, LG Optimus G and Xiaomi Mi-One S packed with 2GB RAM. Have a smooth multitasking ok? Eventhough I feel 1GB RAM is actually more than enough. Internal memory? All the flagship phone offer minimum 16GB internal memory though suck to be HTC One X for not offering microSD slot.


Camera
Alot people said and prefer Samsung Galaxy S III camera and now the same camera already slap on Galaxy Note II. Again, I mention before I prefer iPhone camera or Nokia Pureview. But if I were to choose among Android only, I would pick Sony camera anytime. It might has the most 13MP on the back but trust me, the EXMOR R is not just a name. It does perform well. Not to mention the present of physical shutter key on the camera! I use Sony Ericsson Xperia Neo before and I even dare to use it to compare with Samsung Galaxy S III during my review back to few months. Click here to check it out. LG Optimus G has 13MP too but no sample photo and review yet to show.


Weight and thickness
I stick to my same principle. I hate thin and light phone. I don't have feel when hold it and it might swing away from my hand or lost in my pocket without me noticing. Of coz from the chart HTC One X is lightest (130g - even lighter than Galaxy S III, 133g) and LG Optimus G is thinnest (8.5mm, thinner than galaxy S III 8.6mm). I kinda like my old Sony Ericsson Xperia Neo thickness (13mm) eventhough the weight is 126 g. It just nice to hold. Maybe only girl love thin and light phone LOL..correct me if I am wrong.


Operating System (OS) and User Interface (UI)
Android! A truely beautiful OS for user like me thanks to the ability to customize the UI like icon placement, widget and also theme. As everyone know difference manufacture will slap difference UI on the Android. In that case Samsung - TouchWiz, HTC - Sense, Sony - Timescape, Motorola - Motoblur, LG - Optimus and Xiaomi - MIUI. How to differentiate it? Just look on the icon and animation (when swipe and arranging icon/widget) where each of them have difference UI design.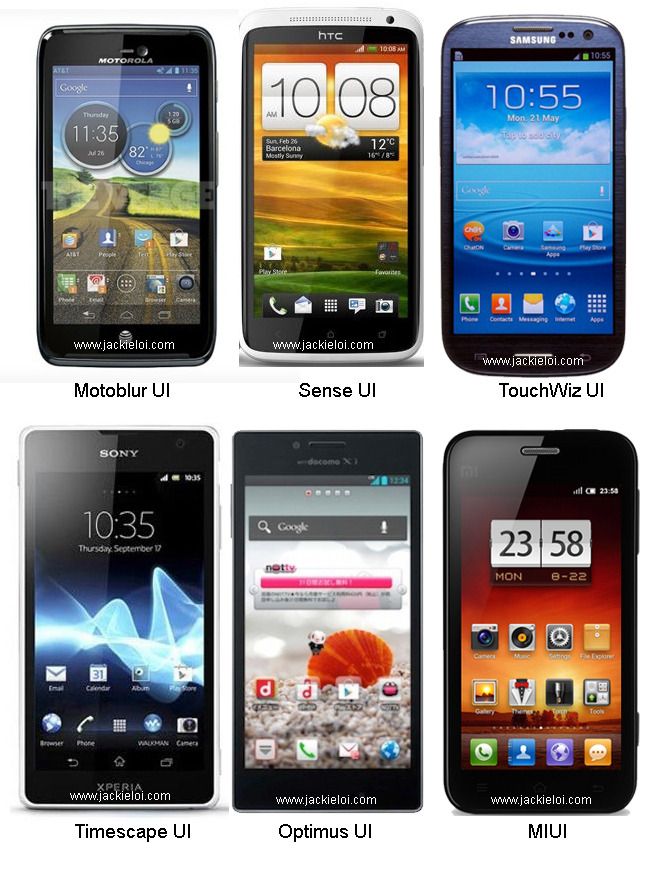 I used most of the brand before except Motoblur and Optimus UI. Here are my opinion. MIUI doesn't have apps drawer and everything is on homescreen. Sort of resemble iOS. TouchWiz, some might felt it was a copycat of iOS thanks to the similarity of icon. Even when I use my very first Samsung android phone I really do think so. Not impressive on it and it was the most uglier UI in my rating. HTC Sense UI is good and it does what it claim, sense! Very user friendly and give good user experience. Sony Timescape UI is my most favourite due to simplicity and interesting animation. I might be bias on this since I owned a Sony phone but hey, trust me the UI is very smooth eventhough running on single core whereas alot people complain lag in Samsung which highly cause by the Touchwiz.

Of course for Android it doesn't matter what UI you use. Don't like it? Just go to market get a Go Launcher and slap it on your phone. Boom! Problem solve. But I ended up still like Timescape UI most muahahaha..beat me and say me bias.

Finally, the rising window phone. It will rival iOS and Android especially Nokia who get fully support from Microsoft itself.



Processor
Nokia 920, Samsung Ativ S and HTC 8X all using same processor, 1.5Ghz dual core S4 processor. Nothing to shout and compare. Three of this devices will perform same shit, I mean same speed which is better than using quad core that drain battery very fast..oh and overheat :P


Memory
1GB in Window Phone. Like iOS, it is more than enough. Why need 2GB? As usual, internal storage ranging from 16GB (only HTC LOL) to 32GB. Guess what, Samsung Ativ S offer microSd slot! YAY!!


Camera
No need to compare. Nokia 920 win this with Pureview technology. Why? because the camera sensor is very big! Even bigger than Canon S110 or Panasonic LX7. Not to mention it use Carl Zeiss lens. I dare to bet Nokia 920 has the best camera (beside pureview 808) among all current smartphone.


Weight and thickness
Lazy to repeat myself. HTC 8X is the lightest (130 g) and Samsung Ativ S is the thinnest (8.7mm). But I will still go with Nokia Lumia 920.


Operating System (OS) and User Interface (UI)
Window Phone has gone through alot evolution and finally to the stage of using Metro UI. It has a very simple interface and no brainer like iOS. Even my dad (yes he is using Nokia Lumia 800) also know how to use it since it has only 2 page, Livetiles and Apps drawer. I love the idea of Livetiles. The flipable animation and also live update can be seen instantly in the tiles. However it has limitation on customization since in Window 8 it only allow you to arrange and resize the tiles. I will get bored on it very fast.


Verdict

Too many smartphone to choose nowdays. iOS, Android and also Window Phone. Of course, I would said you won't pick wrong phone as long as you know what your requirement.

If you love power runner phone, pick LG Optimus G or rumors coming soon HTC Phablet that running same processor.

If you love big screen because you have a big palm and iPhone look like a toy for you, a 5.5 inch Samsung Galaxy Note II is your best choice.

If you want a great camera, iPhone 5, Sony Xperia T or Nokia Lumia 920 will be your choice respectively on OS you gonna choose. Of course, overall Nokia Lumia 920 will win.

If you wan't a very user friendly and nice UI yet smooth, my vote goes to Sony and HTC phone. Unless you get a way to smuggle in Xiaomi phone from China. Again, Samsung Touchwiz suck big time which it will only become smooth when using quad core (like finally?).

It you want hulk battery, Motorola Droid Razr Maxx HD pawned everyone with it 3300 mAh battery plus, thinner than Galaxy Note II that has 3100 mAh battery.

Best smartphone ever? Xiaomi Mi-One S of course. Below RM1k you can get that phone that easily whoops every phone manufacture ass with it's spec. Again, if only you could get it from China. Or else I will pick a phone that has balance between hardware and software. No, not iPhone since I hate the iOS.

Overall, there is no suck and lousy smartphone. Only got lousy and dumb user. There is also no perfect smart phone in the world. So just go ahead and pick what you need, not what you want. Damn I love using this world! Oh don;t ask me about Blackberry. They had nothing new this year..patiently waiting Blackberry OS 10 to save their ass.

A good example of dumb user. No I din mean iPhone user are dumb. Just that market love to pick iPhone user and make fool of them :P



So I have done my opinion on all this smart phone war. What do you think? Mind to share your though with me? ;)