Updated : Shuttle bus service schedule is up!
You whenever you see this post in my blog, that's mean Hennessy Artistry is back for finale of year 2012! The most exciting and awesome party ever is back! Hennessy Artistry successfully stormed KWC, Kenanga last few months and now, it is back to KL for the final instalment of 2012's Global Art of Mixing Trilogy! For more my experience in Hennessy Artistry, feel free to click
here
.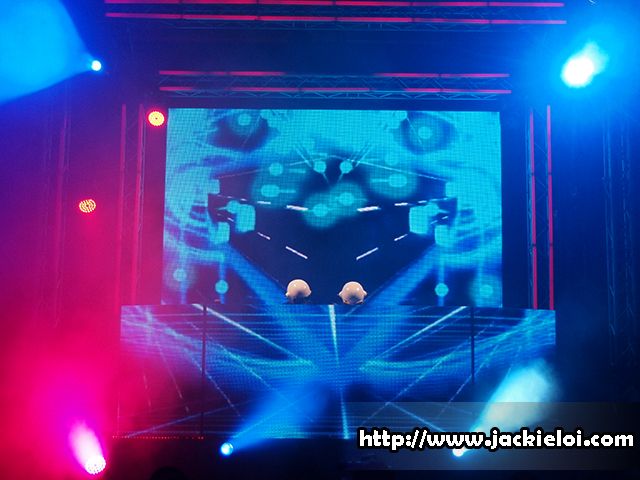 The nation's most anticipated super-clubbing event is set to take place at the Malaysia International Exhibition and Convention Centre (MIECC) in Mines Resort City this 3 November 2012 from 8.30pm onwards. Promising a distinctive and breathtaking party arena draped in red and black, the Hennessy Artistry finale will see the return of the Hennessy Art of Mixing Zone, featuring the Hennessy 360 Cam, as well as the trailblazers of all Hennessy Artistry parties: the signature Hennessy V.S.O.P. long drinks. All this will be nestled within a premium mega-club enclave of the familiar MIECC venue, which is set to undergo a complete H-Artistry overhaul to house the expected turnout of more than 3,500 revellers.
Taking party innovation to the next level, the MY Hennessy Mobile App will enable all revellers to take part in various activities within the Hennessy Art of Mixing Zone, and be rewarded with perks and benefits as they party away at H-Artistry. Prizes such as Hennessy V.S.O.P. bottles and bespoke My Hennessy Night party experiences will be among the rewards for party goers who come armed with the MY Hennessy Mobile App on their smart phones.
Moving into the main arena from the Hennessy Art of Mixing Zone, party goers will be in for a roller coaster ride of musical genres, styles and cultures from Korea and Australia to the US and UK. Artists set to perform at the H-Artistry finale are: Winner of X Factor and UK's R&B darling Alexandra Burke; world-renowned Australian DJ vixen Havana Brown, K-Pop boy band heartthrobs Block B, and Las Vegas' edgiest DJ Starkillers a.k.a. Nick Terranova.
Alexandra Burke (R&B – UK)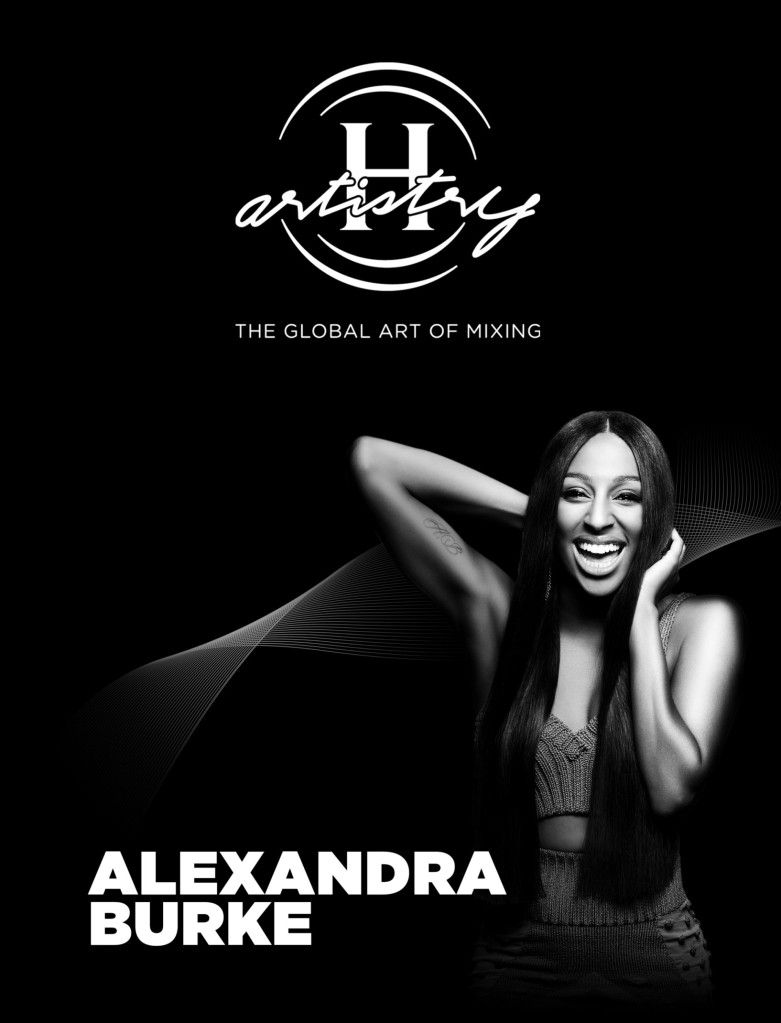 Havana Brown (DANCE - AUSTRALIA)
Starkillers (ELECTRO HOUSE – USA)
Block B (K-POP – KOREA)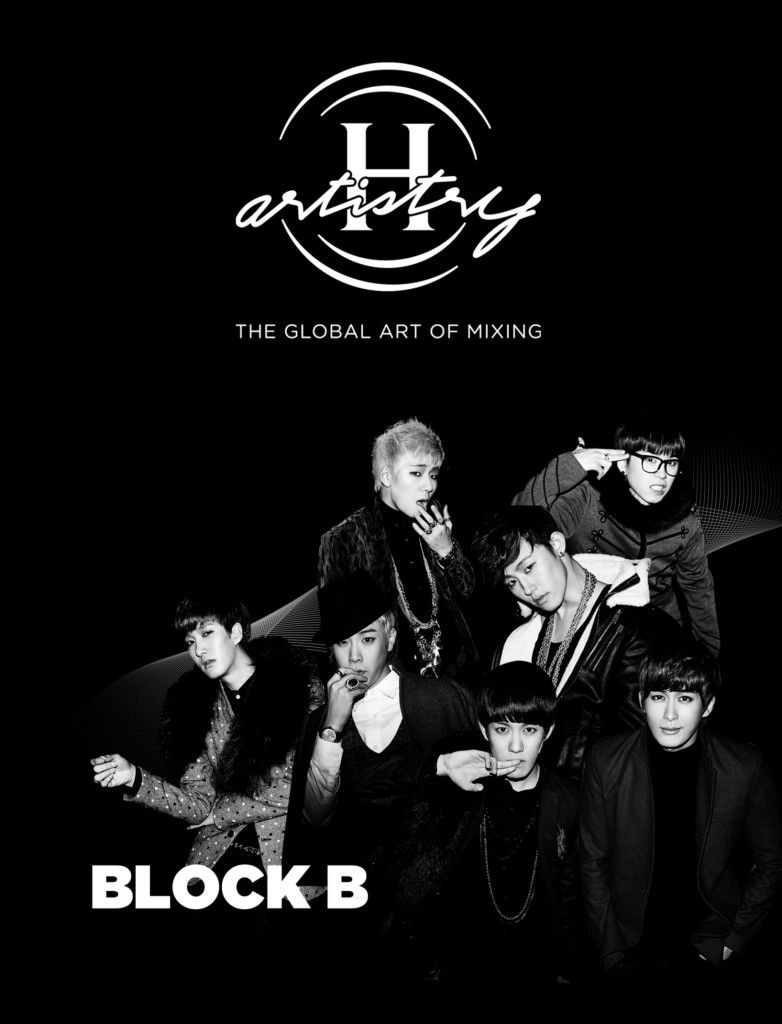 Collaborations, epic mash-ups, spectacular blends and fist-pumping remixes will be aplenty throughout the night, complemented by the signature Hennessy V.S.O.P. long drinks: Hennessy Apple, Hennessy Berry, Hennessy Ginger and Hennessy Soda.
The biggest Hennessy Artistry parties are widely anticipated every year, especially towards the year-end season. While all revellers will be partying hard this 3 November at perhaps the biggest Hennessy Artistry party yet, partying hard and partying smart is imperative. Be sure to fully take advantage of the FREE H-Artistry Party Shuttle or the subsidized H-Artistry Party Taxi services and be chauffeured to MIECC and back, as parking at the venue will not be available.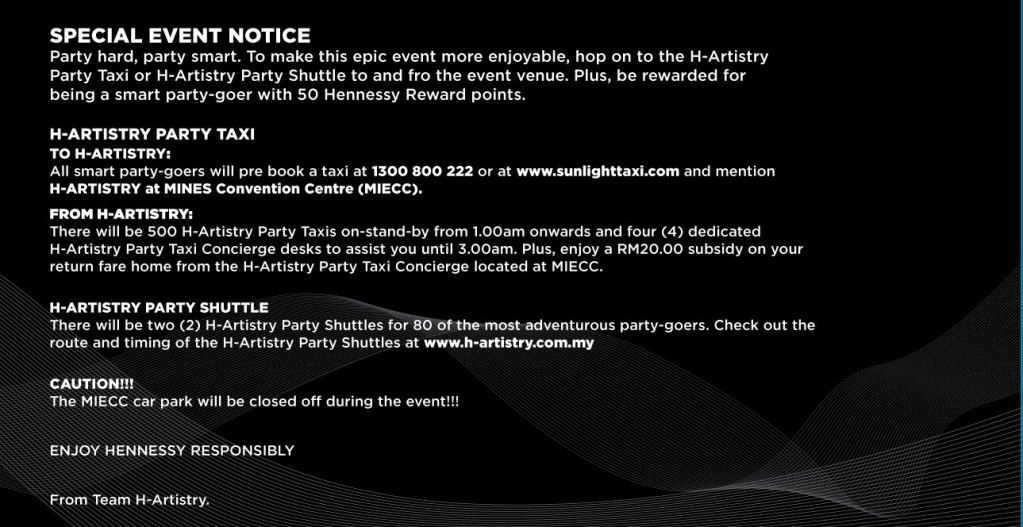 Complimentary mineral will be provided throughout the night, and food stalls will also be available outside the venue for everyone to recharge during and after the event.
Join in the Hennessy Artistry finale this 3 November by watching this space for your chance to win invites:
www.h-artistry.com.my
. Also be sure to download the MY Hennessy App NOW from the App Store or Google Play onto your iOS and Android devices.
Hennessy Artistry is open to non-Muslims above the age of 18 only.
Hennessy Artistry – The Global Art of Mixing strongly advocates responsible drinking and works towards ensuring the safety of each and every guest at the event. Among the safety and security measures implemented at the upcoming H-Artistry finale on 3 November are:
The Hennessy Artistry Party Shuttle service will be implemented for the upcoming H-Artistry finale this 3 November. Guests are strongly encouraged to fully utilize this FREE shuttle service from various key locations across the Klang Valley to get to the H-Artistry venue at MIECC in MINES Resort City. Keep it locked on at www.h-artistry.com.my for details.
There will also be a subsidized taxi service made available for Hennessy Artistry in collaboration with Sunlight Taxi. Keep it locked on at www.h-artistry.com.my for regular updates and details. Visit www.sunlighttaxi.com or call 1300 800 222 to book your ride to Hennessy Artistry.
The organizers of Hennessy Artistry strongly encourage guests to fully utilize the H-Artistry Party Shuttle and the H-Artistry Party Taxi services, as parking spaces at MIECC will not be available.
A chill-out zone within the venue will be set up for party goers to relax after the party has ended. A free-flow of mineral water will be provided for everyone.
Food and drink vendors will be made available outside the event venue for guests to relax and recharge after the party.
The Red Cross will be on standby throughout the night in case of any emergencies.
Updated!
As you guys know MIECC parking will be close down on that day. So, be sure to take advantage of the H-Artistry Party Shuttle and the H-Artistry Party Tax. The Shuttle buses to the venue is FREE!



KL Sentral – Entrance to Departure Hall, opposite SOOKA

Wisma Bentley Music (Opposite The Curve), Mutiara Damansara – Entrance, opposite Tesco

Viva Home Shopping Mall, Jalan Loke Yew – Main road bus stop

Endah Parade, Sri Petaling – Bus / Taxi area


The H-Artistry Party Shuttles will be arriving at these locations at 7.30pm, and will leave at 8pm. Departure from MIECC back to these locations will be at 2.30am. As seats are limited, the shuttles will take passengers on a first come, first serve basis.
See you guys there!