I just had a bad day yesterday. Whatever I do nothing working smooth. Was supposingly having a bowling match with colleague but plan cancel on the day itself when few of them cant make it. Thus, plan pretty much fast change that both me and betina agree to have dinner at Bulgogi Brothers. They have 50% promotion in Mid Valley in occasion of brand new opening. While happily waiting out awesome dinner, I drive out to KL from office to collect some stuff. After collect my stuff, ended up I cant start up my car. It seem battery just died on me. FML! So ended up, my car kena towed.
Oh yea very bad day. Since everything settle after my car revived, it is pretty late already. Dinner plan seem crumble away thanks to the terrible jam and rain around Federal Highway. To avoid stupid decision and make my day worst, I decided to dine in at Secret of Louisiana at Plaza Kelana Jaya. Well at least it is near le betina office and no jam.
Been heard alot about this restaurant. They served awesome spaghetti buffet on mon-sat lunch time only with only RM15. Le Betina try before but she felt that nothing special on their spaghetti. Well no comment.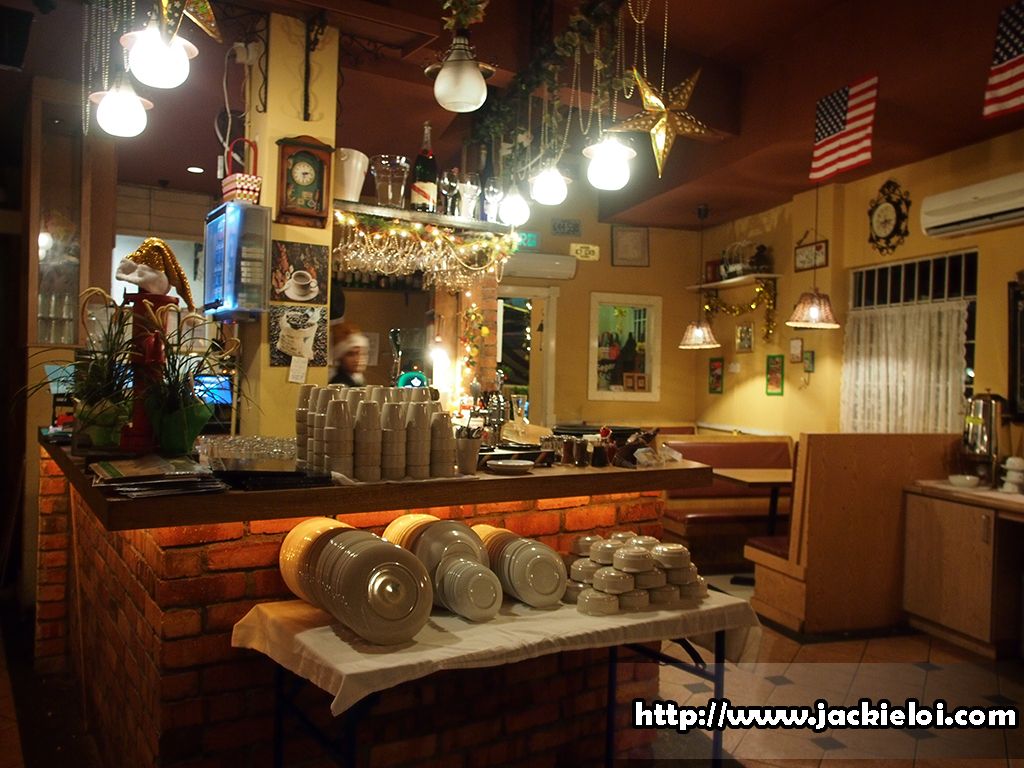 I pretty much love their interior despite lousy front door. It would be romantic to dine in beside the lake but le betina said once in a while the lake will have funny smell =__=" ok it seriously kill off the mood.
Me :
I stare on the lake just now. So romantic with the wind blowing. Then suddenly I can see blardy thunder strike for two times.
Then Betina start laughing on my stupidity.
* Original American Cheese Burger RM 26.90 *
So I ordered the Original American Cheese Burger since it is under chef recommendation. Well it actually has ground beef with BBQ sauce. I hardly able to taste the BBQ sauce since the beef taste seem heavier. Plus, I don't really feel the beef is nice. Pretty much same taste with Ramli beef burger. Sorry but no offence. The fries also very hard to chew and the spies doesn't mix evenly around.
* Jerky Jerk Chicken RM 29.90 *
le Betina ordered Jerky Jerk Chicken since it is under daily meal of something like that because it come with free drinks and an Ice Cream as dessert. The chicken come with rice that full with aromatic spices. Honestly I love the rice. Maybe it is me who love to eat rice. Din get to try out the chicken but le betina said too hard to chew and cut. Probably wrong type of chicken. The sauce that come with the chicken is black pepper chicken.
Finally the Ice Cream dessert. It is mint with some funny mocha taste. Not the best Ice Cream I ever had.
Though food taste just so-so, what most important is I manage to cheers myself up after all the long bad day I face. Of course, I am dining with the most important person in my life :)