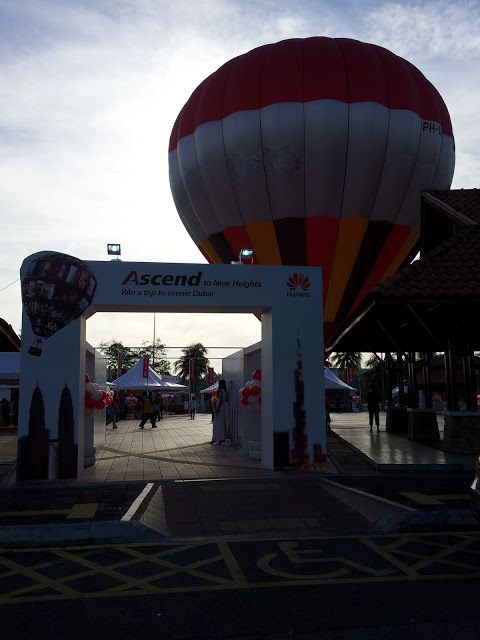 Are you at Taman Tasik Titiwangsa on last fri-sunday? If not you are really missing the fun and awesome deal ever! Last Friday, Huawei officially launch the '
Ascend To New Heights
' campaign at Taman Tasik Titiwangsa. In the campaign, public can fully experiences their brand new smartphones and also stand a chance to win a trip for 2 to Dubai!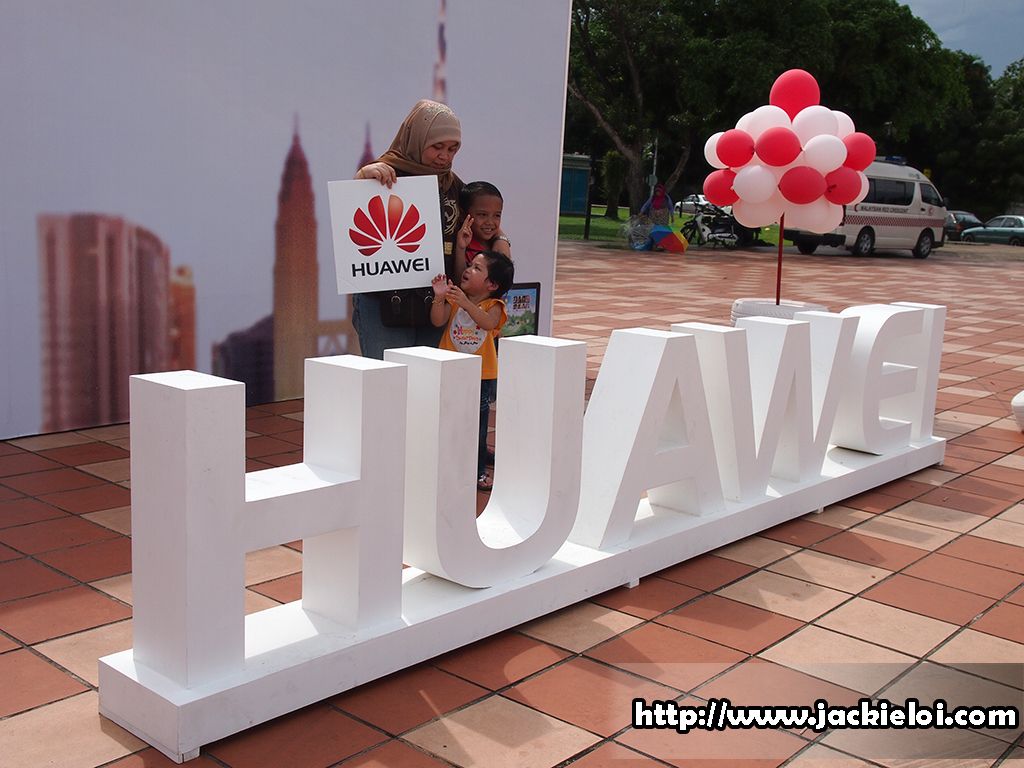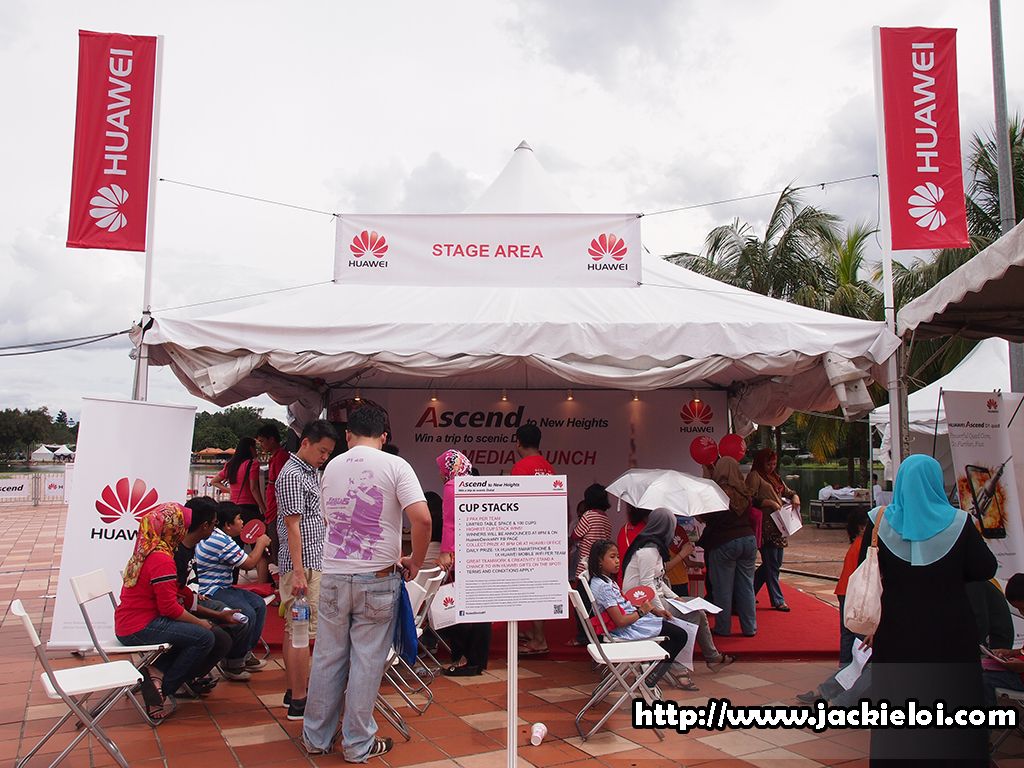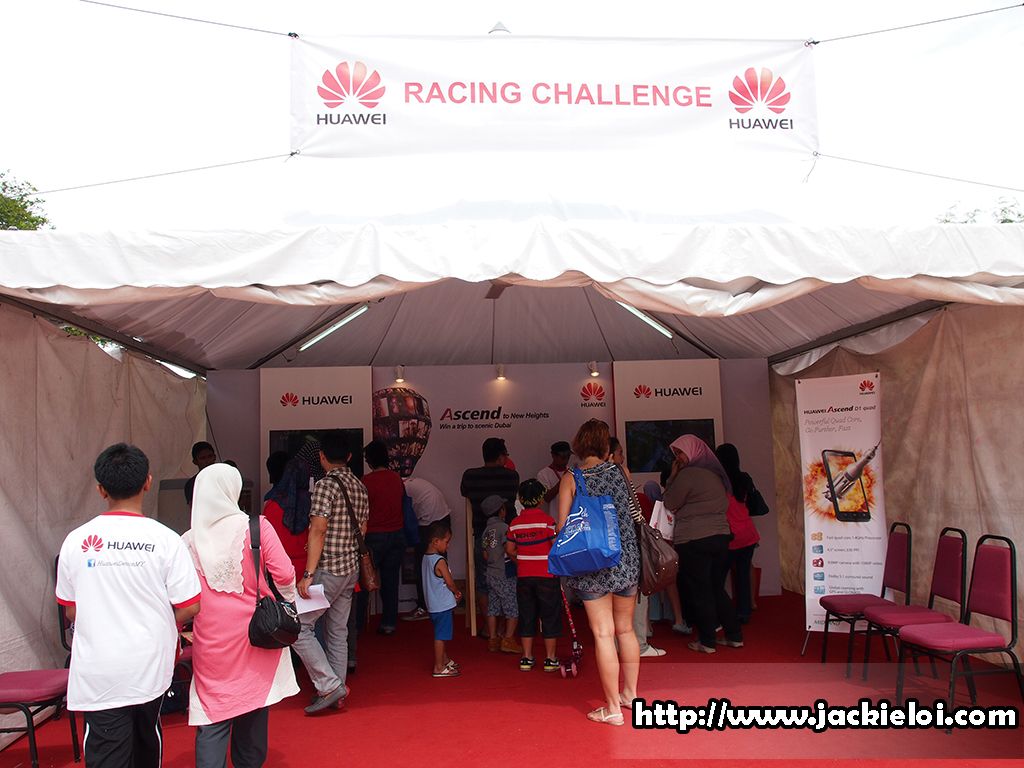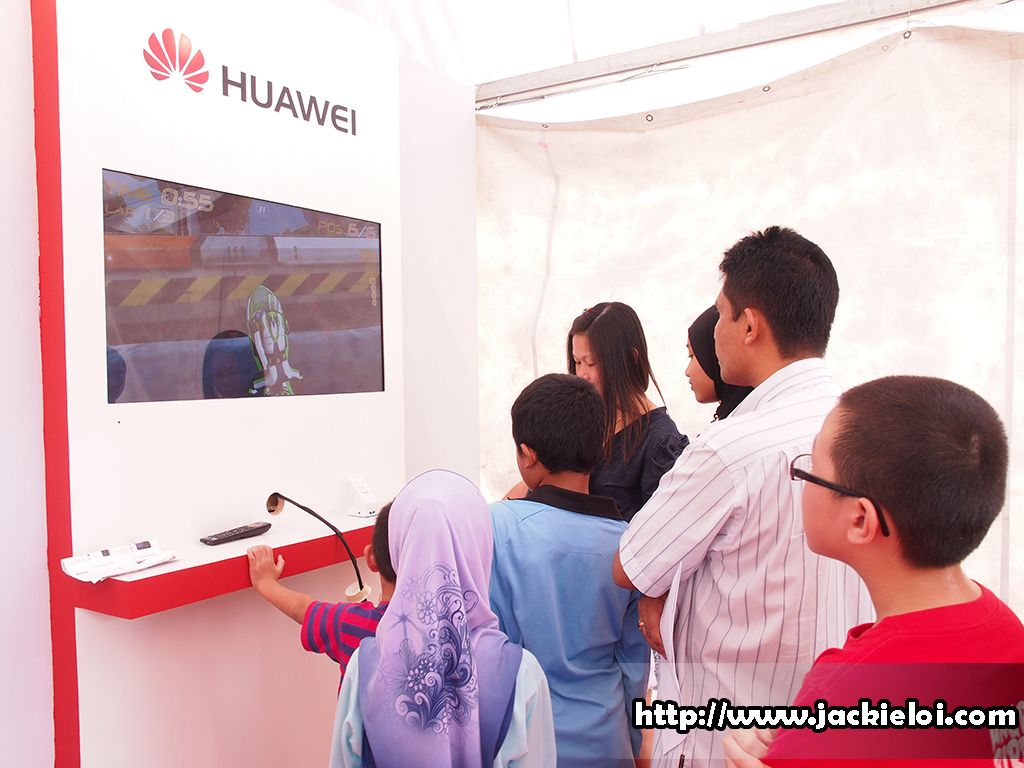 Huawei prepared hot air balloon rides, jumpshot photography, Trampoline Jump, Racing Challenge and also Experience Zone to experience their new smartphones model. You will stand a chance to win the grand prize by succeeded on each booth and get a stamps! Grand prize? Of course it is none other than the trip for 2 to Dubai for 4D3N all expense paid by Huawei!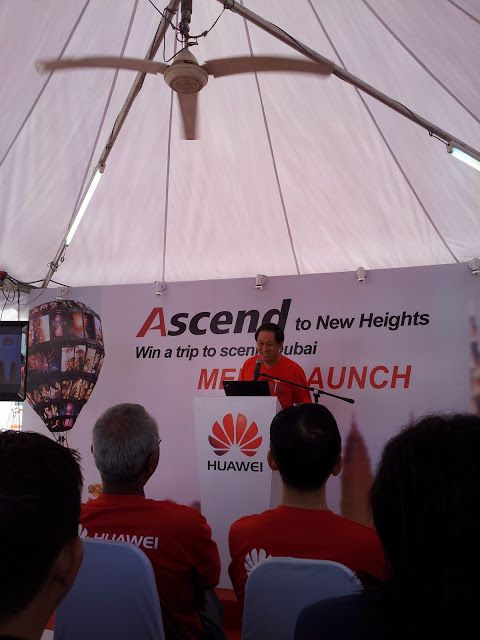 In the media launch, Huawei's announces their new partner, Midland Network Sdn Bhd as a way to expand the distribution of Huawei's smartphones in Malaysia. Huawei also officially launch three new smart phones -
Ascend D1 Quad, Ascend G600
and also
Ascend G330
. Of course, special price are given for public who attended the roadshow and also interested to get the phone on the spot.
I bet you're curious how's the phones isn't? I manage to make a quick hands on on those phones. Let's check them out 1 by 1.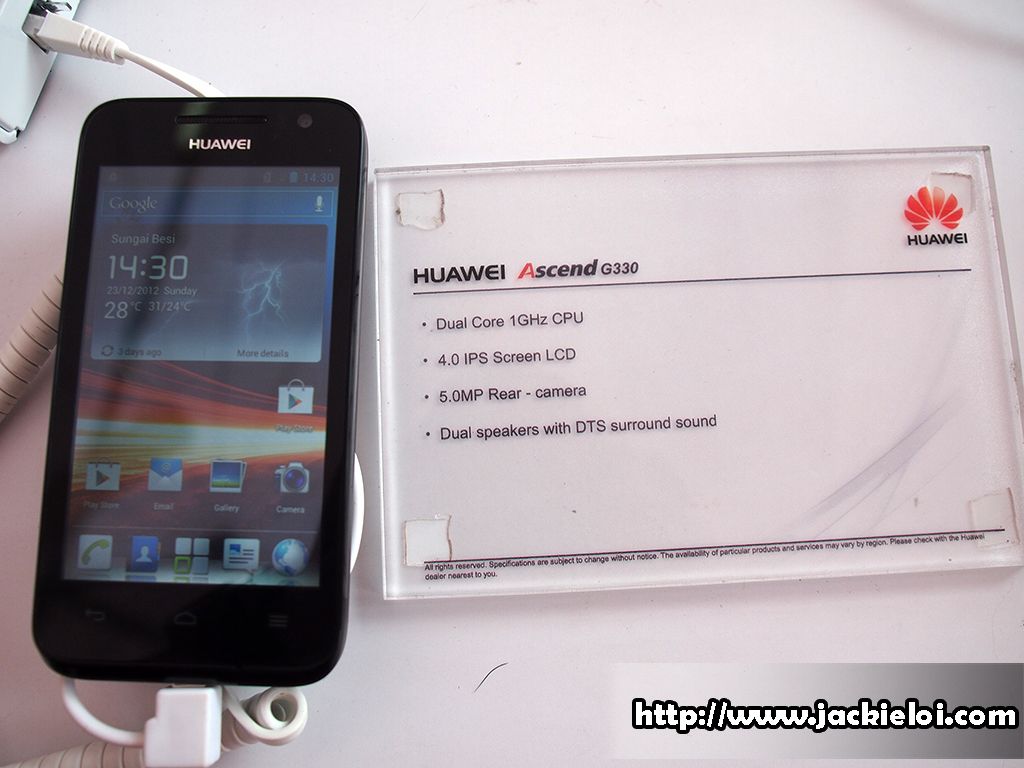 Huawei Ascend G330 packed with 1Ghz Dual core Snapdragon processor, 512MB RAM, 5MP camera and 4 inch screen with pricing RRP RM599. This made the phone is direct competitor with Samsung Galaxy Y or Sony Xperia U who has the similar pricing. But hey, the price is cheaper than Sony Xperia U and also the spec is better than Samsung Galaxy Y. In fact, it is a recommended smartphone for those on budget ;)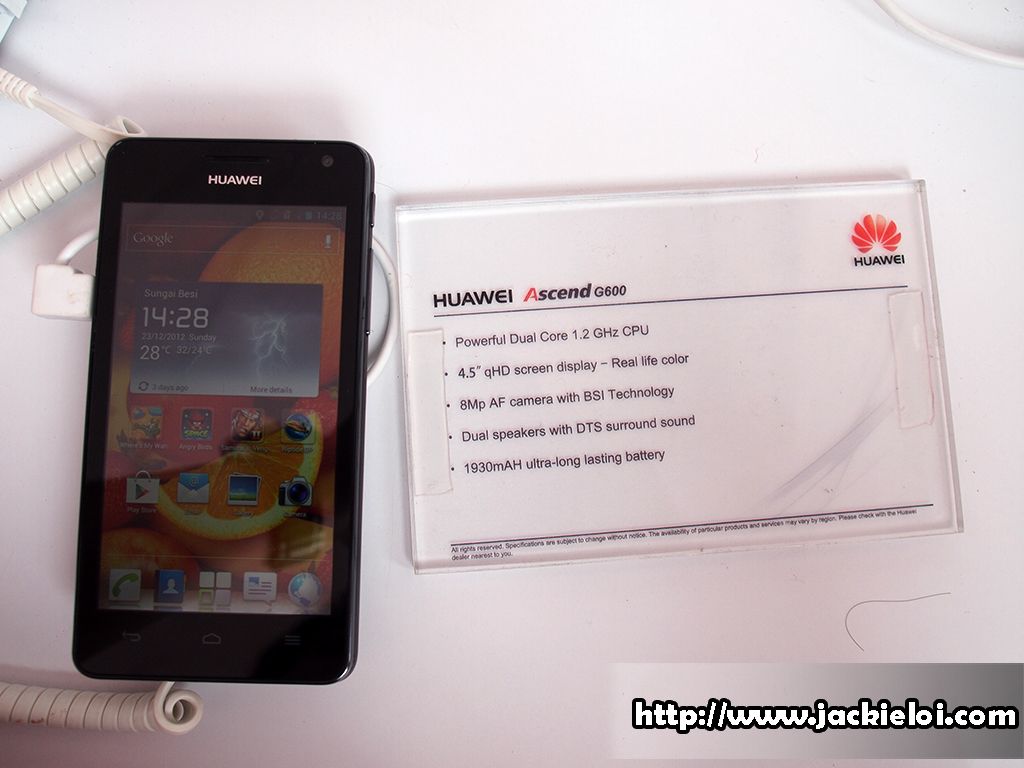 Huawei Ascend G600 is one of the mid range smartphone that grab my attention most. Imagine with pricing RRP RM799 you can get nice 4.5 inch IPS display, 1.2Ghz dual core Snapdragon processor, 768MB RAM and also 8MP shooter at the back. The spec more or less on Samsung Galaxy S II, HTC Sensation and Sony Xperia P league. No doubt I will go for Huawei G600 for the cheaper price, bigger screen, nice IPS screen and also 8MP camera.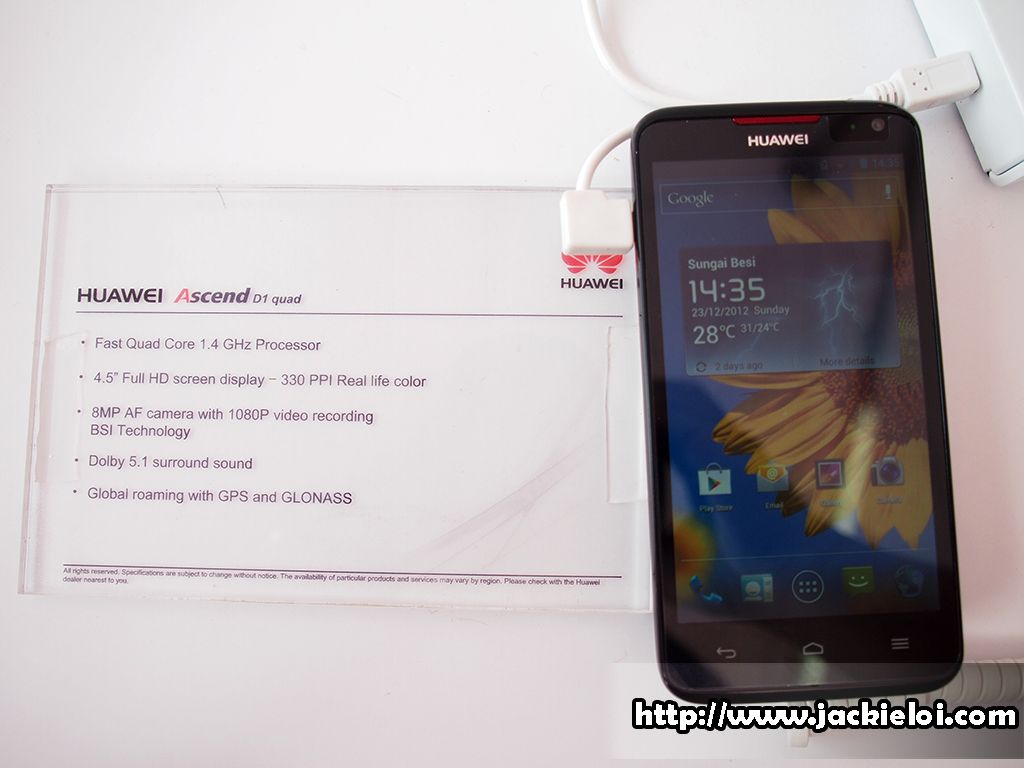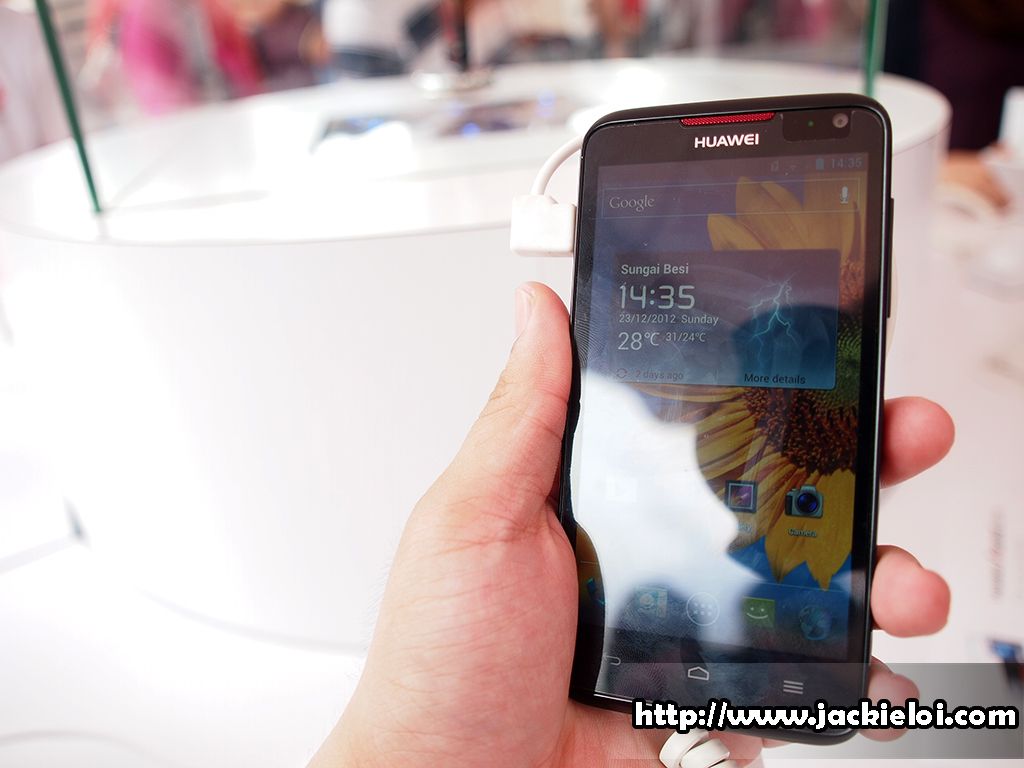 Huawei Ascend D1 quad is Huawei flagship phone. It is direct competitor with other current smartphones that running quad core processor (Samsung Galaxy S III, Samsung Galaxy Note II, HTC One X, HTC One X+) that offer promising performance with lower price, RM 1239. Huawei Ascend D1 quad offers 720p resolution in the 4.5 inch screen, their very own in house processor clocked at 1.5ghz quad core, 16 GPU processor and also 8MP BSI sensor camera.
Huawei Ascend P1 is not new but it is one of the worth mentioning device that has large screen and slim (7.69mm). Unfortunately they did not release the another twin, Ascend P1s (6.7mm thickness) version here. The Huawei Ascend P1 has a higher price range compare with Ascend G600 - RM 1099. It packed with 1.5ghz dual core processor, 1GB RAM, 8MP back facing camera and also 4.3 inch qHD Super AMOLED display.
Overall, it is very good first step for Huawei to penetrate their smartphone to Malaysia. I been highly looking up on Huawei since last year because they not only offer high quality built and premium feel Android Smartphones, the price is very reasonable and affordable. If you're having doubt about the performance to compare with other well known brand, I can ensure you they are 100% running same hardware and chipset. So what to worry about? It is always good we are giving multiple smartphones to choose rather than just stick into the same "thing" and not to be different. If you know what I mean :P
Nevertheless, year 2013 will be another awesome year for smartphone industry. 1080p screen resolution, 8 core, bigger camera sensor and thinner design for sure be one of the elements that make smartphone very attractive.