Once a year, I will have movie marathon on chinese movie with le gf! Well I know nothing much quality chinese movie nowdays. I just watch for the sake of watching and leisure. Plus support few of my favourite cast as well.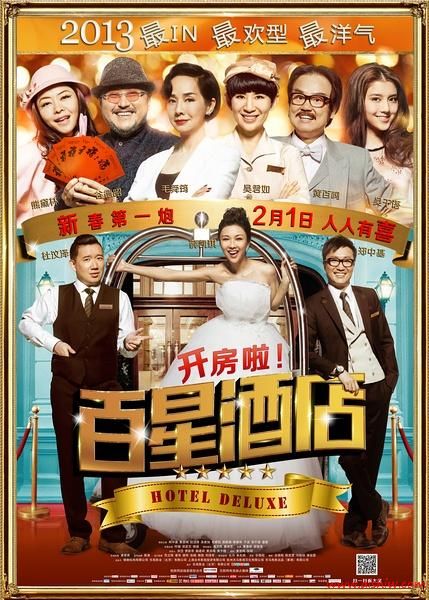 Brand new "Hundred Stars Hotel" is a well-equipped five-star hotel located at Qiandao Lake, Hangzhou. However, this hotel is run by a group of incompetent staff including OK (Ronald Cheng) the Assistant Manager, Pacino (Chapman To) the Chief Bartender, Peach (Sandra Ng) the Head of Housekeeping and Sammy (Janelle Sing) the Receptionist. Rumor has it that a mysterious hotel detective will arrive soon and define the rating of "Hundred Stars Hotel". In order to match the five-star standard, harsh Cruella (Teresa Mo) has been appointed as the Hotel Manager to restructure the hotel. Cruella takes the chance to develop "Hundred Stars Hotel" as the shooting location for a big budget movie. Two leading actresses Marilyn (Karena Ng) and Audrey (Lynn Xiong) stay in the hotel and they are arrogant and too hot to handle. OK is assigned to serve Marilyn and gradually Marilyn falls in love with OK. Meanwhile, Paris (Fiona Sit), the daughter of a tycoon and a very good friend to OK, is also staying in the hotel. Paris has to get married in order to inherit her father's huge assets. OK finds a handsome but nerdy Security Guard Mark (Yu Bo) to be her fake groom and a fake wedding ceremony is about to begin. However, Peter Chan (Raymond Wong), Paris' uncle who is also one of the heirs, is craving for the wealth and trying all means to ruin the wedding. When OK knows Paris will go back to U.S. for good after the wedding, OK finally realizes Paris is indeed the one he loves. OK proposes to Paris and Paris accepts, the fake wedding becomes a real one! Cruella and Peach suspect a countryman Jim (Jim Chim) is the mysterious hotel detective. They do their very best to please him with overwhelming services. In the meantime, the rest of the staff are organizing the wedding ceremony of Paris and OK, and protecting them from Peter's conspiracy. Finally all of them discover that Jim is not the mysterious hotel detective but Mark, who joins the hotel as the Security Guard, secretly monitors the services of the hotel. Mark is touched by their positive attitude and classifies "Hundred Stars Hotel" as a Five-Star Deluxe.
I guess the synopsis pretty much explain and spoil the whole movie LOL..nevertheless, a very good laughing and heart warming movie. However pretty mess up in terms of the plot. The plot is lack of dynamic and pretty flat. Character development wasn't seen much in the movie as well.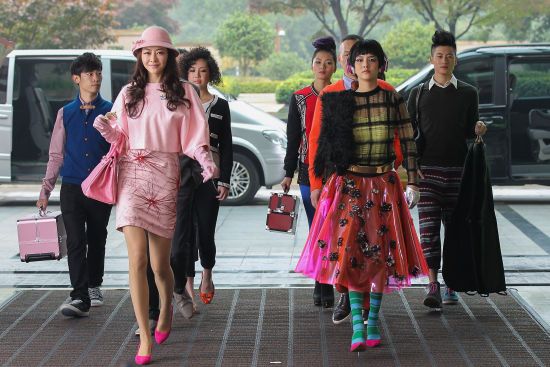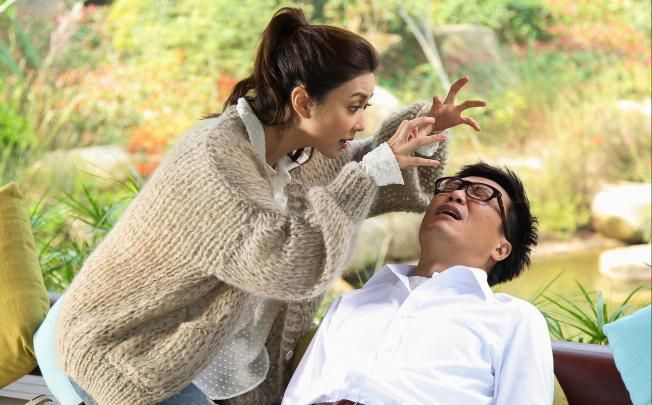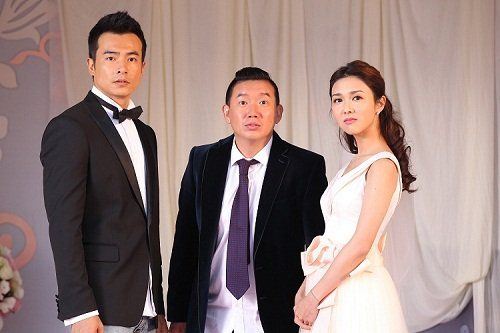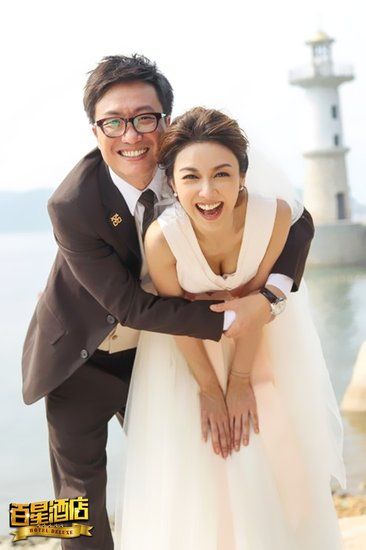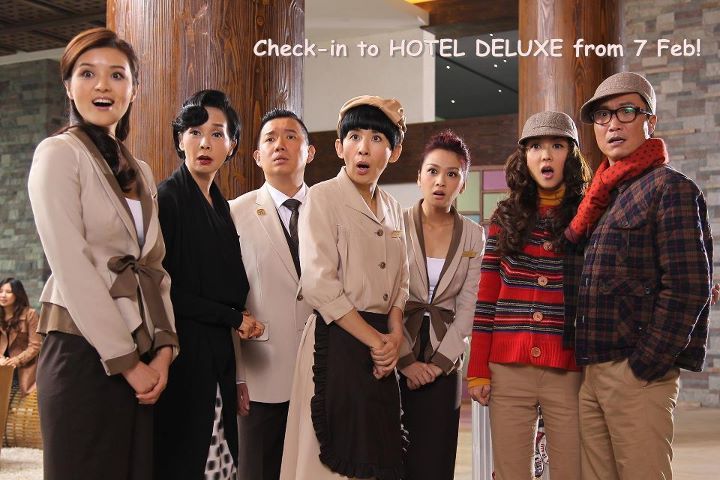 However the comedy elements is there. At least I do enjoy myself and laugh from the beginning till the end of the movie. I do love the part where Fiona Sit confess to her grandparent what kind of guy she like while looking on Ronald Cheng. The camera angle and her acting is superb :)
The story takes place in the 1970s until modern times, in which all families are happily prepare and welcome the Chinese New Year in Hong Kong. However, a traditional restaurant in Yau Ma Tei faces terrible problem. At last, everything solved with the neighbours' kind support and assistance as happy ending.
In other hand, I Love Hong Kong 2013 has pretty good story line. It create pretty good setting on one of the Hong Kong tradition, Dim Sum restaurant. While the story is very nice, touched and also heart warming, le gf complain their camera angle too plain. It would be better with some variety especially to capture some emotion.
Other than that, I feel the singing part was pretty waste the screening time. Lousy green screen can be seen in the movie as well. Alot potential scene was wasted too where the director can easily turn it into pretty good comedy for laughter.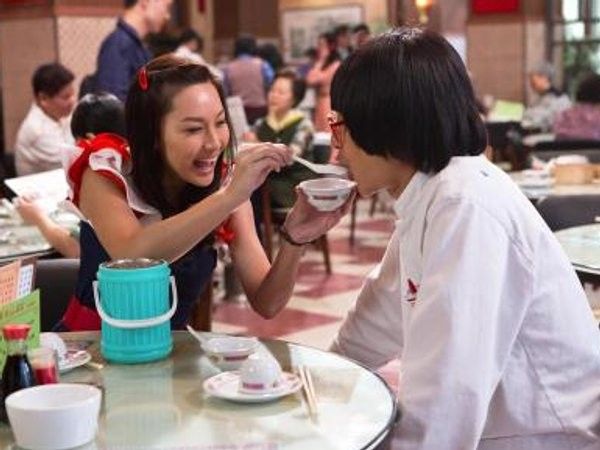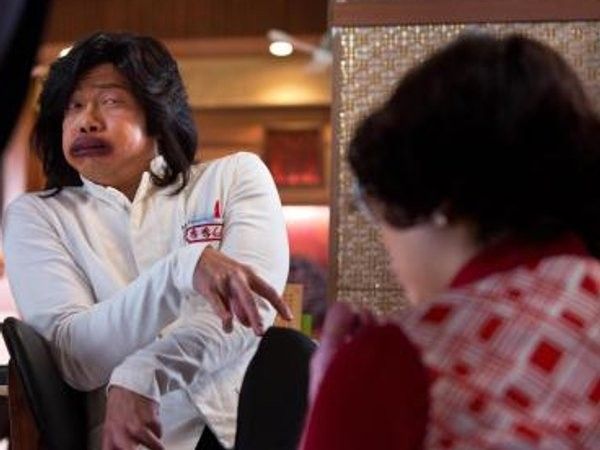 Overall, I do love this movie very much. Good moral value in whole movie and also good TVB cast espcially Alan Tham and Veronica Yip.