Holy mama predactor cow! In this Q1 of year 2013, we had 3 runner that going to fight and kill each other to grab the champion throne! Ok just kidding. Nevertheless,
Samsung Galaxy S IV
just unpacked and I am not sure it created alot WOW or SIGH to you all. Definitely a SIGH to me though I am not a huge fans of Samsung. Well, hater gonna hate right. I will still continue laughing on the ugly design in S4 *blow whistle*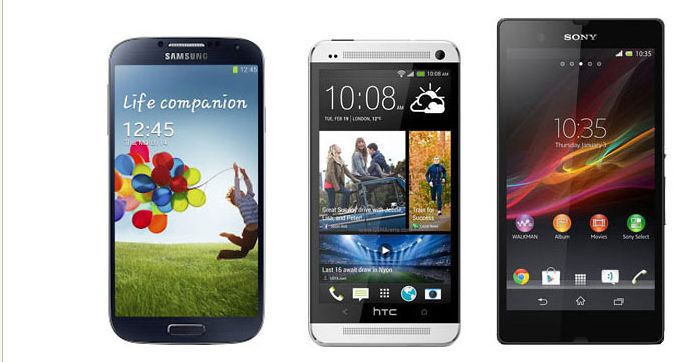 So here we are, a comparison in terms of spec for this 3 flagship phones from each company!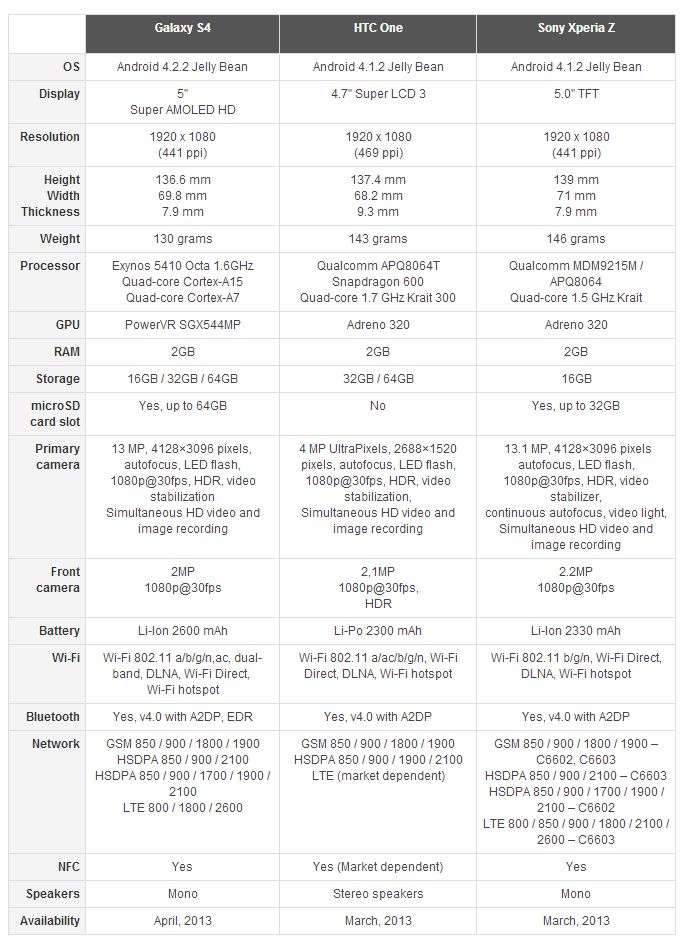 As usual, I would love to compare 1 by 1 by category. All this are based on personal preference, you can agree and disagree with me with your argument, I don't give a damn.
Design
Samsung Galaxy S4
: Not a huge fans of curvy corner phone and I must said, Galaxy S4 is fugly. Did anyone know it is plastic?
HTC One
: Front design similar to Blackberry Z10 (or maybe a little but iphone) and back look like Sony Xperia P. Doesn't matter since I like iPhone design. Covered up with Aluminum material, HTC One is one of the awesome and badass phone.
Sony Xperia Z
: Square! Totally in love with it! When iPhone 4 just announced and it was made by glass, I started to like it. Now Sony Xperia Z is pretty much followed the footstep and I gotta admit, I love it very much! Not to mention, it came with purple color!!
Display
Samsung Galaxy S4
: 5 inch, super AMOLED HD, 1080p resolution, 441 ppi. Sound awesome. Sound normal and common too for year 2013. Still hate the AMOLED scren as you guys know because I prefer looking something more natural and true.
HTC One
: 4.7 inch, Super LCD 3, 1080p resolution, 469 ppi. Not a huge fans of huge screen phone but hey look, HTC One just 4.7 inch. Perhaps will be nice for me (need hands on it to feel it). Super LCD 3 is no doubt 1 of the most praises screen after Retina and IPS.
Sony Xperia Z
: 5 inch, TFT with Bravia 2, 1080p resolution, 441 ppi. Sony still love TFT screen too much that giving bad viewing angle which I actually don't give a damn. Don't understand why so many people complain on viewing angle. Do you view your phone on 90 degree all the time or straight look on it? I am huge fans of Bravia display because the color look natural and nice.
User Interface
Samsung Galaxy S4
: Touch Wiz still look the same. Still hate it.
HTC One
: Using latest Sense 5 which simplify alot. Somehow Sense evolve to more simple and maybe look too basic.
Sony Xperia Z
: Using the latest Timescape UI. Got extra animation when scrolling page which I dislike. Love none animation more on previous ICS or Gingerbread.
Thickness and Weight
Samsung Galaxy S4
: 7.9mm thickness with 130g. Fair enough.
HTC One
: 9.3mm thickness with 143g. The thickness among the three but I actually like thick phone. Thin phone is not comfortable on my hand.
Sony Xperia Z
: 7.9mm thickness with 146g. Same thickenss with Galaxy S4 but heavier. Might love to hold this more than S4.
Processor
Samsung Galaxy S4
: Screw US version. Our version should be come with Exynos 5 Octa chipset. If you dunno what is it, it is 8 core processor. Don't too happy. To be precise it is 4 + 4 core processor. It built with 1.6GHz quad core Cortex-A15 processor for heavy task and 1.2GHz quad core Cortex-A7 processor for light usage. All this are for battery saving purposes. How powerful is Exynos 5 Octa chipset? Gotta wait the benchmark.
HTC One
: 1.7GHz quad-core Qualcomm® Snapdragon™ 600. Pretty said it not using S800 instead and basically it is overclocked version of S4 pro. Nothing impressive but won't hurt to have it.
Sony Xperia Z
: 1.5GHz Quad Core Krait Snapdragon S4 Pro processor. Slower than Snapdragon™ 600 by 0.2GHz. Will this actually bothered in real life usage? Nop, not for me.
Camera
I bet camera has been most concerned features in all user nowdays. Trust me, nothing still able to beat Nokia Pureview 808 unless they decided to go same sensor size and carl zeiss lens :P
Samsung Galaxy S4
: 13MP camera. Not sure is the sensor by Sony or not. Waiting for picture sample from other reviewer.
HTC One
: 4MP ultrapixel. Ultrapixel is just a gimmick and the pics doesnt seem any much better than Sony Xperia Z.
Sony Xperia Z
: 13MP with the latest EXMOR RS sensor. Sound good but when I look at picture sample it look not much difference from the previous EXMOR R sensor. Sad Sony had lie to me.
Battery
Samsung Galaxy S4
: 2600 mAh. No doubt Samsung is the generous type that willing to boost up the camera capacity. Kudos to Samsung.
HTC One
: 2300 mAh. Bigger than HTC Butterfly battery at least and get praised in alot review for the long battery life. Not sure how it is when come to my usage.
Sony Xperia Z
: 2330 mAh. More 30 mAh than HTC One. Mehhh
Speaker
Samsung Galaxy S4
: Mono speaker. From previous S III and Note II that their speaker are loud enough. So I have no doubt on this.
HTC One
: Stereo speaker baby! Enchant with Beat this is one of the best and loudest speaker for phone at the moment.
Sony Xperia Z
: Mono speaker. Speaker too soft as mentioned by all reviewers.
Extra Features
Samsung Galaxy S4
: Come with alot gesture features which I doubt I will use it often. Not to mention the camera features such as Sound and Shot, Drama Shot and also Cinema Photo are copied features from HTC One and Nokia Cinemagraph. But I do like the S Translator that work for text to speech and vice versa.
HTC One
: HTC Blinkfeed that copy from flipboard for all news feed. Convenience but not sure I will be using it or not. HTC Zoe will be the 1 attracted me most. How? Why not watch it yourself and trust it?
Sony Xperia Z
: Water and dust proof rated at IP57. Swim while playing your phone anyone?
Overall
: Love it, hate it, this are the flagship phones released by them for this Q1. I doesn't feel much excitement on Samsung Galaxy S IV compare to HTC One and Sony Xperia Z. If I would choose to change phone now, I will go for HTC One. I like HTC Zoe. It is stuff that I need especially when I use it for travel, party, friends birthday or wedding. It is a software that can create moment for me.