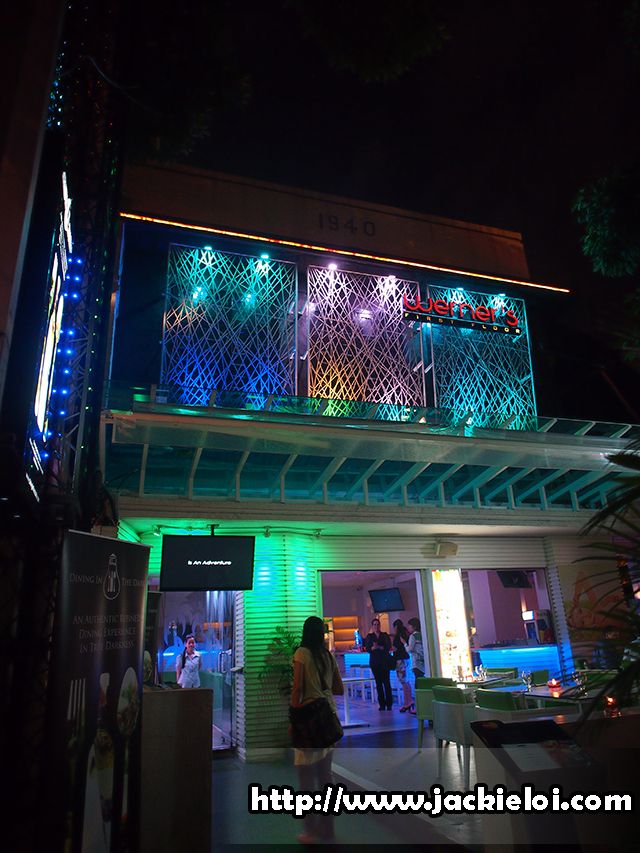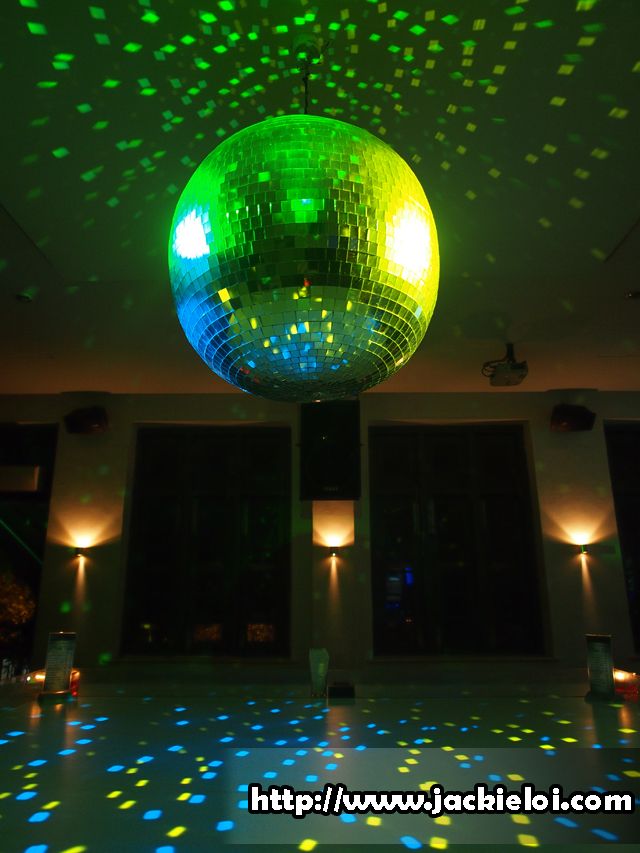 Been delay this post for quite some time. Really feel sorry for Sharon. Anyway, thanks to her I am given chance to Dining in The Dark with Simplot. Confuse? Dining in The Dark is the place name and Simplot is actually the brand that plant potato, cut it short - They make awesome hashbrown and other products from potatoes. The Hashbrown you ate at Mc Donald breakfast are by Simplot!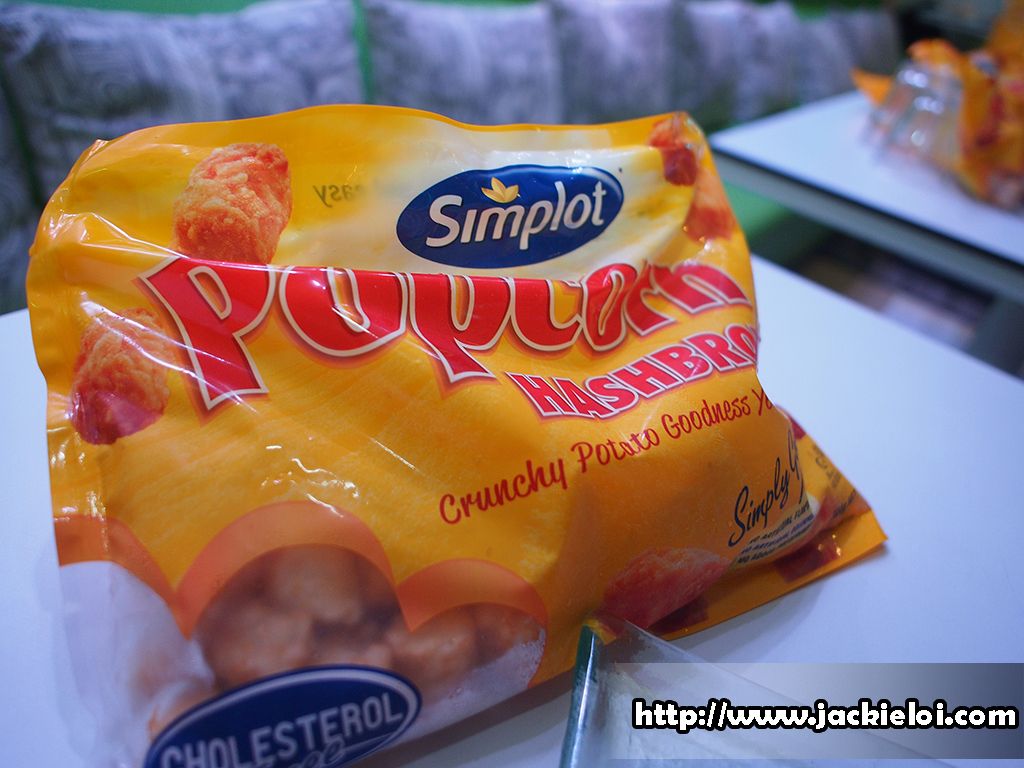 So what's the relation of this two? Well Simplot actually gave their popcorn hashbrown to the Dining in The Dark chef for them to do something on it and invited few media for this dining session at there. Geddit? Geddit? It gonna be my first time fining in the darkness where my sight sense gone for real. I can only depend on hearing, smelling and touching. Alright cut the crap short, here are what it feel like dining in the dark.
* We are toasting for a drink *
* Here are some ice breaking session *
* One of the guy caught didn't wear pant *
See everything is pitch black! Ok just kidding. Actually no phone and camera allowed in the room at all. So use ur imagination ok? Honestly during the whole dining session I am half half confidnet what am I eating. Guessing the plate shape and where the food are scatter around on it already hard enough. Have to keep using fork to poke poke to check is there any leftover food LOL Nevertheless, here are actually what I ate that day :)
Started off with appetizer.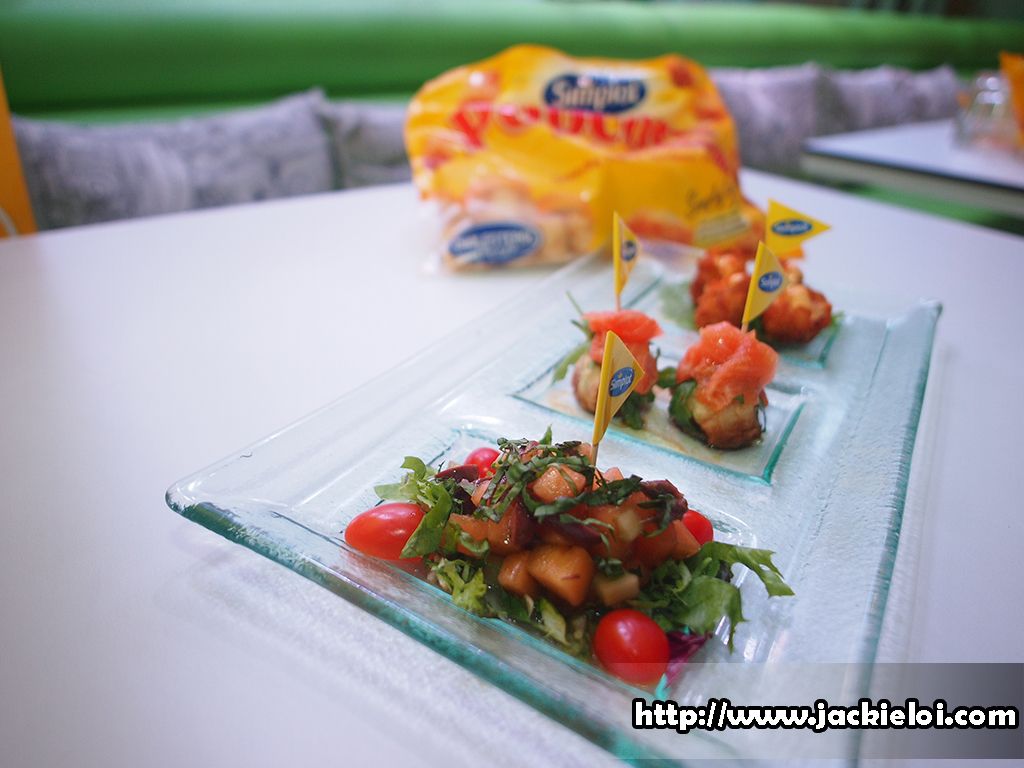 * Samshimi with Simplot Hashbrown *
Surprise! It is fusion of potato and salmon! The popcorn hashbrown are to replaced the rice and the salmon still being a salmon. This appetizer already kill alot of us in the dark because of the wasabi which we never expected.
* Rock Melon & Cucumber Salad *
No Simplot items found in there. It is a salad that made up with Rock melon and cucumber served with basil pesto and black olive dressing. It definitely taste sweet.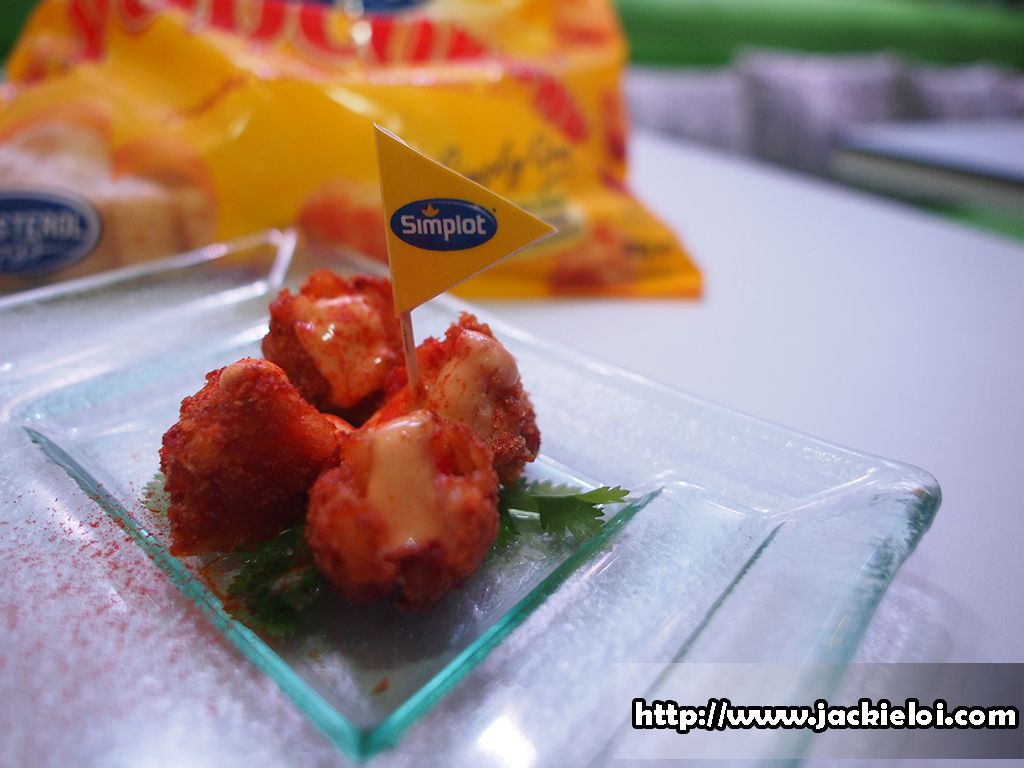 Mistaken it as shrimp in the first time. It is actually a spicy Cajun prawns breaded with crispy Simplot Popcorn Hashbrown and accompanied by Jalapeno sauce. Trust me it feel like shrimp when u eat in the dark lol
Next follow up by the soup.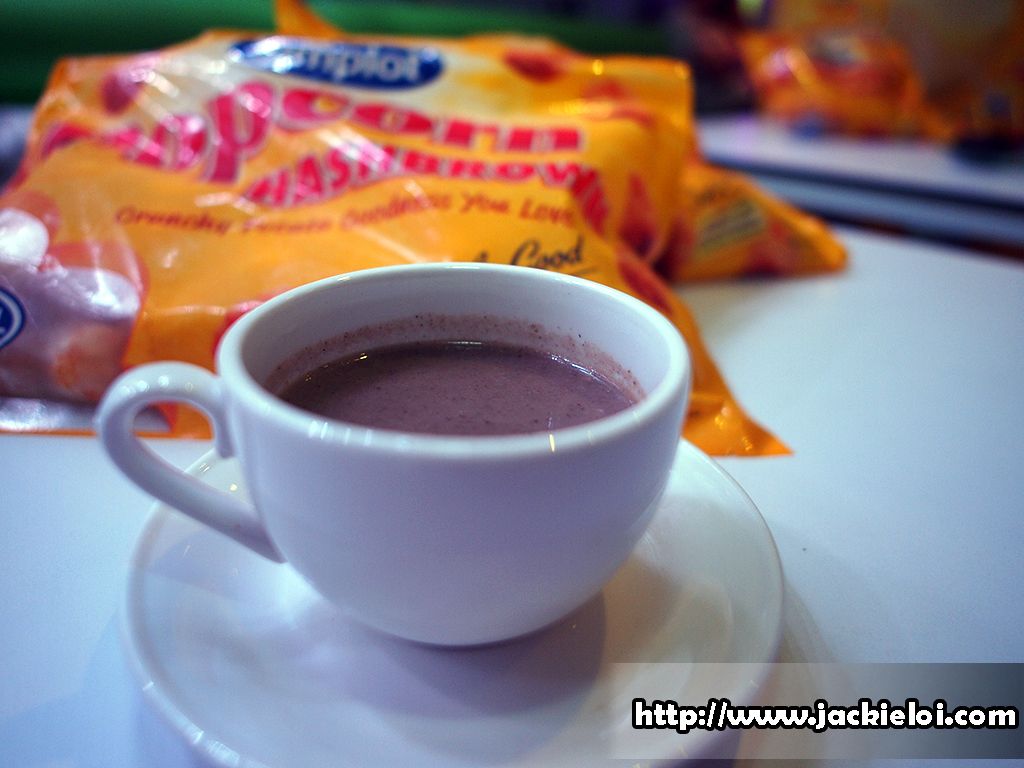 The classic fresh mushroom soup consisting of familiar button mushrooms, shiitake mushrooms, oyster mushrooms and porcini Mushrooms. Definitely king of mushroom soup.
Here we are, the main course!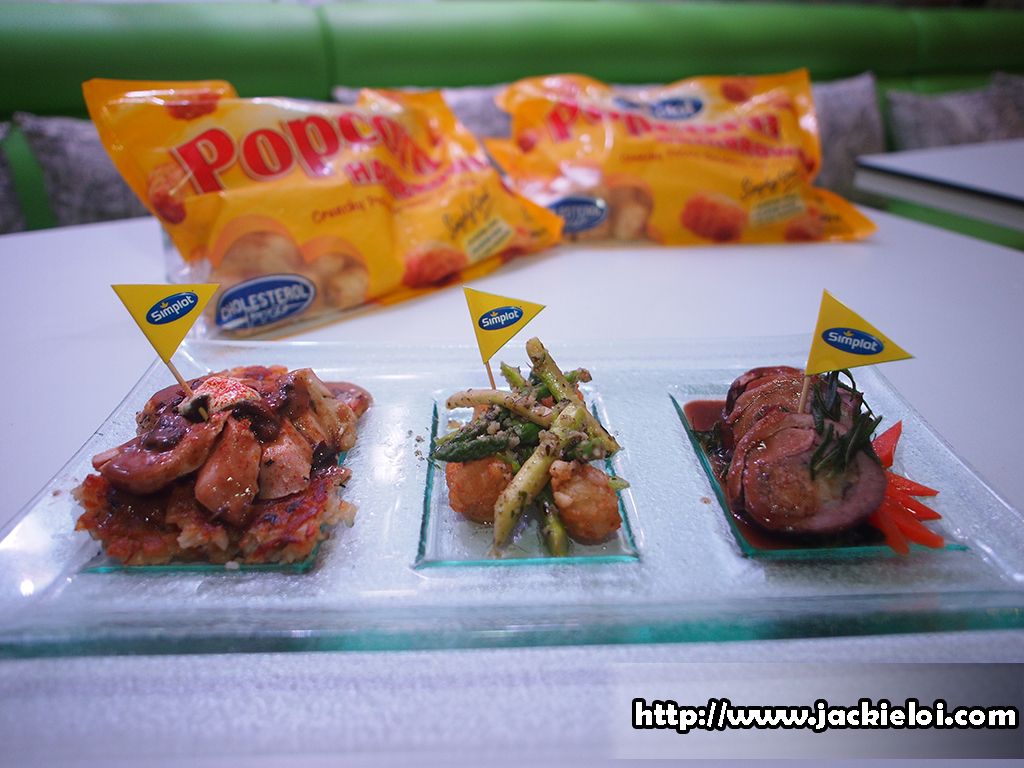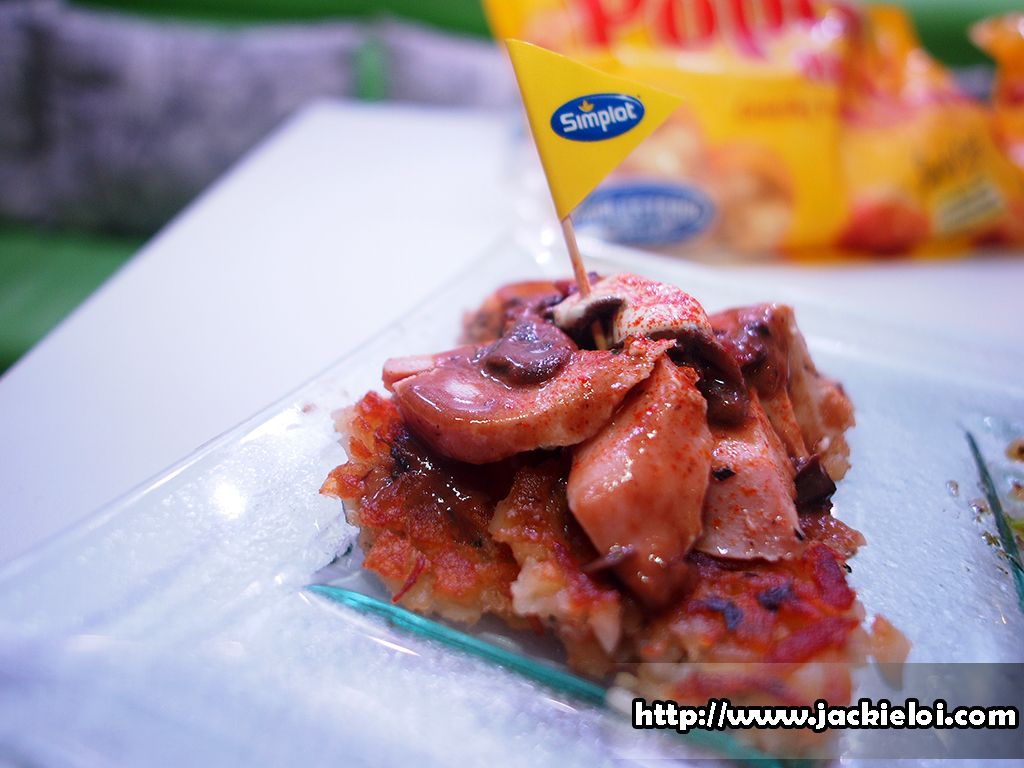 * Two legged Stroganoff with a twist *
Succulent Chicken Stroganoff reposing on a tantalising bed of fresh thyme rösti made with crispy Simplot Popcorn Hashbrown.
* Green & Brown Spring Delight *
There, who said potato cannot mix with vegetable? The charcoal grilled green asparagus and Simplot Popcorn Hashbrown sautéed with tasty herb butter.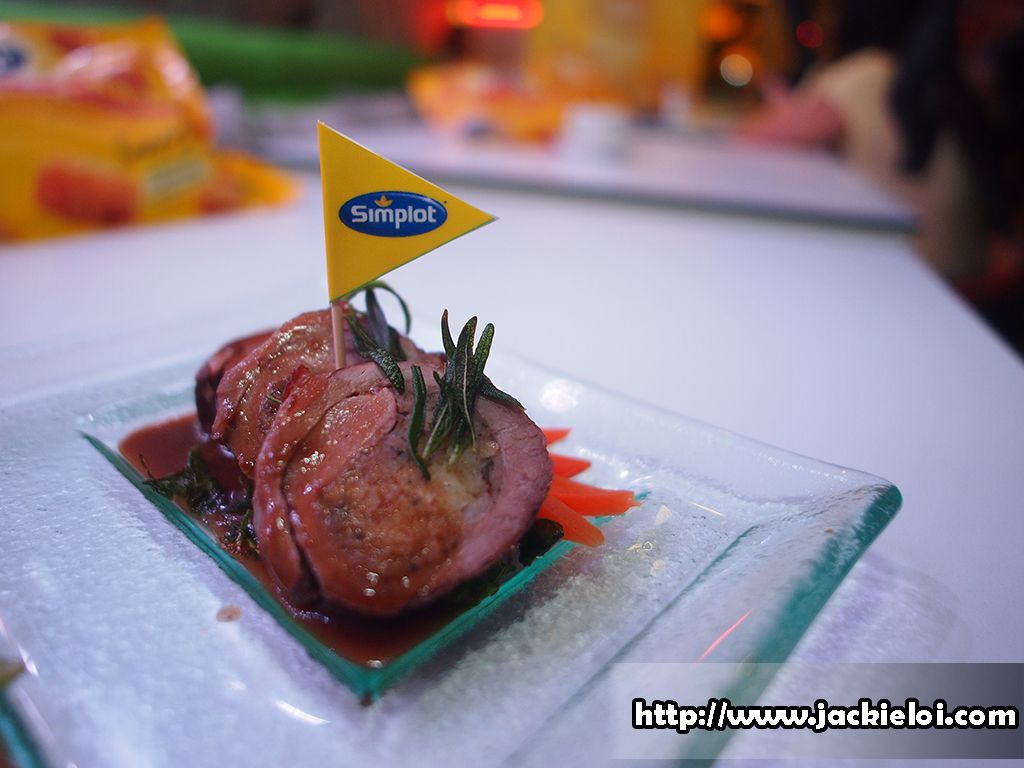 This is my most favourite main course. The Lamb loin encasing Simplot Popcorn Hashbrown and flavoursome mushroom, cooked slowly for maximum effect and then smothered in refreshing rosemary sauce.
Finally, dessert.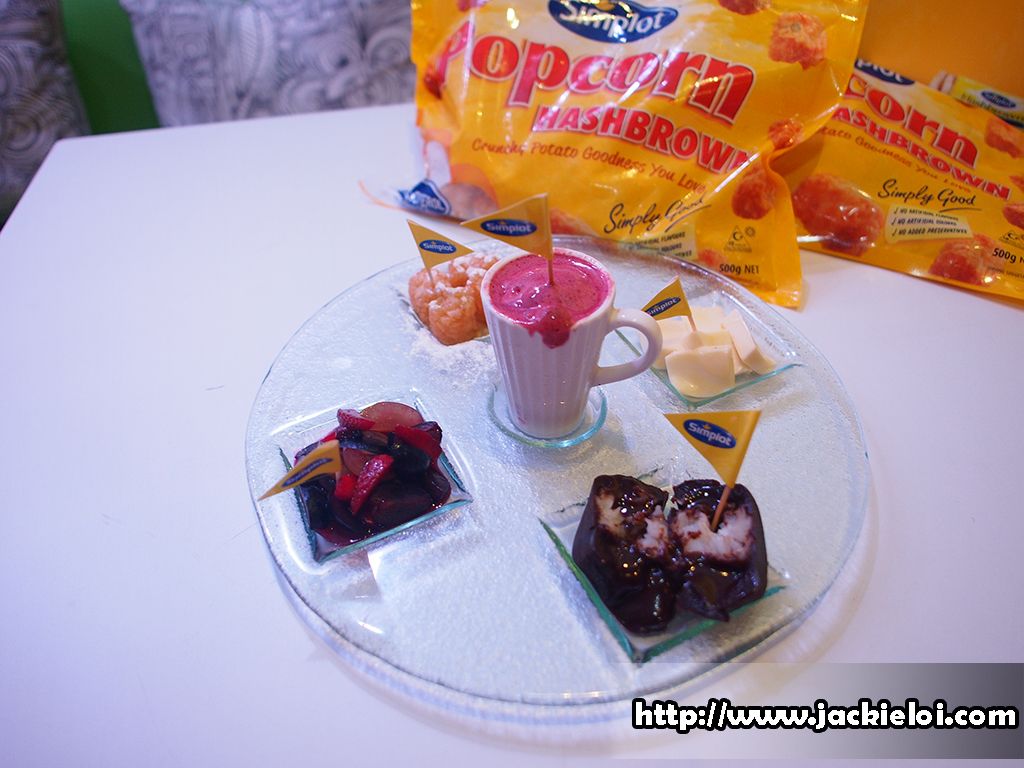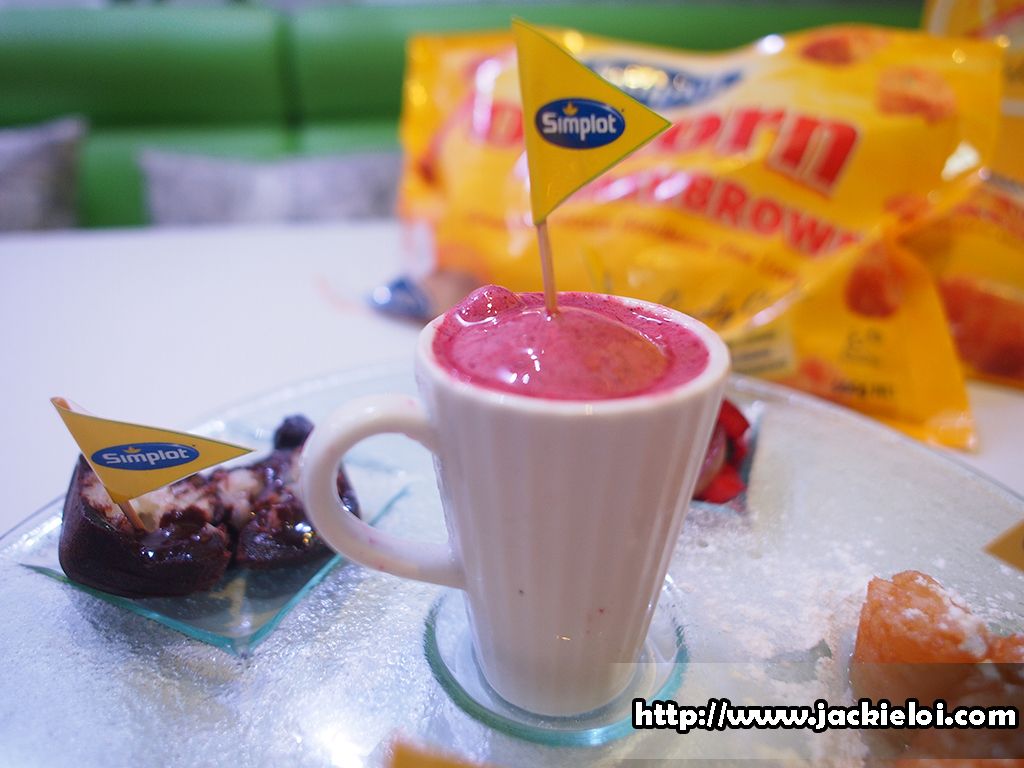 Nothing to shout on it.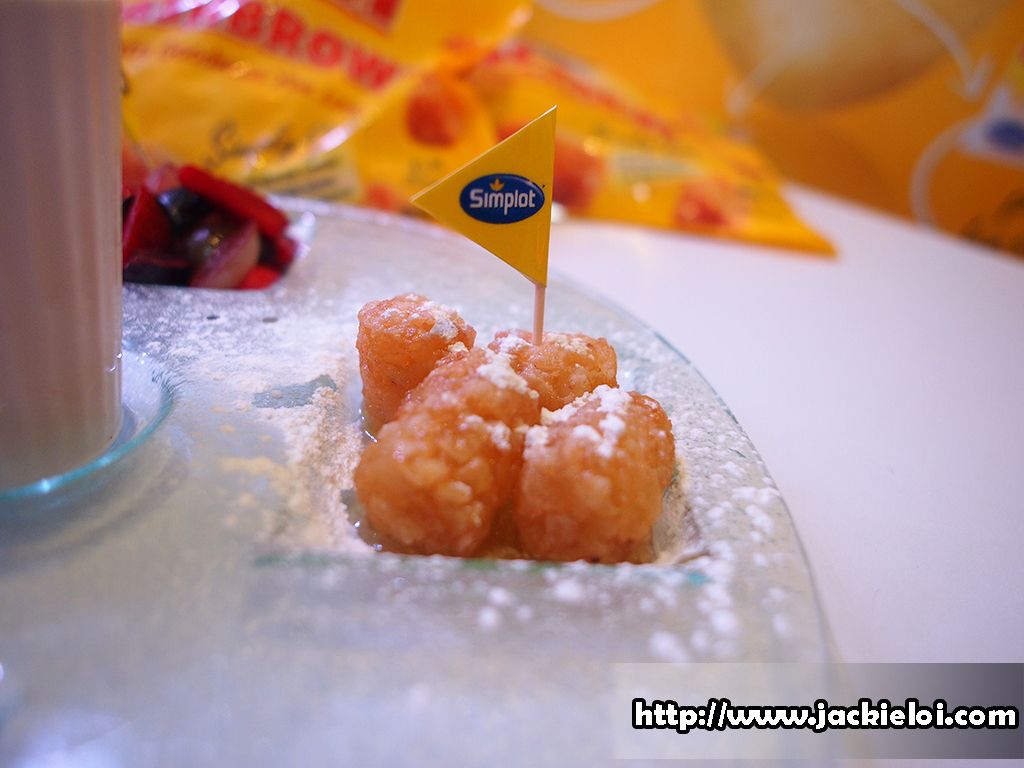 * Caramelised Somplot Popcorn Hashbrown *
Yea popcorn hashbrown as dessert! With caramelise, totally sweet.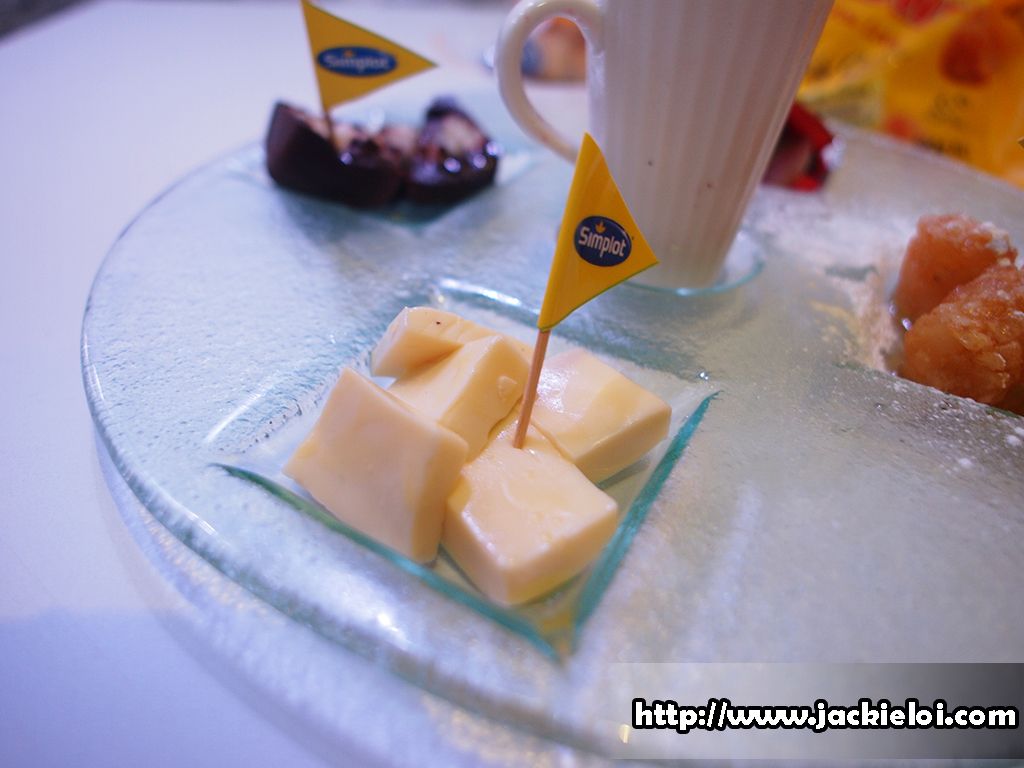 * Lemon Grass Panna Cotta *
The vitality and zest of lemon grass set within this soft and smooth traditional Italian dessert.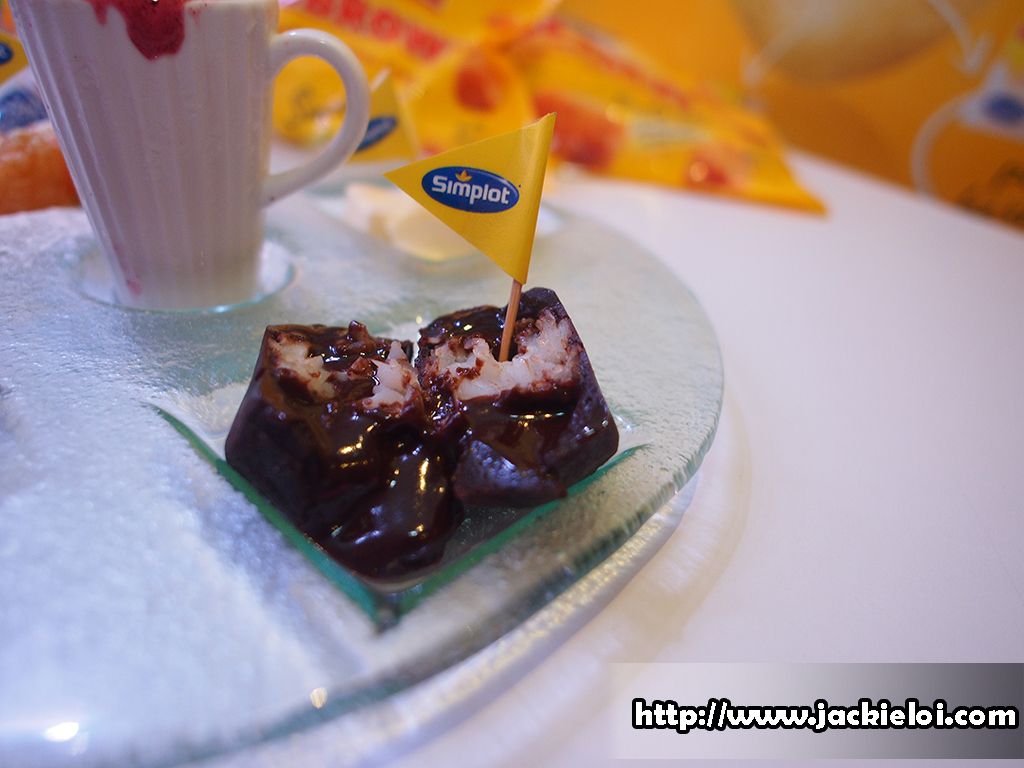 * Simplot Popcorn Hashbrown Chocolate Lava Cake *
Now, we even has fusion between popcorn hashbrown with chocolate. Taste very unique I must say.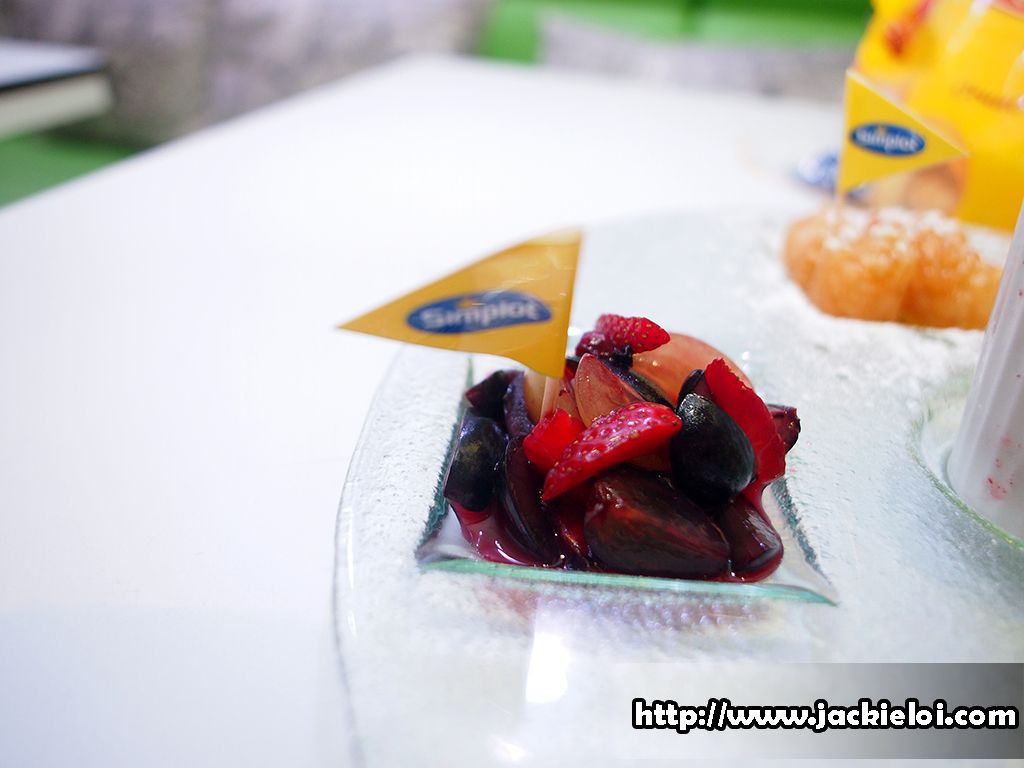 Fruits, fruits everywhere!
So after looking on all the foods, I believe those fusion with hashbrown works! The chef is really creative and I have to praise him. There are more possible fusion and exploration can be done so why not trying it yourself to believe it?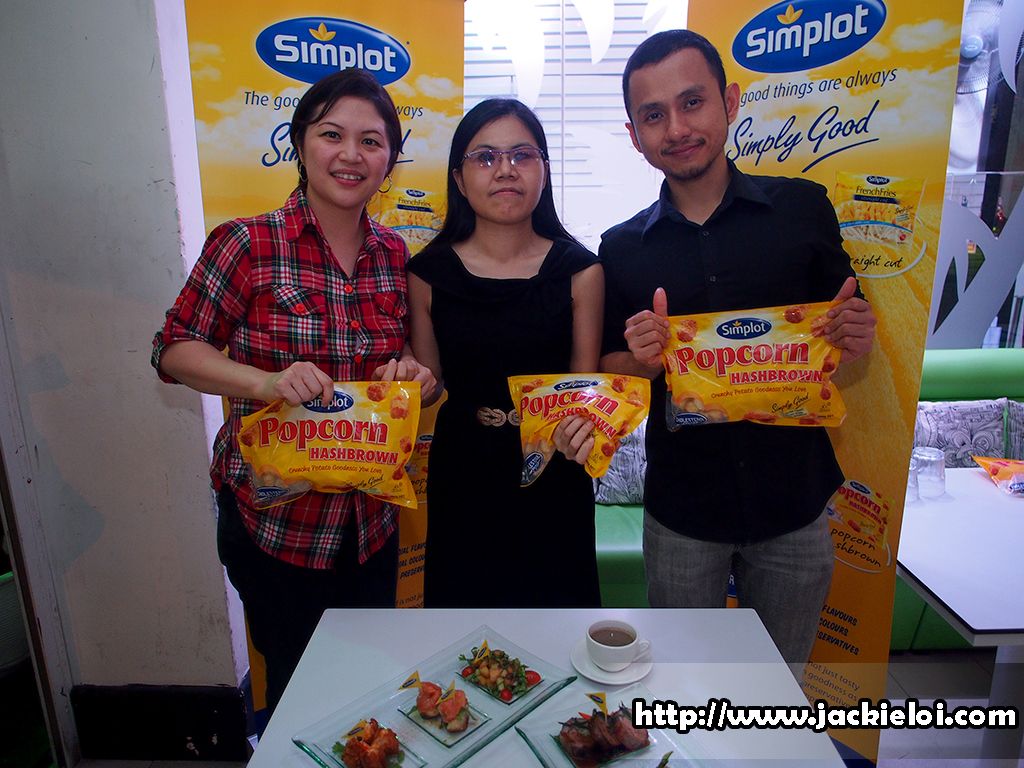 Overall, awesome experience dining in the dark. Would love to come back again to try some food in their menu. Oh yea, note that all the food above wasn't in their menu ;) I heard theier real menu are actually customizeable according to your needs. In the same time, now I know Simplot hashbrown are the same with Mc Donald. Mean's I can simply go a supermarket and grab it! If only I am talented cook, I don't mind doing my own fusion. Maggie Goreng Hashbrown anyone?
Thanks again Sharon for inviting me this valuable dining experience :)