Click here to check out my
HTC One unboxing and first impression
video.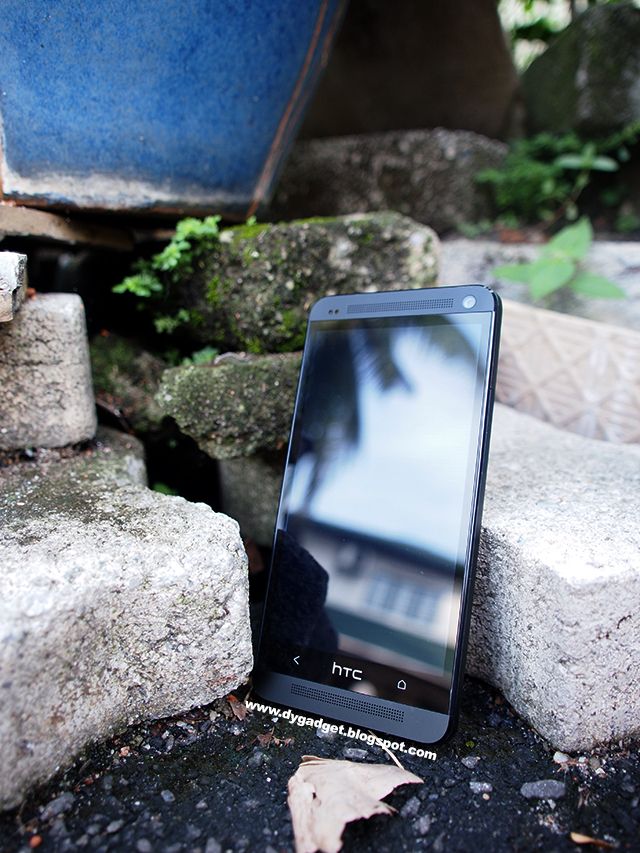 It has been almost a month since I got myself a HTC One. So I guess it is time and fair enough to have full review from me. Let's start with the specification and key features of HTC One.
4.7-inch Super LCD 3 with 1080p resolution (469ppi)
1.7GHz quad-core Qualcomm® Snapdragon™ 600
Adreno 320
2GB RAM
32/64 GB internal memory
4MP back facing camera with 1080p@30fps video recording (with HDR)
2.1MP front facing camera
NFC
2300 mAh
Android 4.1.2 Jelly Bean
Design & Built Quality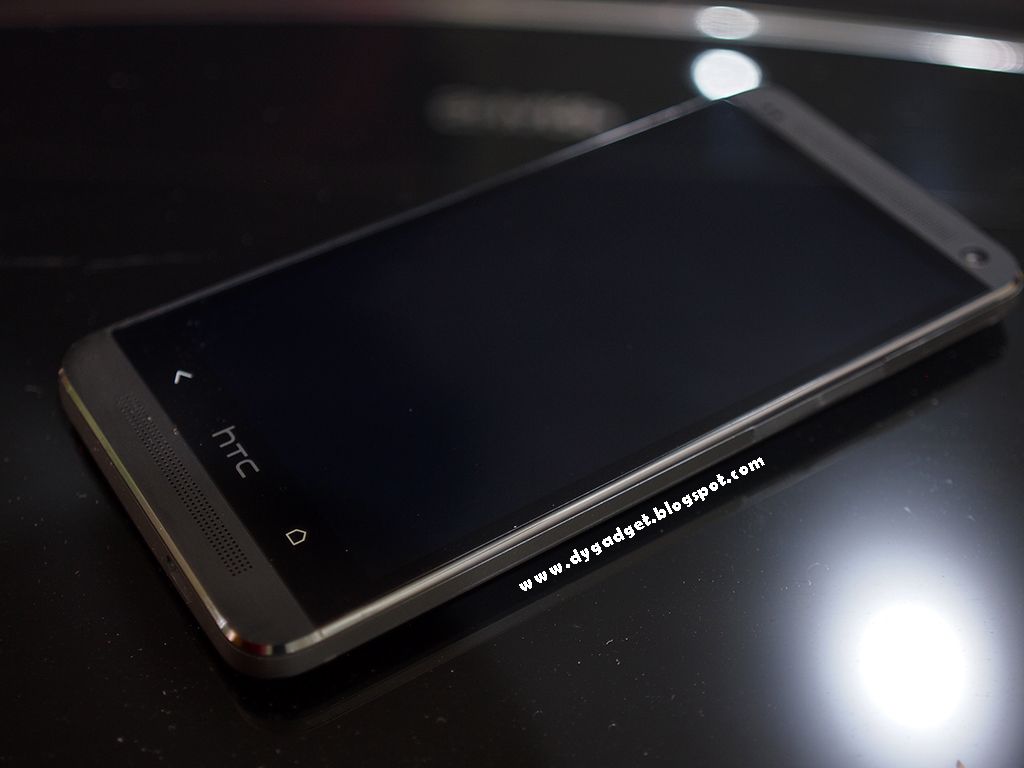 I do understand that in terms of design, everyone has their own preference. For me, HTC One does look beautiful though front design very much resemble iPhone 5 and Blackberry Z10. In comparison with Sony Xperia Z, I actually love Z design more. However, HTC One design just look simple, clean and as if it is one of your hand when you hold it. Well, of course the 4.7" screen size is good enough for my small palm.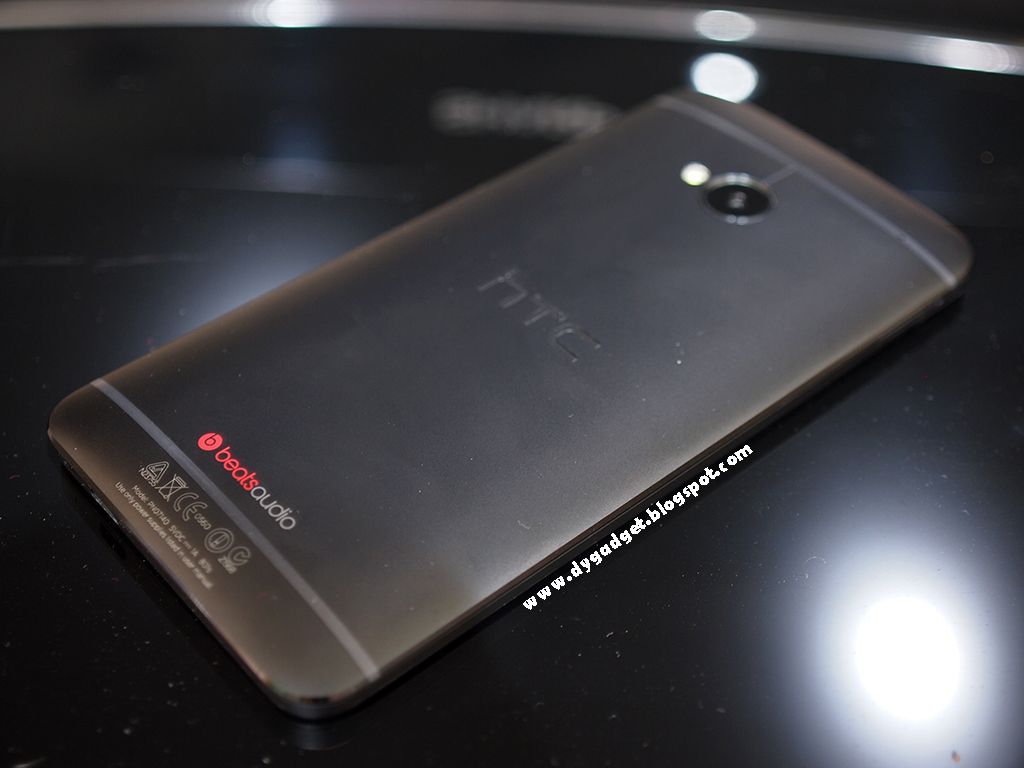 HTC One is built by aluminium which definitely solid and feel nice..premium anyone? I admit I love this material but it came with a price. I have a black unit and black paint easily chipped off if accidentally scratches. The black unit also finger oil magnet eventhough it is easy to removed. The aluminium not completely solid either. It is still scratch able and easily dent. I have been taking care with it extra carefully this whole month and thanks goodness my unit still look perfectly brand new. For silver unit, the paint and finger oil won't happen. There are few users reported that the beatsaudio logo at the back easily fade off with a couple of sweat on the hand when holding the phone.
Casing is definitely needed if you wanna maintain the phone in perfect condition.
User Interface (UI)
HTC One running the latest Sense, 5.0. It came to my understanding that how much Sense 5 actually toned down compare to previous version. It has been toned down until the stage it very close to Vanilla Android. I like it very much. It just simple, fast, no fancy animation and nice looking icon. There are alot difference operation manner in Sense 5.0 compare with standard android. I'll talk more about it later. The total home screen has been strip down to 5 only including 1 of them occupied by Blinkfeed by default.
I have no complain on Sense 5. In fact, I love it more than Sony Timescape and Vanilla Android on Nexus now. Samsung Touchwiz never be my favourite from day 1.
Blinkfeed
All news under one homepage. It wouldn't hurt to have one since once in a while I enjoy scrolling around and reading the news headline. However it still lack of flexibility and customization. I can't add my own RSS feed.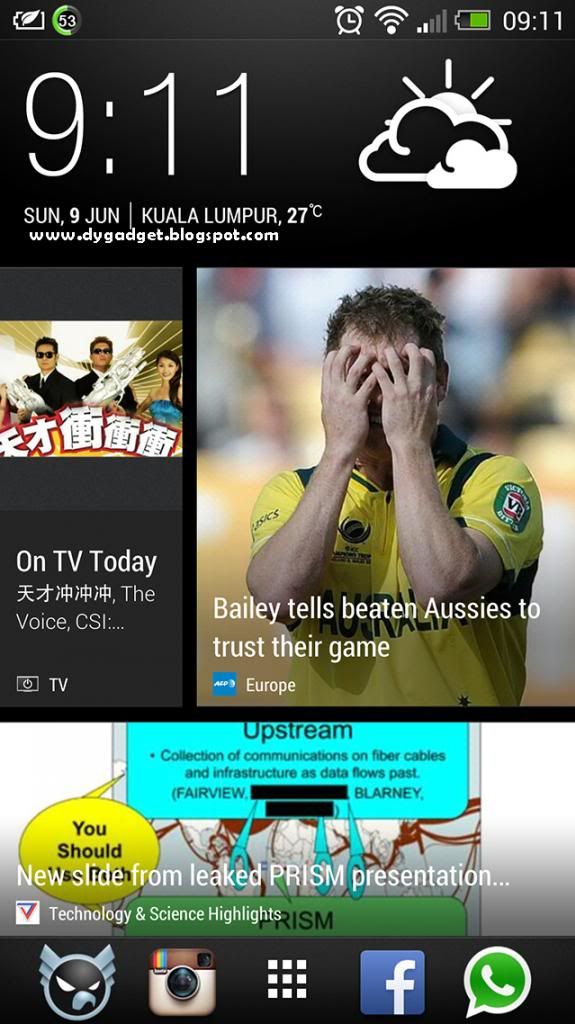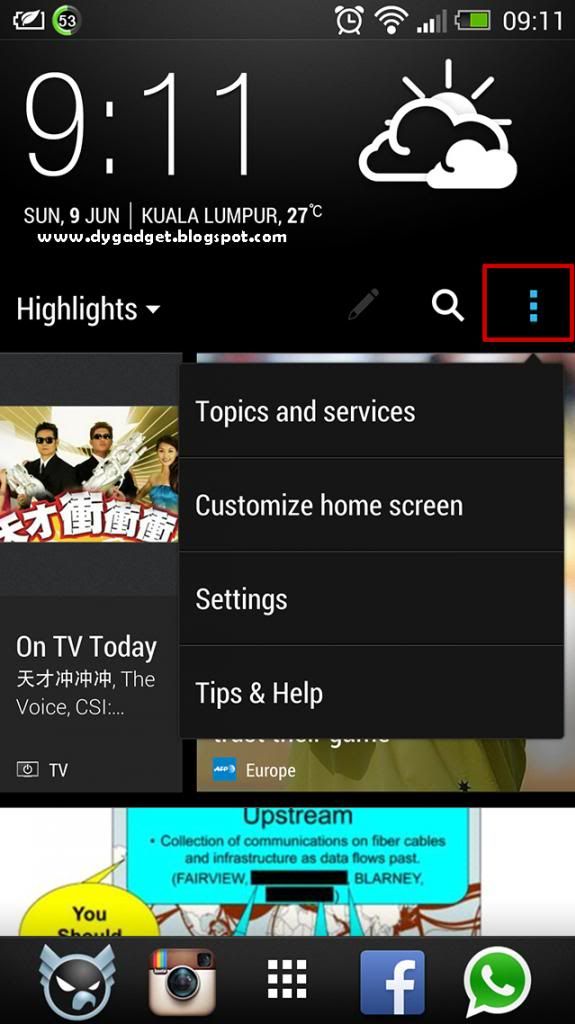 Love it or hate it, the Blinkfeed gonna stuck in your first page of home screen. You can't remove it but you can choose not to use it. Just set other panel as your home and move on. Who know coming Sense/Android update from HTC enable Blinkfeed activation?
HTC Sense 5.0 operation manner compare with standard Android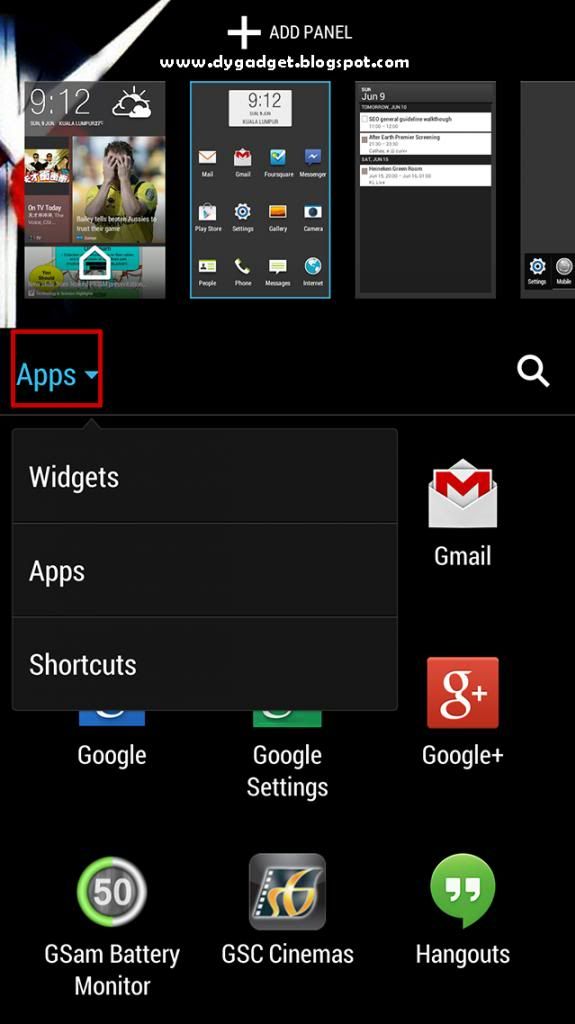 In Sense 5.0, a long tap on empty home screen will zoom out the screen and allow you to add widget, apps and shortcut to your home screen. This apply too when you pinch to zoom out. During that mode, you can add, remove and set as home for the panel. As I mention earlier, you can add your apps to home screen via here. You can also go to the apps drawer and hold the apps to create a shortcut to home screen by dragging it to the top left (or uninstall it by dragging to top right). Yup it took extra 1 step compare to Android standard system.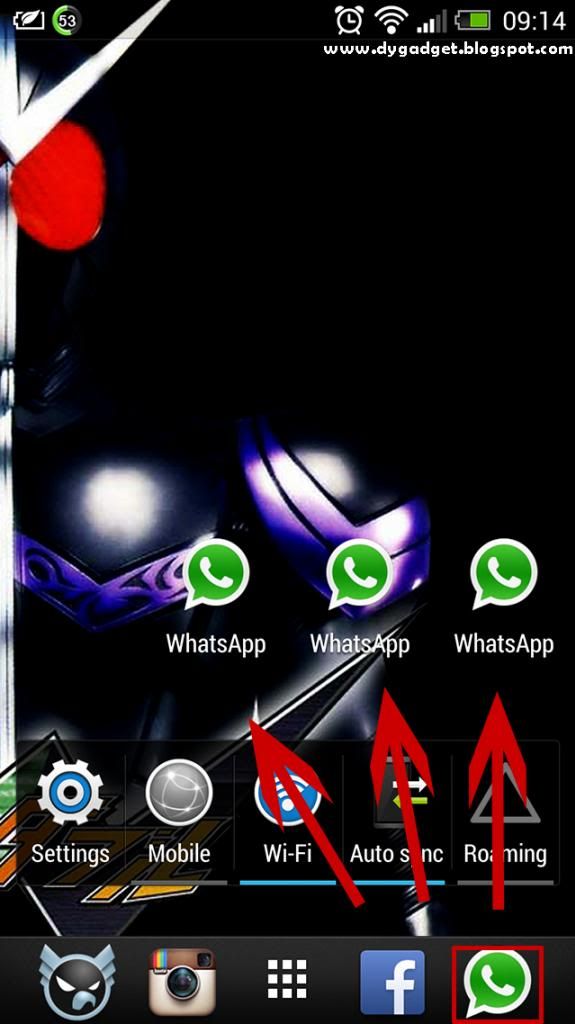 In addition, whatever apps you drag out from the app tray will actually duplicated the app to the home screen instead of just bringing it out.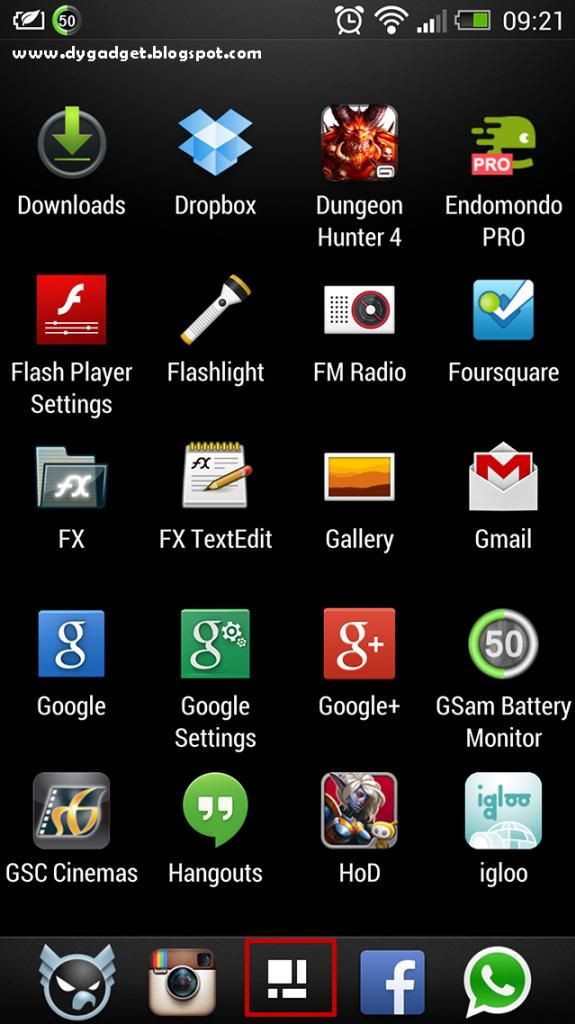 You cannot press back button to return to home screen from app drawer. You either click the app drawer to back to home screen, or simply tap the home button on your phone.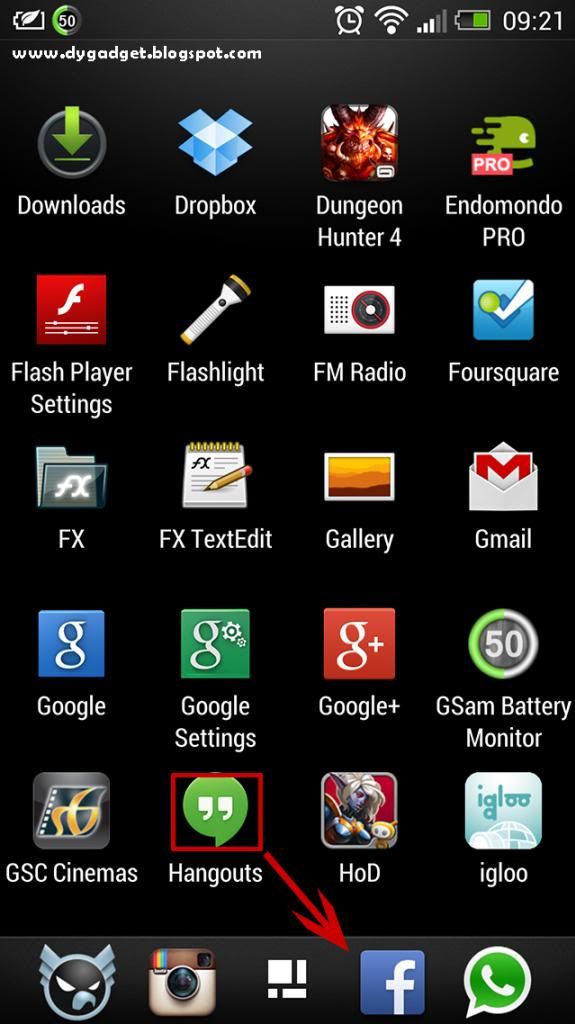 How to put app to your app tray? Just go to app drawer and simply drag the app you want to the tray.The apps will no longer appear in your apps drawer but in apps tray only. Weird right? What's more weird is the time and weather widget in the 1st page of app drawer. I guess HTC just love this too much since it even appear in your lock screen and Blinkfeed.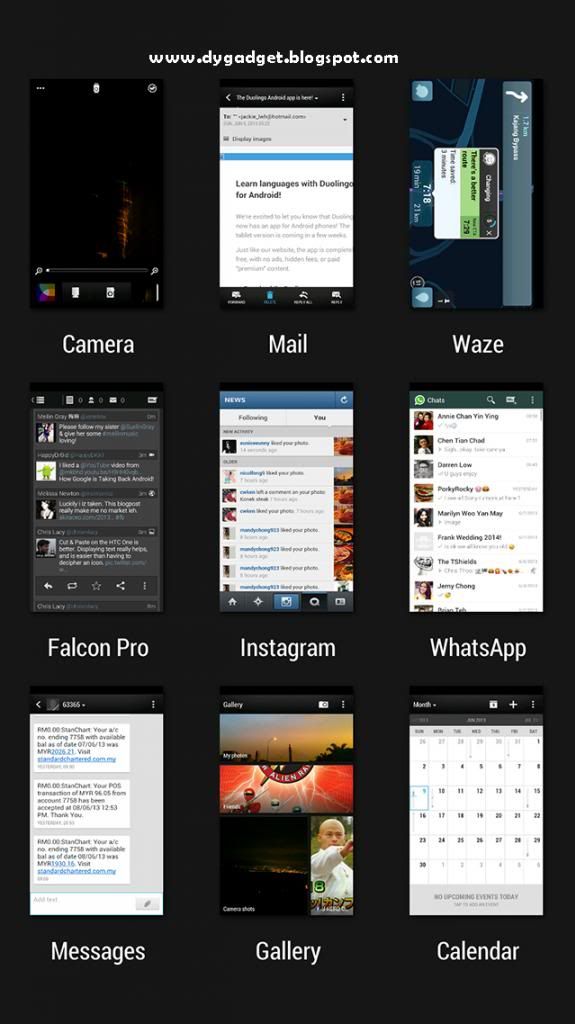 HTC One only had two hardware button. Thus, the home button actually playing three role, as home button, multitask button and also Google Now button. A single tap on the home button will result you return to your main home screen. Double tap it and you will go to your multitask window. Total 9 task can be display here. To remove existing task, just simply swipe it up. A long press on the home button will guide you to Google Now.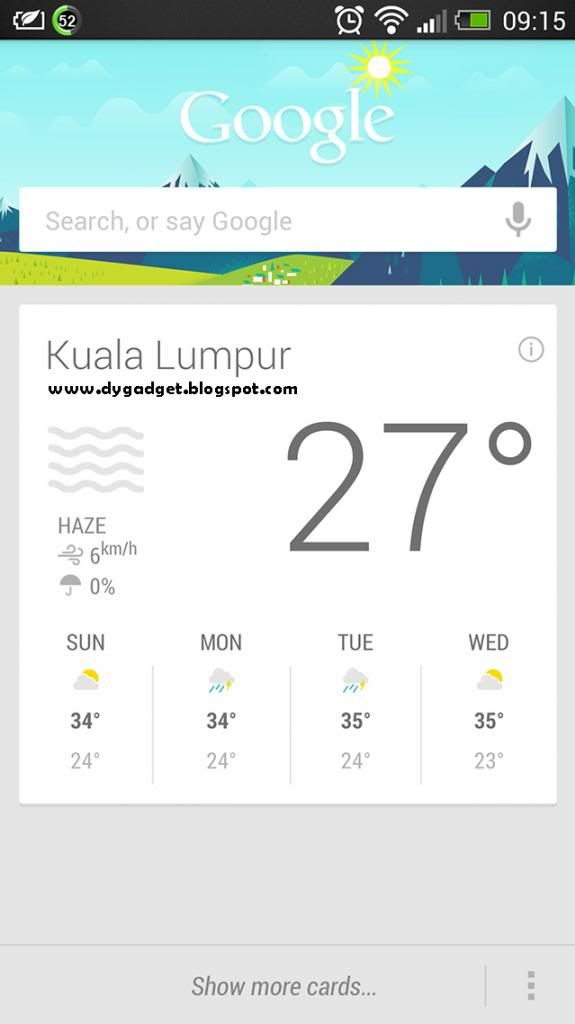 I couldn't get used to it all this operation manner at the first few day. However after a week of usage, slowly I adapted to it and right now I have no problem using it. It just a matter as a user you willing to learn or not. It wasn't that hard to accept it anyway.
Camera
HTC One came with 4 Megapixel camera. Yup you din see wrongly. It is 4MP. HTC try to slow down the Megapixel race compare with other competitor. As compensate, HTC One camera actually come with Ultrapixel Sensor. What is Ultrapixel sensor? To put it in layman term, Ultrapixel actually 2 times bigger than normal pixel in normal sensor.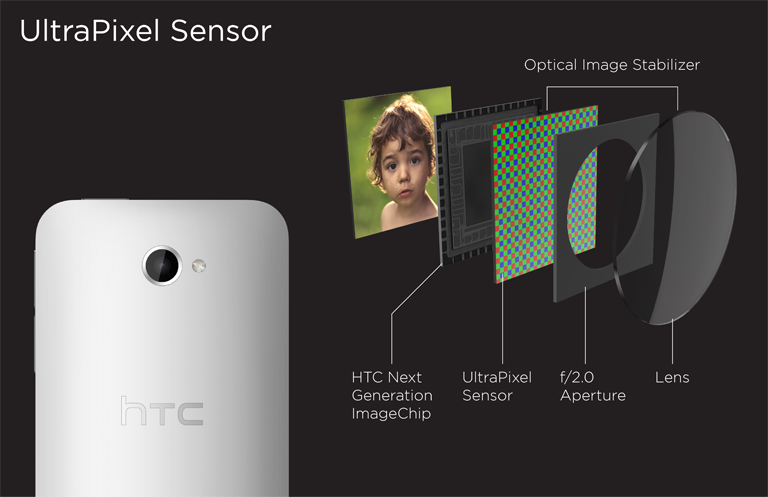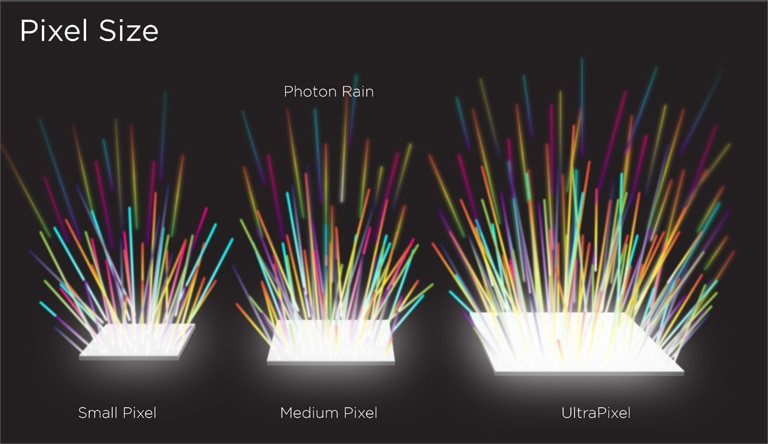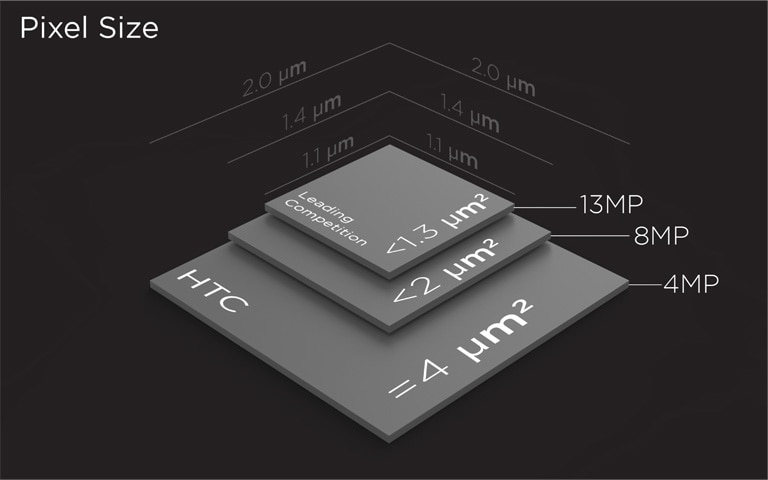 The smaller the pixel, the less light each one collects. This results in more visible noise and other defects in both still images and video. HTC claim that the Ultrapixel Sensor can capture 300% more light than many of the 13 megapixel cameras on the market. Because larger pixels record more light and data, the photos display more shades and greater color accuracy.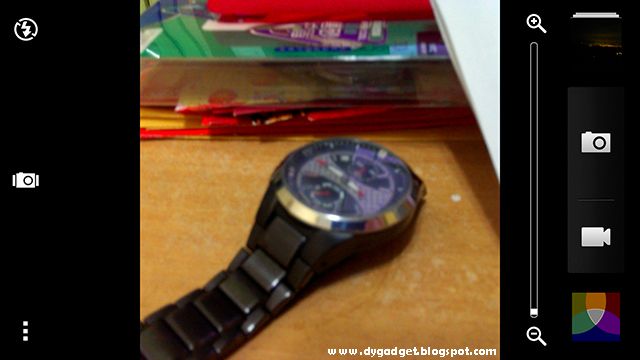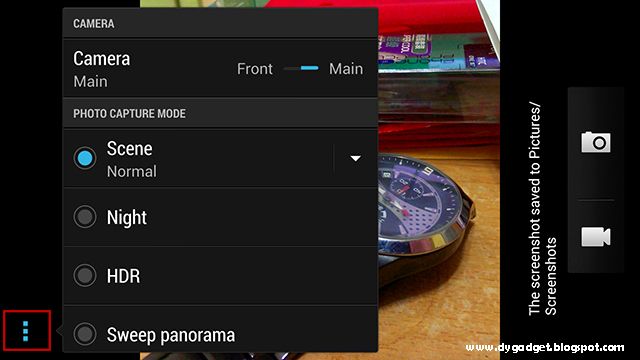 The camera UI in HTC One is simple. The left side only come with three quick setting buttons which is flash, HTC Zoe and setting. However I dislike the lack of customization for quick setting. I have to take extra step whenever I wanna change some camera setting. I hope HTC Coming update at least slot two more quick setting option on left side which are switch between back and front camera and also ISO setting.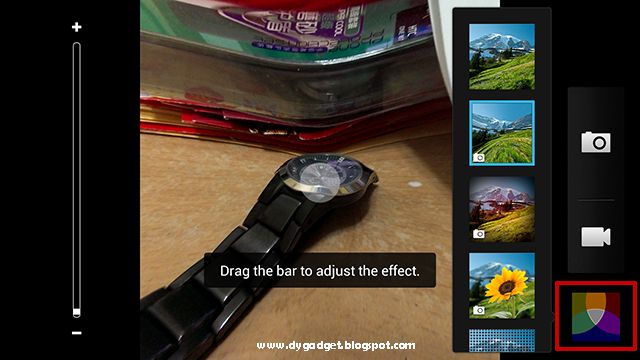 On the lower right are some effect that can be found from all previous HTC phones. Unfortunately I never fancy using it. I found myself enjoy using HTC Zoe more. Let's move on.
Picture and Video Quality
HTC has been claiming the Ultrapixel sensor is working well despite being 4MP. I agree. The camera has been served me well and I enjoy shooting using the camera. The only things I complained about the camera already been discussed on my
first impression
. However 4MP still 4MP. The photo suffer quite alot details loss when 100% crop is done. Of course, it look's great if you don't crop it.
I am not gonna debate on the image quality on HTC One camera. You gonna be the judge. For me, it works very well and satisfied me. If I need something better, I can just grab on my Olympus E-P3 anytime.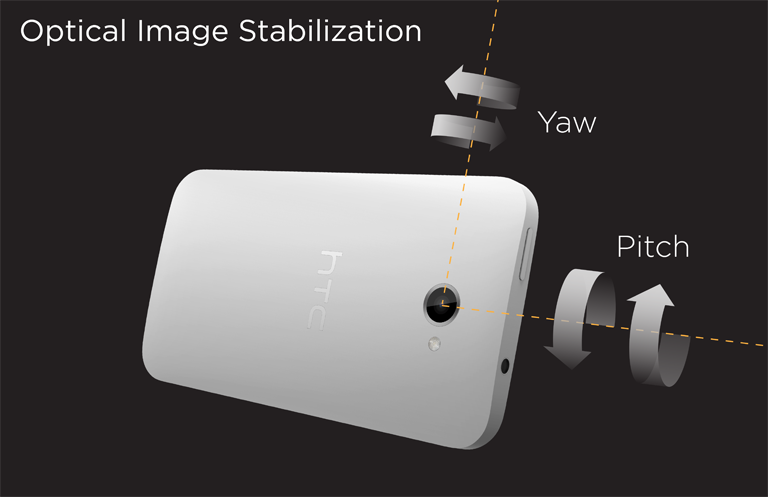 HTC One capable to record full HD 1080p at 30fps video. In addition, the camera installed with 2 axis OIS (Optical Image Stabilization) which are yaw & pitch.
The OIS work pretty well and it is a bonus for people who love to do video with mobile phone. During my test with the video, it doesn't suffer focus hunting. In fact, it lock target pretty perfectly despite the target and myself move around aggressively. Thumb up to HTC One video and I won't hesitate using it to record video for my coming HK trip.
HTC Zoe
There are two things in HTC Zoe. First is on the camera itself and another 1 is the photos gallery. Just click the middle button on the camera to activate Zoe (you'll see Zoe word came out at bottom middle) and when you snap (the shutter button goes red), you're actually snapping 3 second video (sound included!). There are 20 frames in the 3 second video. You can edit the video with few retouch function from HTC Zoe.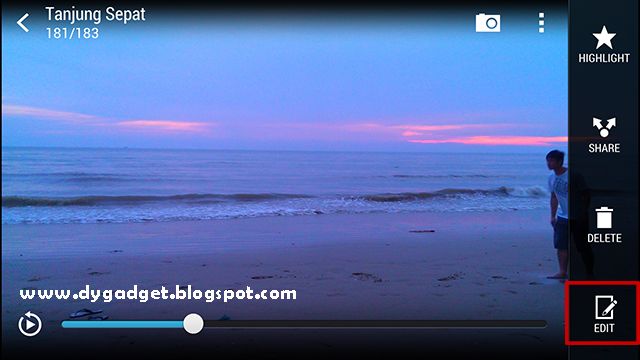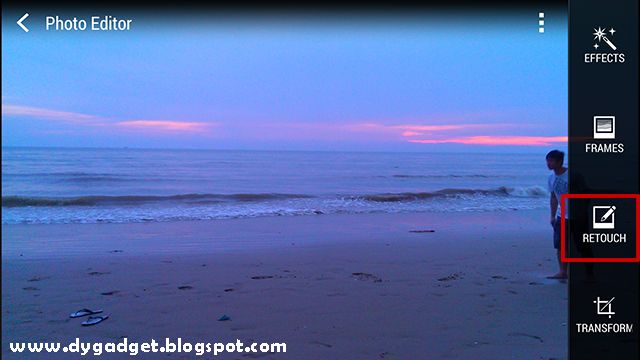 Go to edit then retouch the photo.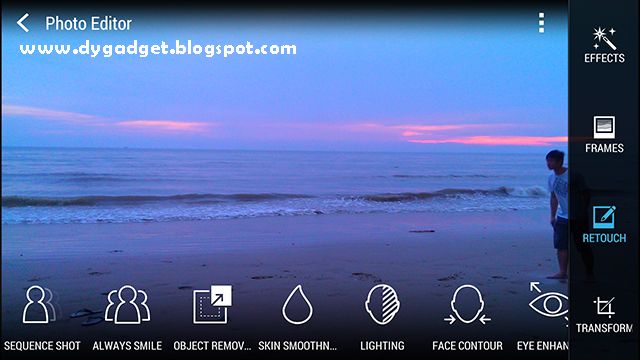 You'll see a bunch of retouch you can do in the photo. It is fun to play around. My favorite is none other than Sequence Shot and also always smile.
If you still unsure how HTC Zoe works, here a perfect video demo for you to watch.
Another HTC Zoe function are actually in the photos gallery.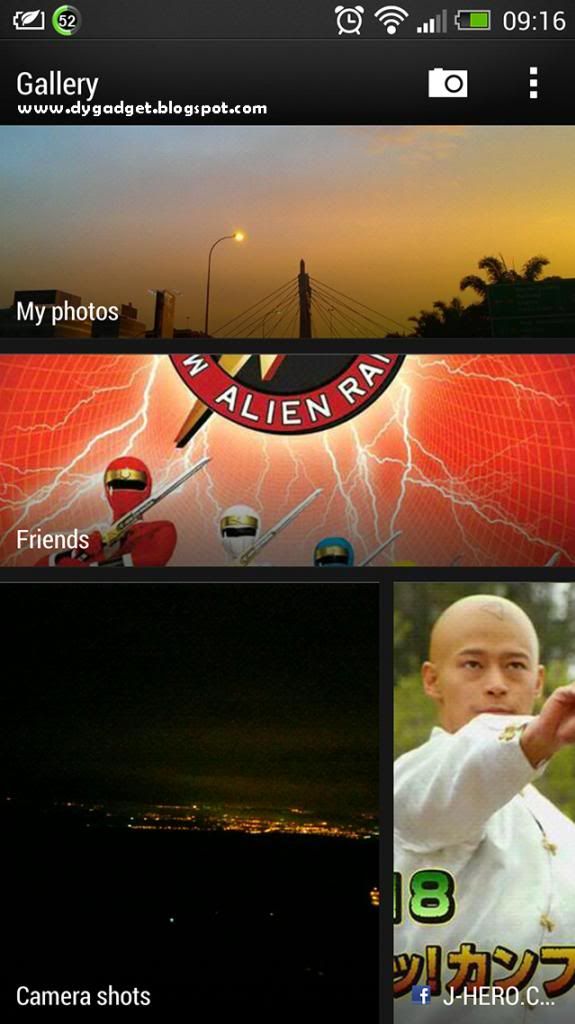 On your first click of gallery, you'll see a bunch of weird things inside (Assuming you already signed in native Facebook app). That's because Sense 5.0 imported all your Facebook friends photo into the gallery. You can actually just refresh the gallery to check out any new photo posted up by your Facebook friends.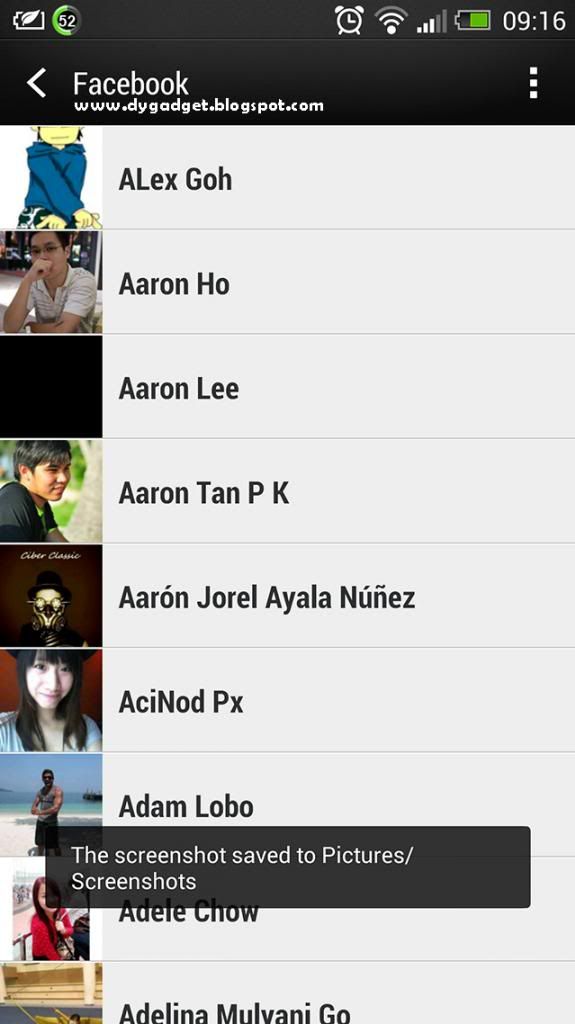 It is annoying to me at first but I couldn't care less later since it just simply no way to remove it unless you remove the Facebook app from your account. Click in my photos (the one on top once you open your gallery) and you will be bringing into a another page.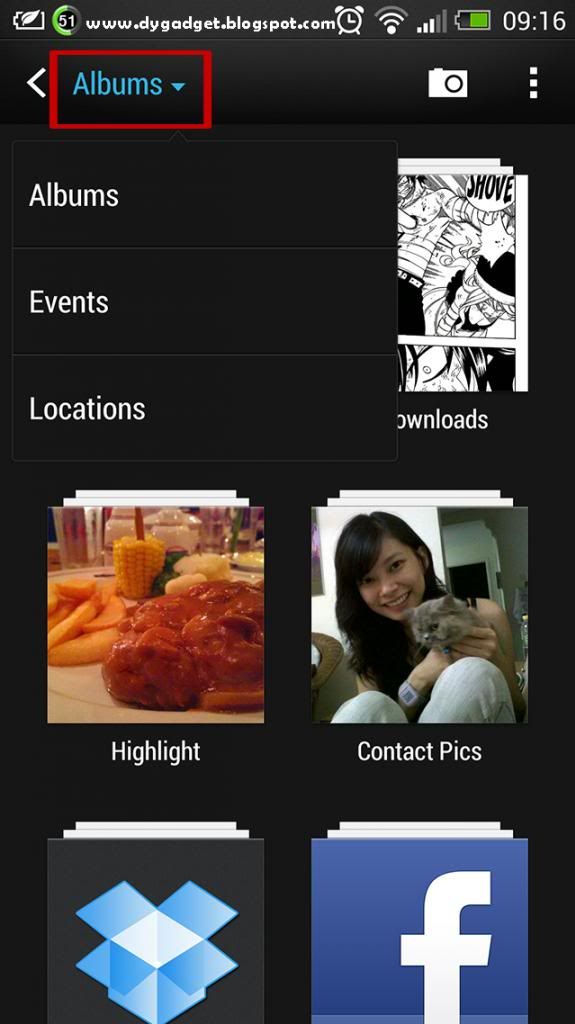 By clicking the top left, you're given choices to choose between Albums, Events and Locations.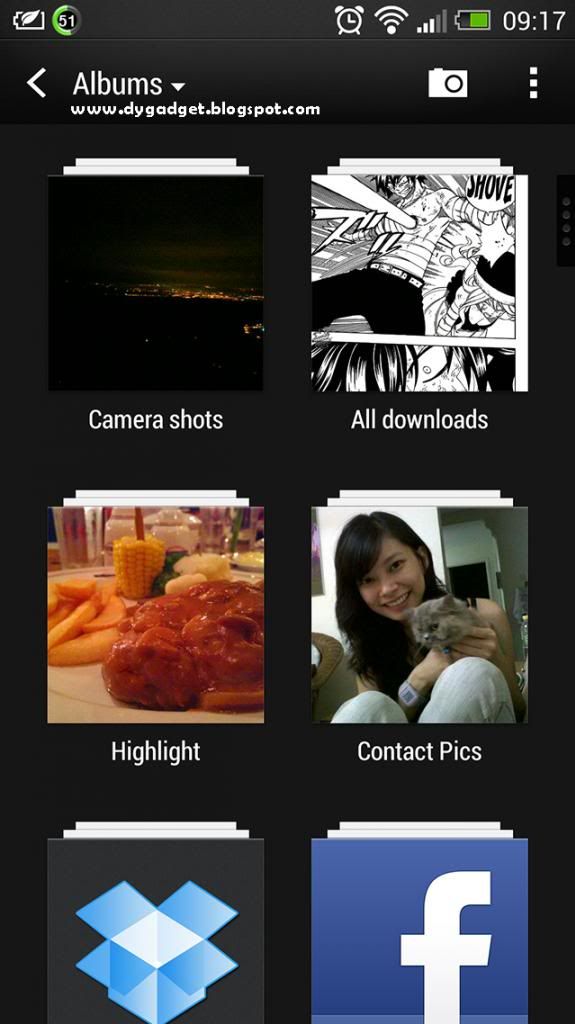 I am pretty sure HTC user familiar with Albums. It is default gallery UI for the previous Sense. Here, all photos are categorized depending on your pictures folder name.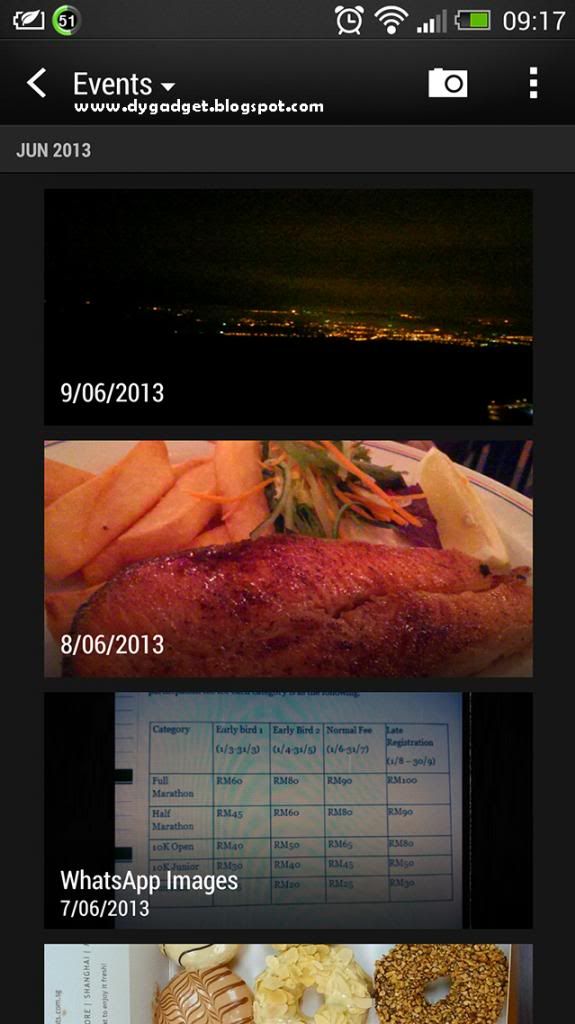 What I gonna highlight and talk more about is the Events type album which integrated with HTC Zoe.
You can see all your pictures are categorized by date or name (if you rename it). Long press on it and you're given few options to view, delete, merge to, split to or rename.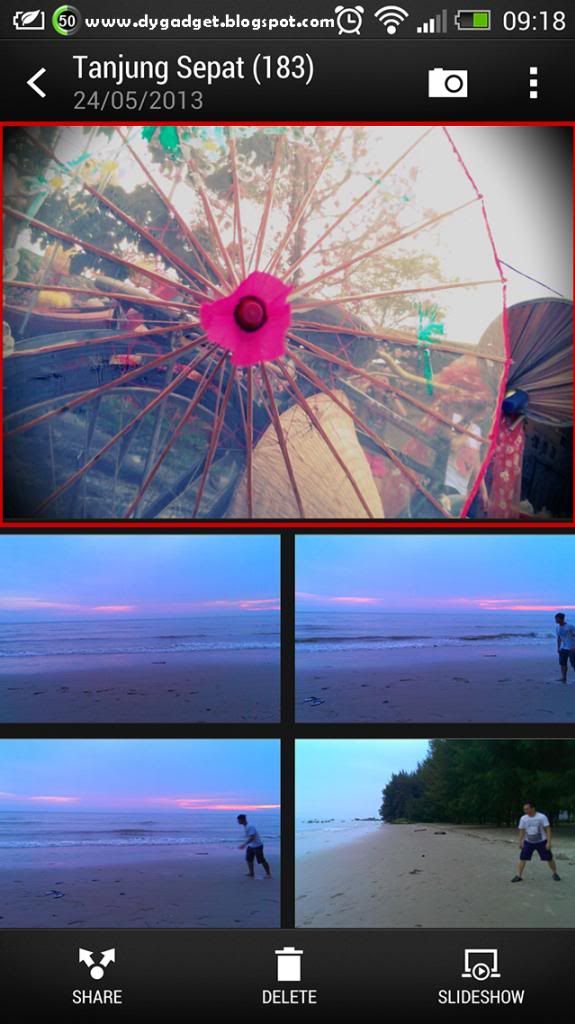 By clicking into one of the events, you'll notice a big thumbnail that previewing some pics in the events. Yup, that's 30 second video created by HTC Zoe. Everything is automated! A 30 second video can be done with a snap of finger. Click the video thumbnail to customize the video.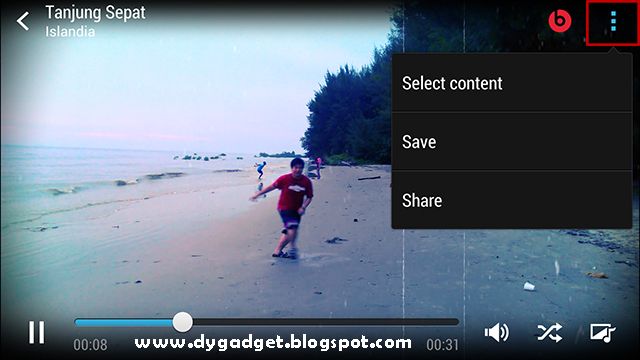 Click on the top right option and click select content.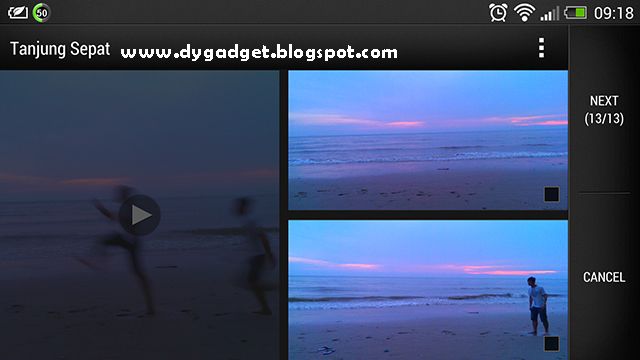 Here you can select contents in the same Events album to be apart of HTC Zoe video. Unfortunately only 13 items max and I wish there is an option for me to arrange the sequence as well. Done selecting your content just hit next and your video are done.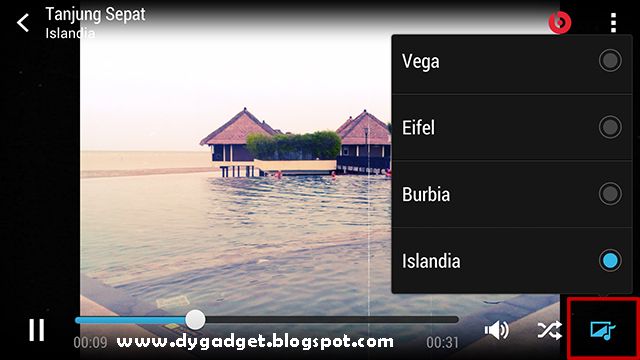 To enhance more, click the bottom right button and you're given choice for song and effect. Each song come with difference effect and you can only use the preset given by HTC. Done selecting just hit save and you're good to go to share the video to the world! As I said, everything is automated.
However HTC Zoe still got limitation that I wish HTC could update it in future to allow it be more flexible which are allow to arrange contents sequence and also insert own song into the video.
HTC TV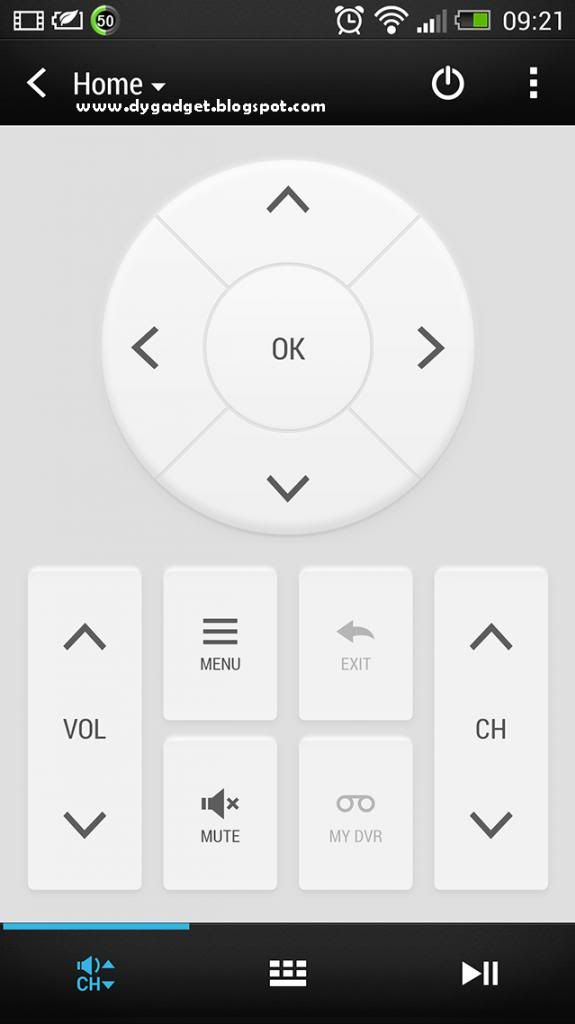 Infrared is back to the game. HTC One is packed with IR Blaster (which also act as power button) which allowed to act as TV Remote control. It is easy to customize as long as your TV model is in the list. I customize one for my house together with Astro (as cable box).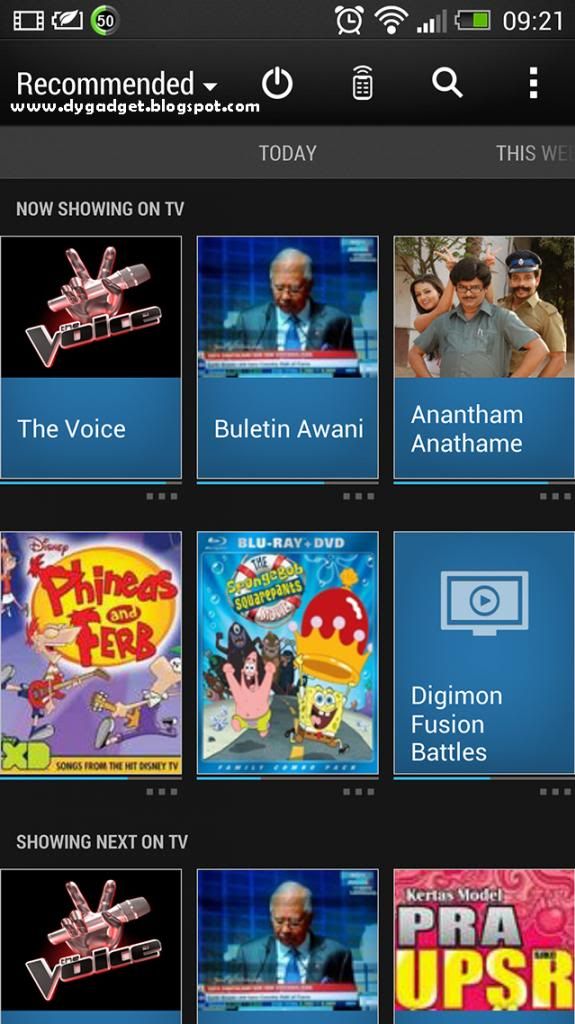 What I like more is it show all shows that currently showing on the TV and a click to the show I wanna watch, it instantly change the channel for me. You can easily set reminder and schedule the show as well.
Song and Video playback
I am not audiophile. But HTC One speaker is definitely loud and one of the best. I show it to one of my audiophile friend to listen and he was impressed.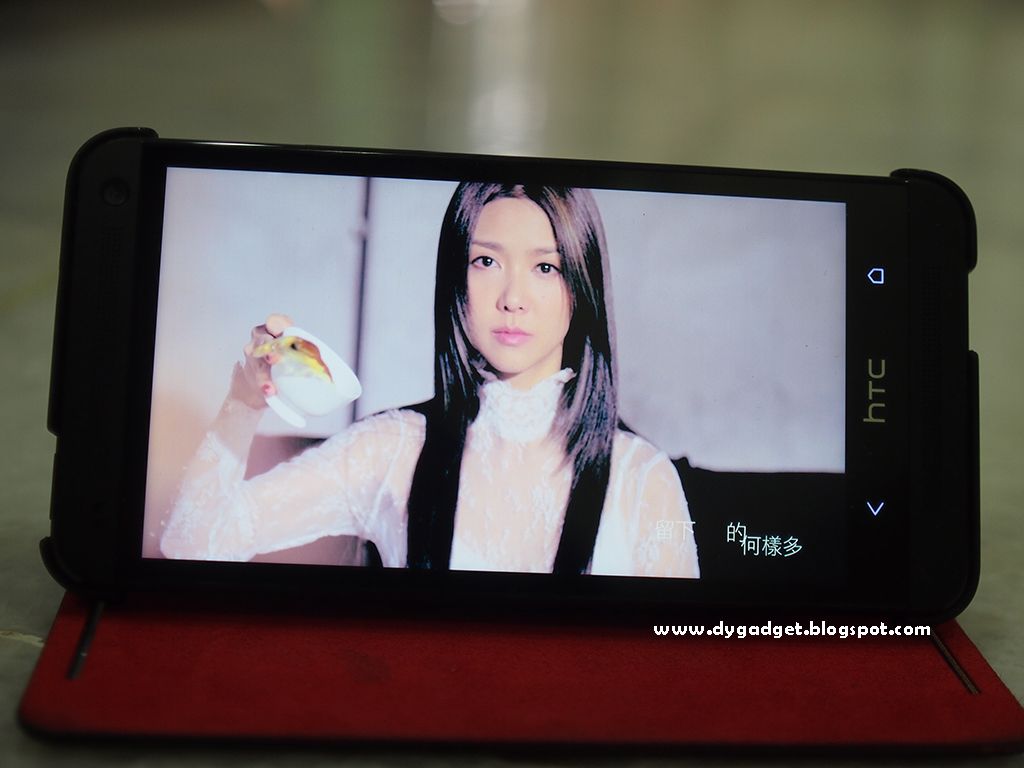 Watching video in phone is awesome as well. As mentioned in the spec earlier, HTC One come with 1080p display with S-LCD 3. The native video player allowed screenshot of the video you're watching. This function is available in previous HTC Sense too.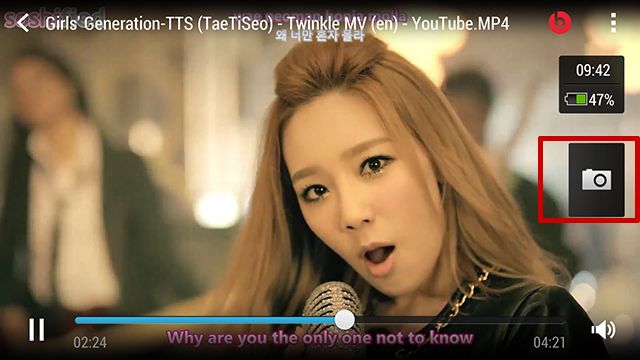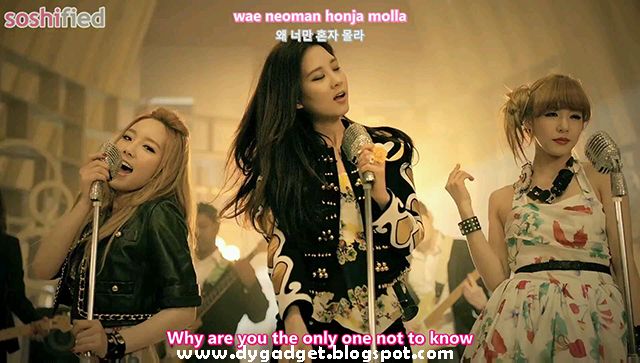 Internal Memory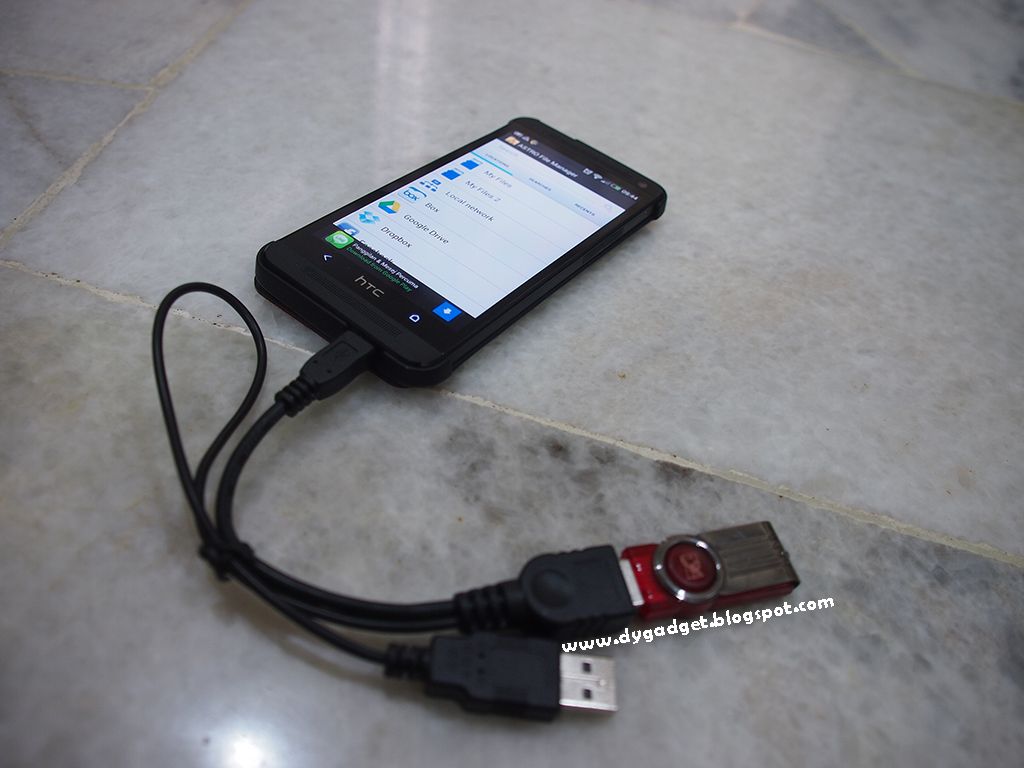 HTC One come with both 32GB and 64GB internal memory but no expendable micro SD. I got myself a 32GB unit and so far it is still enough for me. Guess I don't really store much stuffs in my phone and most of them are photos. I even got myself a USB OTG to compensate the loss of external memory card.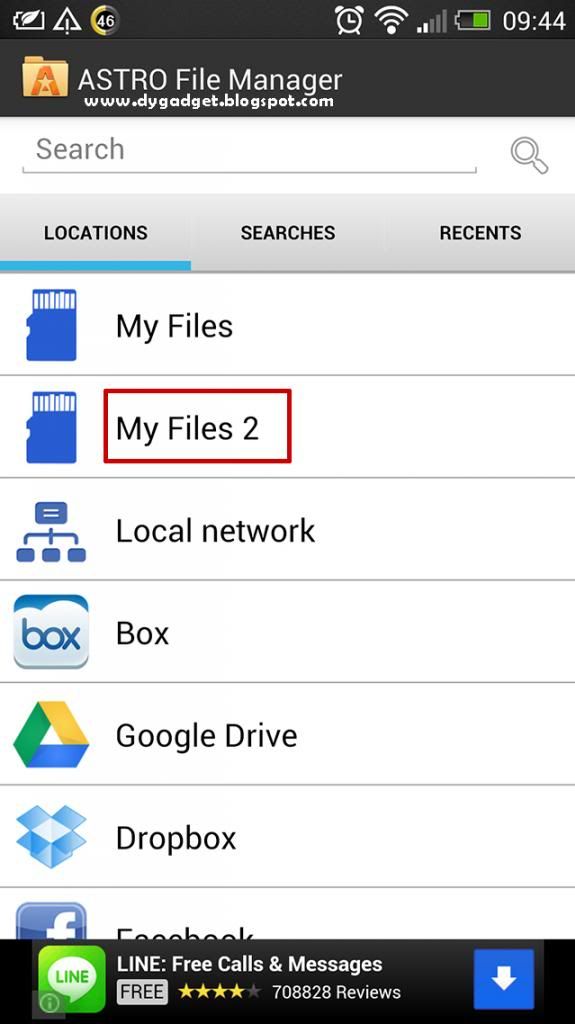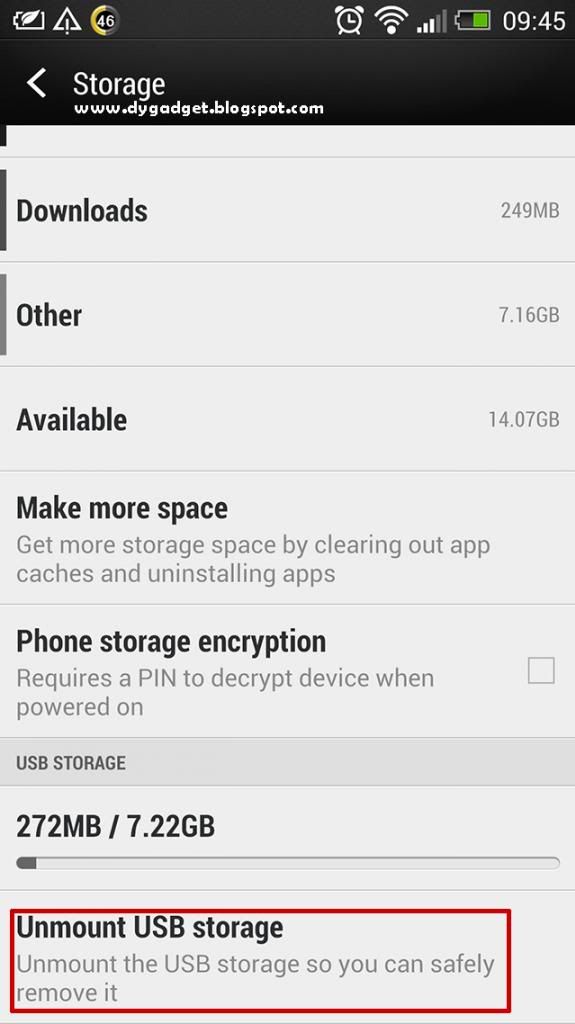 It is easy to use and safety removed too.
However the main reason for myself getting a USB OTG is not to mount a pendrive, but to mount my camera cable. I can easily transfer pictures from my camera to my phone for Instagram.
Battery
HTC One easily can has 3-4 hours on screen time for a single full charge. On normal usage it can easily last me a day (unplug on 6am and battery almost died on 10-11pm). There is once I am too busy with my work and didn't touch my phone that much and it can last me for 2 days. So does the battery life sound convincing for you?
However charging the phone is abit pain in ass. It took approximately 4-5 hours for full charge with the original charger from HTC. I am surprise the charger output power only 1A.
Verdict
No phone is perfect in this world. There are alot pros and cons in HTC One. It just the matter does it meet your requirement or not. For me personally, yes definitely. The speaker, the camera, the Zoe and also user friendly UI has become the main reason why I decided to change my phone to HTC One. I compared the same camera features with my friend who currently owned a Samsung Galaxy S4 and he agreed the HTC Zoe is more user friendly.
Alot features in HTC One work as it advertised but still lack of customization. Hopefully future update will improve it. Android 4.2.2 is coming to HTC One soon.
P/s There are rumors HTC will be releasing HTC One Mini (4.3") and also HTC One Max (5.9") that carried HTC One design language. The One Mini will have a strip down on processor and screen display and One Max will have S800 processor.
Stay tune to
Discover Your Gadget (Dygadget)
for more latest gadget update :)
---------------------------------------------------
You know, I am short and I finally can show off my shorty talent! I just join Digi WWWOW under Shorty Blogger category!
So can you do me a favor and vote for me? T.T